Dodge Hemi Challenger Review
---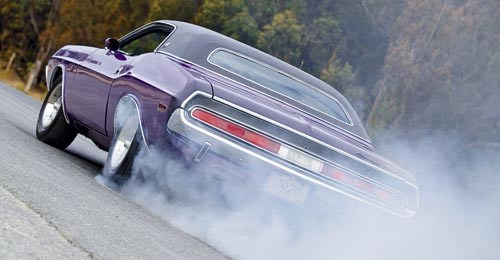 Dodge Hemi Challenger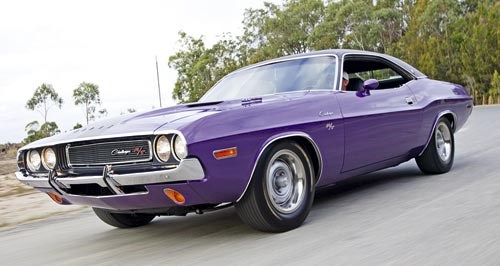 Dodge Hemi Challenger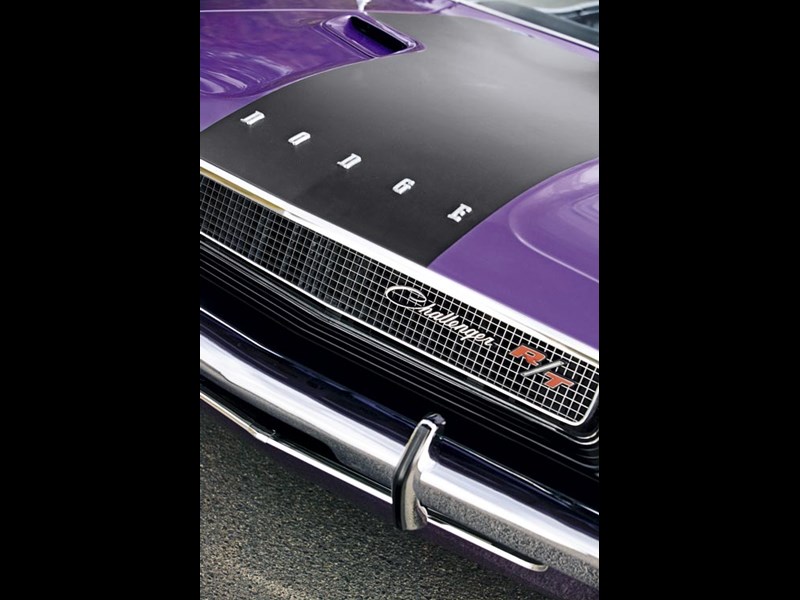 Dodge Hemi Challenger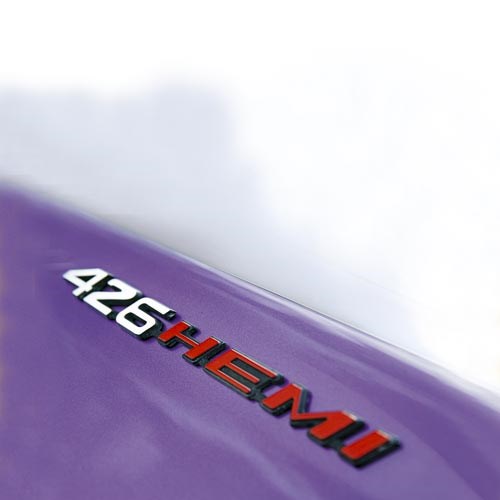 Dodge Hemi Challenger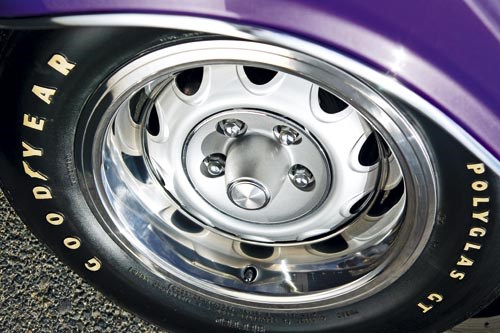 Dodge Hemi Challenger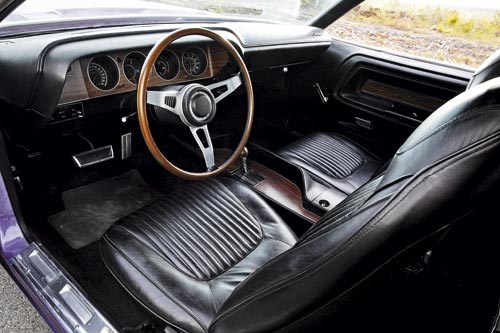 Dodge Hemi Challenger interior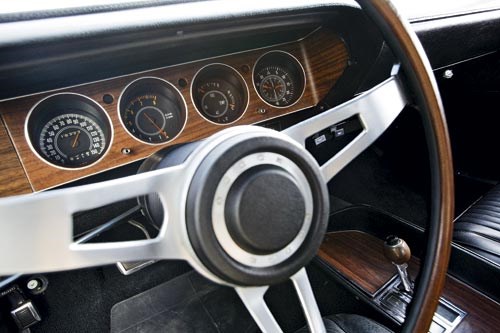 Dodge Hemi Challenger interior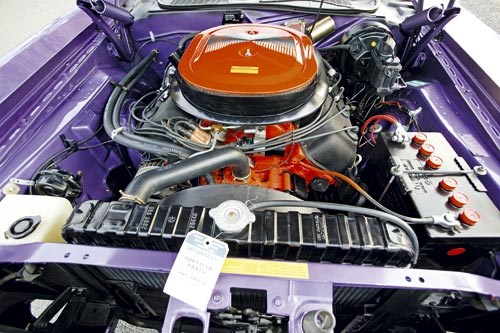 Dodge Hemi Challenger

Dodge Hemi Challenger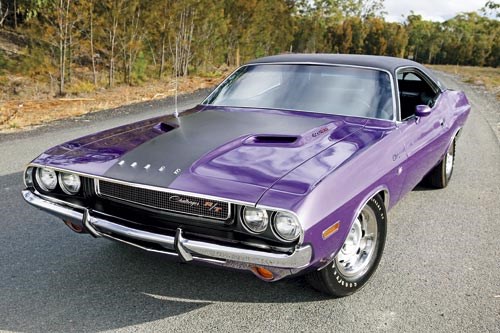 Dodge Hemi Challenger

Dodge Hemi Challenger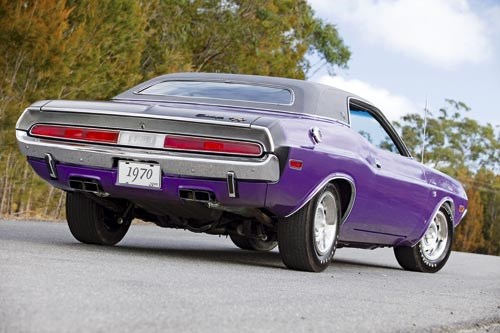 Dodge Hemi Challenger

Restored to within an inch of its life this Queensland-based, fire-breathing Hemi-engined Challenger is now hunting trophies of a different kind
Dodge Hemi Challenger
The feature that most easily distinguishes a Dodge Challenger R/T SE from lesser models is its tiny rear window. There seems no logical reason for this piece of stylistic vanity until 315kW unleashed through a pair of ancient and unprepared Polyglass tyres reveals why Chrysler didn't waste money on a larger sliver of glass.
Billowing blue smoke destroys any chance of admiring the twin ribbons of rubber that unravel from beneath the car. Besides, it is better to concentrate on what lays ahead - the narrow piece of privately-owned bitumen that, for owner Jim Tatton, has become an impromptu dragstrip.
Amid the cacophony of shredding rubber, induction roar and the boom of quadruple exhausts comes the realisation that this is the first time in almost 30 years that one of the world's rarest, Hemi-powered Dodge muscle cars has been driven as nature intended.
Two eyeblinks later, the Challenger is close to the magic 100mph (161km/h) mark and seriously in danger of running out of road before Tatton brakes hard and executes a bicep-building five-point turn. And then repeats the performance.
For Jim Tatton, a property developer from Queensland's Sunshine Coast, Hemi-engined cars have been an obsession since the late 1960s, when he was selling VG Valiants and Hillman Avengers out of his father's Chrysler dealership in New Zealand.
"I was born and bred Mopar (the generic term for Chrysler performance models) and I would have killed for a Hemi in those days," Tatton recalled. "I used to get all the American magazines and read about these astonishing cars that were putting out more than 400hp (295kW) straight off the showroom floor."
Tatton's desire was realised in the early 1980s when he acquired his first Chrysler-built muscle car and fuelled a desire for more.
"I'd moved to Australia by then and began importing cars - a lot of them from Hawaii where you could buy them cheaply from servicemen who'd brought them over and didn't want the cost of shipping them back to the States," he said.
Among the Tatton family's current fleet is a Hemi-powered Plymouth 'Cuda convertible, a Dodge Super Bee and this very elegant and deceptively demure Challenger SE. But don't be fooled by the elegant Royal Purple paint or understated interior because this Challenger is a brawler in a business suit. With 426ci (7.0-litres) developing an alleged 425hp (315kW), an SE with automatic transmission would run the standing 400m in under 14sec.
The SE also ranks among the rarest of Chrysler's 'pony car' contingent; built only during the 1970 model year and rarely equipped with the legendary 426 Hemi-engine. Jim Tatton's car is one of just 67 SE Hemis built with automatic transmission and one of only two such cars to have its authenticity verified by experts in the model.
Sadly, it is also among the last carburettor-fed Hemis to be produced. In 1971 and faced with the prospect of tougher 'anti-smog' regulations plus a Nascar rule change that outlawed its almost unbeatable Dodge Daytona and Plymouth Superbird, Chrysler Corporation ended production of the engine that had its origins in pre-WW II practicality.
Chrysler was by no means the first to explore the benefits of hemispherical combustion technology. The first recorded Hemi engine was produced in 1903 by the Michigan-based Chelsea Manufacturing Company. A vastly more advanced version of the design, with opposed inlet and exhaust valves and a centrally-located spark plug, was used by the 7.6-litre Peugeot that won at Indianapolis in 1913.
The design then became commonplace in racing car and motorcycle engines and was first used in production form by Jaguar for its overhead camshaft XK engine.
Chrysler approached Hemi development from a more practical perspective. It sought an effective means of reducing the carbon deposits that afflicted side-valve flat-head engines and obliged owners to 'decoke' every 15,000 to 20,000km.
That was in 1936 and the project didn't merit great priority until its benefits to aero engine design were realised and refined during WW II.
When used in the design of a V16 aircraft engine, Hemi-head principles delivered 30 per cent more power than conventional engines of similar size and powered a P-47 Thunderbolt fighter to better than 800km/h.
Post-war development for automotive use moved swiftly and by 1949 Chrysler had perfected an engine that was both efficient and physically imposing. By virtue of the symmetrical design of its combustion chambers, the spark plugs and leads could be concealed within substantial rocker covers, while the 90-degree block spread itself provocatively across the engine bay.
In 331ci (5.4-litre) form, the Hemi engine block was relatively compact and designed for durability with an oversquare configuration. The bore measured 96.8mm and the stroke 92.2mm, the overhead valves were 38mm in diameter and operated by dual pushrods. With the compression ratio set at a low stress 7.0:1, maximum power of 180hp (104kW) was developed at 4000rpm.
Production of Hemi engines began in 1951 with a 5.4-litre Firepower version for upmarket Chryslers. A 4.6-litre De Soto Hemi appeared in 1952 and the following year a downsized Red Ram V8 that displaced just 4.0-litres and developed 140hp (104kW) was offered in some Dodge models.
By 1953 the Hemi had infiltrated Nascar racing and rekindled a motor sporting career that had lain dormant since Chrysler's Le Mans successes of the late 1920s.
In 1954 and driving a combination of Dodge and Chrysler Hemis, Lee Petty won Chrysler's maiden Nascar title and the first of three consecutive championships during the 1950s by Mopar drivers.
Winning on Sunday dictates that you also sell on Monday and Chrysler was keen to capitalize on its competition success. In doing so, it created one of American automotive history's all-time legends.
The Chrysler 300 Series appeared in 1955 and blew away any vestiges of Chrysler conservatism. With dual four-barrel carburettors feeding its Hemi-head engine and 300hp (223kW), this was the first full-sized US car to exceed 130mph (210km/h) and accelerate to 60mph (96km/h) in under 10sec.
At introduction in 1955, the 300 cost double the price of a Ford Crown Victoria and annual sales of the Mopar supercar rarely exceeded 2000 units. By 1959, the Hemi-powerplant used in the 300 had been replaced by a 6.8-litre Wedge Head engine - slightly less powerful and considerably cheaper to build.
Hemi engines remained absent from Chrysler's range until 1965, when a revamped 7.0-litre, 426ci version became optional on the Dodge Polara and then the Pontiac GTO-bashing Charger. While Ford and Chevrolet were by 1967 offering 7.0-litre engine options in their Mustang and Camaro, Chrysler restricted installation of its powerhouse Hemi to full-sized models.
That policy was rescinded in 1969 with the appearance of Chrysler's E Body - a mid-sized platform that was shared between Dodge and Plymouth and finally allowed them full participation in the pony car power race.
Three versions of the Challenger were built - base, R/T and T/A - with the upmarket SE trim package available on all except the competition oriented T/A. Convertible versions of the Challenger were built only during the 1970 model year and soft-top survivors are among the most collectible of E Body cars.
The SE was a muscle car for the mature driver - its basic $US3498 price-tag normally swelled by a trip to the options bin that saw most examples hit the pavement owing their owners at least $1000 more. Leather seat trim was standard - with combination cloth and vinyl optional - as was that distinctive vinyl roof and landau-style rear window. Standard to Hemi-engined cars were 15-inch Rallye wheels and uprated drum brakes.
Incredibly, for a car that weighed over 1600kg and could reach 225km/h, disc brakes were an $80 option on all Challengers, except for the T/A. Air-conditioning was not available to Hemi buyers because every available piece of under-bonnet space was already spoken for.
"On its own, the Hemi engine cost an extra $778.75," Jim Tatton said. "But of course the cars never just came with the Hemi option, there were the extra door mirror, 'rim-blow' steering wheel, the rear spoiler, moulds and the like, so it's easy to see why a car like this cost nearly $5000 new."
Cancellation of Hemi production in 1971 didn't spell the end of Chrysler's E Body emasculation. By 1974 the Challenger range had been reduced to a single model with its most potent engine the 360ci (5.9-litre) 'boat anchor' developing a paltry 182kW. And worse was to come for Challengers in a fuel-shocked USA.
By 1976 the 'Hemi-powered drones' of Bruce Springsteen's Born To Run - nominated by rock music historian Glenn A Baker as the best driving song ever recorded - were regarded as gas-guzzling dinosaurs and being sold off for a pittance or sent to the crusher. All of which makes the survival of Tatton's car even more remarkable and unlikely.
"By the middle to late-'70s a lot of these cars were being crushed for the 'gas guzzler' rebate," Tatton said. "This one was, for a time, used as a drag car and its history after that is one of those barn stories - the owner bought it for probably next to nothing and it just sat in the barn while he thought about doing it up."
During the early 1980s and with just 18,000 miles (29,000kms) on its odometer, the car was acquired by Mopar specialist Bob West and from there passed to Tatton who kept the car in the US and under painstaking restoration for almost 15 years.
"Restoring a car while keeping it as original as possible is a huge task and probably cost $30,000 above what you'd spend on a normal restoration," Tatton said. "We were incredibly fortunate to find a car that was 'matching numbers' in all its major components and that so much original stuff was available at the time for these cars.
"The seat trim for example: that's not reproduction but new-old-stock and even the seat belts have got the right numbers on them.
"The bumper on that car is a new-old-stock piece that I was offered for about $US500, which was a bit steep. But I've had a policy with the car that if somebody offered me something that was hard to get, I'd buy it. Now you've got to watch yourself doing that because word gets around that there's this dummy from Down Under that'll buy anything, but so far I've come out ahead. A year after I paid $500 for the bumper they were going for $1500 and a grille centre I bought for the same kind of money I sold a year or so back for $3000."
Proving all the work worthwhile was the car's receipt of a Bronze Award at the '99 Mopar Nationals in the US - a test, according to Tatton, that rates as the world championship of Chrysler products.
"It's the toughest inspection that a car is ever likely to go through," he explained. "Those judges know everything about these cars and where to look to find those that don't come up to scratch. We missed out on a Silver award by 11 points and the things we got picked up on were tiny items like the judge being able to see light where the mouldings went on. If they were untouched from the factory they would have had sealant filling up the gaps, so it's things like that they're using to separate cars at that level of judging."
Humans who dread the thought of a doctor's internal examination might sleep a little easier knowing that Mopar Nationals contenders need to submit to similar indignity.
"They put the cars up on a hoist and go through them from bottom to top. I saw one judge sticking his finger up through a drain hole in the frame and wondered what he was doing. It turned out that if he got buffing dust instead of oil he'd mark the car down because it'd been restored."
Acquiring a Challenger of such quality in the current market is ferociously expensive and becoming more so by the minute. Tatton is reluctant to put a price on his SE - "I've had offers for sure but where am I going to find another one?" - but quotes some eye-popping recent sale figures as evidence of the car's investment credentials.
"Currently, the top price paid for a Hemi 'Cuda at auction was in excess of $US200,000 and a rare '71 'Cuda convertible (one of 17 built) was reportedly sold for a $1million. For a totally perfect, unrestored Hemi Challenger R/T, you'll probably need to spend half a million."
So, for the foreseeable future, one of the world's finest Hemi Challengers will spend most of its time in the confines of a humidity-controlled bubble; taken out for the occasional display of classic Chrysler Corporation products and waiting for the next time owner Jim decides to smoke 'em up on a nondescript bit of Australian bitumen.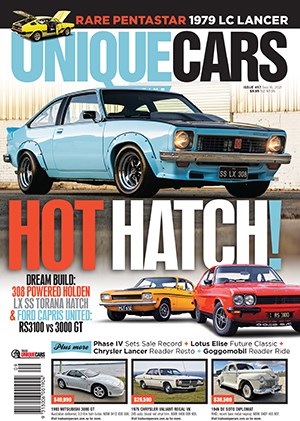 Subscribe to Unique Cars Magazine and save up to 42%
Australia's classic and muscle car bible. With stunning features, advice, market intelligence and hundreds of cars for sale.
Subscribe