BMW 3.0 CSL (1973) Review
---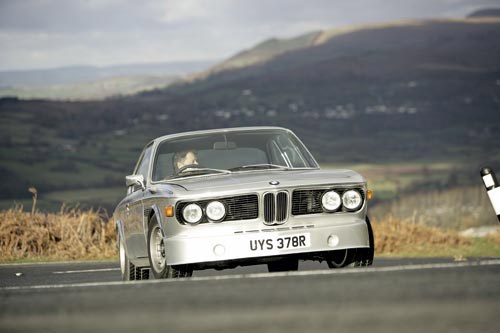 BMW 3.0 CSL 1973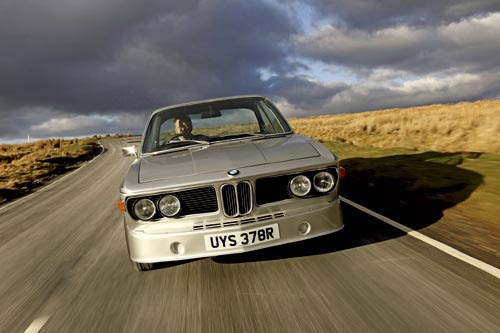 BMW 3.0 CSL 1973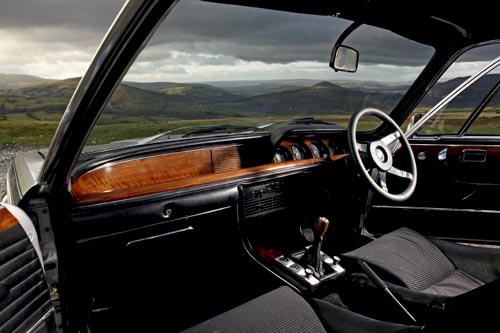 BMW 3.0 CSL 1973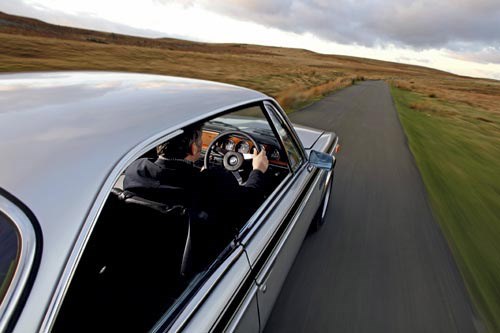 BMW 3.0 CSL 1973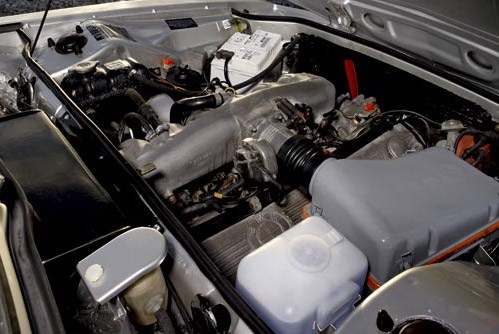 BMW 3.0 CSL 1973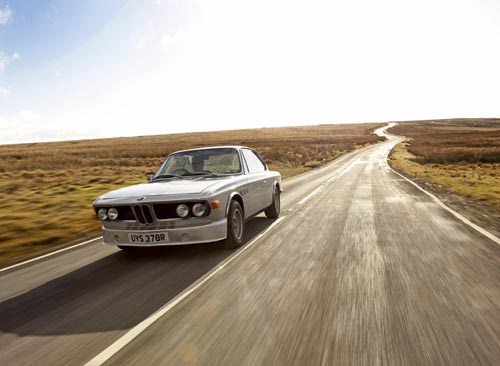 BMW 3.0 CSL 1973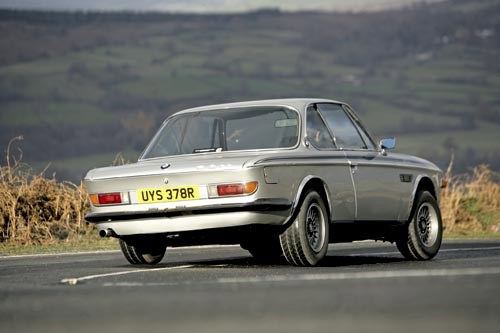 BMW 3.0 CSL 1973

Classic metal: BMW 3.0 CSL. The best-looking Bimmer - ever
BMW 3.0 CSL
You may not be familiar with the BMW 3.0 CSL, as the car was never officially imported into Australia, but you should be. Here, after all, is a street-legal derivative of one of the all-time great saloon racers, the essence of the image that defined BMW in the '70s.
With spoilers, fins, flared wheelarches and often-lurid paint schemes, these cars, fielded by a youthful organisation that refused to accept failure, dominated European touring-car racing driven by future legends like Hans Stuck, Chris Amon, Ronnie Peterson and Derek Bell. CSLs battled in epic style with the works Ford Capris and went on winning long after the E9 had been superseded by the flabbier and much less pretty 6-Series coupe.
BMW made 30,000 six-cylinder E9 CS coupés, but the CSL - L for 'leicht' or light - accounts for just 1265 of those, built in three distinct series between 1971 and 1975, making this Bavarian more exclusive than a Ferrari F40 or Lambo's Countach.
This is making the CSL hot property in its European homeland. Nut-and-bolt rebuilds will set you back the price of a new M3, while to secure one of the 'Batmobile' 3.2s, you'll need twice that. That's Ferrari Dino money, but then these cars were pitched squarely into Dino territory when new, with fully comparable performance.
Egged on by private tuners, it was new recruit from Ford, Jochen Neerpasch, who persuaded BMW to homologate a lighter-built CS shell from Karmann as the route to victory against the nimble Capris.
"It was a young but very serious up-and-coming team, great fun to work with," says five-time Le Mans winner Derek Bell, whose career with the Alpina CSL was foreshortened by the fuel crisis. "And the cars were magnificent - so much power from a non-turbo straight-six. They were certainly the greatest BMWs I ever drove."
The first road-going CSLs were stripped-out 2985cc 3.0 CS coupés, built of thinner steel with aluminium doors, bonnets and bootlids. Manual side windows in thinner glass (fixed Plexiglas at the back), plus minimal sound-deadening and rust protection, further pared back the weight.
Just 169 were built, all left-hookers with Scheel bucket seats, polyester bumpers (weighing just 2.5kg) and chrome wheelarch extensions to keep the 7.0-inch wheels legal. In August 1972, the engine was bored out to 3003cc to get the CSL into the over-3-litre class.
The canted-over, single-overhead-cam straight-six was then fuel injected, and it was in such form that the 200bhp (149kW) CSL went to the UK in October 1972, complete with standard CS/CSi bumpers and most of the luxury items reinstated for the 'City Pack' specification.
There's an interesting story behind those 500 UK-market CSLs. When the factory showed its distributors the CSL, most importers gave the car a thumbs-down. The interior was seen as being too basic, the bodywork too flimsy and vulnerable. Not even the charm of the recently hired US marketing guru, Bob Lutz, could persuade them to take the CSL on.
Tony Hille of BMW Concessionaires in the UK stepped into the breach and agreed to accept the entire unsold CSL build schedule, subject to some pricing support. In the end, British BMW importers sold more than the rest of Europe combined.
A special sales team was instated just to market the CSL through special events, which sometimes took the form of disorderly lunches and photoshoots. By hook or by crook, they sold the cars.
"Just about everyone and their granny had a CSL as a company car," says former BMW GB man, Richard Hollis. "Aged 23 or 24, I had two on the trot! My best memory is of racing a V12 E-Type down the freeway. The CSL had the V12 well beaten because the performance was so much better-balanced to the roadholding."
Hollis also recalls Swedish F1 ace Ronnie Peterson turning up in his company CSL. "He was on his way to Silverstone and the car had a slight hesitation so he went to the technical training school to have it looked at. Once they had sorted it, he took the instructors involved for a spin. They came back speechless because his driving was so completely fluid and effortless at speeds that none of them could have contemplated on this twisting road - even in a CSL."
The final 206bhp CSLs, with the bored-out 3153cc engine, were all left-hookers with a set of remarkable spoilers and aerofoils, the rear one coming packed in the boot when the cars were delivered in Germany because local traffic laws deemed it illegal. Bell had one as a road car.
"I remember being with Jochen Neerpasch in Munich in this CSL and saying, 'This is a fantastic car - I'd love one.' He said, 'You can buy this one off me!'
"Obviously, I got a good discount. I drove it all over Europe to [race] meetings. I remember taking it skiing and getting stuck in the snow. I had a run-in with the law, too: a copper thought I was going too fast on some sweeps and turns near my home.
"He caught me up, rather breathless, but in the end it was just the usual, 'Well Derek, please keep your speed for the track.' I had it a couple of years but can't remember what happened to it. I wish I still had it."
Our test 'City Pack' CSL was sold in the UK for a notoriously hefty £7399 in 1973 - several hundred pounds more than a Porsche 911 RS Touring. A decade later, my mum was smoking around Manchester in a £1500 3.0 CSL, complete with classic inner-wing corrosion - these Karmann-built coupés can out-rot almost anything Italian - so I'm well acquainted with them.
But I've never had a good drive in one. This is my chance to put that right on a trip to south Wales.
Despite its aggressive image, the CSL is a relaxed, gentlemanly car. Inside, with the long, heavy frameless doors closed, you can enjoy what is to me one of the great BMW cabins, so gloriously airy and light with its deep glass area and slimline roof pillars.
The elegant swathe of facia wood flows into the door cant rails and extensive chrome details around the window frames hint at the hand-finishing that Karmann gave all E9 coupés.
The hooded binnacle that shrouds the four instruments set deep into that timber dash facia is a template for all subsequent Bavarian ergonomic rationalism. It has a lighter, less Teutonic feel than equivalent Mercedes coupés of the time.
The Scheel seats, special to the CSL, have no rake adjustment but embrace the trunk of your body impressively with those deep side bolsters - they must be half the weight of the sumptuous CS and CSi chairs. You tend to feel as if you are sitting rather low, with the chunky spokes of the optional Momo Alpina wheel hiding important fuel and temperature information.
The straight-six has a rhythmic, hunting idle and there's a gentle chatter from the four-speed gearbox in the lower ratios, but the CSL generally earns high marks for docility and refinement in traffic.
It has a broad-shouldered presence yet it is far from being large or intimidating, and other road users simply have nowhere to hide because there's just so much glass.
The power windows are as majestically slow in action as I remember them, the ride rather better - the 195/70R14 tyres paw gently at bumps with surprising composure. The long throttle travel and similarly lengthy clutch action make the first few starts rather hesitant, but you soon get the recipe for smooth progress in the CSL.
Under the bonnet, the straight-six looks somewhat lost under the Bosch injection manifolds that turn incoming gases through 90 degrees and answer to a 'brain box' that lives under the passenger seat. It's as sweet as can be, effortlessly pulling the CSL's 35km/h per 1000rpm in top from 1500rpm, or punching out to 6000 in first and second with a howl of silky sophistication.
The CSL attracts admiring looks from all quarters as you hum past in that typically tail-down/nose-up stance, flaunting your tiger stripes and glinting wheelarch extensions. On the freeway, the CSL sits square and steady, the only irritant being constant wind noise around the quarter lights and the rubber sealing strip between the side glasses.
Tiring of the freeway, I come off a junction early and take a country road as the light begins to fade. It's a nice mixture of sprinting straights and sweeping curves and shows the muscular CSL in a pleasing light. The engine has an unburstable feel, stronger beyond 3000rpm although somehow 5000rpm always seems enough.
You don't miss fifth gear because the spacing is good, with ample brawn to fill the gaps. In fact, the light, precise action of the stubby gearlever is one of the delights of the CSL, even if the clutch is a little on the meaty side. It's my impression that few fast, large-engined, high-torque cars had pleasing manual 'boxes in the '70s - unless you had very serious money to spend.
A great gearbox is an essential ingredient of a great driver's car, as is good steering. In fact, not that many full-blown Italian exotics had steering that was any better than the CSL's. It is not a revelation in accuracy or 911-style feedback, but more importantly is consistent with the car's wholesome, straightforward character. It filters out spurious messages somewhere within the hydraulics of the power assistance without feeling floaty or completely relieving you of the effort of steering the CSL, which incidentally has a remarkably good turning circle.
Through country towns, the CSL's sophistication shows once again as we peel through roundabouts, pushing through gentle understeer to pleasant neutrality, then hoofing the throttle down as a piece of dual carriageway opens up.
You hardly notice the seats pinching your torso, but held snugly, you do register that the CSL leans just a bit, plunges a little on its strut front suspension and squats at the back as the torque splays the semi-trailing arms and you squirt away.
The sound, a metallic hum that speaks of lusty refinement and somehow links the E9 with classic BMWs of the '30s, takes me back to the '80s and our Fjord Blue CSL (chassis 2285158) accelerating away from the house.
Even at the time, I thought that its front guard-mounted rubber air splitters plus chin and boot spoilers were gilding the lily, for the E9 is one of the best-looking post-war BMWs.
It has a slender grace and athletic poise that no subsequent Munich offering has come near recapturing. That these coupés were inspired by the Bertone 3200 CS is obvious, but exactly who drew the 2000 CS and then had the artistic genius to facelift it into the 2800 CS is uncertain and BMW is unwilling to be clear on this point.
"The E9 coupé is the finest BMW of them all," says UK design guru Stephen Bayley. "It has that magical mixture of feminine elegance and masculine presence that characterises all great cars. And here is every element of the long-running BMW design language - every subsequent BMW owes something to this car."
I couldn't agree more. Here is a racer for the road, a homologation special that sent BMW's performance message around the world. With that pedigree, values for this 1970s glamour car are probably yet to reach their potentially towering peak.
SPECIFICATIONS
1973 BMW 3.0 CSL
ENGINE: 3003cc 6cyl, SOHC, 12v
POWER: 149kW @ 5500rpm
TORQUE: 271Nm @ 4300rpm
WEIGHT: 1270kg
GEARBOX: 4-speed manual
0-97km/h: 7.3sec
TOP SPEED: 214km/h
PRICE: £7399 (1973)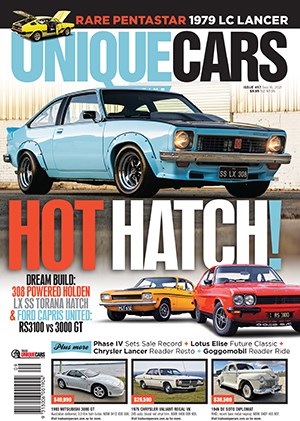 Subscribe to Unique Cars Magazine and save up to 42%
Australia's classic and muscle car bible. With stunning features, advice, market intelligence and hundreds of cars for sale.
Subscribe