Renault 12 Review
---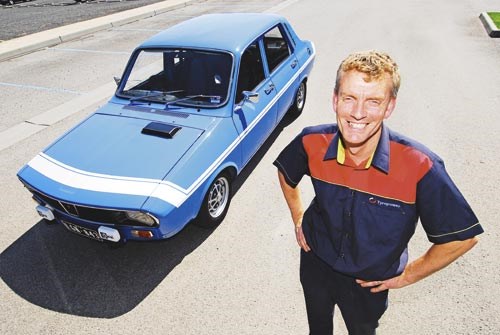 Renault 12 Gordini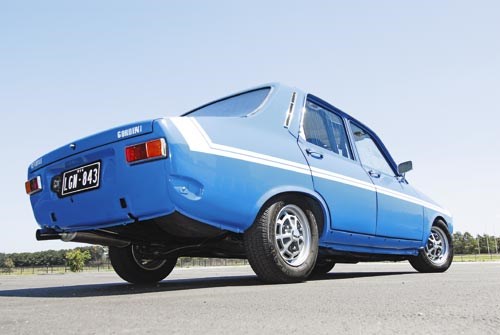 Renault 12 Gordini rear view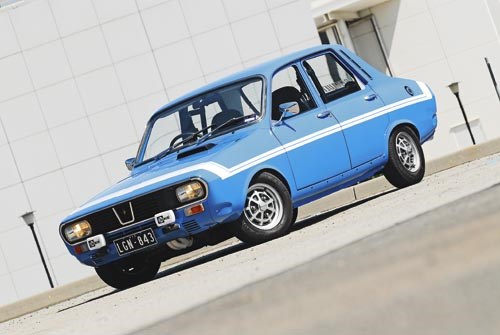 Renault 12 Gordini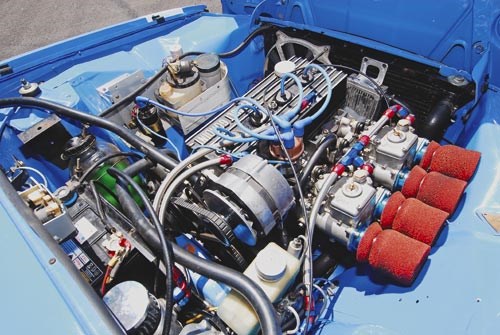 Renault 12 Gordini engine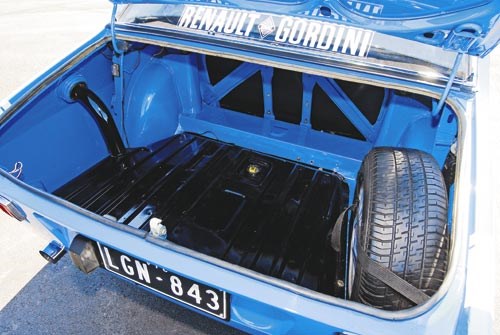 Renault 12 Gordini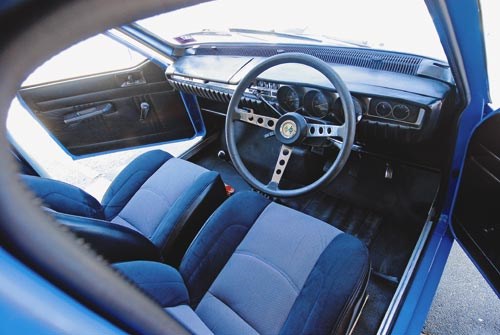 Renault 12 Gordini interior

Renault's tough little front-wheel drive four was a truly advanced car for its time.
Renault 12 
The Renault 12 was quickly forgotten, but arguably deserves legend status.
Sometimes something can be so ordinary that it transcends the ordinary. You wouldn't interrupt a brisk walk to pick up a plastic potato peeler or a throw-away ballpoint pen, yet both are unbelievably useful.
The Renault 12 and its derivatives only faded from global production as recently as 2006, so it's easy to dismiss it as an ordinary little car beyond its use-by date then totally miss what its 1969 French release represented. It certainly deserves better than its cameo role as Borat's bullock-drawn taxi!
The 12 was the first in the 1.3-litre segment with the smooth new European aero profile and the reinforced passenger safety cell approach as defined by the 1968 Saab 99. Not only was it affordable, it also offered four doors and a frugal yet surprisingly willing powerplant. It also went into production in Australia, Spain, Argentina, Brazil, Turkey and behind the iron curtain in Romania along with special US versions, proving to be one of the first world cars after the VW Beetle.
The Renault 12 was far more advanced for its time than the VW Golf six years later. Nowhere is this better highlighted than in Australia where the car's highest annual sales figures were achieved in the first full year of local Golf sales with surprisingly few changes from its original '69 specification.
Prior to the 12's arrival, the budget 1.3 family car had been defined by the miserable HB Vauxhall Viva/Holden Torana at the cheap and not so cheerful end. The recycled VW Beetle 1300 was as cramped and unsteady on its feet as ever. As for the 1.3-litre version of the Morris 1100, its engine bay compromises, small wheels and low ground clearance limited its application beyond city centres.
Even Renault's own R8/10 was not a car you could trust despite its clever packaging and rough road performance. The combination of an inline engine hanging out the back and rear swing axles could start a series of barrel rolls with little provocation.
Because the French were still catering for its colonies with roads at least as bad as Australia's, it was the right car at the right time for the baby boomers flooding our roads. The 12 also had the advantage of appearing a year earlier in 1968 under the Ford badge after that company inherited the new model as the Corcel in South America, when it took over the Willys-Overland Brazilian operation.
The Renault 12 had such a big impact in Australia that it immediately won the 1970 Wheels Car of the Year against five formidable finalists including the XY Falcon, a new Toyota Corolla, the fuel-injected VW 1600 TLE fastback, the Hemi-powered Valiant Pacer Hardtop and Trimatic-equipped HG Holden range.
It sold almost 26,000 units over a long local model life that spanned 1970 to 1980 with few changes. In fact, the first 12 was an Aussie market special that can only be explained by obtuse local tariff laws. To qualify for duty concessions under the 50 per cent local content plan, there had to be a 25 per cent difference in capacity between models from the same range.
The local Renault-Peugeot operation had just been forced to kill off the popular Peugeot 404 because its 1.6-litre engine was too close to the new 504's 1.8-litre unit. It couldn't afford to lose the base Renault 16 that was left to plug the gap. The Renault 12 engine had to be cut back from 1289 to 1251cc by reducing the bore, so when you added 25 per cent of its capacity, it came in short of the Renault 16's 1565cc.
A quick calculation will reveal that this unique 1251cc engine pushed the 12 under the cutoff by less than two cubic centimetres! Engine tweaks allowed Renault to maintain the same power claims as overseas models while qualifying for a major duty cut that slashed the sticker price to just $2398, about the same as the Mark II Cortina.
Sportier models such as the Gordini powered by the larger 16 engine would invite full duty even if they were produced locally and generate an excessive price premium, which is why they were not sold here.
The 12's heart was the trusty five bearing pushrod four derived from the Renault 10 with its wet cylinder liners in a cast iron block, alloy head, inclined valves (like Chrysler's Hemi six of the same year), pushrods and long stroke.
Its low profile pushrod design was critical when the 12 was the first front drive Renault to have its engine mounted lengthwise ahead of the front axle similar to today's Subaru and Audi models with the gearbox behind it.
The 12's layout was a finely balanced equation, with 58 percent or 500kg of its trim 856kg over the front wheels. A full cabin of passengers and a boot load of luggage would help balance this out.
By restricting tyres to a high profile 155 x 13, Renault delivered a manageable unassisted steering effort despite its 3.5 turns lock to lock and a turning circle of just 10.7 metres. Renault neatly side-stepped the big turning circles, high steering efforts and tyre scrub that plague transverse-engined front drive models to this day and since made acceptable only by the presence of power steering. A high pivot point for the steering with the rack mounted behind the axle were safety and engineering advances yet to reach some of today's cars.
Renault Australia resisted the temptation to add weight and accessories under the bonnet and stuck with the same formula until the end with only two modest capacity increases over the original. The 18.9 second standing 400m and 143km/h top speed were quite respectable; the tall gearing allowing it to run well above today's limits all day.
The front suspension, while conventional on paper, was outstanding in execution. It delivered controlled long travel, clever steering geometry and several anti-harshness measures. A well-located beam rear axle generated more boot space than usual while rear struts, special bushes and triangular centre location isolated harshness better than most. Like its rear-engined predecessors, radial-tuned suspension was a given.
Local textile Dunlop radial tyres were first specified making the 12 the only family car in this price range with standard radials.
The Ford Laser is often cited as the first small car that could comfortably double as an interstate cruiser but, despite the 12's smaller engine, the Renault was better. And that's why Renault at the 1970 launch of the local 12 announced its Gordini rally program, an initiative that was soon followed by the 12 GL with its bright colours and plusher trim. After the wagon version was added, the 12 settled into middle-age where it found a steady and very loyal band of Aussie buyers who wouldn't buy anything else until it was withdrawn in 1980.
The Renault 12, more than any car from this era, highlights what today's demand for extra safety, low emissions, air-conditioning, power steering and auto has really cost. Today's Renault 12 equivalent weighs at least 600kg more, requires a complex 2.0-litre engine with almost three times the power to shift it and generally doesn't ride or drive significantly better within the 100km/h envelope that now applies.
RALLY WEAPONS
When Ford and the Japanese were lifting very ordinary little cars beyond their station on the race track and rally circuit to reach young buyers, Renault Australia had little choice but to develop a competition profile for the 12.
The weapon was the 12 Gordini and up to seven (some say six) were specially prepared in right-hand drive. After the first was built late in 1970, the rest followed in 1972, making them the only genuine 12 Gordinis to leave a Renault operation anywhere in the world in RHD. Under Bob Watson as Competition Manager and rally Chief Enzo Dozzi, they were upgraded with the Alpine Rally spec engine which boasted around 120kW compared to the standard Gordini's 93kW and the 12's 45kW.
Starting with the 16's 1565cc engine, there were twin side-draught twin-choke Weber 45s, extractors, wilder cam, high comp pistons, stronger valve springs all capped by an alloy rocker cover then hooked-up to a close-ratio five-speed gearbox. A massive 80-litre fuel tank with rear side filler, rear disc brakes and tougher suspension were part of the deal. Basic trim inside and no bumpers helped keep the weight to around 965kg.
They were sent around Australia to make as big an impression as possible which they promptly did on fast, sealed surfaces, although it must be said that their tall gearing and layout were less suited to tight, loose surfaces than the R8 Gordini.
Unique Cars magazine Value Guides
Sell your car for free right here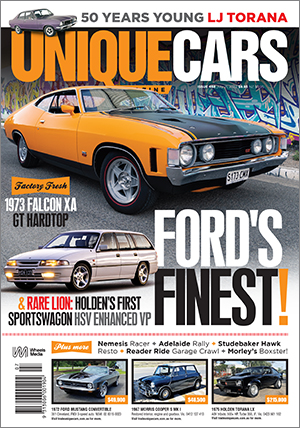 SUBSCRIBE TO UNIQUE CARS MAGAZINE
Get your monthly fix of news, reviews and stories on the greatest cars and minds in the automotive world.
Subscribe