Peter Brock's Bathurst Torana SL/R 5000 L34
---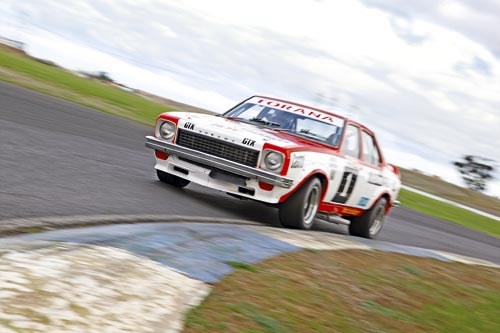 Peter Brock's Bathurst Holden SL/R 5000 L34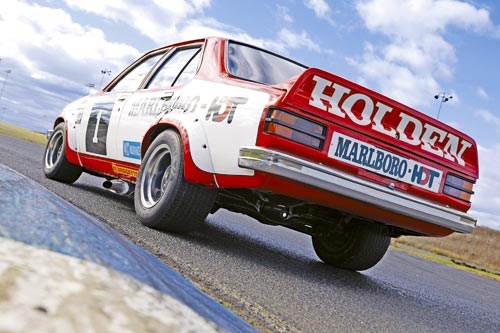 Peter Brock's Bathurst Holden SL/R 5000 L34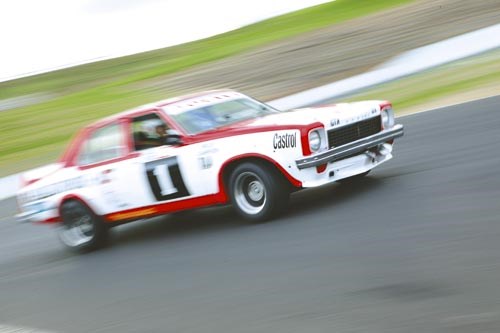 Peter Brock's Bathurst Holden SL/R 5000 L34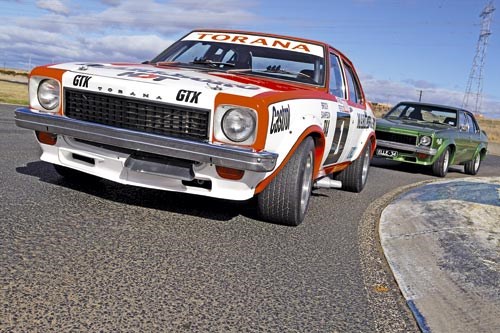 Peter Brock's Bathurst Holden SL/R 5000 L34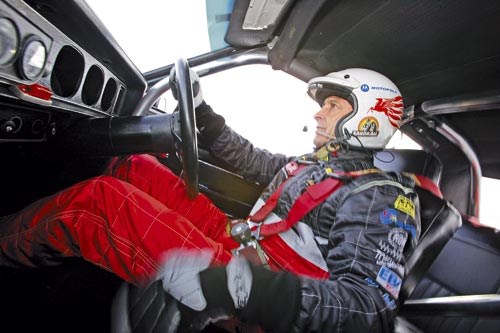 Peter Brock's Bathurst Holden SL/R 5000 L34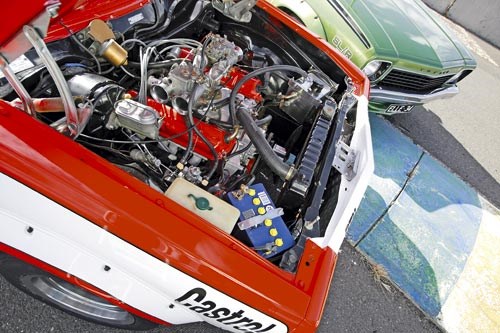 Peter Brock's Bathurst Holden SL/R 5000 L34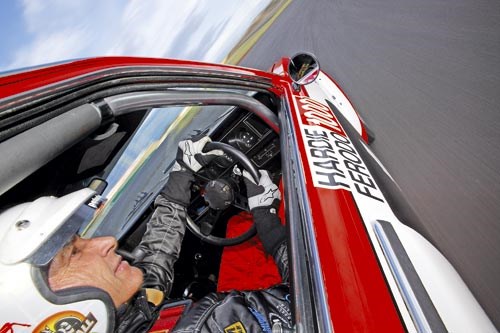 Peter Brock's Bathurst Holden SL/R 5000 L34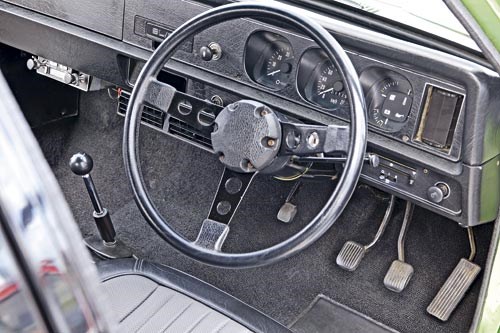 Peter Brock's Bathurst Holden SL/R 5000 L34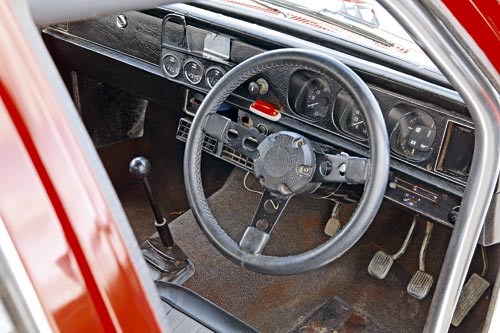 Peter Brock's Bathurst Holden SL/R 5000 L34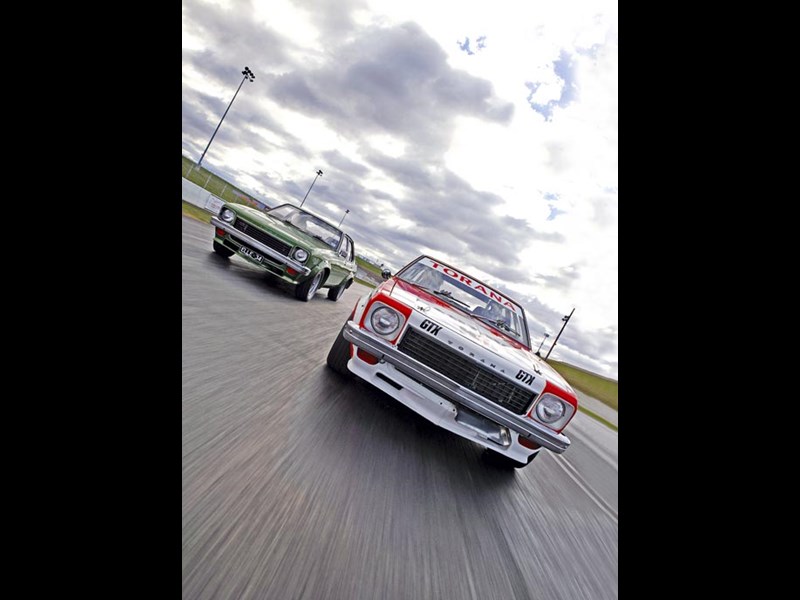 Peter Brock's Bathurst Holden SL/R 5000 L34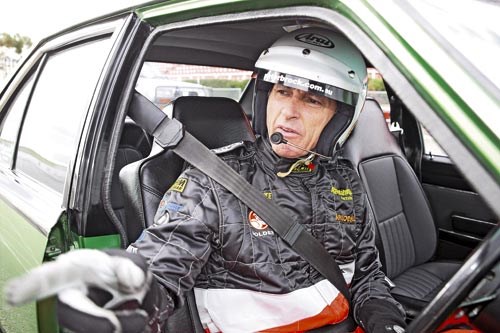 Peter Brock's Bathurst Holden SL/R 5000 L34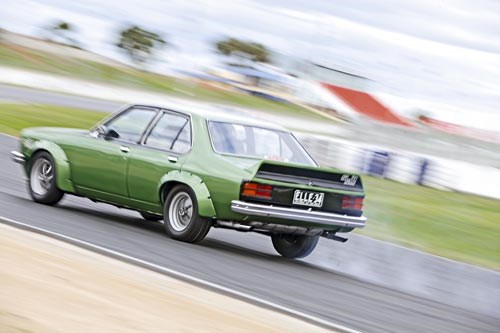 Holden SL/R 5000 L34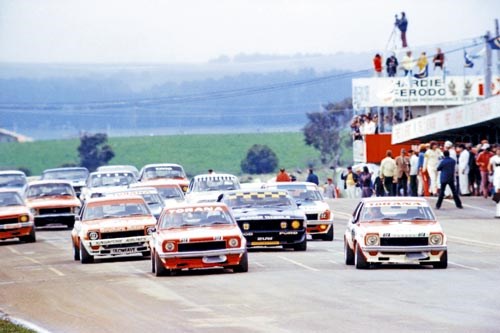 Peter Brock's Bathurst Holden SL/R 5000 L34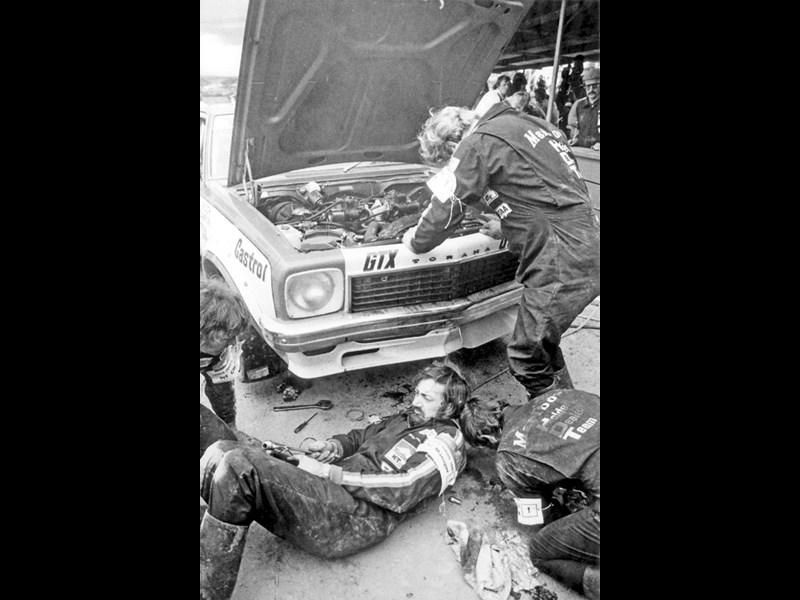 Peter Brock's Bathurst Holden SL/R 5000 L34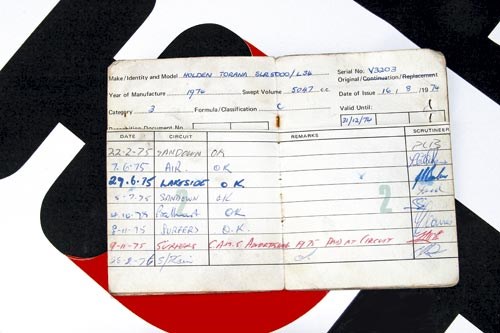 Peter Brock's Bathurst Holden SL/R 5000 L34 logbook

Peter Brock's Bathurst Torana SL/R 5000 L34. He's sadly left us. But let's look back to a time when we put Brocky in touch with the first V8 Torana to debut at Bathurst.
Peter Brock's Bathurst Torana SL/R 5000 L34
Peter Brock's devastatingly-quick HDT L34 should have given the Bathurst King his greatest ever Mountain win. It failed, but a reunion a few years back proved Brock still had fond memories of his mighty Torana.
Of all Peter Brock's nine Bathurst 500/1000 wins, one stands out as the most majestic. In 1979, the King of the Mountain dominated the event, scoring pole position, a new lap record (on the final lap, no less) and the race win by a staggering six laps.
But though it's not as well remembered or documented, a similar domination occurred five years earlier - and thirty years ago this year - when Brock and the Holden Dealer Team debuted the first V8 Torana at Bathurst, the SL/R 5000 L34.
Like the Torana A9X in 1979, Brock's L34 claimed pole, set a new lap record and established a lead of six laps, only this time the gap was achieved after just 118 of the scheduled 163 laps had elapsed.
We'll never know if the winning margin could have been even greater, for the car retired on that lap, and it would be a year before a Brock driven L34 would be crowned the Bathurst victor.
Interestingly, Brock was in a winning position in 1973 when his Torana GTR XU-1 ran out of fuel but had that not occurred, and the L34 finished the '74 race, Brock would have scored four Bathurst wins in a row after claiming his first in 1972.
The L34 was born in 1974 following the early '70s supercar scare, which killed attempts to build 308 V8-powered LJ series XU-1s (aka XU-2). Holden subsequently released the bigger LH Torana range, which featured four, six and eight-cylinder engines. At the top of the sporting tree was the SL/R 5000, a car with all the usual sporting add-ons, such as paint blackouts, sports steering wheel, full instrumentation and front and rear spoilers, and powered by a standard-spec 308 engine.
Brock raced an HDT-prepared and entered SL/R 5000 in the last two rounds of his successful 1974 Australian Touring Car Championship attack, winning both events.
Despite this early success, it was decided a more powerful and stronger car was needed to beat the Ford Falcons of Allan Moffat, John Goss and Murray Carter in long distance races and thus the L34 option was created.
Built for the road as required by the rules of the day, the L34 was identified by round headlights (as used on four-cylinder the Toranas), bolt-on fibreglass wheel arch extensions and Monaro-style wheels.
The engine employed a strengthened block similar to the ferocious Repco Holden Formula 5000 engine, along with a higher compression ratio, beefed-up internals, modified exhaust and twin-point distributor fed by two coils.
To improve handling, the L34 was given a wider track, revised spring rates and stiffer shockers while braking was lifted by fitting larger HQ Holden front discs and rear drums.
A special track pack provided several other improvements, including a four-barrel Holley carburettor in place of the standard Rochester and a special 'Bathurst' camshaft.
Mindful of the supercar controversy, Holden quoted a power figure identical to the standard 308 engine - 179kW (240hp).
The race cars were further modified in line with Group C rules, which permitted a number of mechanical freedoms, including the use of twin Weber carburettors, a Detroit Locker and stronger axles.
Brock's Bathurst L34 made its race debut at Adelaide International Raceway on August 25, 1974, during round one of the five-round Manufacturers' Championship; the subsequent rounds held at Sandown, Bathurst, Surfers Paradise and Phillip Island. The car was fast but fragile, failing in all of the four rounds it contested.
Fellow HDT teammate, Colin Bond, driving a similar car, fared much better, winning the rounds one, four and five and the championship for Holden. At the end of that season, Brock left the HDT.
Unique Cars reunited the Bathurst King with his infamous L34 at Calder following its restoration by current owner, Mark Delahoy.
Delahoy found the Torana, which had been converted to a road car, advertised in Unique Cars in the late '90s. He already owned an L34 road car, which he also found in Unique Cars and recently sold to Anna and Mark Cameron.
"The road car is all stock standard with a factory-fitted Holley and it was bought brand new in 1974 by a guy in Wagga who traded in his XW GT for it," explained Delahoy. "He had it till '98 then advertised it and I paid $11,500 for it.
"No one was prepared to offer him anything for it. There was a time when these cars weren't worth anything but now they are starting to come up in price. I believe they should be as collectable as a (Falcon GT) HO. If HOs are worth $100,000, these have to be worth $50,000."
In between buying and selling the road car, Delahoy found the ex-Brock machine and couldn't help himself after establishing the Torana was the real McCoy.
"It had been advertised twice over a two-year period but they had trouble getting a buyer for it. I came along after everyone else had disappeared and bought it," said Delahoy. "I paid $22,500 for it; the car was worth $3000 and the log book was worth $19,000."
Importantly, the car came with a CAMS log book and another book of record created and maintained by HDT brake specialist Geoff Hall. Both detail the correct chassis number; a number that also appears on this car's ID tag and chassis stamping.
There were also other signs indicating the car's heritage, including the last racing engine fitted to the vehicle in 1977, as well as body modifications.
"When the cars went down the GM-H production line Harry (Firth) would have pulled the cars off the line and had special modifications done to the body, such as welding bolts to the inner sill panel for better mounting of the roll cage because you wouldn't get in there otherwise. Then he'd put it back on the line for completion. This car has those bolts."
Delahoy's car even has the original 'dry' sump arrangement designed by the HDT to prevent oil surge, though the system is no longer functional.
"I am not going to run the dry sump because I will probably never race the car, it will just be a collectors' piece," he said. "It was a complicated arrangement and it didn't really work. As I understand it, they had two pumps, one that pulled the oil out of the motor and one that put the oil back in but it was a bit of a dicky set up and it caused them a lot of problems and they went back to a wet sump. It has still got the oil tank in it they used as an oil reservoir but it is just a breather tank now."
Delahoy said the body was in good condition, needing just a few "dings knocked out" and a lot of paint removed.
"It had been painted twice by the Dealer Team, and that paint was still on the car and then it had been painted yellow (its original GM-H colour) twice after that when they put it back to a road car. The restoration has been a big effort for my wife (Lisa) and me over the last four years. There are still a few little things to do to it."
Brock last drove an L34 in 1977 but stepping back into his '74 Bathurst car brought back plenty of memories, even if it was wearing Goodrich Competition T/A tyres while Delahoy hunts down some appropriately-sized racing slicks.
"This is quite a quick car," said Brock. "I'm just tooling around out there but every now and then you give it a bit of a stab and you think, 'oooh, this has got plenty'. Good brakes. Surprisingly good. I know it's got drums on the rear but you have got 90 per cent of the effort going to the front brakes. The only thing you had to worry about the backs was them causing the whole balance to shift a bit. So you couldn't quite stand on them for as long and as hard as the (rear disc braked) A9X, but not bad. Adequate for a few quiet laps of Calder."
Brock said the L34 was a nicer race car than the XU-1s he raced the previous four years.
"XU-1s had a lot more vibration and stuff like that because they were a six-cylinder with a big, long crankshaft," he explained. "The V8 sounded quieter, was smoother and it rode nicer. We had done a lot of development with the XU-2 so we knew all about the engines. There were no surprises to us when it came to the 308. We loved it.
"The LH platform was wider, had better suspension travel and it felt like a luxurious road car. That was the big difference.
"This was state of the art. This was as good as it gets. I'm not saying this car is the same as when it raced because it has different tyres and probably different springs and shocks and the engine wouldn't be as tight as we had it then."
Though its engine, suspension and braking had been beefed up, the L34 had to make do with Holden's 'Aussie four-speed' gearbox, though that was of little concern to Brock.
"I didn't mind the M21 gearbox, funnily enough," he admitted. "I guess it is just what you get used to. We had plenty of mechanics in those days that understood a lot about tolerances and clearances and making sure all those bits were right.
"There's no doubt that when we got that side of it right the gearboxes were quite handy. You just had to be careful about changing gears too fast. You just couldn't bang them through. Have a little kiss and cuddle with the gearbox. Talk to it. If you tried to treat it like a modern-day gearbox you'd last five minutes.
"Today there are not too many things that you have to be worried about with a car because your own race team can re-engineer it. In these earlier days the engineering division used to consist of Eddie Matthews, etcetera, down at Holden, who would shot peen and harden gears and specially finish components to try and get some reliability.
"When you said racing improves the breed I can assure you in that era they knew all about metallurgy and they had to get it right or cars wouldn't last. It probably taught the manufacturers a lot about getting durability up because no one wanted to finish up with mud on their face after going up and down The Mountain."
Driveline worries didn't begin and end with the gearbox, as Holden fitted the L34 with its standard banjo-style diff.
"We're talking about a diff that was essentially the same as an EJ Holden," Brock said smiling. "They had the same side gears and stuff as an EJ Holden. I suppose we had around 380hp (283kW) that we were putting through that little EJ diff. Oooooh Weeeee, you knew it was working.
"I remember in '74 Bondy used 14-inch tyres, maybe I did too (but) in '75 I used 15s and I reckon that's what won me the race at Bathurst. The tyre really hung in there. It was quite a hard tyre; a fairly narrow tyre. It didn't load up the diff too badly and sort of let you get a bit of attitude coming into a corner. That was always the answer, I think. You had to get the car pointing nicely without loading up the suspension because the diff had a finite amount of life in it."
The Toranas were rocketships in '74, and a Holden Bathurst win seemed inevitable.
"It was outrageously fast, and when it came to the speed at which you could go at in the wet it was faster again," Brock said. "Our cars were just a mile ahead. The only thing you had to worry about was another Holden. Of course the gremlins struck and John Goss ended up winning it with Kevin Bartlett (in a Falcon XA GT). No one would have thought they were going to win at that part of the race because by lap 118 we had a six-lap lead to the next guy?"
But history records that on that lap, Brock pulled into the pits with smoke billowing from the exhaust of the Torana he had shared with 1975 winning co-driver, Brian Sampson.
Some people initially thought the complicated lubrication system had failed, but team boss Harry Firth blamed Brock, saying he failed to heed instructions to slow down - a claim Brock fiercely rejects.
"We should have won it by miles but I vehemently, totally, completely and utterly, with every cell in my body deny that that was ever because it was driven too fast. It was because it was driven too slow.
"Harry was very, very strongly saying, 'Back off, you're too far in front'. I had backed off; I was going 10sec a lap slower, can you believe that? I was coming down Conrod Straight at 5500revs in top gear because that was the instruction. (But) that was the problem because we found that there was a big difference in the throttle openings as they went through the progression between fully closed and fully opened. They opened and closed at different rates, so at half throttle, when I was coming down Conrod, one bank was running lean. Four lean pistons burnt out the ring landings. Harry knows that. Ian Tate (HDT head mechanic) knows that, all the boys know that.
"That was probably one of the very few points of contention I ever had with Harry and it taught me a very important lesson - drive with how you feel the car. I really should have just said, 'I'm driving this thing Harry. I'm out there, you're not'."
Despite reports at the time, however, Brock said the incident played little or no part in his departure from the team at the end of the '74 season.
"I didn't take a great deal of notice. It was just later when I heard Harry had made those comments I was very hurt by it. (But) Harry and I have remained friends to this day because we just had too much respect for each other and all the things that we achieved. I didn't leave because of that. It was just time to go and do something else."
That "something else" included winning Bathurst the following year in the privately-entered Gown-Hindaugh L34 - the first of his cars to run the now famous 05 racing number, though at Bathurst officialdom dictated he run the number 5.
The win proved Brock had well and truly arrived and that his previous success wasn't purely a result of driving for the best team in the land.
"We did quite well in that car considering the (limited) budget we ran on and I wanted to do things a little differently," Brock said.
"I had Bridgestones and I wanted to run 15s on it and so we developed a tyre and a strategy that we reckoned was going to win the race and just drove accordingly. You could very well say, 'Well, maybe the other cars drove too fast that year'. I just drove it the way I reckon I should drive it and it worked out pretty good."
The victory also proved that a wet-sumped L34 could survive 163 laps of Bathurst.
"We went to a sump design that was similar to a Camaro Z28 and once we got that organised with little trap doors and a nice little steel windage tray - which really got the oil off the crankshaft - oil problems became a thing of the past."
Bond was in the Delahoy car that year, driving it to victory in the South Pacific Touring Car Championship that supported the Tasman Cup series, before using the Torana in the final two rounds (AIR and Lakeside) of his winning ATCC campaign, winning both.
The Sydneysider also put the car (now painted in new livery) on pole at Bathurst - its second in a row - before he and co-driver Johnny Walker drove it into third place.
A year later, Bond and co-driver John Harvey finished second at Bathurst behind the L34 of Bob Morris and John Fitzpatrick, though many people - including some at Holden - claim the HDT car was half a lap in front of the Morris/Fitzpatrick machine, not half a lap behind.
Delahoy says the L34 competed in the last two Manufacturer's Championship races (at Surfers Paradise and Phillip Island) and ran a final race in 1977 before being retired from racing. It was then converted back to a road car, painted yellow and road registered.
"The story of it passing hands from the HDT to its new owner is still a bit unclear," Delahoy said. "It is thought to have been sold by a car dealer in Coburg (Vic) to a guy called George in the late '70s and who in turn sold it to Wayne Nowell of Sammy's Auto Electrics in Clayton in the early '80s. Then it was sold to Ted Herbert in the late '80s.
"Herbert owned it until the late '90s when friend Alan Hamilton - Colin Bond's co-driver at Bathurst in 1977 - sold the car on behalf of Herbert."
Delahoy says he would like to race the Torana but the cost of running the car in historic Group C touring car events means it is likely to see out its days as a display and demonstration car.
Unique Cars magazine Value Guides
Sell your car for free right here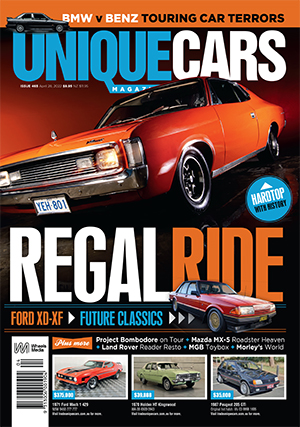 SUBSCRIBE TO UNIQUE CARS MAGAZINE
Get your monthly fix of news, reviews and stories on the greatest cars and minds in the automotive world.
Subscribe