Plymouth 1938 Special Racing Car review
---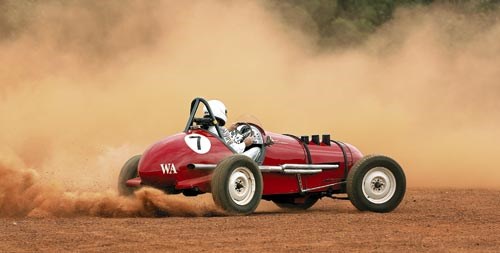 1938 Plymouth Special Racing Car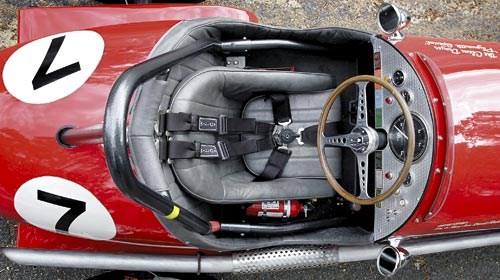 1938 Plymouth Special Racing Car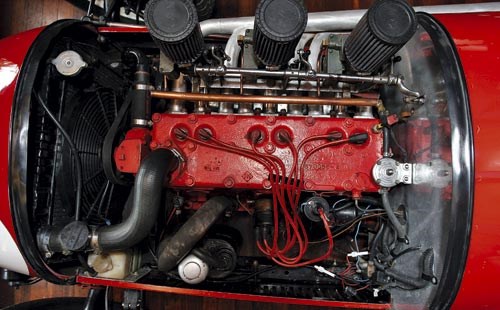 1938 Plymouth Special Racing Car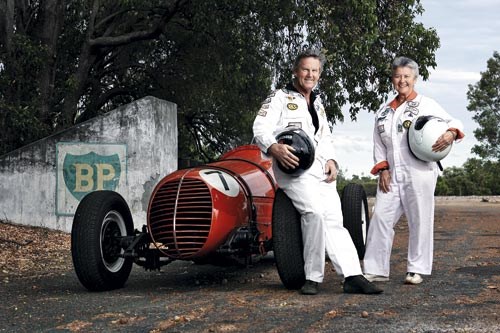 1938 Plymouth Special Racing Car

Something Special. A wrecked 1938 Plymouth sedan became the basis for one of Australia's most successful open wheelers, and it's still going strong.
Plymouth 1938 Special Racing Car 
As a result of being in the most far flung corner of the world, without easy access to purpose built racers from the likes of Maserati, Bugatti or Alfa Romeo, local racing drivers in the early days were often compelled to construct their own machinery.
Australian specials became a unique breed of racing cars, some of which were inspired and successful machines, others pretty much doomed from conception.
Some were crude, lightweight road cars, with much of the bodywork and items like lights stripped off and modifications like open exhaust systems.
More serious specials were built up from a conglomeration of components from various road cars, wrapped in homemade lightweight bodywork.
There were some really beautiful cars created, some inspired by Europe's finest racing cars and often belying their rudimentary mechanicals.
WILD WEST
In Perth, the country's most isolated capital, there was a strong following for racing in the pre-war period, but with no circuits anywhere in the state, racing in nearby country towns became the fashion. These 'Round the Houses' events became immensely popular, with vast crowds attending to capture the excitement.
In 1936 the town of Albany hosted the first 'Round the Houses' event, attracting over 10,000 spectators and a fascinating range of cars. In the audience was a 21-year-old named Clem Dwyer, a keen racing enthusiast who had gained his driver's licence at 13. His father ran Perth's Morris and MG dealership, Comet Motors, and Clem's first car was a special-bodied MG J2, which was later pressed into service in competition.
Later, Dwyer ran a panel-beating business in Perth and in 1938 dismantled an almost new Plymouth sedan which had been heavily crashed. With big plans, he put the useful parts into the loft at his workshop.
The first step was to combine the cruciform section of the Plymouth chassis with siderails of an Essex chassis to produce a rigid structure. Setting the whole car lower to the ground, the Plymouth tubular front axle was incorporated as well as a tubular crossmember at the rear, allowing the semi-elliptic springs to sit outboard of the chassis.
Dwyer paid tremendous attention to detail in the construction of his new racer. The 3.0-litre, six-cylinder Plymouth engine had the compression ratio increased, an oil cooler was installed and the carburettor replaced by a downdraught SU unit.
Typifying his attention to detail, the head was dipped in copper to help dissipate heat then painted black so nobody would know.
A steering box from a Talbot was used, and the brakes were modified to include air scoops.
Inspired by the beautiful Maserati 6C, he constructed sleek body work to clothe his new special in. A highly-skilled artisan, Dwyer would later recall how he had hand-formed the curvaceous slats of the grille over his knees.
WINNING WAYS
The car made its debut at the Patriotic Grand Prix, which itself was a remarkable event. Held in November 1940, when the war was in full swing, the race was through the streets of suburban Applecross, and attracted a crowd estimated at 20,000.
Entries spanned a Bugatti Type 57 to crude Ford specials. Several newly built racing cars made their debuts, but the Dwyer Special, as it was first known, was the centre of attention, with its bright red paint emulating the famous Italian racing colours of the Maseratis of the day.
Duncan Ord's Bugatti was acknowledged as the fastest car in WA at the time, however during practice it became clear that the new Dwyer Special was not far behind.
The main race had a handicapped start with the fastest cars starting almost 10 minutes after the slowest. By the time the 25-lap race ended, Dwyer had got his new car up to second place and recorded the fastest lap. It was a great start to an illustrious career for what was to be known as the Plymouth Special.
In 1941 Dwyer raced the car again, at the street circuit in the country town of Pingelly, coming second to the Marquette Special that beat it in the previous race. Dwyer then joined the army, serving in New Guinea as a mechanic, so the car was mothballed until the war was over.
After 'demobbing', Dwyer became involved in setting up a new circuit at Caversham, an airbase in Perth's northern suburbs.
The Victory Grand Prix was held there in 1946 and this time Dwyer took outright honours.
Later that year the car was sold to Ted Harris, who then sold it to Wally Gibson the following year. Dwyer had a new project - an SS100 Jaguar, which he converted into an attractive, but unsuccessful racing car.
Gibson had great success with the Plymouth, winning the WA Gold Star in 1948 as the state's top driver. Dwyer was disappointed when the car was painted black, believing the colour didn't do the car's shape justice.
Gibson, however, only had the car a year before selling it to Syd Negus. Having been an enthusiastic spectator who then entered his everyday Chevrolet in some events, Negus' wife suggested "You might as well buy a car to race, because we travel all around the country watching races," he recalled many years later. "Before you could say 'Jack Robinson' I approached Wally Gibson the then owner of the only car in the state that I considered worth buying and arranged to buy the Plymouth.
"I became the owner of my first racing car just a few days before the first Great Southern 50 at Narrogin and I did not even have time to practice." Possessing considerable driving talent, Negus brought the car home in third place in two shorter races and won the main 25-lap event.
UNBEATABLE COMBINATION
Thus began one of the most successful pairings in Australia's motor racing history. Negus and his Plymouth Special had a long-running winning streak, which by 1955 included 22 firsts, 31 seconds and 34 third places as well as 39 fastest laps. A vast collection of trophies and special awards were amassed, including several Gold and Silver Star awards.
In 1957, the car was turned into a sports car, by having a set of mudguards, headlights and a wider seat fitted. Immediately, the Plymouth Special won the Sports Car Championship, after a protest from a fellow competitor who claimed it wasn't a sports car, was later overturned.
The Plymouth Special had a remarkable reliability record - up until 1955 it had finished 102 out of 103 events. It remained bulletproof through to 1962, when it last raced.
Negus claimed in a documentary film made in the late 1970s: "People used to think all we used to do was fill it up with petrol and pump the tyres up. It was a very reliable car."
One trying event at Mooliabeenie, Negus rolled the car twice and later told how, "I rolled the car in practice, bent the wheels, busted the windscreen and dented the body, but with the help of two club members straightened everything out and managed to win the race and take fastest time. I was so stiff when I got home that I could not turn around to reverse the car into the garage".
It didn't always perform well though, finishing 18th at the 1953 Australian Grand Prix at Albert Park, and failing to finish the '57 AGP held at Caversham.
Negus bought a Cooper-Bristol from Alec Mildren in 1957 after he converted the ageing Plymouth to a sports car. He still raced the Plymouth as late as 1962 when he competed in the Albany Tourist Trophy, coming second against many newer cars.
In 1963, Negus' son Wayne got his driver's licence and began using the now road registered Plymouth Special as his everyday car. Wayne went on to become a top racing driver himself, racing V8 Toranas for the Holden Dealer Team.
Syd Negus became a senator, famous for championing the abolition of death duties and adoption of seatbelt laws.
The Plymouth was sold in 1967 to Bo Ellis who used it in speedway events and later sold it to some car traders. It occasionally appeared in car shops through the late-'70s and early-'80s with little interest, and eventually it was consigned to a rural shed.
BACK IN BUSINESS
In 1985, Perth enthusiast Graham Reed purchased the Special and began the long process of restoring it to its former glory.
By 1992, the car was racing in historic events and that year won the Albany Tourist Trophy and, appropriately, the Clem Dwyer Perpetual Trophy.
The Plymouth was then kept in the eastern states for some years as Reed raced it in historic events at various circuits before eventually bringing the car back to Perth.
During Reed's ownership the engine failed and a cracked block resulted, followed by considerable work in replacing the block and rebuilding the car. Reed tried to get the car log-booked by CAMS but was unsuccessful on the basis that it had an incorrect steering wheel and an electronic tacho.
By 2002 the Plymouth Special changed hands again, this time joining the collection of Ken and Mary Ann Stewart-Richardson, both of whom knew Clem Dwyer and were enthusiastic participants in historic motor sport.
With Dwyer's advice Ken put a lot of time into rebuilding aspects of the car to make it competitive and correct to its original design, as many changes had been made over the years. The engine was rebuilt carefully, now measuring just under 4.0 litres, in preparation for the car's competition life to continue.
During this process, Ken told the story of the car being unable to be log-booked to a fellow enthusiast who said, "Do you want the car's original tacho? I've got it under my bench." And rebuilding the tacho revealed another interesting twist. When Ken took the instrument to a local company to be rebuilt, an elderly employee recognised the tacho as one he had converted from a speedo for the car when he was a young apprentice.
Ken wondered how the tacho drive had been achieved, and Clem Dwyer was able to tell him over 60 years later that, "I soldered the tacho drive on the end of the camshaft" and when Ken investigated, it was still there.
Since then both Ken and Mary Ann have driven the car extensively - in sprints, regularity events, Round the Houses, hillclimbs and in 2007 it was invited to participate at the Australian Grand Prix in the historic events.
The Plymouth continues to win trophies almost 70 years after it first set spectators' hearts aflutter at its first circuit race.
TIRELESS RACER
Clem Dwyer was a remarkable man. A skilful car designer and builder, he was also a gifted driver and raced all sorts of cars from an SS100 Special to a supercharged Renault Dauphine.
He raced motorcycles and set several motorcycle speed records and also took to karting, winning a state championship. He ran a number of successful businesses in different fields.
Well known and admired by the motoring fraternity, Dwyer had a cheeky streak a mile wide. For example, when in his 70s, for a dare, he rode his motorcycle over a freeway pedestrian overpass in suburban Perth.
In his retirement he had a number of interesting cars at home, including an early Lotus Elite and a potent rotary-engined Westfield.
He also took the unusual step of buying and racing a Subaru WRX when 82-years-old. Still in possession of a CAMS licence, he drove it on the occasional club track day, putting down some quite competitive lap times.
In April 2003, Dwyer took the wheel of the Plymouth again, competing at the Northam Flying 50 run by the Vintage Sports Car Club - the car was 63-years-old and Clem was 88.
In 2003 he drove in his last competition event, and a year later one of Australia's great racing heroes passed away.
SPECIAL OFFER
After several years of using the car, the owners have decided it's time to move it on. "We've achieved everything we set out to with the car and it's been brilliant, and we're getting too old to keep racing," says Ken Stewart-Richardson. "We've been told by CAMS that the car would be FIA eligible, so it still has a lot of potential to race anywhere around the world. It's completely sorted now and has been really reliable and a joy to use."
With an asking price of $80,000 it seems like a bargain given its rich history, especially when compared to what a Maserati 6C might cost - but then that's what Australian Specials were always about.
If you fancy adding another chapter to this remarkable car's long racing history, call Ken on (08) 9431 7771.
SPECIFICATIONS
1938 Plymouth Special Racing Car 
Body: open, lightweight, single seat
Weight: 800kg
Engine: approx 3.9-litre, 6-cyclinder
Transmission: 3-speed manual
Drivetrain: front engine, RWD
Price: $80,000, ph: 08 9431 7771.
Unique Cars magazine Value Guides
Sell your car for free right here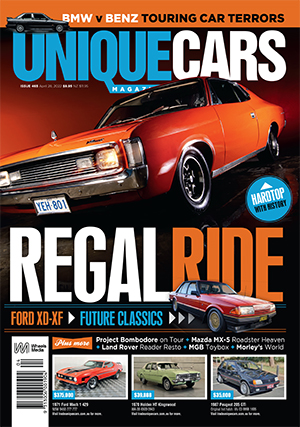 SUBSCRIBE TO UNIQUE CARS MAGAZINE
Get your monthly fix of news, reviews and stories on the greatest cars and minds in the automotive world.
Subscribe