Jaguar XJS ex-TWR 1984 #004 review
---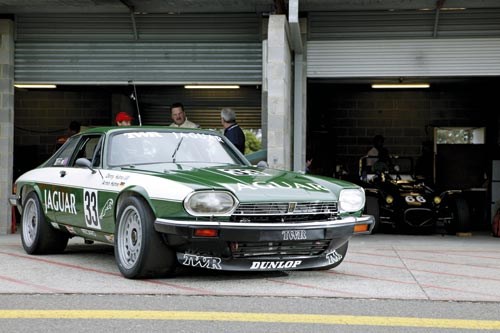 1984 ex-TWR JAGUAR XJS #004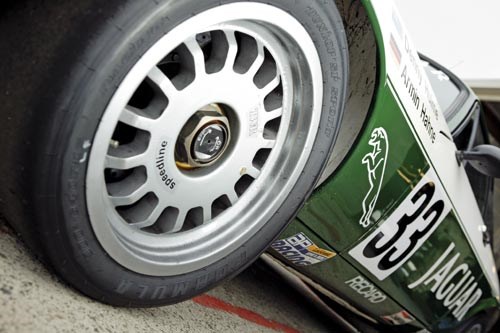 1984 ex-TWR JAGUAR XJS #004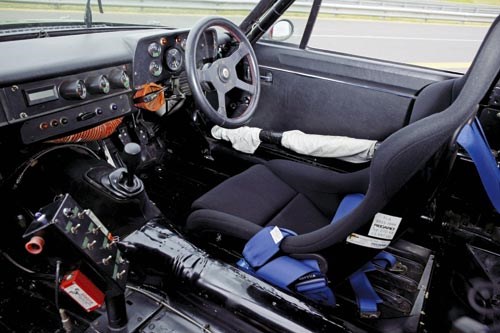 1984 ex-TWR JAGUAR XJS #004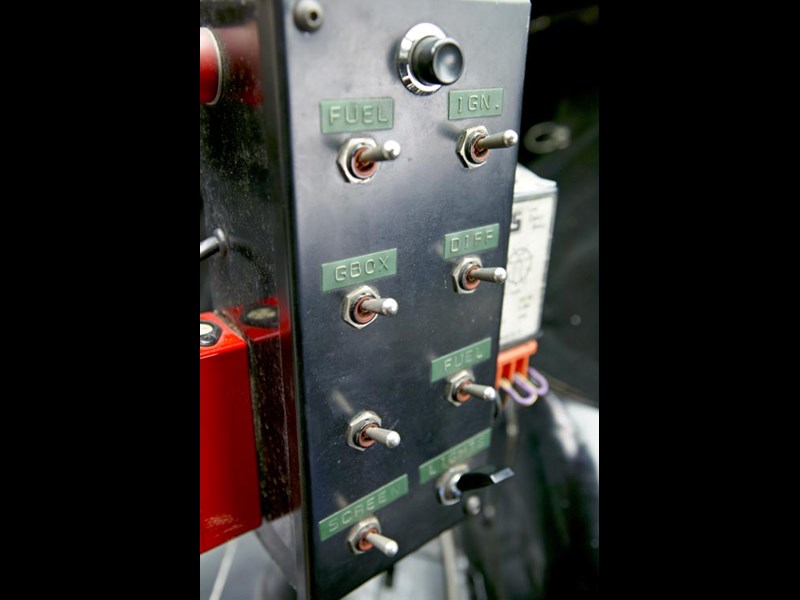 1984 ex-TWR JAGUAR XJS #004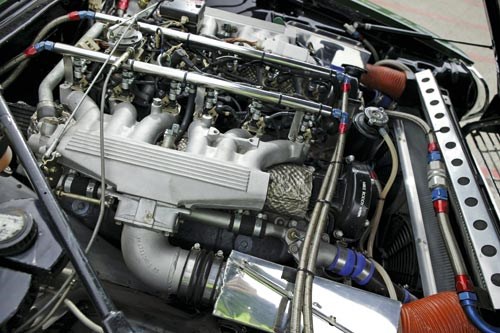 1984 ex-TWR JAGUAR XJS #004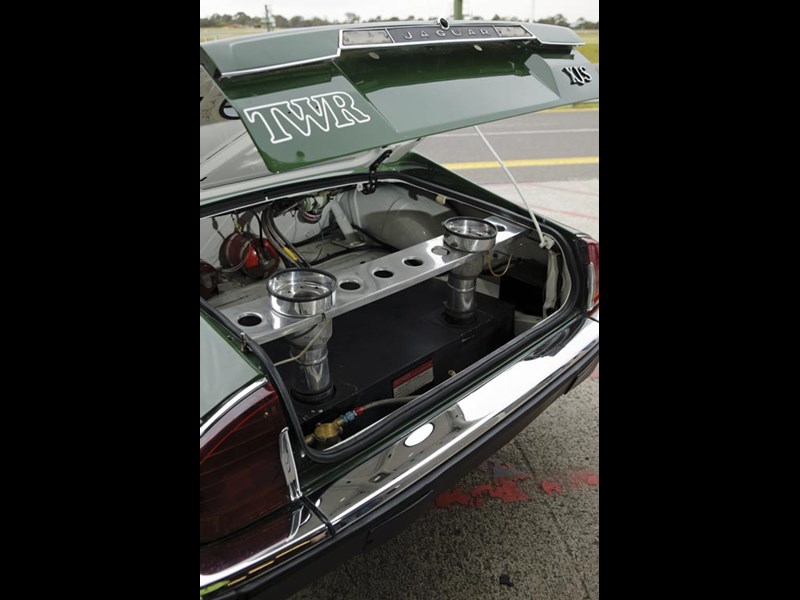 1984 ex-TWR JAGUAR XJS #004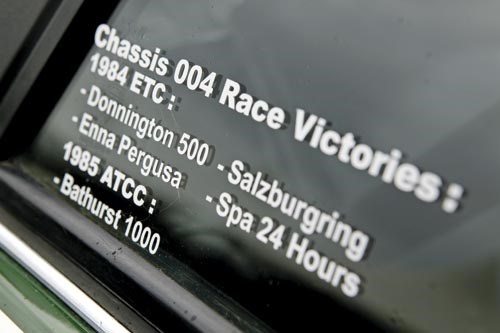 1984 ex-TWR JAGUAR XJS #004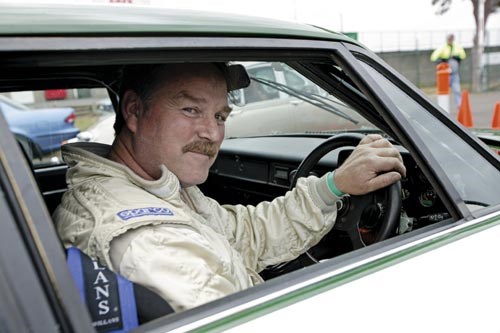 1984 ex-TWR JAGUAR XJS #004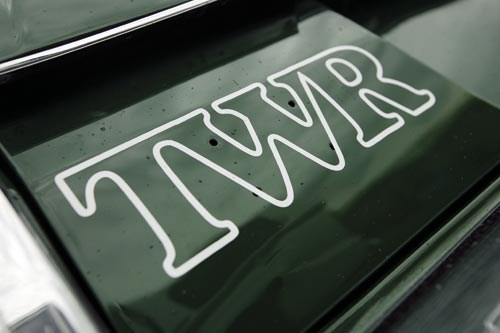 1984 ex-TWR JAGUAR XJS #004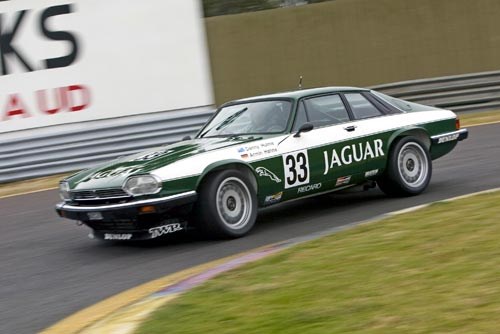 1984 ex-TWR JAGUAR XJS #004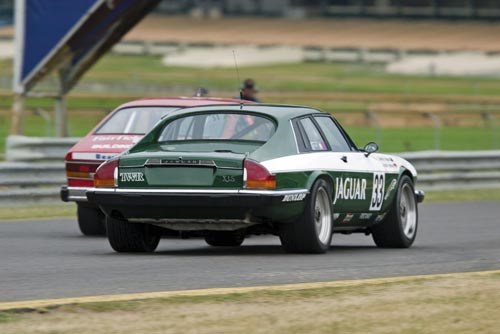 1984 ex-TWR JAGUAR XJS #004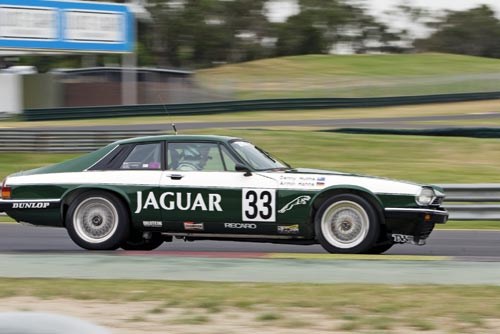 1984 ex-TWR JAGUAR XJS #004

Mountain Cat: From Browns Lane to Mt. Panorama to Historic Sandown, this ferocious feline is still running at the front of the field.
Jaguar XJS ex-TWR 1984 #004 
Bathurst, October 6, 1985: The champagne was splashing the crowd at the Mount and flowing into crystal flutes at Brown's Lane. For the first time in 22 years, since Bob Jane took the Australian Touring Car Championship in his 4.2-litre Mk II sedan, a Jaguar had won a major touring car race in Australia.
A team of three TWR prepared and entered V12 XJS models had scored a spectacular 1-2-3 finish in the first 1000km endurance race at the Mt.Panorama circuit held under the then-new Group A rules, triumphing over a bevy of home-grown Holden and International BMW teams.
It was the biggest assault on the Mountain ever made by an overseas team and is reported to have cost Tom Walkinshaw more than $500,000 at a time when that would have run a top Australian touring car team for a season. It was not the pugnacious TWR boss who was wearing the garland on the top step of the podium, but Australia's own John Goss, celebrating his second Bathurst victory in a decade.
It had been a remarkable race, in which both JPS BMWs had become beached in a sand trap and Peter Brock had put up a glorious, and ultimately fruitless, challenge for victory. But in reality there was no more fitting winner than Goss.
Not only was his well-raced XJS chassis 004 the 'orphan' of the factory-backed TWR squad - travelling to Mt Panorama bare-back on a tandem trailer while Walkinshaw's two other Jaguars enjoyed the security of a covered transporter - but Goss and his German co-driver Armin Hahne had overcome enormous difficulties to bring the car home in first place.
Before the half-way mark in the race, the back of their Jaguar's race seat had broken while Goss was at the wheel, but he completed his stint with virtually no back support, retaining second place to Walkinshaw and Win Percy in the leading XJS chassis number 005.
Goss's pit crew lashed the seat to the roll cage with zip ties and race tape, but it later snapped off completely on Goss's final tour of duty. In a superhuman effort, he completed the race effectively without a backrest, still revving the Jaguar to 8000rpm and setting fastest lap, while bracing himself with his left leg on the transmission tunnel to hold off first a storming charge by Brock in the HDT VK Commodore and a fast finish by the second-placed Roberto Ravaglia/Johnny Cecotto BMW 635CSi.
"He should have received a knighthood!" says Melbourne Jaguar specialist and racer, Mike Roddy. "Not enough credit was given to him - he must have driven three or four hours without a proper driving seat." Roddy should know. Today, he sits in the replacement Recaro in the same glorious XJS and while racing in Group A historic events.
The Jaguar he purchased three years ago from a collector in Scotland is one of four genuine lightweight XJS race cars built by TWR in the winter of 1983/84 to contest the 1984 European Touring Car Championship, but statistically the most successful. As well as a potent 500hp (373kW) development of the production-based Jaguar V12 engine introduced more than a decade earlier in 1971, it featured much lighter steel panels and numerous other TWR tweaks.
Driven by Walkinshaw, Win Percy and "Chuck" Nicholson, the car started in every race of the 1984 ETTC, winning several, to give Walkinshaw the driver and Jaguar the manufacturer titles. For 1985, however, there was a new challenge for TWR and some unfinished business in Australia. In contrast to his ETCC success, Walkinshaw's debut appearance at Bathurst that year had been a disaster.
With the support of Jaguar Rover Australia, John Goss since 1980 had been trying to break the Holden/Falcon domination of Bathurst with a Jaguar XJS that had originally been a factory test car.With help from TWR, Goss progressively developed the XJS over the next couple of years and for the final year of Group C in Australia, Walkinshaw flew out to co-drive the car with him at Mt. Panorama.
It all started promisingly, with the Jaguar recording the fastest-ever touring car speed down Conrod Straight of 296km/h on the way to qualifying 10th. But Walkinshaw tore the centre out of the clutch on the starting grid, several other cars tagged the XJS and it was game over in less than a metre.
To compensate the Sydney-sider, Walkinshaw included Goss in his 1985 team. While he and Win Percy shared the newer 1985 XJS chassis 005, and another of the 1985 team cars went to Britain's Jeff Allam and Australia's Ron Dickson, Goss and Hahne were given the well-worked, albeit freshly rebuilt B-team 1984 ETCC car.
History tells the rest. Walkinshaw took an early lead but lost time after the car fractured an oil line on lap 128. Allam/Dickson retired on Lap 3 with engine failure and it was left to Goss and Hahne to bring homer the British bacon.
There was naturally every expectation that Walkinshaw would be back in 1986 to defend his Bathurst crown and, after the 1985 race, 004 and 005 went back to TWR where they were rebuilt. In the process both cars shed 50kg and were fitted with new, lower aluminium radiators, while 005 was converted to left-hand drive because Walkinshaw believed it would give the car a handling advantage at the Mountain.
It wasn't to be. After a monetary disagreement with the Bathurst organisers, TWR gave the Great Race a big miss in 1986 and took the cars to a race at Mt.Fuji, Japan, instead.
The following year, 004 returned to the Antipodes for the Wellington Street race with Hahne and Denny Hulme co-driving but, in contrast to the car's previous trip Down Under, it was a dismal outing. While practising at Pukekhoe, Hahne had a left front tyre blow out and hit the barrier, necessitating hasty repairs.
Then, in the race, the car set the fastest lap before the same thing happened and the car crashed and retired. It was to be its last serious motor race for 20 years.
Flash forward to Historic Sandown 2008 and the swarm of admirers around the XJS in the paddock has Mike Roddy grinning like a Cheshire cat. He was as proud as punch when he bought the car three years ago and to have others share his admiration for the Bathurst winner makes him even prouder.
Ever since he first saw the cars race, Roddy had wanted to own one of the works cars, but he was out-bid by the Jaguar works for chassis 007 at an earlier auction and was determined not to let it happen again when #004 was offered for private sale in Aberdeen, Scotland.
It had seen only two owners since TWR sold it in the late-1980s and had been restored to its final development state in which it was driven by Hahne and Hulme. The deal was done as soon as Roddy clapped eyes on it.
Back in Australia, he freshened up the V12 engine at his Melbourne Jaguar restoration and maintenance business with the help of Tom Walkinshaw's 1985 Bathurst mechanic Chris Cullen, replaced the clutch and updated the shock absorbers. Otherwise the big Jag is very much as it last ran in New Zealand in 1987, albeit cosmetically restored.
Since acquiring it, he's found out more about its illustrious history with the help of local authority Les Hughes, who edits the Jaguar Magazine, discovering that, along with Goss, Walkinshaw, Percy, Hulme and Hahne, TWR XJS 004 has also felt the touch of drivers of the calibre of Martin Brundle and Jean-Louis Schlesser during its illustrious career.
Today enthusiasts can revel in the fabulous howl of its 500hp V12 engine in the growing Group C and Group A category of historic racing. Unlike Group N Historic touring cars, or those that run in the Biante series for similar but more modified cars, Group C & A cars cannot be replicas, but must be the actual vehicles that raced in the era, right down to their period paint schemes and sponsor decals. It's quite a trip down memory lane to see 'Denny Hulme', 'Peter Brock', 'John Harvey', 'Glenn Seton' and 'Alan Grice' grid up again in 2008.
At Sandown the line-up included five Torana A9X models, five V8 Commodores, a Nissan HR31, a BMW 635CSi and M3, Ford Falcon, Mustang,  Volvo and Ford Sierra RS500. But none had the presence of the green and white Jag.
While Bob Tweedie in the ex-Peter Jackson 'Glenn Seton' Sierra had the legs on the field, the turbocharged Ford (as was often the case in their late-'80s era) proved fragile. So it was left to David Holc in the ex-Bob Forbes VL Walkinshaw Commodore and the West's Paul Stubber in the former HDT Torana A9X previously campaigned by John Harvey, to battle for the lead, with Roddy in the 'Goss' XJS an ever-present danger in third.
"The car will go faster, but its history is already made," says Roddy. "There's nothing I need to prove."
At the Oran Park final round of the 2008 V8 Supercar Championship in early December, some 45 Group C & A cars were scheduled to be on track in a support event to the V8s, including the ex-Goss XJS. But even in that illustrious company this amazing car was destined to stand out as one of the true icons of Australian touring car history.
GREEN WITH ENVY
When it comes to cars, Mike Roddy only has cats' eyes.
He's been a Jaguar enthusiast all his life, acquiring his love for the marque from his father, who owned a 3.5-litre Mk IV model when Mike was 10. By 15, he was working on the family's and other Jaguars and it was a natural progression to become an independent Jaguar service specialist, 21 years ago.
Having regularly attended Sandown meetings with his father in the early-'70s, it also wasn't surprising that he would soon want to race a Jaguar. He started at the top, fielding a menacing black XJS in Victorian Marque Sports Car races, where he scared a number of Porsches and Cobra replicas.
Today, Mike Roddy Motors specialises in both maintenance and restoration of Jaguars, with motor racing a hobby. His Moorabbin, Melbourne, workshop is currently involved in a number of fascinating Jaguar projects, but the car that is currently attracting more visitors than any is the rare (one of 50) TWR-built V12-engined XJR-15 sports car owned by the Fox Museum.
Over the years Roddy and his team have won many Concours awards with the cars they've restored, and built some of the world's fastest racing Jags. In addition to the Bathurst-winning XJS, Roddy is currently rebuilding his XJS Sports Sedan, which is powered by a mid-mounted TWR Jaguar Group C V12 producing 695hp (518kW) and with an all-up weight of just 1050kg. "It's a real weapon," he smiles.
Not surprisingly, Roddy also has a few road going Jaguars in his family, including a 1994 3.2-litre Sport sedan, a 1991 TWR Sport 6.0-litre XJR-S and a Daimler DR450 Limousine.
SPECIFICATIONS
1984 ex-TWR JAGUAR XJS #004
Construction: Special TWR body featuring lighter steel panels and lightweight glass
Weight: 1400kg (with lead ballast)
Engine: TWR-modified, 5.3-litre V12
Power: 525hp (392kW) @ 7500rpm
Transmission: Getrag 5-speed close ratio Suspension: TWR modified with stronger suspension arms and stub axles; Bilstein aluminium racing shock absorbers
Brakes: AP racing with 4-titanium piston callipers, adjustable front/rear bias
Wheels: 17x12inch Speedline alloy racing
Performance: 0-160km/h - 10secs. Top speed - 300km/h (with Bathurst/Spa gearing)
Unique Cars magazine Value Guides
Sell your car for free right here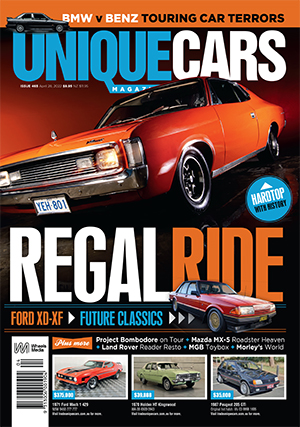 SUBSCRIBE TO UNIQUE CARS MAGAZINE
Get your monthly fix of news, reviews and stories on the greatest cars and minds in the automotive world.
Subscribe