1961 Harrington Sunbeam Alpine review
---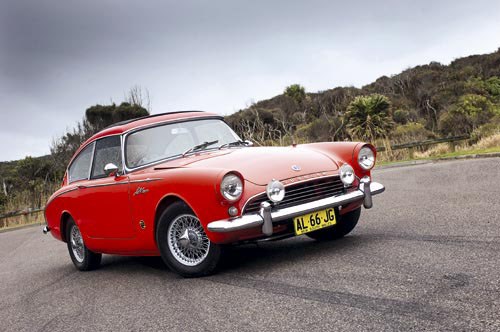 Harrington Sunbeam Alpine front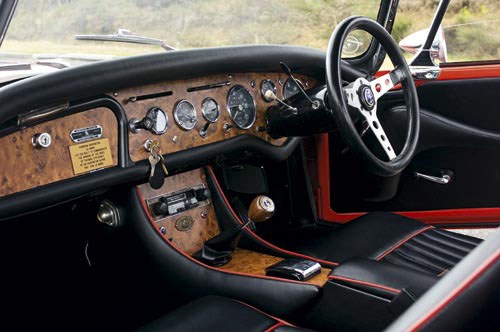 Harrington Sunbeam Alpine interior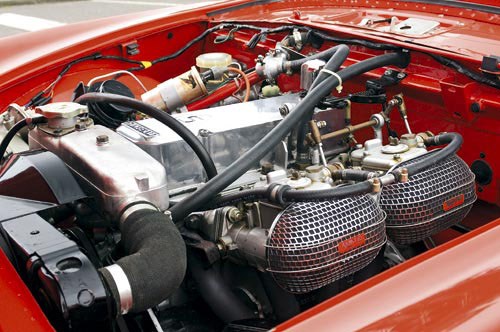 Harrington Sunbeam Alpine engine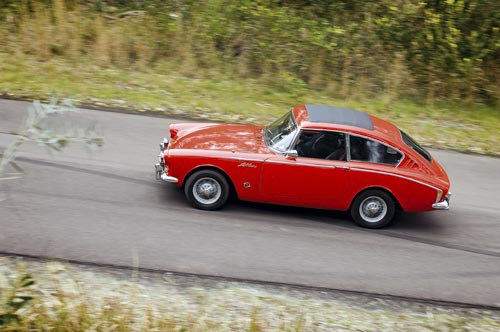 Harrington Sunbeam Alpine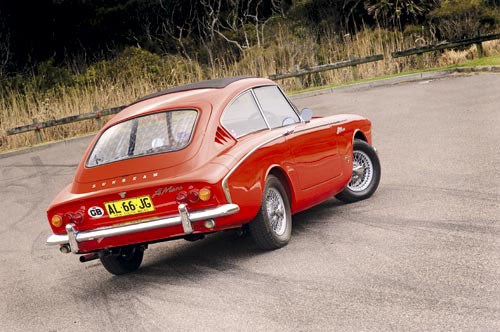 Harrington Sunbeam Alpine rear view

This ultra-rare Harrington Sunbeam Alpine was built to take on the big boys of endurance racing...
1961 Harrington Sunbeam Alpine 
Built to celebrate a surprise win at Le Mans in 1961, this Harrington-bodied Sunbeam Alpine is one of the last running survivors of a very rare breed.
Expectations weren't exactly running at fever pitch when Sunbeam lined up for its Le Mans debut in June 1961; least of all among the 20-odd lads that made up the factory's modest two-car outfit.
Up against the might of Porsche and Ferrari, the little 1600cc Alpines were hopelessly out-gunned. On a tighter track, where their nimble handling would have worked to their advantage, they would have stood a better chance of keeping the establishment honest. But there at la Sarthe, where top speed was everything, the Sunbeams were going to be left for dead - especially down the 5.6km Mulsanne Straight. There wasn't a chance in hell that either of the two Alpines would get even a sniff of an overall win.
Indeed, given the fact that they were comprehensively outclassed by the vastly more experienced, and better funded, Lotus and Triumph teams, they didn't stand much of a chance of scooping the plaudits for being the Best of British either.
Yet there they were, lining up for the most prestigious endurance race in the world, racing on a shoe-string budget and without a single member of the team having ever been to a Le Mans 24 hour, let alone raced one. It was hardly a recipe for success. But, in spite of overwhelming evidence to the contrary, there was method in Sunbeam's apparent madness.
The way team manager Norman Garrard saw it, the Alpines did stand every chance of winning the prestigious Index of Thermal Efficiency award, and reaping all the glowing publicity that went with it.
After proving the Alpine's suitability for endurance racing by running it round the MIRA proving grounds for 24 hours straight, Garrard was given the green light to develop a two-car package for Le Mans. One car, he decided, would remain virtually standard, while the other would be based on a new Alpine-based grand tourer that was being cooked up by renowned coach-building firm Thomas Harrington Ltd.
Although it was recognised for being one of the foremost specialists in aluminium fabrication, Harrington was also one of the first coachbuilders to master the use of fibreglass and, in 1961, came up with an integrated glass fibre fastback roof conversion for the Series II Alpine convertible. Lightweight, aerodynamic, and boasting more torsional rigidity thanks to extra reinforcement in the chassis, the Harrington Alpine was the ideal platform for a racing GT.
As with the road-going Harrington Alpines, the coachbuilder opted to retain the car's distinctive rear tail fins for the racer. However, for the sake of improving aerodynamics, it recessed the Alpine's prominent headlights, fairing them in with flush-fitting Plexiglas covers. A full undertray was also installed to help reduce drag.
To look after the engine work, Harrington relied on the expertise of George Hartwell who had previously developed the factory Rapier rally cars. Building upon what was essentially the Stage III tuning kit offered on the road car, the racer's 1592cc in-line four featured reprofiled and polished ports, a high compression (10.2:1) head and twin-choke 40 DCOE Webers along with a high-lift cam and stronger valve springs. The result was a pretty impressive 78kW at 6200rpm with a corresponding 142Nm of twist, which was transmitted through to the rear wheels via a lightened flywheel and a nine-spring racing clutch.
Although the factory Alpines had previously won their class at various rallies, including the Monte Carlo, the team had virtually no circuit experience with the cars. So, as a warm up for Le Mans, Sunbeam decided to enter the Sebring 12-Hour and would have won its class if it weren't for a string of botched pit stops.
While the Alpines had proved reasonably competitive on the tight airfield circuit of Sebring, their performance during April testing at Le Mans wouldn't be nearly as encouraging. On the long, sweeping la Sarthe circuit, the little Alpines just weren't quick enough, forcing Garrard to rethink his strategy and aim for the Efficiency Index instead.
Calculated by a car's weight, the amount of fuel used and the average speed attained, the Index was the second-most coveted trophy at Le Mans next to an outright win, and a more realistic target for the fuel-efficient Alpine. As far as the factory's need for publicity was concerned, winning the Index would do very nicely indeed.
In the race itself, things couldn't have gone much better for the Sunbeam squad, despite the standard Alpine of Paddy Hopkirk and Peter Jopp having to pull out early with a failed main bearing. Meanwhile, the Harrington car, piloted by Peter Harper and Peter Proctor, ran a faultless race stopping only for fuel and oil, eventually coming home second in class and 16th overall while pipping a highly unimpressed Porsche squad for the coveted Index trophy. It was a particularly sweet victory.
To commemorate the occasion, Sunbeam's parent company, the Rootes Group, commissioned Harrington to come up with a special edition of its fastback Alpine. Like the Le Mans racer, the new car would feature a fibreglass roof; however, this time round designer Ron Humphries would go even further with the concept, removing the tail fins and boot section completely and replacing it with a swooping fastback roof that even incorporated a remote cable-operated luggage hatch.
Although the new Harringtons were fitted as standard with the same engine that ran at Le Mans, three other engines in various stages of tune, ranging from 65 to 74kW, were offered to suit individual needs and budgets. The same four-speed Rootes transmission was retained, complete with the lightened flywheel and competition clutch; however, for the production car, an overdrive was added to all four forward ratios.
The chassis was almost identical to the Le Mans racer, with wishbones, coil springs and gas dampers up front and leaf springs and lever-arm dampers at the rear. To pull the little coupe up, Harrington specified 241mm Girling discs at the pointy end, with 228mm drums at the back. A Clayton DeWandre brake booster was fitted as standard.
Launched at the Earls Court Motor Show in October 1961, the Sunbeam Harrington Le Mans was priced at a hefty £1495 ($4000 in the US). It was a price that took the otherwise low-rent Alpine right out of its comfort zone, and shoved it blinking into the spotlight alongside the likes of Alfa, Porsche and Jaguar.
Still, those who found themselves considering a Le Mans wouldn't have been disappointed with the equipment level - even compared to the likes of Porsche's 356 and the Jag E-Type, which cost a few hundred pounds more. Inside, the little GT boasted such luxuries as a walnut dash, wood-rimmed Carlotti wheel, with leather Microcell bucket seats replacing the standard Alpine units. At the rear, the two occasional seats would even fold down to create the extra luggage space that would be required for those cross-continental jaunts.
Originally, Harrington had earmarked a build of 250 cars, half of which would be sold in the US. Considering the quality of the competition it was up against, Harrington did well to sell them all. Indeed, the Rootes Group would have probably sold considerably more if it had the foresight to increase production and get more cars on showroom floors. Still, with a build time of between 40 and 50 days per car, Harrington would have been flat out just coping with the individual orders it received.
Out of those 250 cars built, only 54 are thought to have survived - most in various states of disrepair, leaving just a handful that remain running and in original condition. Out of those cars, four are known to reside in Australia, with NSW enthusiast John Burnapp's being a particularly good example.
One of the earliest examples made, Burnapp's car rolled off the line on 24 August, 1961, and was shipped to Harrington's Sussex workshops for conversion. Completed late October, the Le Mans was sold by Performance Cars in Chiswick, London, and would have changed hands several times before John finally persuaded his friend to part with it in 1996.
"Although I'd owned several Sunbeams in the past, I hadn't paid all that much attention to the Le Mans until a friend of mine bought one," he says. "The fact that it was so unique drew me to it, plus it had all the best options installed.
"Since buying the car, I've had a Webasto sunshine roof installed, which was a factory option at the time, and I've also fitted an electric radiator fan to keep temperatures down in summer and an electric fuel pump too.
"In terms of performance, it doesn't set the road alight, that's for sure. But we often go for drives on the twisty roads round the Hunter Valley where it's a lot of fun to get around in."
Thanks to the competition clutch and flywheel, the Le Mans proves fairly tricky to get off the line smoothly. And once going, you've got to wait until 3000rpm before the four-banger comes on cam and starts showing signs of life. From there, though, it fizzes eagerly through to 5500rpm where keeping it on the boil becomes an enthralling, if full-time, occupation.
While the little four-pot isn't what you'd normally expect to find in a loping cross-continental GT, it's flexible and refined enough to make cruising a fairly relaxed affair - especially with overdrive engaged. And, as John reliably informs me, fuel economy isn't bad either. Even the noise levels are acceptable.
As much as he has enjoyed the Le Mans, retirement has meant that he and the car are going to have to part company. Given the machine's rarity, he's understandably keen to find it a good home. Talk to him on 0412 865 890 if you're interested.
Sadly, as with more and more classic cars these days, the Le Mans' comparative lack of value is making them increasingly uneconomical to restore. With John's car being one of the few that remains in mint, original, condition, you can only hope that it finds a sympathetic owner that will keep it that way for generations to come.
HISTORY OF HARRINGTON
A former wheelwright, or wheel repairer, Thomas Harrington went into business for himself in 1897, quickly establishing his firm as one of the most respected coachbuilders in England's carriage trade. Naturally, as horse-drawn carriages went out of vogue, and horse-less ones came in, Harrington turned its attention to supplying the burgeoning motor trade, eventually building custom bodies for the likes of Rolls-Royce, Ballot and Talbot.
Harrington was the first to develop what became known as the Weymann form of body construction, which utilised timber frames joined by light strips of metal in order to prevent coachwork from cracking as it moved. It was a technique employed in aircraft construction during WWII.
At the end of the war, Harrington resumed its commercial coach building trade, before it was bought by a subsidiary of the Rootes Group where its expertise with fibreglass made it the obvious candidate to design and build the fastback Alpine GT. In all, Harrington would build just 150 Type A cars.
After building both the Le Mans racer, and the road-going car that celebrated its victory, Harrington launched the Type C, which was discontinued as the Series III was introduced in February 1963. Only 20 cars would be built.
Inevitably, Harrington would use the Series III Alpine as a basis for the revised Type D. Only six would ever be made, with one or two more based on the Series IV, which was launched in November 1963.
Suffering from mismanagement, a lack of orders and a critical lack of leadership following the exodus of Clifford Harrington and most of his key staff members, Thomas Harrington Ltd shut its doors for the last time in June 1966.
SPECIFICATIONS
1961 Harrington Sunbeam Le Mans
BODY: two-door coupe with fixed glass-fibre roof
WEIGHT: 1011kg
ENGINE: 1592cc in-line four-cylinder
POWER/TORQUE: 78kW/142Nm
TRANSMISSION: Four-speed Rootes manual with overdrive
PERFORMANCE: 0-100km/h - 12.2secs. Top speed - 167km/h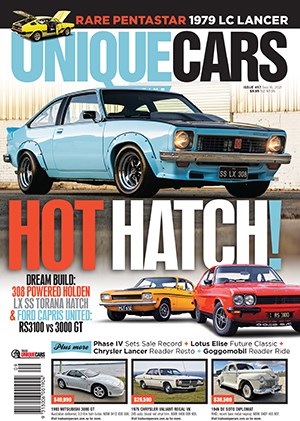 Subscribe to Unique Cars Magazine and save up to 42%
Australia's classic and muscle car bible. With stunning features, advice, market intelligence and hundreds of cars for sale.
Subscribe