VL Commodore Police Interceptor (1987) Review
---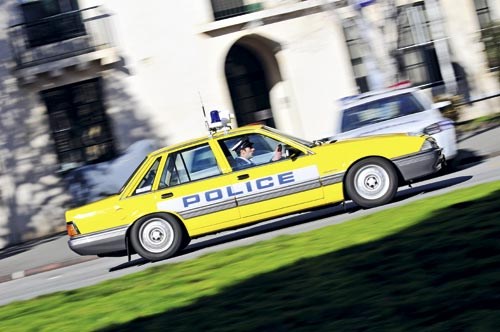 vl commodore police interceptor - 1987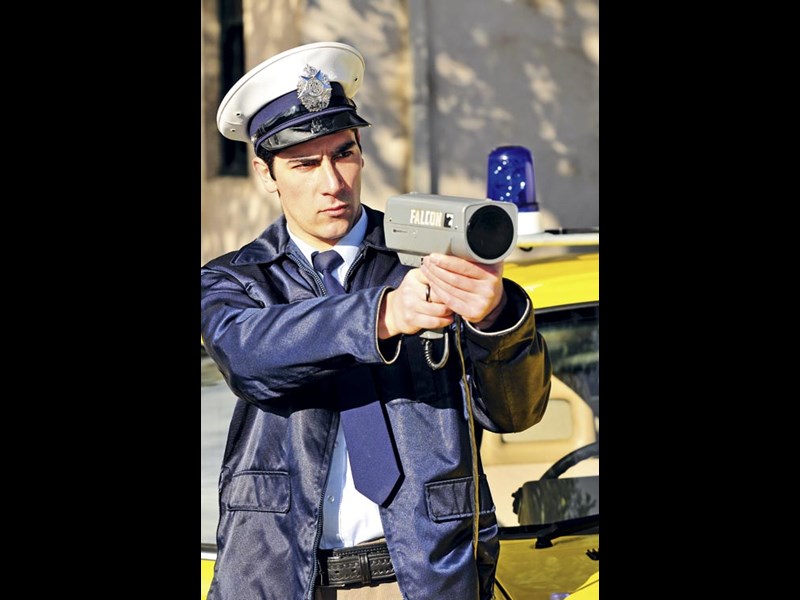 VL Commodore Police Interceptor - 1987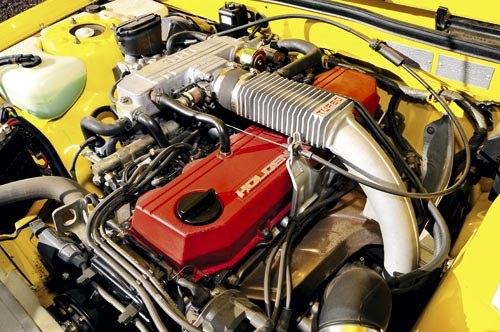 VL Commodore Police Interceptor - 1987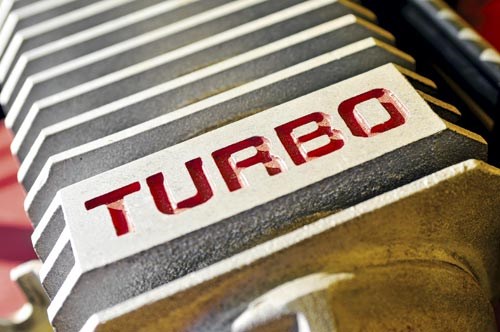 VL Commodore Police Interceptor - 1987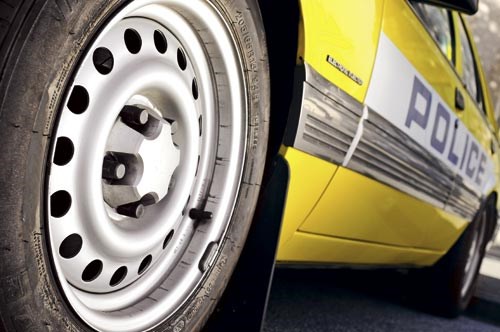 VL Commodore Police Interceptor - 1987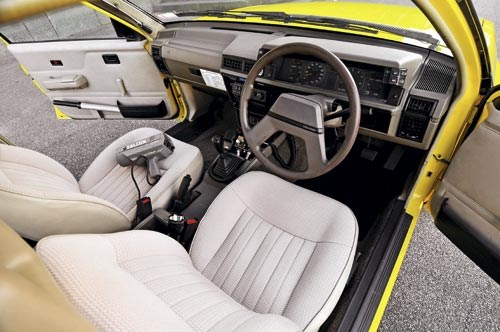 VL Commodore Police Interceptor - 1987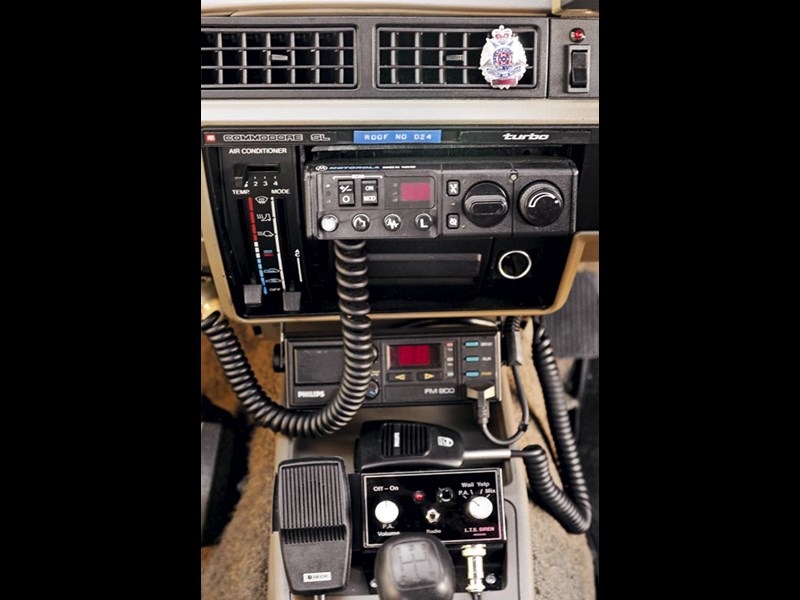 VL Commodore Police Interceptor - 1987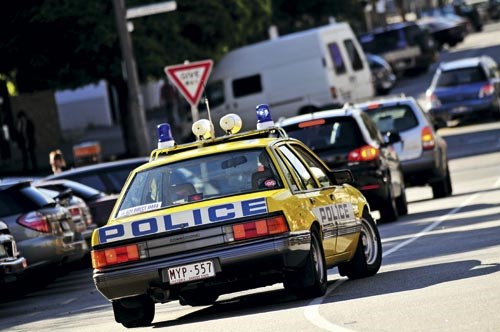 VL Commodore Police Interceptor - 1987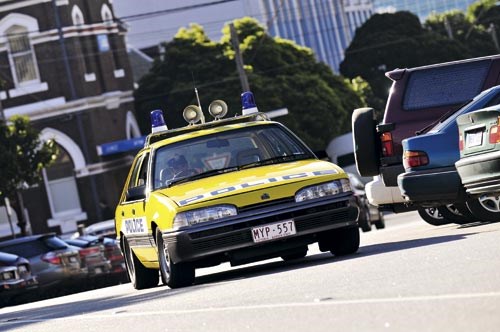 VL Commodore Police Interceptor - 1987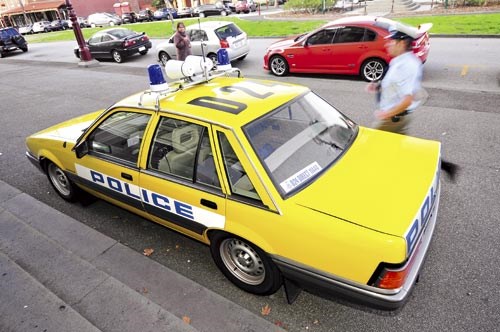 VL Commodore Police Interceptor - 1987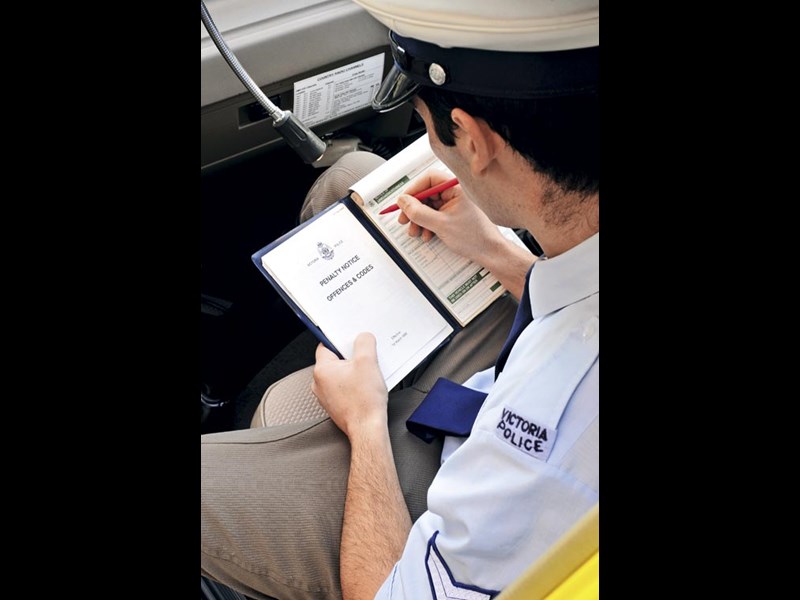 VL Commodore Police Interceptor - 1987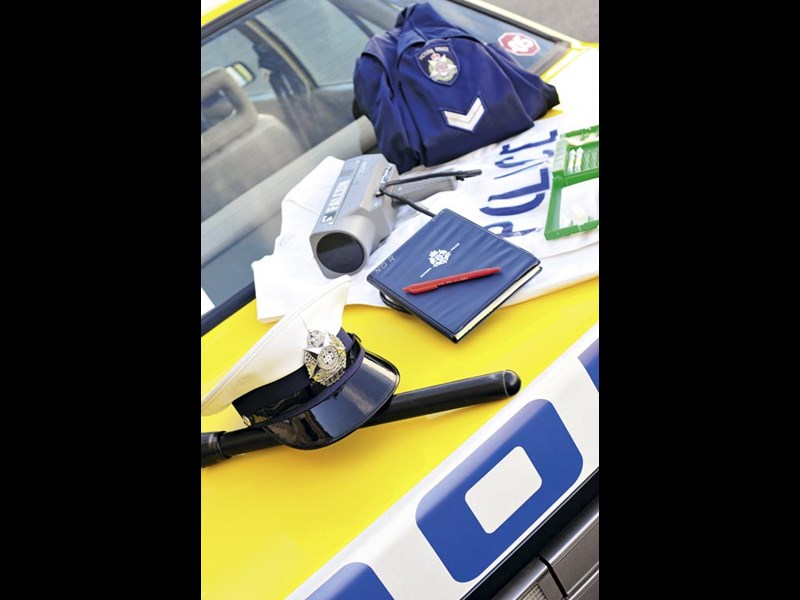 VL Commodore Police Interceptor - 1987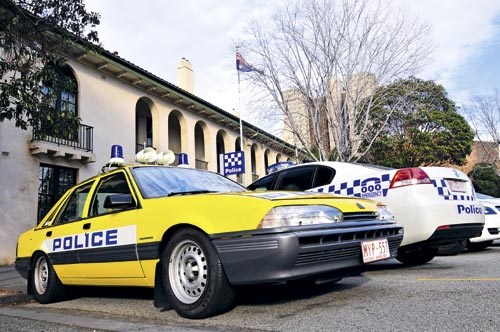 VL Commodore Police Interceptor - 1987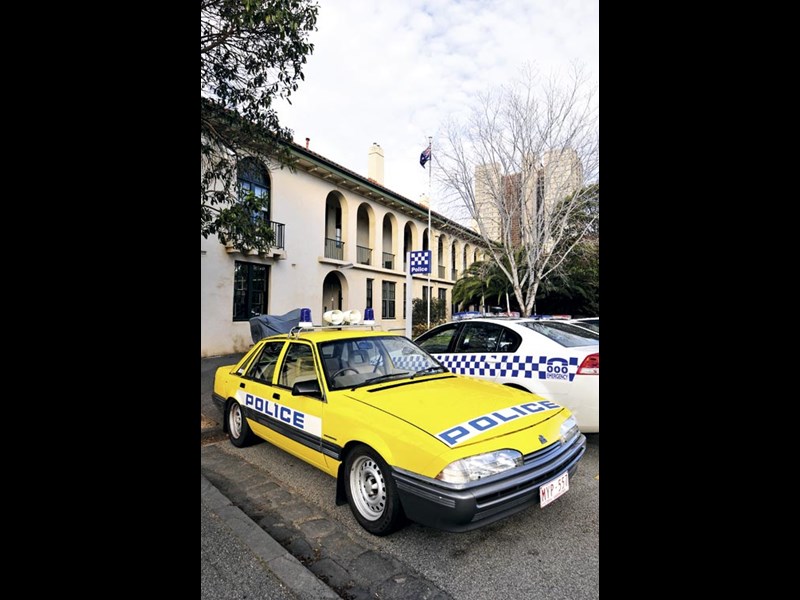 VL Commodore Police Interceptor - 1987

From catching crims to blasting down Conrod Straight, Aussie police cars have a strong link to competition…
VL Commodore Police Interceptor
ON THE CHASE
Most Australians link the Aussie muscle car with Bathurst but one of the biggest behind the scenes influences on local performance car development has been the police car market.
Some of the best plain-wrapper, no frills but plenty of thrills performance combinations have reached proud private owners via disposal auctions once Mr Plod has finished with them.
One of the quickest was the rare 1986 VL Commodore in lightweight poverty spec powered by the ballistic turbocharged RB30ET version of the sweet Nissan inline six.
As former police officer and current Mustang owner Geoff Perry documents in Away from the Divvy Van, there was always a close connection between police pursuit cars and Australia's premier production car race. His detailed account of 50 years of the Victoria Police Motor Sports Club (1956-2006) documents how more than one retired police pursuit car was diverted from the auctions to race at an Armstrong 500.
No photo of the opening lap of each race between 1961 and 1966 at Phillip Island or Bathurst is complete without a police-spec Studebaker punted either by police or privateers leading the charge. What happened in 1967 to break this record was equally significant for Bathurst and Australian police cars. In the 1960 race, the only big powerful V8 in the frame was a 1956 Ford Customline, another police favourite.
TOUGH BRAKE
Large local Chevrolets and Dodges were off the menu when they were too big and their engines too small. Yet police dependence on mid-size US V8 models was not ideal when the local versions of later Studebaker Larks, Ford Fairlanes and Ramblers were tarted-up versions of Cortina-equivalents in their home territory. Police use quickly highlighted their poor brakes, dodgy handling and extra weight which placed way too much strain on wheel centres and boosted fuel consumption.
Police who drove these cars during this period lament that if they finally caught up with a driver in a Jaguar or similar with decent brakes and the driver actually stopped, they would have to sail past at full speed unable to brake.  It would then take a split second for most drivers to realize that after a quick U-turn, they could disappear.
These early V8 police cars were also expensive, forcing state governments on tight budgets to allocate them for specialized highway patrol work, leaving the local constabulary with anything from Ford Anglias, early Falcons and Zephyrs to the sluggish grey-engine Holdens of this era. Even if some states picked-up the more powerful Valiants, they were also thirsty with braking best described as temporary.
It was not easy to meet police requirements during this period when police cars had to survive situations that private drivers, or even race drivers, would never encounter. Carrying capacity also varied widely from state to state as radios, heavy measuring equipment, emergency road side hardware and other cargo would depend on the legislative framework, duties and remoteness of the drivers. It was not uncommon for certain traffic and transport enforcement officers to patrol remote areas for weeks at a time, using their cars as a base and office.
This extra weight and its distribution could change the handling and braking balance of a police car totally, rarely for the better. Most states also preferred a police car wide enough in the back seat to allow a suspect to be secured by a police officer on either side, for obvious reasons.
This is before you found a high-torque engine that could survive frequent flat-out bursts from zero after extended stationary roadside periods. Another engineering challenge was a police tendency to engage forward gears then attempt to drive forward while the car was still moving backwards at high speed during a chase. The strain on clutches, gearboxes, rear axles and suspension generated problems rarely encountered under normal use. The extra electrical loads of lights, radios, sirens and other equipment dictated upgraded electrical systems.
Police pursuit cars also had to be tough and fast enough to proceed whether the road did or not.
Mounting kerbs or crossing median strips without damage? A fundamental requirement. As for braking and U-turn capabilities, these went way beyond the norm, even for a race car. Think rent-a-car then multiply the punishment when one car had to perform so many functions under a tough range of local conditions.
LOCAL GRUNT
As Studebaker collapsed in the US, the dated Chrysler Royal ended and Ford's larger US Galaxie replaced the compact Fairlane, there was a huge gap in the Australian police car market ripe for a local manufacturer.
Ford's XR Falcon in 1966 changed the landscape overnight with its optional 289/4.7-litre Mustang-bred V8, imported three speed automatic and optional disc brakes. As a Falcon 500, it was affordable and offered the same hip room as a Fairlane, Rambler or Studebaker with a significant boost in economy, braking capacity and performance.
Engineered for local roads, its extra ground clearance and short overhangs were a real bonus. It's for good reason that cop shows from this era were filled with XR Falcons and its descendants when they were cheap enough for cash-strapped police command to assign across divisions.
Buoyed by this success, Ford encouraged Harry Firth to build a special version of the XR Falcon V8 as a police pursuit car that could double as a Bathurst racer long before it became a GT. Harry's Bathurst GT prototype started out as a powder blue plain-wrapper Falcon 500 police car that was the GT's original reason for existing. Four barrel grunt, radial tyres, disc brakes, firmer suspension, bullet-proof top loader gearbox and Ford's heavy duty US automatic transmissions were exactly what Australian police had been waiting for.
The police focus was so strong that Firth invited senior police to line the press launch route of the new XR GT to witness the capabilities of their new pursuit car. He figured this was better than the police playing cat and mouse with journalists testing the new GT. The police version in Falcon 500 trim with its lower ride height, subtle steel wheel upgrade, High Performance 289 badges and separate reversing lights on the boot lid commanded respect. 
Although Holden would also pick up useful police business with various Kingswoods and hot Toranas and Chrysler with its hemi models, it was Ford that kept offering its biggest V8 engines in its most basic sedans to maintain a stranglehold on the police pursuit business. These highly desirable Fords since branded "Interceptors" are now almost as legendary as the GT. The term now includes later Holden models after the Ford chapter came to an abrupt end as the last XE Falcons were cleared with the local Cleveland 351/5.8 under the bonnet.
Faced with an almost identical opportunity in 1982 as Ford in 1966, it was Holden that used Ford's exit to keep the Holden V8 alive, feed Brock/HDT with what was needed for the race track and boost the Commodore's image with a special Police Pack. It was also a convenient way of homologating performance parts without spooking the wider population. More than one Holden executive over the decades has gloated that police business is better than taxi business, any day. The police also buy new cars while the taxi industry is based on fleet cast-offs.
For a first impression, a full-strength Commodore V8 police car couldn't be further removed from a smelly, worn-out Falcon taxi even if its driver has just pinged you. Holden quickly undertook a massive redevelopment program of the VH Commodore to deliver a base national police vehicle, code BT1.
LEADING THE WAY
The VH BT1 upgrades at V8 level set a benchmark for police Commodores before they reached showroom models. They included special cylinder heads, inlet manifold, lightweight fly wheel, oil pan baffles and scraper plates, windage tray, fresh air intake, special exhaust and revised fuel lines, all intended to maintain performance under extra heat and cornering loads. Most items were repackaged or renamed as part of Mr Brock's weekend activities, just as Harry Firth's Falcon 500 police car was dressed-up as a GT.
Reinforcement added under the front seats to address an early Commodore failure point, full instruments, bigger master cylinder, dual high-note horns, upgraded headlight globes with relay, reworked inner guards and new spare wheel mount for the bigger wheels, front door map pockets to locate batons and the rear armrests/ashtrays adapted to the front doors were just some of the detailed modifications.
Extra wiring in the roof, a firewall plug for wiring and a modified rear seat base to clear extra wiring into the boot were part of the package. A national police suspension upgrade that evolved into the FE2 spec also applied with minor variations for some states.
For the VK, a raised Outback suspension option also added guards for the engine sump and fuel tank. Helped by the VK's more aggressive looks, the Commodore had become the definitive police special by 1985 as the last of the big XD and XE Falcon 5.8s were retired. By August 1986, the FE2 performance and V5W rural suspensions were offered as options on a wider range of VL models and mandatory on any VL Turbo.
The VL Turbo featured Holden's unique variation of the Nissan six that Nissan wouldn't use when it didn't have an intercooler. Yet its 150kW was a significant and affordable advance over the 122kW of Holden's first unleaded V8 although its 296Nm torque left room for the V8's superior 323Nm. With a choice of a revised five speed manual or an upgraded four speed auto mated to a beefier four pinion differential, it became the performance choice best appreciated in a base police Commodore SL hence its icon status today.
A water-cooled turbo, different pistons, larger oil pump and knock sensor left it ready for police business with its upgraded four wheel disc brakes and Corvette front calipers. Mandatory 15 inch wheels with outback or sports suspension kept it earth-bound.
The VL Turbo kept the high end police business alive after V8 reliability and loss of performance on unleaded petrol surfaced as a real problem.  Following the V8's revival for the VN, the showroom SS and police specials had merged so closely that police today are just as likely to be driving an SS in full showroom livery as any of the plain wrapper specials still hitting our roads.
The irony is that by chasing police business once dominated by US models and powertrains, Holden may have stumbled on a key to keeping its US export presence alive.
HIGHWAY ROAD-RUNNERS
In a former life, I was part of the team responsible for the safe passage of hundreds of vintage and veteran cars across Victoria as part of the state's 150th celebrations in April, 1985. For much of the nine days, I was a passenger in one of the several brand new VK Commodore V8 police specials that escorted the event.
It was another world when rapid acceleration, strong brakes and limpet grip made all the difference between disaster and preparing other road users for the unexpected. While I enjoyed every minute in those responsive and twitchy VK Commodores, I could understand why their long term occupants missed the stretching room of their XE Falcons and that car's more relaxed gait over long distances.
Nasty casting problems with the V8 heads already evident in these new VKs threatened to end Holden's police business almost as fast as it started. The VL Turbo was critical in buying time until Holden could deliver totally re-engineered sequential heads and fuel injection in 1989 that would give the local V8 a renewed police life for another 10 years.

I OWN ONE!
Turhan Peker is a member of the Victoria Police Historical Society and as part of its Living History Group re-enacts his chosen era, in this case the late 1980s.
Already a VL fanatic, Turhan sold a desirable VL Calais Turbo to buy his base 1987 VL Commodore SL Turbo BT1 in Series II spec with five speed manual, no power steering or radio, long range fuel tank, driver's seat lumbar support, A-pillar Hella map light and highway FE2 suspension.
Already hooked on the Turbo's sound and performance, VL owners like Turhan regard the BT1 police pack as the ultimate collector's Turbo when it was the hero car and looked the part in its yellow livery. When it was the only Commodore pursuit car from this era that didn't have a Bathurst connection or a V8, its Interceptor status assumes special significance.
This car was sold new in Geelong first registered MYP-557 with Victorian red plates. Because they were so popular and reliable, many stayed in service until the early-'90s. Any further details of its history as a police pursuit vehicle would be of interest to its current owner. You can contact the Police Historical Society on cjsp@bigpond.com.au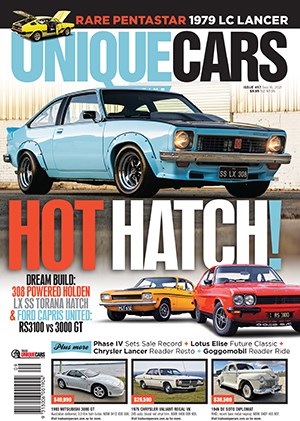 Subscribe to Unique Cars Magazine and save up to 42%
Australia's classic and muscle car bible. With stunning features, advice, market intelligence and hundreds of cars for sale.
Subscribe