Porsche 911 Turbo (2010) Review
---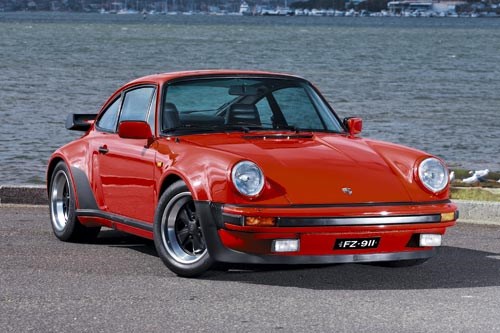 Porsche 911 Turbo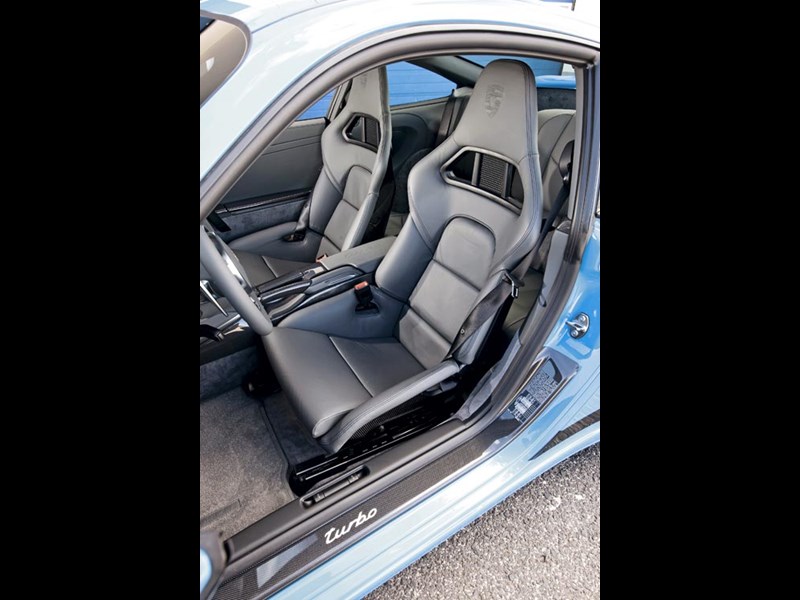 Porsche 911 Turbo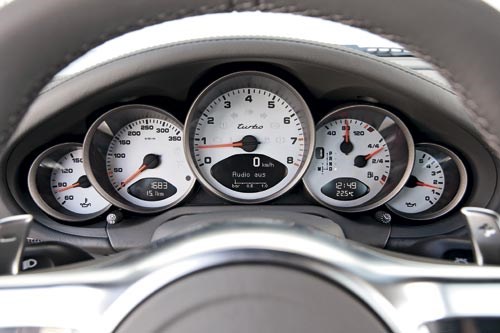 Porsche 911 Turbo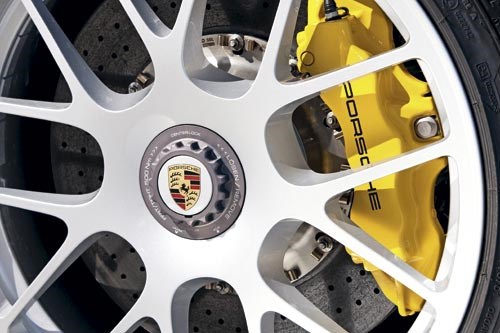 Porsche 911 Turbo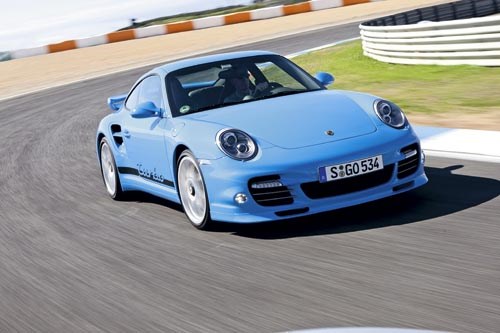 Porsche 911 Turbo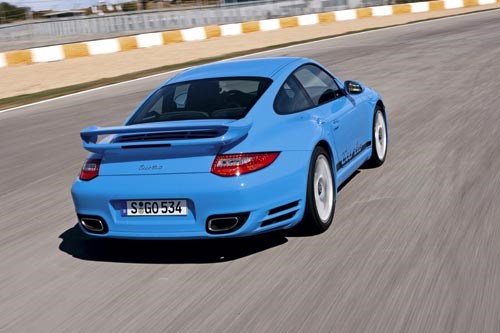 Porsche 911 Turbo

Awesome performance comes at a cost
[May 2011] The latest Porsche 911 is a wonderful all-round sportscar that can be driven every day, but like a good TV there is always something better and more expensive to tempt you.
A new engine, dual-clutch automatic and range of high-tech tweaks have turned it from a very quick car to a truly ballistic one.
How does 0-100km/h in just 3.2 seconds sound? Fast is how it sounded at the international launch at Portugal's Estoril track. The double boosted 911 did this and 11.9 second quarter mile (400m) runs again and again without fail. That was after it had been subjected to a day of savage hot laps.
The sheer brutality of the initial acceleration is simply incredible, almost as impressive as the seemingly endless surge of power unleashed from the new engine.
Up from 3.6-litres, the new 3.8 boxer six-cylinder also takes on direct injection as well as a range of upgrades such as a new, lighter, integrated dry sump.
It retains the variable turbine geometry turbo chargers, one on each side, which now have a maximum boost pressure of 1 bar, which is actually 0.2 bar less than the last one.
All this means the new Turbo has 15kW more for a total of 368kW at 6000rpm. Maximum torque rises 30Nm to 650Nm from 1950-5000rpm. Just in case that isn't enough an extra 50Nm is available with an optional overboost function.
The special turbos build up the pressure so quickly there is seemingly no lag at all. Open the throttle and all hell is unleashed, instantly.
The sound is a goosebump-inducing mix of induction rush and engine howl that reaches a crescendo at 7000rpm.
Somewhat remarkably, Porsche engineers have managed to make the engine more efficient at the same time, saving up to 16 percent which means economy of 11.4L/100km for the automatic coupe.
The new Turbo is now available with the brilliant new twin-clutch PDK automatic with seven gears which replaces the regular torque convertor five-speeder.
It is available with option launch control which enables those super-fast acceleration times.
The PDK is a wonderfully quick shifting transmission in manual mode, faster than any human, and is now available with proper (optional) paddles. It is also very good in automatic mode except at low speed city driving when it can get confused.
The six-speed manual is lovely and crisp.
In order to put all the power to the tarmac, the Turbo has a constant all-wheel drive system.
A new optional feature is the Porsche Torque Vectoring which is a limited slip differential with added capability of braking either rear wheel.
The combination of the fearsome performance, a rear mounted engine providing super rear grip, AWD and the new slip diff contributes to a remarkably capable track car.
It maintained almost unbelievable corner speeds around the twisty track, but remained quite predictable and the brakes showed no signs of fade.
This 911 Turbo is easier to push hard thanks to its many driver aids, including switchable ESC. You still need to be careful when backing off the throttle heading into a corner to prevent lift-off oversteer, a problem magnified when the motor sits behind you.
The good news on the pricing front is that the new 911 Turbo will be cheaper than the current car. The bad news is that it will still be damn expensive, around $355,000 for the coupe and $361,000 for the convertible. A PDK automatic should set you back and extra $8000. Time to start saving.
Fast Facts
2010 PORSCHE 911 TURBO
BODY: Two door coupe or convertible
WEIGHT: 1570kg
ENGINE: 3.8-litre twin turbo six-cylinder boxer
POWER/TORQUE: 368kW @ 6000rpm/650Nm @ 1950-5000rpm
TRANSMISSION: Six-speed manual or seven speed automatic
DRIVETRAIN: Rear eng, all wheel drive
PERFORMANCE: 0-100km/h: 3.4sec. Top speed - 312km/h
PRICE: From $355,000 (estimated)
Unique Cars magazine Value Guides
Sell your car for free right here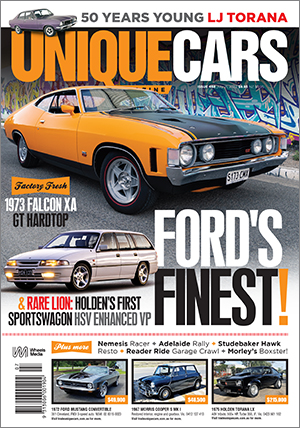 SUBSCRIBE TO UNIQUE CARS MAGAZINE
Get your monthly fix of news, reviews and stories on the greatest cars and minds in the automotive world.
Subscribe