First RHD Porsche 356 coupe - Australia's first Porsche
---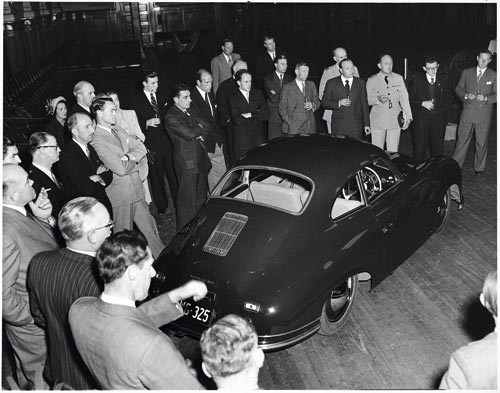 Australia's first Porsche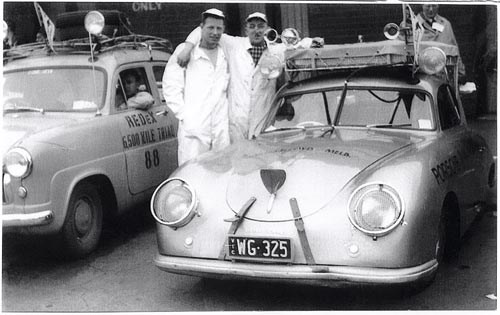 Australia's first Porsche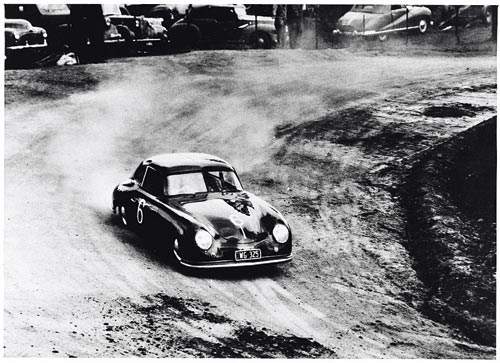 Australia's first Porsche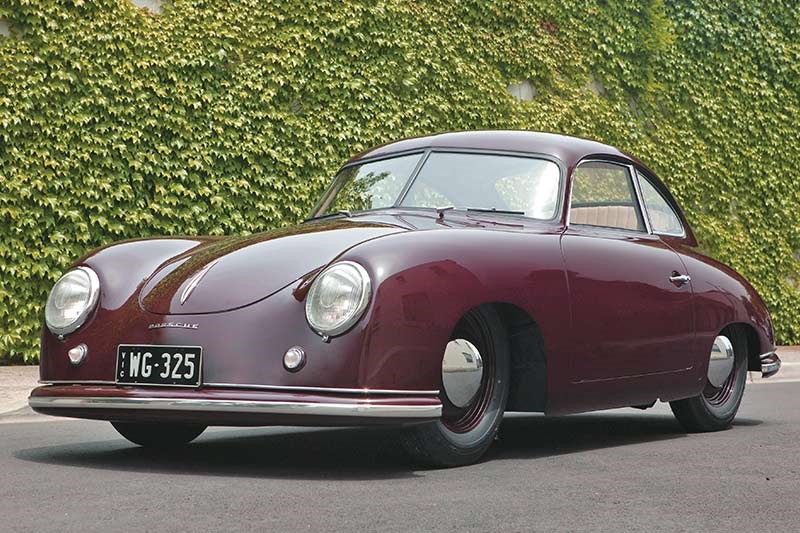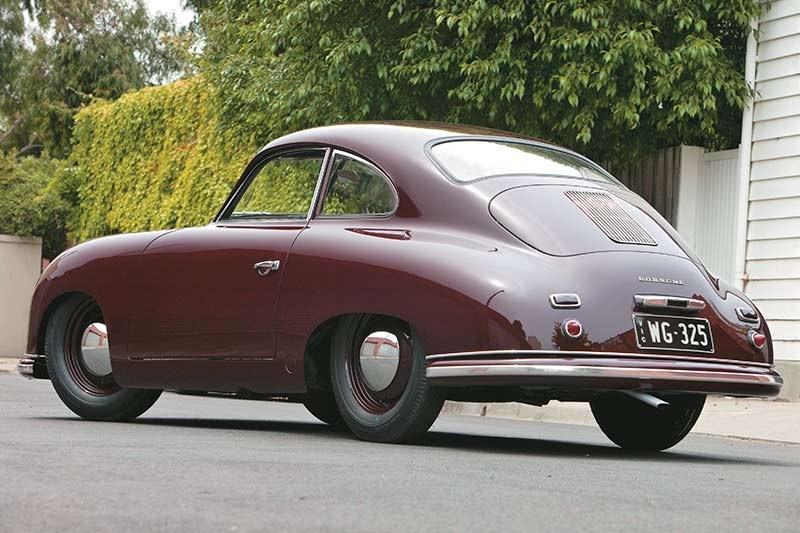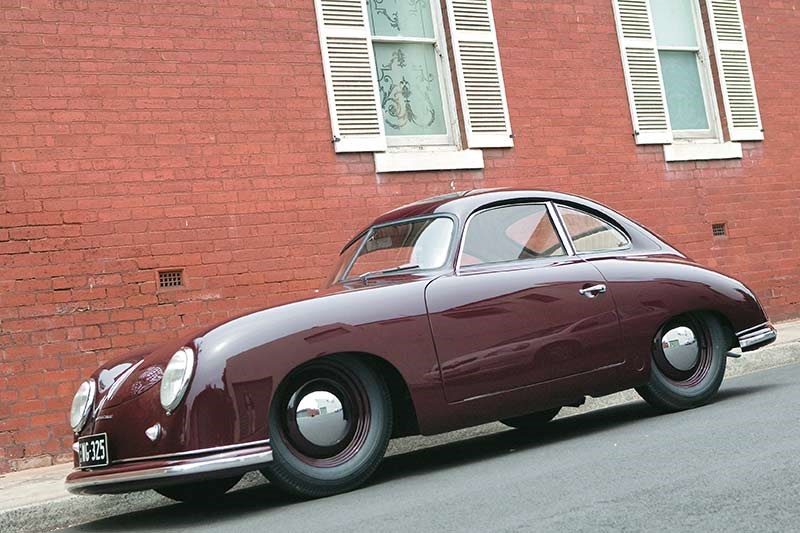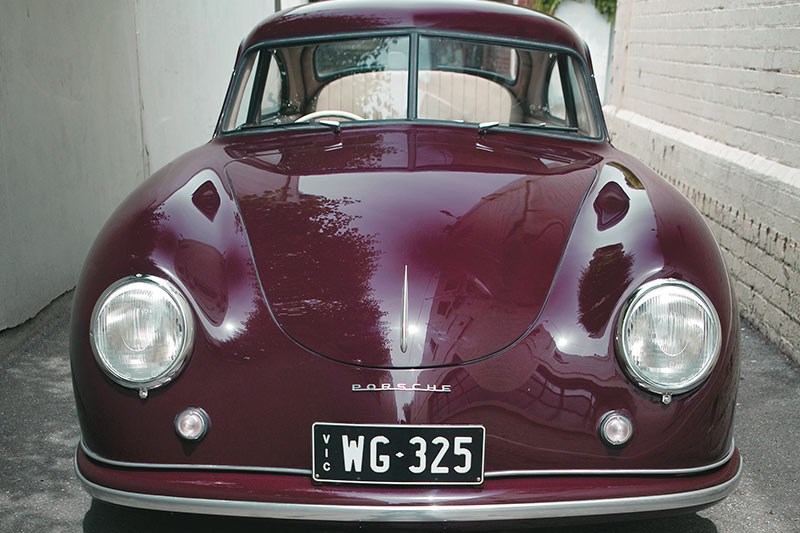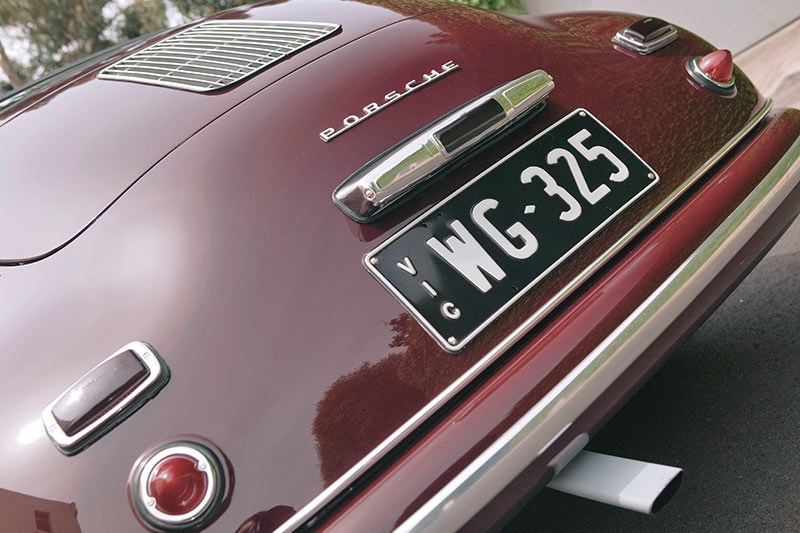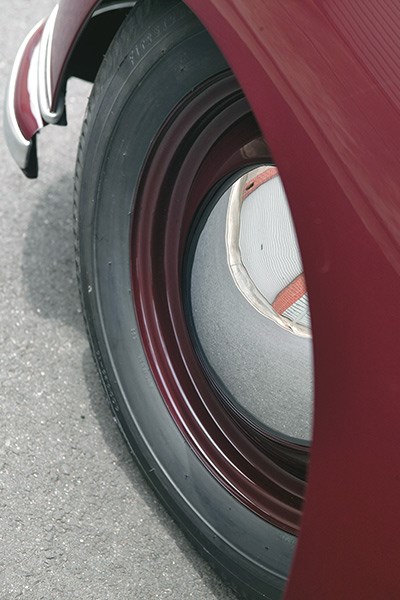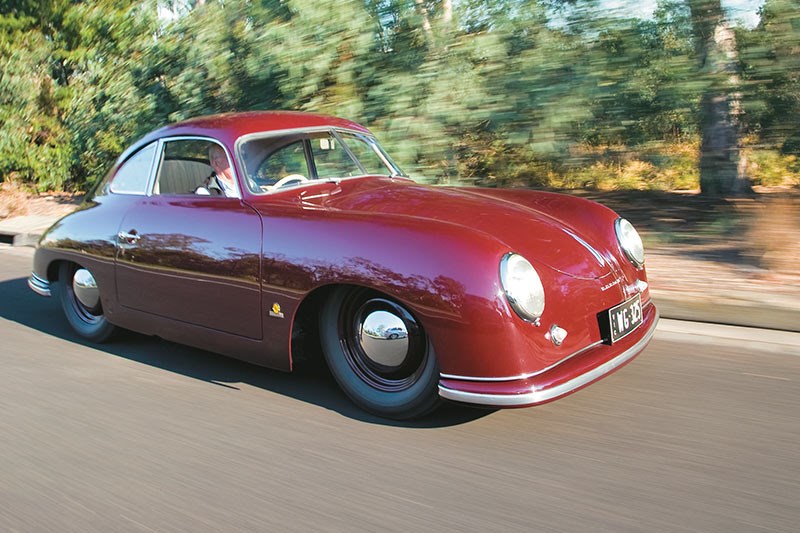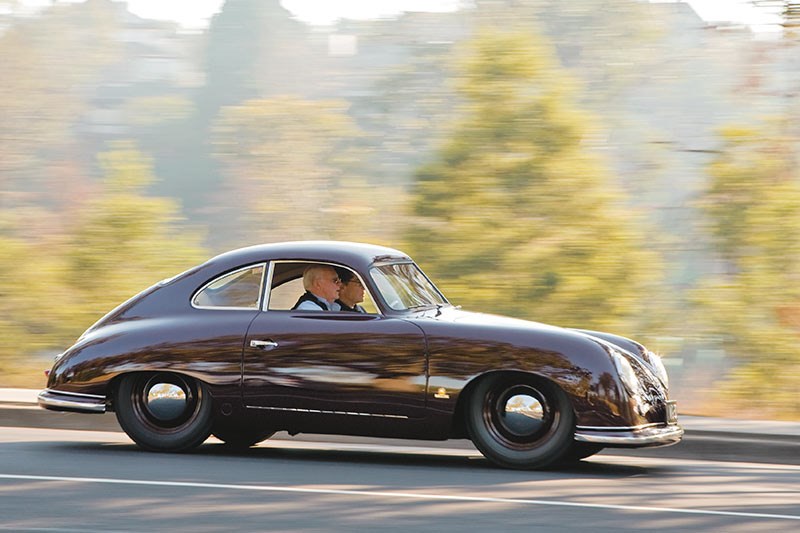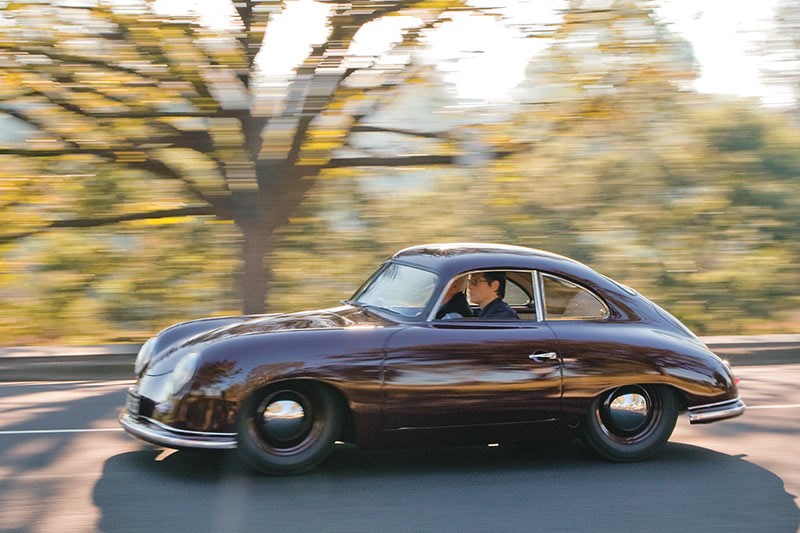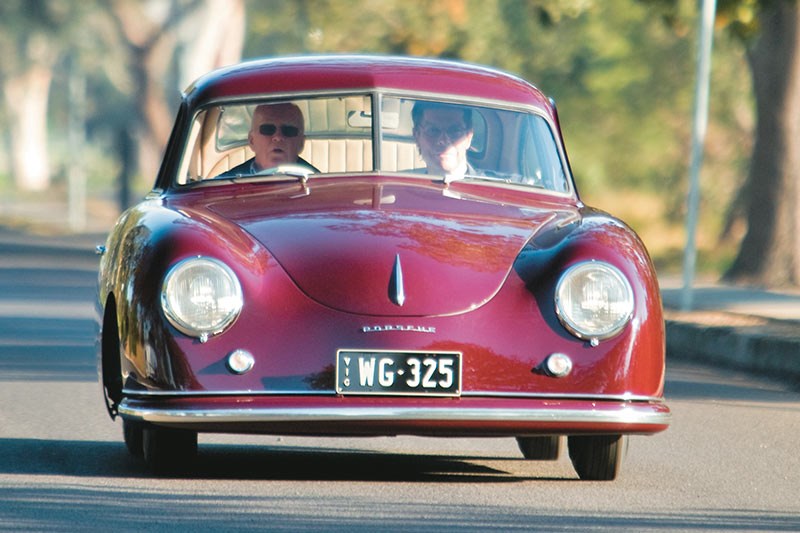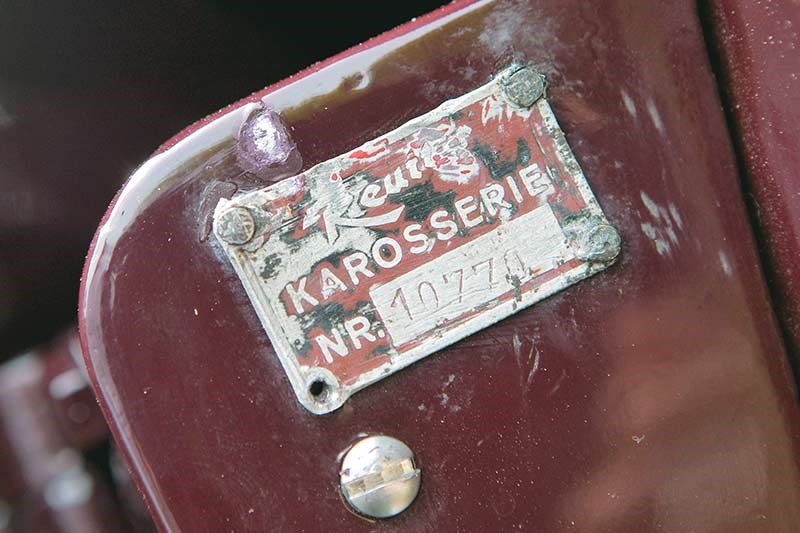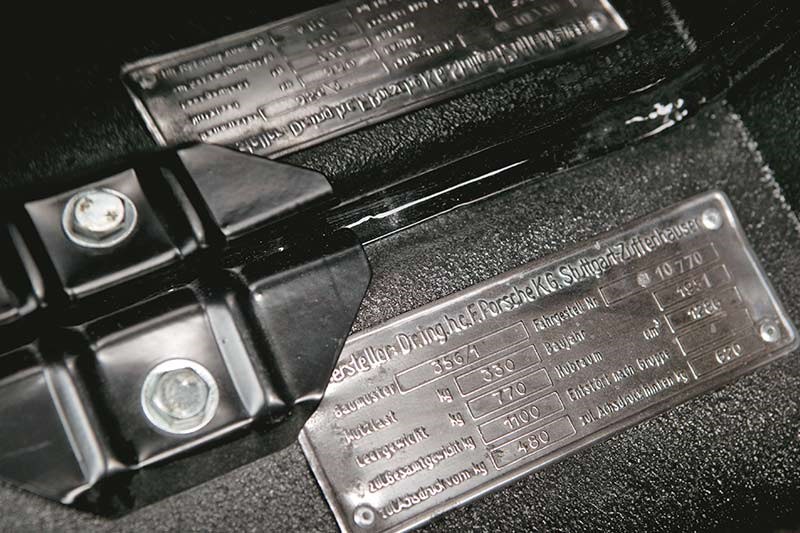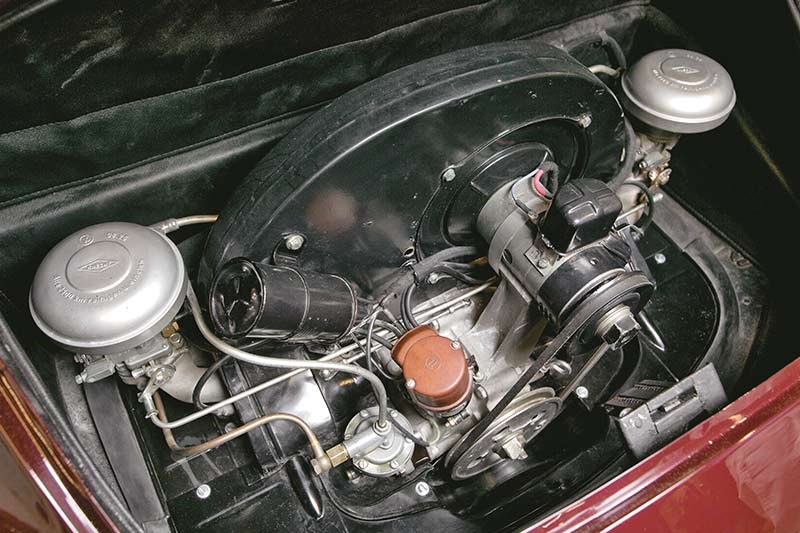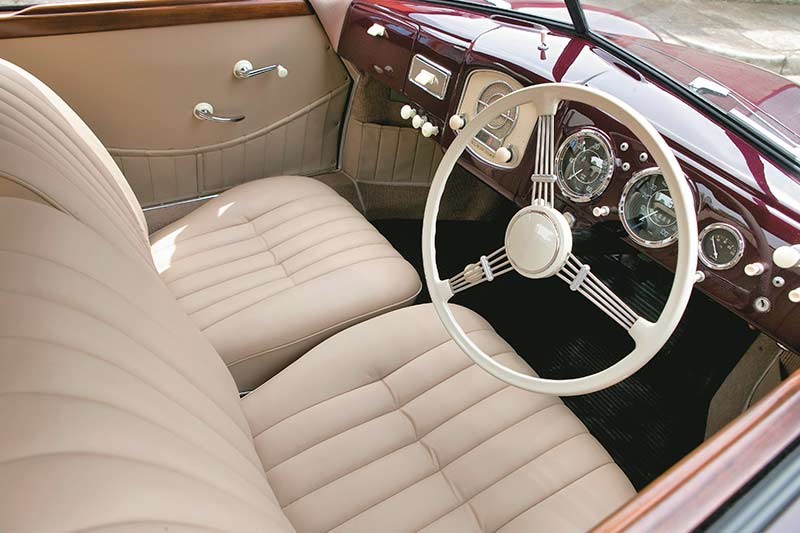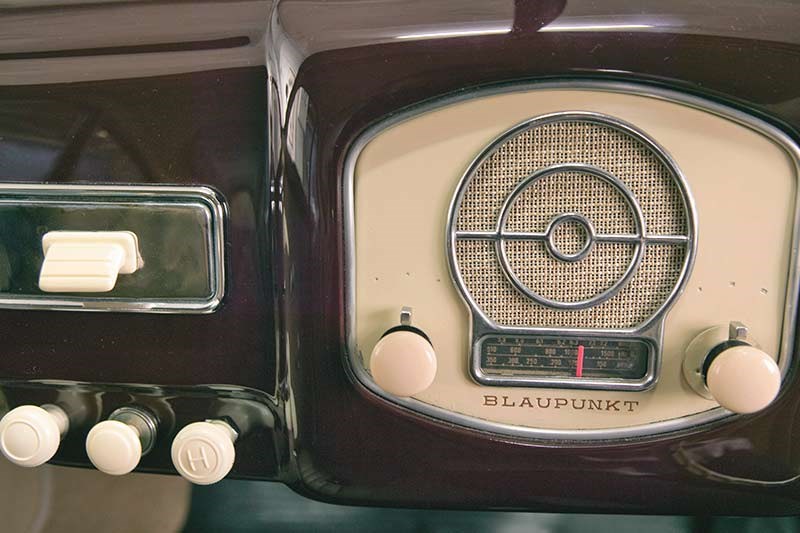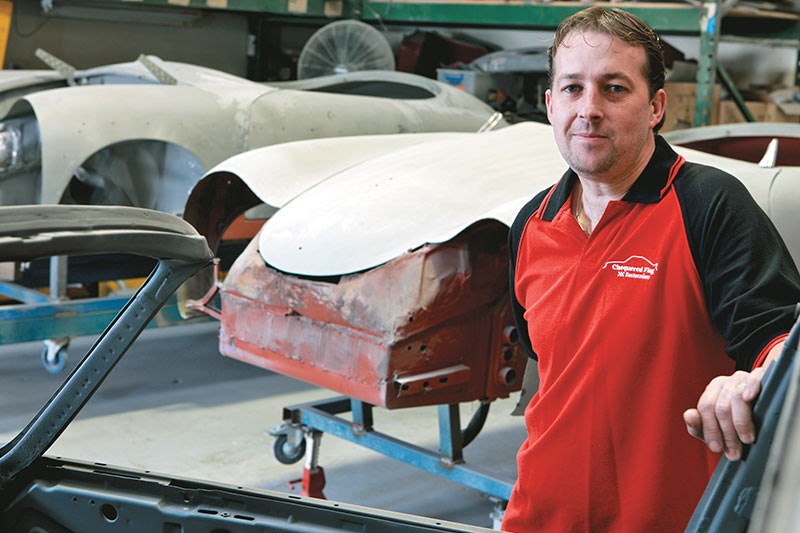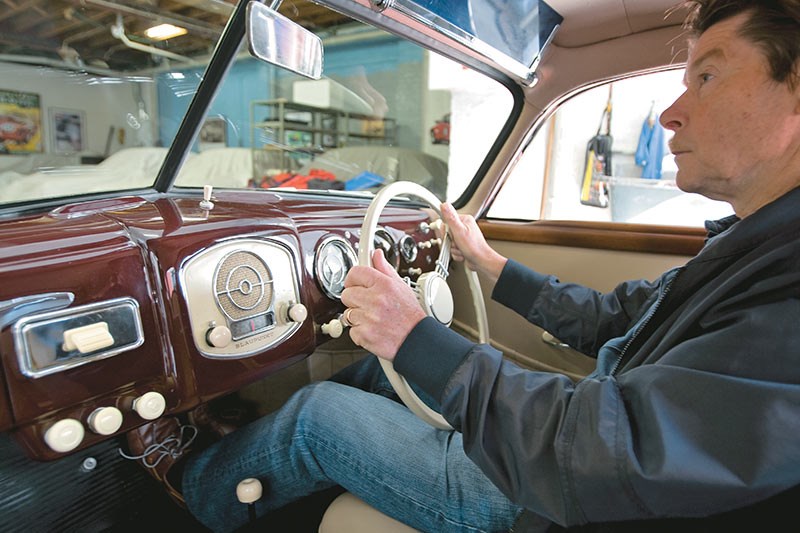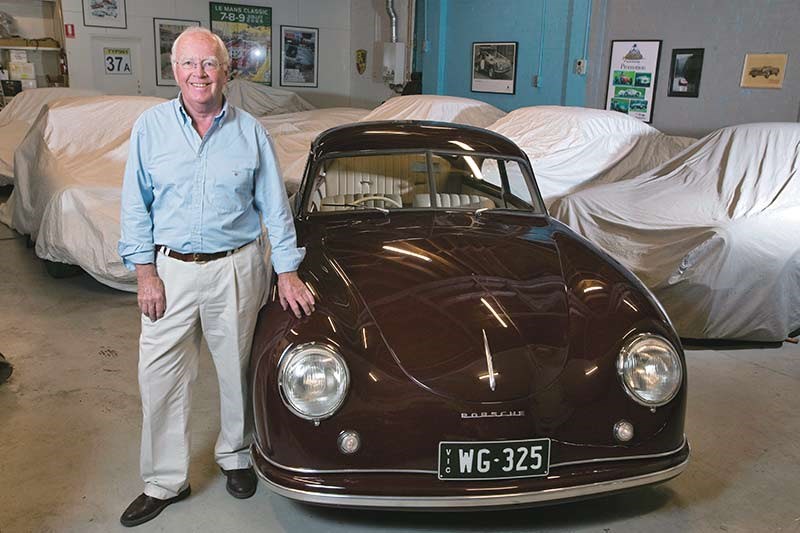 Australia's first Porsche is still stunning enthusiasts, 58 years after it was built
Porsche 356
EARLY SETTLER
The cream of Melbourne's motoring society was clearly stunned by what they saw at the cocktail party thrown by pump manufacturer and Melbourne identity, Norman Hamilton.
Crouching inside the imposing 'Second Empire-style' South Melbourne Town Hall were two of the strangest cars the assembled guests had ever seen.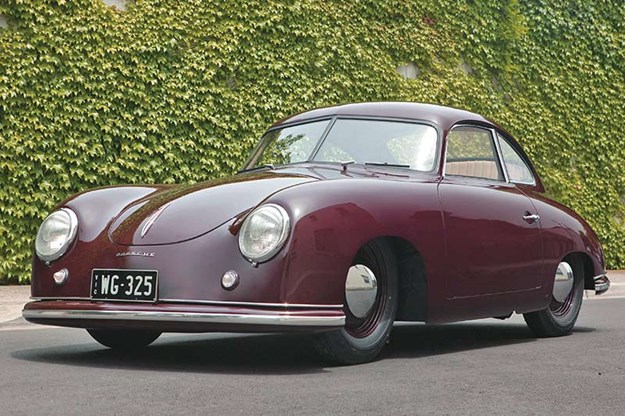 On November 1, 1951, few Australians had ever heard of Volkswagen, let alone Porsche. But here they were in the metal – a Maroon coupe and a Fish Silver Cabriolet – sleek, low, bulbous and almost devoid of any brightwork in an era when gleam was good. Forty months after the very first Porsche 356 received its road permit in Gmund, Austria, they were more like space invaders than the American and British cars we were accustomed to.
Just months earlier, Hamilton had been equally gob-smacked by the sight of his first Porsche. Backing and filling his barge-like rented Oldsmobile 88 up the serpentine Grossglockner Pass en route from Austria to Switzerland to look at the latest pump technology, his reverie was shattered by the snarl of the low silver sports car that flashed past.
A little later at an Inn, he caught up with the German driver, racer and Porsche tester Richard von Frankenberg, who showed him around the strange little car. Then, in a burst of unpremeditated enthusiasm he followed the German back to the Porsche factory where, on a handshake, he acquired the franchise for Australia. In doing so he became Porsche's second agent outside Europe, following the US where automotive entrepreneur Max Hoffmann had introduced the brand the previous year.
The cars arrived in Melbourne in early October and after the South Melbourne launch, selected members of the motorsport community were invited to try out the cabriolet and coupe - registered WG 324 and WG 325 respectively - around nearby Albert Park Lake.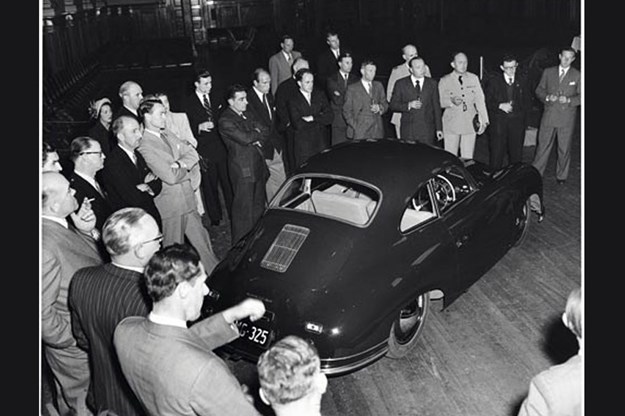 Stunned onlookers at the car's 1951 Aussie launch
"They looked more like toys than real motor cars," recalls Australian Motor Sports Club member and trials driver Ken Harper, who drove the cars at Albert Park, along with club president, the late Ken McConville.  "We didn't know anything about air-cooled, rear-engined cars then, so they even sounded funny.  For most people then, a Porsche was simply a box of peculiar parts!"
COMPETITION HEATS UP
But Harper and McConville hadn't counted on Hamilton's bold plans to launch Porsche onto the Australian market and by the end of the day over drinks at his Burwood home, he had persuaded them both to help him promote the marque by driving those first two cars in various motor sport events in Victoria and South Australia.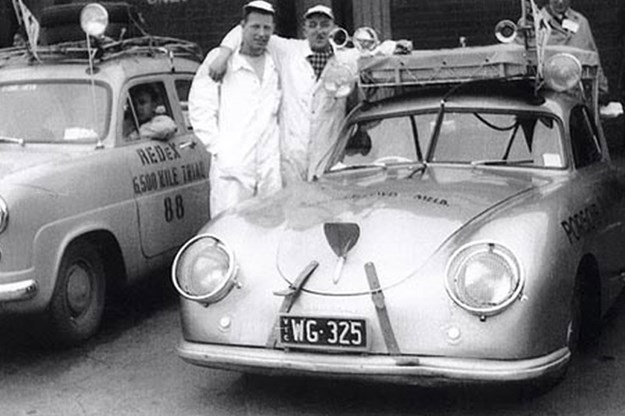 Ken Harper (left) and Norman Hamilton at the start of the '53 Redex Trial in Sydney. Despite many setbacks they finished the 10,400km rally
However the honour of making Porsche's Australian competition debut fell to family friend Ken Wylie, who drove the coupe up the dusty Hurstbridge Hillclimb, northeast of Melbourne, on January 28, 1952. Harper had to wait his turn until the Templestowe Hillclimb on June 9 that year, but after trailing a trio of MG TCs on its first run, the Porsche split its VW transmission casing on the line and, to the disappointment of spectators, left on the back of a tow truck.
Four months later on October 5, Harper and the Maroon coupe returned to competition in front of 50,000 people at Melbourne's Fishermen's Bend racing circuit, but gremlins struck again.  After 11 laps in the 80 minute-long Production Car race, the Porsche was out with a broken throttle linkage.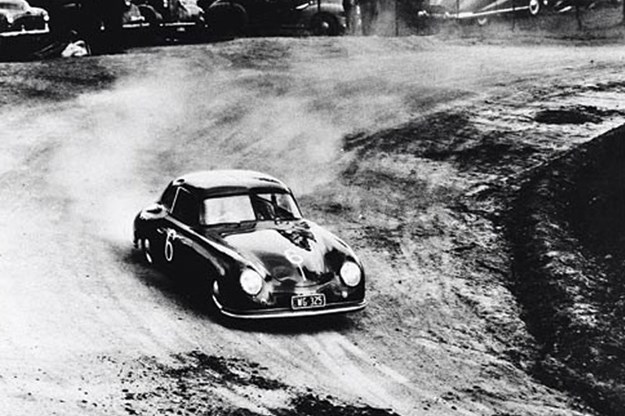 The following week, both the early Porsches were off to South Australia, with Norman Hamilton and Ken Harper driving the coupe, with Ken McConville and his wife Margaret travelling in close company at the wheel of the Cabriolet.
"We set some extraordinary times - under seven hours from Melbourne to Adelaide," Harper recalled. "But even driving flat out at 85 miles an hour (138km/h) on what were very ordinary roads, we still got more than 30 miles per gallon (9.4l/100km). The cars were also very quiet – like nothing we had driven before."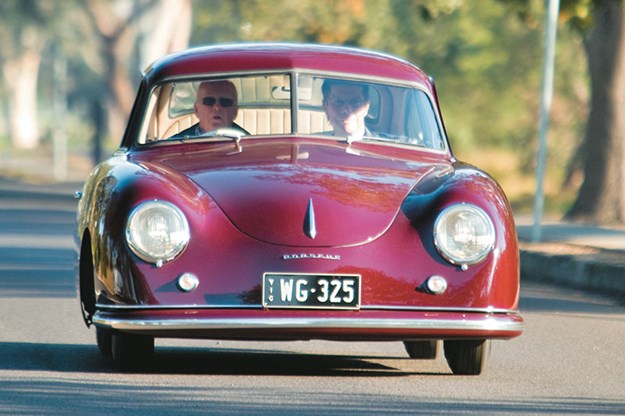 This time the Porsches fared better, with the coupe winning the Production Touring Cars Class F at the Port Wakefield Speed Trials on October 13, with a standing quarter mile time of 20.9 seconds – very respectable for a 1.3 litre four cylinder vehicle weighing over 800kg.
While in South Australia, both Porsches returned to Adelaide to compete in the Sellicks Beach Races, but after the Coupe's windscreen was shattered by a rock thrown up by another vehicle and the Cabriolet ripped the centre out of its clutch, both cars were withdrawn from the meeting. In any case the Cabriolet was already spoken for, with wealthy pastoralist Ron Angas becoming the first South Australian Porsche owner.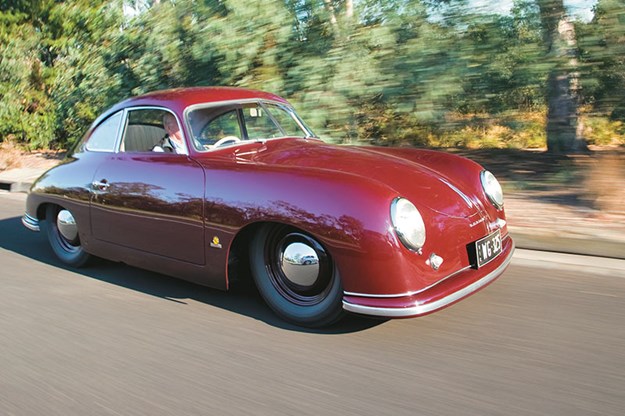 GREATEST TEST
With prevailing import quotas based on vehicle price limiting Porsche sales to an average of just 1.5 cars a year, Hamilton was forced to trim the marque's competition activities accordingly.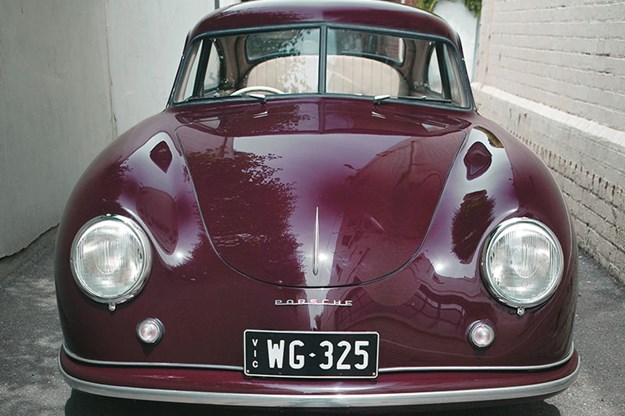 But the event he focused on the following year was one that had already captured the imagination of all Australians.  The REDeX Trial in August 1953 was to be the Porsche's greatest test, with Hamilton entering himself and Harper in the 10,400km around Australia adventure to crew the Maroon coupe.
As part of their arrangement, Harper was responsible for the car's preparation, but he admits he was working under difficult circumstances.
"There were very few metric tools available and we had little experience with the cars for this type of event," he said. "It was a voyage into the unknown!"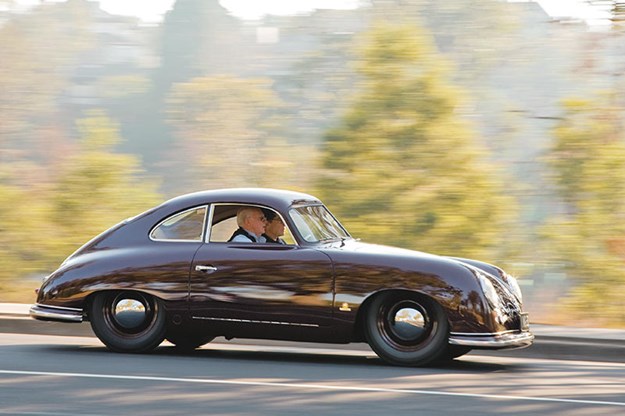 Henderson and Browning do a little Porsche bonding
Calling on his trials experience, Harper helped by McConville, cut a telltale hole in the rear bulkhead to accommodate an oil bath air cleaner from a 1936 Ford V8 in the rear passenger compartment, with a second inner-guard hole to allow easy clutch adjustment. Harper also bolted a sturdy 20 gauge steel skid plate under the front of the car to allow it to 'surf' over bumps and ruts which its tiny 10cm ground clearance would accommodate.
"We would have loved more clearance, but we didn't know how to get it," Harper explained.  "It wasn't helped by Norman's luggage. He was expecting to prospect new customers during the event and the car was laden with more than a dozen pairs of his shoes!"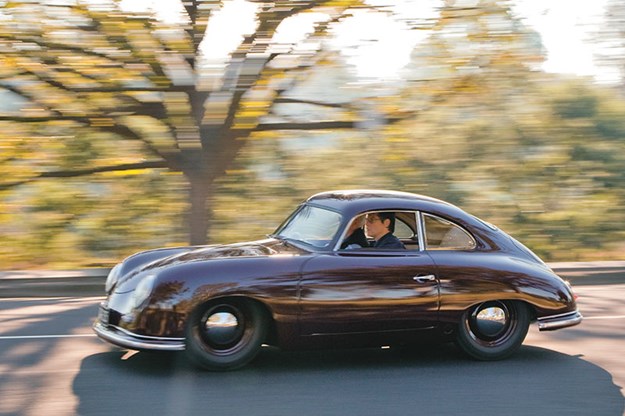 Another 'innovation' that safety authorities would be aghast about today, was the car's spare fuel tank, which was mounted on the roof rack, gravity-feeding the main 56-litre tank via a tube which ran down the centre strip of the divided windscreen and through a hole in the scuttle.
Harper also wanted to drill holes in the roof to secure the rack, but Hamilton drew the line there on what was, after all, the company's only Porsche demonstrator. Instead, the rack complete with additional driving lights, horns and spare oil, was mounted on a rubber and held down by clamps.  This was to prove disastrous, as the dewy mornings early in the Trial moistened the rubber and on the rough roads north of Brisbane the pack began sliding backwards off the roof.
"Norman and I had to each hang onto it with one arm each until we got to Mackay," recalled Harper.  But by that stage they had also hit a kangaroo, which meant that the headlights were pointing at the ground and were beyond adjustment.
"That night we threw the roof rack away and bolted one of the big driving lights right in the middle of the bonnet," said Harper. "The hardest thing though was fitting all the spares inside the car."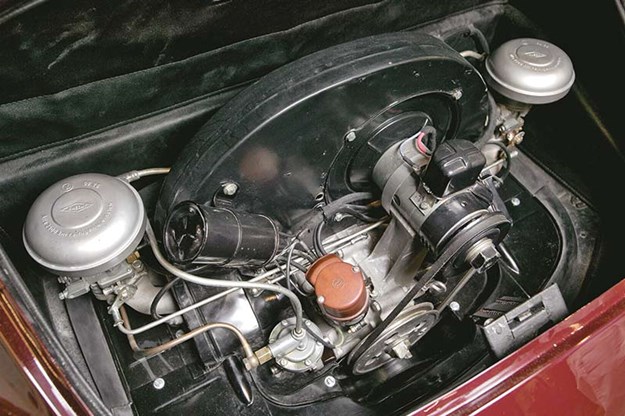 After the Redex trial, two pints of mud was found in the sump of the 1.3-litre air-cooled engine but there was no wear on the rings or bearings. Amazing! The engine and gearbox were rebuilt by Franz Krapp for the resto. Krapp originally bought the car in 1980 when it was a wreck and then sold it, untouched, to Ian Henderson 25 years later
The brakes were also a problem from the outset, as the hydraulic hoses had begun weeping fluid by the time they reached the Sydney start. With metric-threaded replacements not then available in Australia, Harper said they had no choice but to bind them up and "hope for the best".
Then there were the punctures.  Because of lack of room inside the 356, they carried just one spare, with Harper replacing or repairing tyres beside the road throughout the event.  Their finishing count was 14!
Combined with the heavily laden 356's severe lack of ground clearance, the Porsche crew was forced to temper speed with survival on roads that were accustomed only to trucks.
Restoring the interior to original spec proved tricky
"We probably went a lot further than anyone in the event," joked Harper. "We often had to drive from one side of the road to another to cross the ruts on an angle.  But we never got stuck and never once needed a tow.  The little car took a real punishing but it just kept going and we were listed as official finishers."
BIRTHDAY TIME
After the REDeX, Hamilton decided to give the Coupe a 'birthday' and again called on Harper and McConville for help.
"Most of the REDeX cars were ruined after the event," Harper recalled, "but apart from a few dents and scratches, the 356 was in remarkably good shape – even the leather still smelt like new! But when we pulled the engine apart we found two pints of mud in the sump, but amazingly no sign of any wear on the rings or bearings!"
Once the car was rebuilt and repainted, it was sold and virtually 'disappeared' for more than two decades.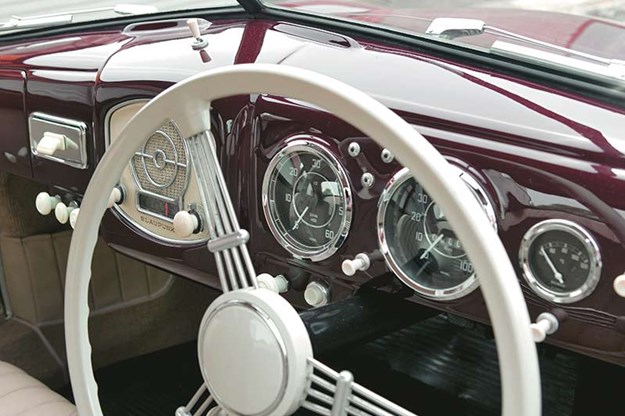 Then around 1980, Melbourne engineer Franz Krapp and his wife Dianne saw an early 356 Coupe advertised in a Melbourne newspaper for $1800. It was painted a mottled Guards Red, dog-eared, with the left hand front suspension and brakes missing and the once-beautiful interior gone.
"No-one really wanted early 356s in the 1970s, so there was no point spending a lot of money restoring it," said Krapp.  "It was always going to be the car we'd come back to one rainy day…"
That day never came, and the elderly coupe sat in the corner of the Krapp's workshop for a further 25 years until Melbourne enthusiast and prolific Porsche collector Ian Henderson finally convinced him to part with it in 2005. After satisfying himself with the aid of fellow Australian Porsche 356 Register members and Ken Harper that it was indeed the first Australian Porsche coupe, he embarked on an exhaustive and painstaking restoration that was only completed in November last year.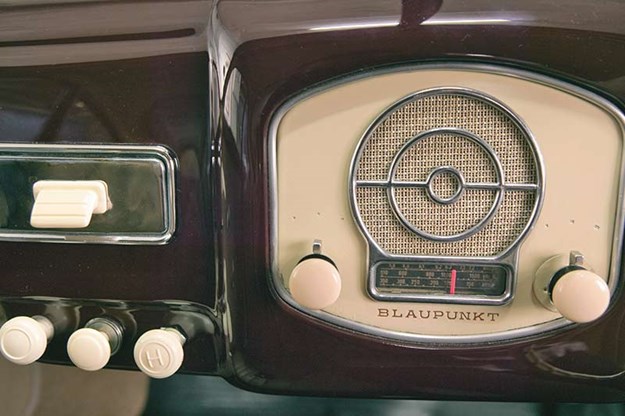 Instead of restoring it to its REDeX specification as many thought he would, Henderson decided to return it to its July 1951 originality as the world's first production right hand drive 356 coupe.
Rather than take the car to a big name restorer, he chose an emerging talent in the form of Jason Carroll of Melbourne's Chequered Flag Restorations.
ROOKIE RESTO
Henderson had met Carroll when he worked for Melbourne Porsche repairer Mike Tankard at a time when they were building a nut and bolt perfect re-creation of a classic 1967 model 911R for him and later when they restored his former 1968 London-Sydney Marathon Porsche 911. However Tankard wasn't particularly interested in working on the earlier 356 models, so the 1951 coupe was entrusted to Carroll, who subsequently went out on his own. Carroll admits he was slightly daunted at first by the project – not so much by the magnitude of the considerable work ahead, but the weighty expectations of the local enthusiast community. To add another degree of difficulty, he had never previously restored a 356, let alone an even more challenging Pre-A model, for which few parts exist.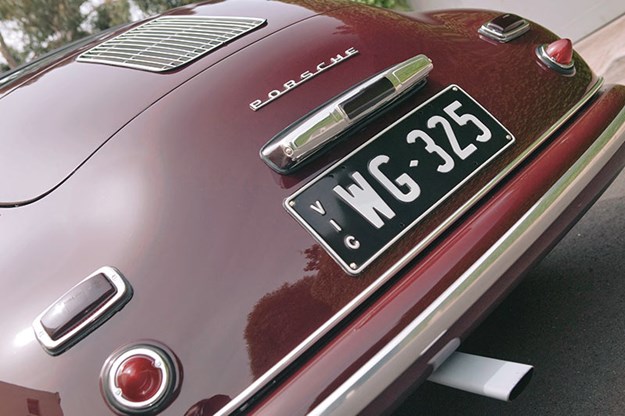 The task was daunting. While the Porsche miraculously retained its original 1286cc four cylinder engine and four-speed VW-sourced 'crash' gearbox and most other mechanical components, most of its body shape, hardware and interior trim were not what they were when the car left the factory.
A particular problem facing Carroll was that being an early model, the coupe featured a number of cosmetic and mechanical items specific to 1951. At the time it was built, the Porsche car had only just celebrated its third birthday and chassis number 10770 was amongst the first 500 or so steel-bodied cars built, so to a large degree the 356 model was a 'work in progress'.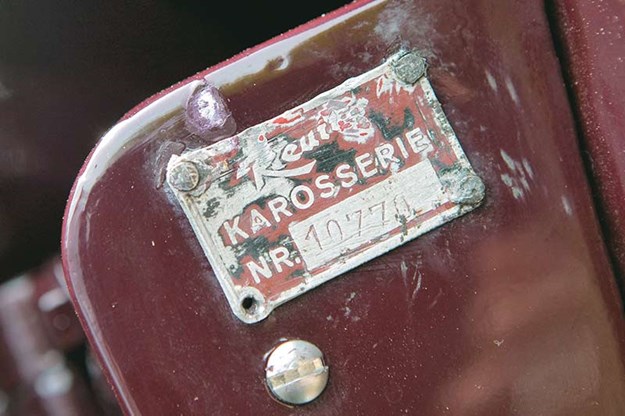 Henderson lucked in while on a medical conference in San Diego where he met a former VW dealer who had recently restored a similar Burgundy 1951 coupe and took literally thousands of reference photos. Meanwhile in Australia 356 enthusiast Greg O'Keefe offered his Radium Green 1952 model split-screen coupe – the third Porsche to arrive in Australia – for reference.
Fellow Australian 356 Register member Phillip Schudmak was also very helpful, sharing his experience in restoring the coupe's Fish Silver Cabriolet sister model some 15 years earlier.
An important thing to get absolutely right was the colour, as it had worn several coats, most badly, in its 57 years. The records indicated that the car left the factory in 'Maroon 503' – one of the six colours offered in 1951, but it wasn't until they found some of the original paint underneath the car's door cappings that they were able to confirm a perfect match to the hue they had chosen.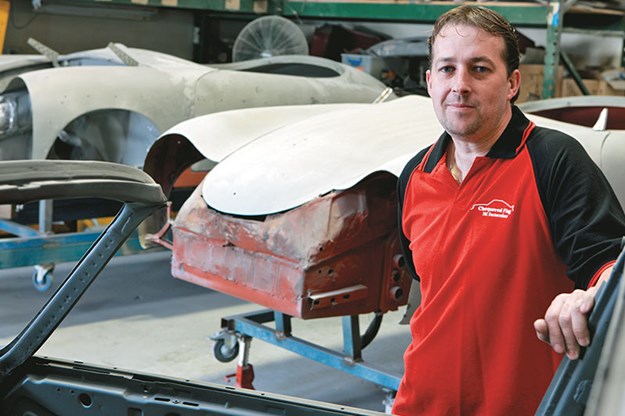 Choosing the correct interior trim was another agony, but the beige leather and woven carpet replicates the original as close as Henderson believes is possible.
With the engine and gearbox were refurbished by Franz Krapp, the only task left was to drive the car to the 23rd Australian 356 Register's annual Porsche Parade at Melbourne's Como Park in late November last year. And it was there Ian Henderson and Jason Carroll realised that nearly three years of hard labour really was worth it.
In front of the most critical possible audience of nearly 100 fellow 356 owners from around Australia, the reawakened 356 received the Porsche Cars Australia trophy for the 'Best Car of the Show'.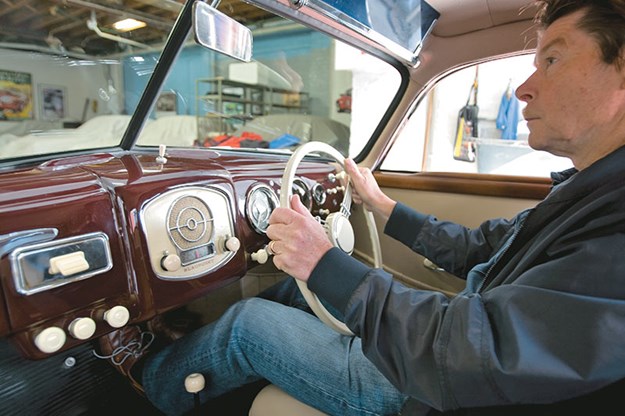 WINNING TOUCH
Not surprisingly given Jason Carroll's award-winning restoration on Australia's first 356 coupe, Chequered Flag Restorations is today packed with Porsches awaiting Carroll's special touch. Current projects ahead of him and his panel beater and former insurance assessor father Peter include a total nut and bolt restoration of a 1973 911 Targa, the backdating of a 1973 911T fitted with a once-fashionable 'Turbo' wide-body kit back to its original narrow period bodywork, and the total restoration of three iconic Porsche Speedsters, one of them the first Australian-delivered right hand drive Pre-A model.
Somehow Carroll has even found time to build his own beautiful Viper Green 1969 model Porsche 911E to Group Sb Historic Racing specification, although he's been too busy to use it.
But it's the brief from the owner of one of the other Speedsters, to be restored to its original Aquamarine Metallic magnificence that again has him excited.
"He says it has to win this year's Australian 356 Concours," said Carroll.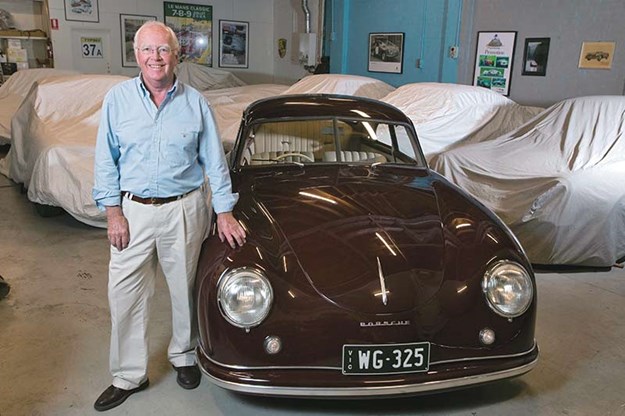 ANOTHER FIRST
As fate would have it, Britain's first ever factory-sold Porsche – a 1953 pre-'A' 356 Coupe – also found its way to Australia. Its Sydney owner has the historical Ivory example in well-deserved semi-retirement, only bringing it out for special occasions.
Its current immaculate condition hides the scars of a truly eventful life. Back in 1953, Porsche's official UK dealer, AFN of London, imported three right-hand-drive 356s from Germany, and this example was the first to be sold in January of 1954. The lucky owner was Mr Ted Woolley, a well-known enthusiast and racer, who paid the princely sum of £1974 10s 0d (a significant £700 more than a 1953 Jaguar XK120 of the day).
Britain's 356 'Number One' competed at the 1954 Rallye Soleil Cannes, won its class in Production Saloon Cars at Silverstone and was the first Porsche to ever compete at Goodwood. Woolley raced, sprinted and rallied the car across Europe between 1954 and 1957, but seemingly lost affection for the little Porsche soon after, finally selling it in 1974 for £150; rusty, stripped and with its engine on the front seat.
It was rescued by British restorer Roger Bray in 1989 and underwent a meticulous restoration to its motorsport specification. It competed in British classic rallies in the '90s before being bought by an Australian and shipped here in 2004 – exactly 50 years after its first taste of competition in Europe.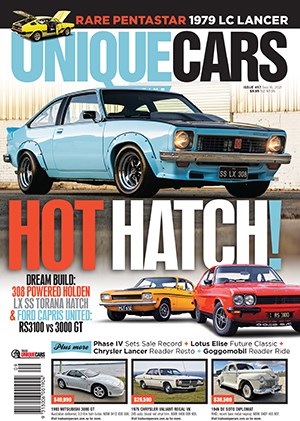 Subscribe to Unique Cars Magazine and save up to 42%
Australia's classic and muscle car bible. With stunning features, advice, market intelligence and hundreds of cars for sale.
Subscribe