1978 Ford Escort Sundowner: Spotlight
---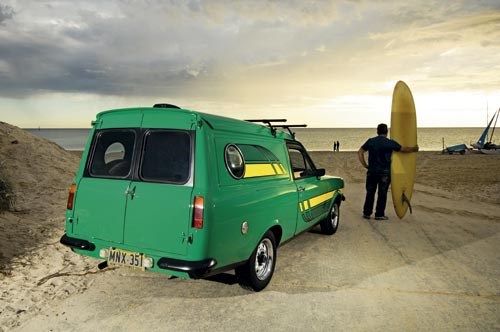 1978 Ford Escort Sundowner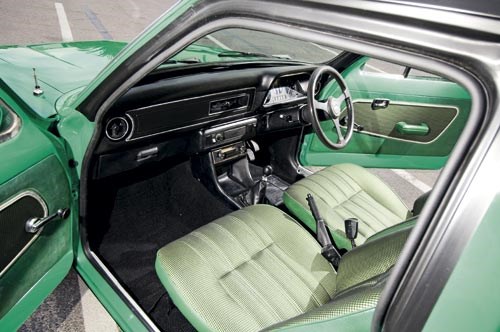 1978 Ford Escort Sundowner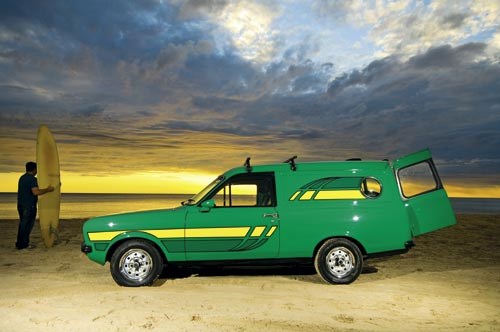 1978 Ford Escort Sundowner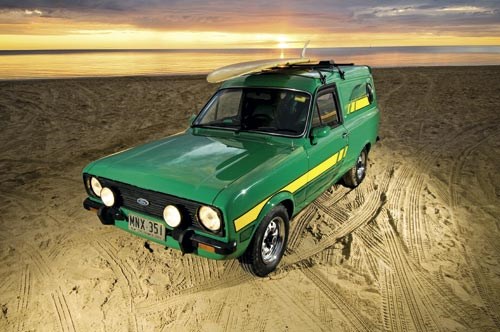 1978 Ford Escort Sundowner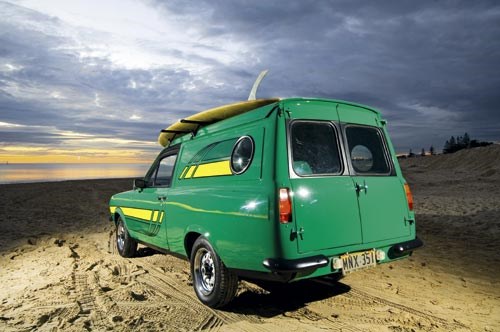 1978 Ford Escort Sundowner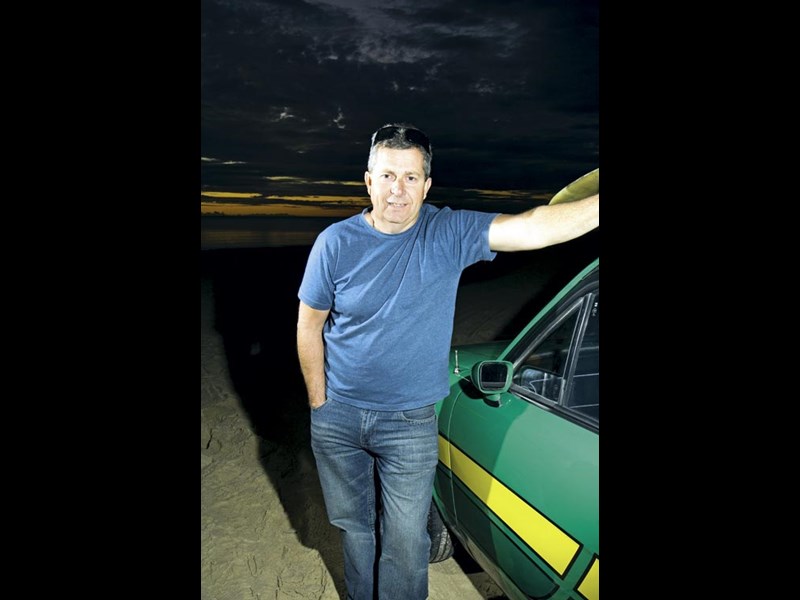 1978 Ford Escort Sundowner

Surging fuel costs and the desire for a bed on wheels, led to the rise of the four cylinder car-based panel van in the '70s...
1978 Ford Escort Sundowner 
Over the last decade, a clear line has emerged that separates performance choices for young drivers on a budget.
There are those who aspire to turbocharged Japanese grey imports versus those who support a quick Commodore or Falcon. A further stream is emerging as those who reject both move to cheap BMWs, Saabs, VW Golfs and other Europeans.
It has never been any different since young Australians in the '60s rejected the VW Beetles, Cortinas or Minis their parents wanted them to drive and chose instead an ageing Ford V8 or hot early Holden.
But this line between the Ford V8 and hot Holden sedans became blurred when the global Kombi van movement evolved into something else after 1970. It was similar to the way that the harder-edged Sunbury pop festivals soon reflected the Aussie preference for sun and booze compared to the softer drug-enhanced hippy love-ins defined by Woodstock.
Initially, it was 1200cc worth of German putt-putt versus 179 cubic inches under an EH Holden panel van bonnet but that soon evolved to embrace the bigger V8s in later Aussie panel vans.
There are a number of reasons why this happened. Kombis were ill-suited to covering long distances quickly and wore out, as soon as you did. While a Kombi was good for sleeping out, it was much easier to back up a panel van at the surf and chill out horizontally while keeping an eye on the swell.
The closest to a Gold Class Cinema you could achieve during this period was, again, sitting semi-reclined in a panel van backed up to the screen at the drive-in.
Under the increasingly brittle veneer of early 1970s respectability surrounding drugs, alcohol and sex, the panel van provided a convenient solution when it could all be hidden from view. Swept under the carpet became swept under the panel van mattress.
Price, just as it is today, was the big factor that kick-started the trend. Worn-out tradies' vans were worth little as used vehicles but they were light and their bullet-proof mechanicals were still strong enough to provide reasonable performance. The tidying-up of a tatty van quickly became an art form.
As fuel prices and inflation soared, the bigger and thirstier vans tapered off but not before complete issues of Wheels magazine were dedicated to vans and the specialist dealers and industries that came from nowhere to ride the trend.
As unbelievable as it now seems, the cover of the February 1976 Wheels featured a Daihatsu 360 in psychedelic livery as the van trend embraced smaller vehicles.
Your 1976 van driver on a budget according to Wheels could choose between the stylish Bedford CFS short van with 173/2.8 Holden engine, Daihatsu 360, the industrial Datsun Homer, Ford Escort 1300, Ford XB Falcon, Ford Transit with Falcon 200/3.3 six, Holden HX Sandman, Leyland Mini Clubman, Mazda Bongo F1000, Nissan E20 (aka Urvan), Suzuki L60V, Toyota Corolla, Toyota HiAce and Volkswagen Kombi. Phew!
Ford and Chrysler took their time to exploit the trend so it would be another year before there was a Ford Sundowner and a Chrysler Drifter to match the Sandman. By 1978, the big vans were on the wane and it took arch-conservative Volvo to expose what kept the trend alive.
At the time, commercial vehicles copped only a 15 percent tax compared to the 27.5 applied to passenger cars. In the case of the 1977 Volvo 245 Wagon, this pushed its retail price to $10,780 but the same vehicle stripped of its rear seats and rear door hardware could sell for just $7350 as the Volvo 245 2SL van. For all of $800 you could put back the wagon's missing bits and save almost $3,000.
While this stripper Volvo van was never aimed at ex-Sandman/Sundowner/Drifter owners, it highlighted an opening for a gutsy range of small tax-cut vans, several of which survived well into the 1980s.
They would include the Toyota Corolla, Holden Gemini, Leyland Mini, Mazda 323, Datsun Sunny and the Ford Escort, all of which are still remembered with huge affection as simple, reliable and frugal transport. Ford ensured that a special Australian version of its Escort van stood head and shoulders above the rest.
Ford Australia took the lead of the European RS2000 sports model by shoehorning the Cortina/Punto 2-litre engine into all local Escort body styles in 1977. The 1.6-litre Kent pushrod engine replaced the 1.3 as the entry van engine, making younger panel van buyers winners in both cases.
Because the 2.0-litre version delivered almost RS2000 performance and handling in a panel van, it was an outstanding package especially when optioned with the sedan's GS Rally Pack. From February 1978, it could be capped off with the Sundowner's full stripe and side bubble window package for Australia's most outrageous small factory van.
Full headlining, fluoro roof lighting, carpeted load area, twin sports mirrors, halogen headlights, steel belted radials and full instruments were aimed fair and square at young buyers who didn't need or want the running costs of a full-sized van or look like they were driving their mum's or girlfriend's Escort sedan.
The Escort panel van was quite different from its Japanese rivals. It was engineered as a proper delivery van with barn doors for European commercial operators, not a steel-panelled station wagon with a liftback. When this style first appeared in the original Escort range, it had a much higher roofline and boxier rear than the Escort wagon that was not sold here. The popular Escort van had more in common with the Morris Minor and Vauxhall Viva-based Bedford HA delivery vans that it effectively wiped from British roads.
Because the squarer style of the second generation Escort was a better match for this delivery van rear, its more cohesive look was a natural for Ford Australia's Sundowner treatment especially when it was also the roomiest and most practical of the small vans.
Ford advertising cleverly highlighted how tall Aussies could sit bolt upright inside the van without stooping. And because any small van was a squeeze for sleeping, the front seats could be tilted forward and filled with an extra panel to create extra stretching space for the drive-in or beach.
The keys to this local Escort development were the two versions of the 2-litre four that Ford had access to. The original low compression Cortina emissions engine was a dog with only 64kW and initially reserved only for automatic Escorts. After the high compression 70kW version was certified for the Swedish market, it was exploited in local manual versions of the Escort and Cortina.
Because it could pull taller gearing, it delivered similar economy to the 1.6 while delivering a standard 400 metres time of 17 seconds even, which qualified it during those bleak early emissions days as something of a junior muscle car.
Ford did a comprehensive job of installing the bigger engine. The radiator was moved forwards, inner engine bay panels were modified, there was a special sump to clear the Escort architecture, a big bore exhaust including fatter front muffler and a Cortina-sized clutch. Beefed-up front suspension and anti-roll bar sharpened the handling to Escort Rally-Pack standard even if the ride was a little firmer.
Throw in the tax-discounted price and it was the cheapest entry ticket to the sharp 2-litre Escort driving experience and well below the most basic Cortina with the same engine. However, the high imported content meant that a basic Falcon van was not that much dearer so the extra equipment, better economy and compact size were critical to its success.
Compared to its imported 1.2-1.3-litre Japanese competition, the Escort Sundowner was a bargain and remained quite sought after as a used model long after Ford dropped the Escort van range in 1982 following the switch to the Laser.
By then, the youth market had little need for a low cost van after the adult world had adjusted to a new range of behavior that no longer needed to be hidden behind closed panel van doors. Hot Mazda rotaries, cheap V8 Toranas and a wild new Mitsubishi Cordia Turbo quickly filled the youth performance gap while the Mitsubishi Express van defined a new style of low cost delivery van for commercial operators.

OWNER: JAMES KERMODE
Our featured van is a '78 model owned by James Kermode, a car wholesaler.
It started out as a country car which explains why it's one of the very few Escort Sundowners that hasn't succumbed to rust when it wasn't exposed to the coast.
As James observes, its long legs and extra performance would have been ideal for a young rural driver in a hurry who needed somewhere to kip.
James started as an apprentice mechanic for Ford in 1976 and has fond memories of the Escort vans so it was a must have addition to a van collection that includes a Chrysler Drifter, Holden Sandman and XC Falcon Sundowner.
Presented in Modena Green, it captures exactly what made these models so special with its upgraded cabin trim and extra finishing touches in the load area. It also has a rare glovebox, deleted on most commercials. Unfortunately, the current decline in the motor trade has forced him to place it on the market.
Unique Cars magazine Value Guides
Sell your car for free right here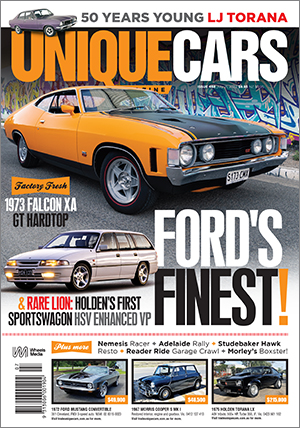 SUBSCRIBE TO UNIQUE CARS MAGAZINE
Get your monthly fix of news, reviews and stories on the greatest cars and minds in the automotive world.
Subscribe