1977 Trabant P601 Review
---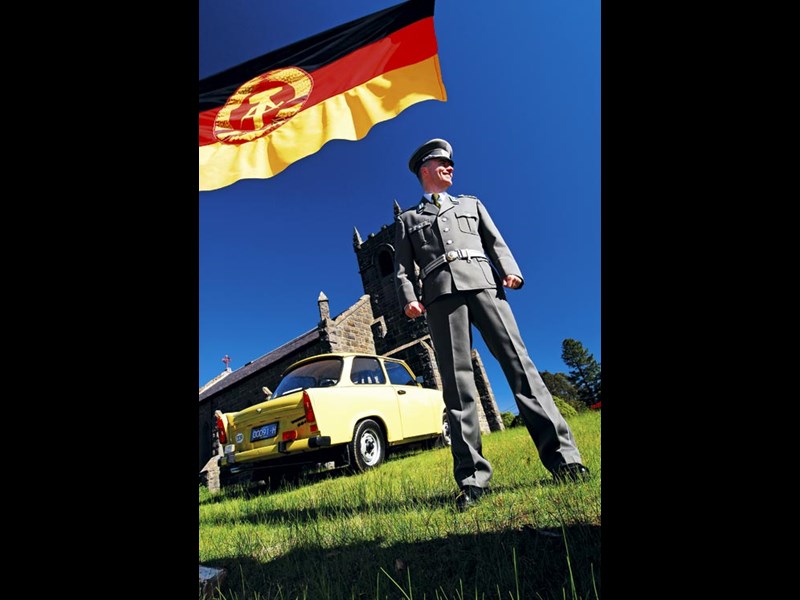 1977 Trabant P601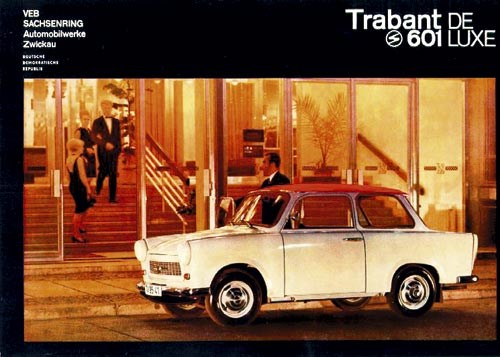 1977 Trabant P601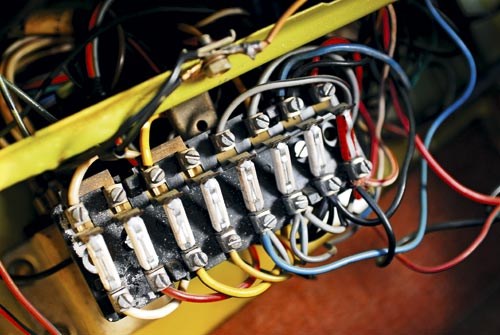 1977 Trabant P601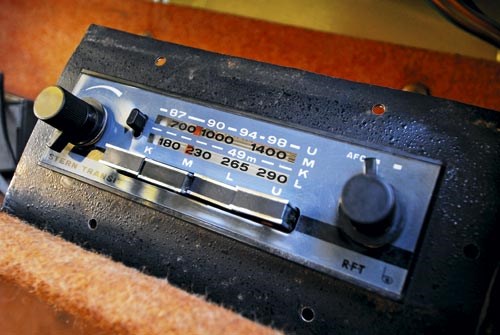 1977 Trabant P601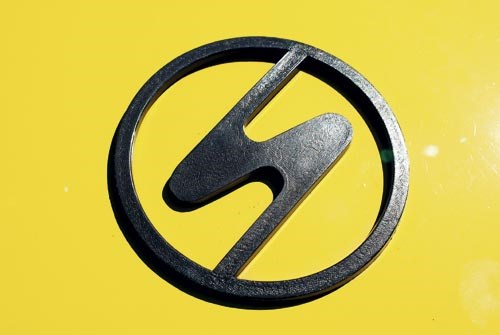 1977 Trabant P601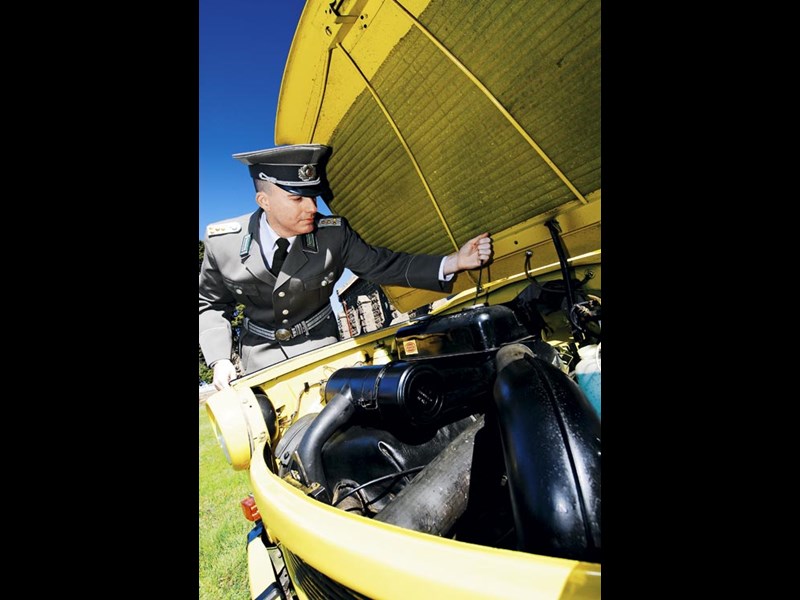 1977 Trabant P601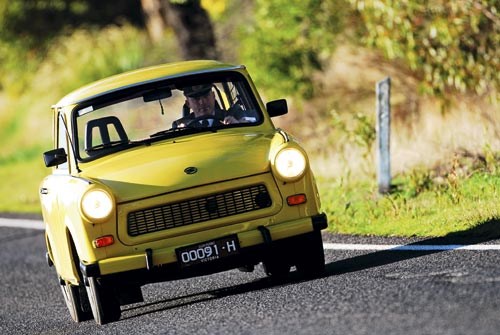 1977 Trabant P601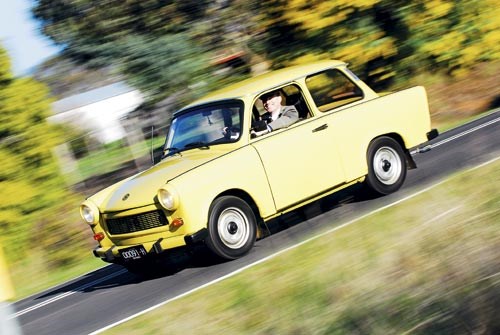 1977 Trabant P601

It took the fall of the Berlin Wall and a long, long wait for this owner to get hold of his two-stroke prize
1977 Trabant P601
OFF THE WALL
While many of the folk who feature on these pages collect cars, Neil Fitzgerald is a little different – he collects East German memorabilia, including a car. His bright yellow Trabant P601 is possibly the only road-registered example in Australia and the culmination of a long-held interest in the failed European state.
A purser for Qantas, Neil reckons his interest in East Germany started when he was in primary school. In those days, it was not a popular topic for discussion. "The more they didn't want to talk about it, the more it piqued my interest," he says.
Over the years he's put together a remarkable array of gear from the now defunct country, and has become something of an expert on the subject.
It wasn't until quite recently, however, after enjoying a 'Trabant tour' in Berlin in 2005, that the Trabant bug took hold. 
As so often happens with vehicles, the status of the sometimes despised and often derided little two-strokes has turned around to a point where they're now a cult car in some places, including Germany. They've featured in numerous movies and have even inspired the names of rock bands, Traband from Czechoslovakia plus Los Trabantos from Poland. Oh, and let's not forget Icelandic electro-rock outfit, Trabant.
As Neil discovered, tour operators will take you for a spin round the old East Berlin in the cars, and you can also hire them. For Neil, it was a case of love at first sight – he had to have one.
On return to Australia, he was soon trawling through Ebay looking for one of his own. He found one: a 1977 P601, painted green. It arrived in Australia in reasonable if not fantastic shape, clearly in need of a more caring owner.
The local vicar agreed to bless it (draped in an East Germany flag for the ceremony) but the engine blew up two weeks later. "That's what you get when you try to bless a car from an atheist country," warned the priest.
VICIOUS PLOT
Cynics will say the Trabi was really a vicious East German government plot, foisting the world's worst get-away car on an unsuspecting populace. After all, with its 21 seconds to 100km/h performance, the diminutive runabout would not be your first choice as an escape vehicle if you were planning to high-tail it across to the West.
In fact, it was the child of post-war Europe, when there was an international push to develop economical compacts that could carry four without costing a fortune. Some went on to fame – Mini and Fiat 500 spring to mind – while the Trabant ended up being caught in a weird time-warp that lasted until the fall of the Berlin Wall.
It's a little scary to think the modest little Trabi cost 17,000 Ostermarks in its day, or about a year's wages at the time. Only the rich could afford a more substantial four-stroke, like the ineptly-named Wartburg. To make matters worse, you had to go on a waiting list, sometimes running out to 12 years, unless you could bribe someone to move up the line. Some people were desperate enough to put their kids on a queue. Imagine, though, all that trouble, and a year's salary, and all you got was a Trabant!
When it was first designed (the P601 was the third generation, launched in 1964 – earlier Trabis go back to the '50s) it was actually a reasonably clever bit of engineering. Based on a steel semi-monocoque chassis, the car was finished with panels of Duroplast. That's a mixture of resin and recycled cotton (usually old clothes), and is a distant relative to Bakelite. It's lighter and cheaper than steel, far less labour-intensive than fibreglass, and has the advantage of being mass-manufactured in a press.
Powering this set-up was a fan-cooled inline twin two-stroke engine, based on a DKW design. Neil's 595cc example runs twin ignition coils, expansion chambers, has an insulated 'coat' for cold weather and runs a 1:50 premix. It produces 27 of the finest horses communist skill and engineering could supply and develops max torque of 50Nm at just 2800rpm. Top speed is 110km/h, though Neil reckons it's more comfortable at a steady 100-105.
There's a four-speed gearbox to drive the front wheels, while all four are fitted with drum brakes. Suspension for the 615kg car includes a transverse leaf spring working wishbones with dampers on the front, while there is a pair of trailing arms with coil over dampers on the rear.
Neil's contribution has been to refurbish it inside and out, including a full engine rebuild. The paint is hardly subtle, though we understand you could get them in that colour, while the owner has opted for one sensible non-stock modification, which is replacing the front drum brakes with a pair of discs. Apparently he's still interested in living.
Something waiting to be fitted is the original radio, which had all those corrupting western stations blanked off.
So what's it like to own? "It's a compromise," confirms Neil. "Everything is a challenge. Finding parts can be hard and then you've got to find someone willing to work on it. But that's part of its charm." He adds that the internet has been a life-saver and, yes, he's joined the international Trabi discussion group.
PEOPLE MOVER
"Let's go down into town for a coffee," suggests Neil. Hmm, this is going to be interesting. None of us are midgets, and the combination of the owner (who proudly donned his East German border guard uniform for the photo shoot), photographer with gear, plus your rather large correspondent was surely going to severely test the unsuspecting Trabant.
Somehow you could summon up visions of this overloaded, Cold War relic lurching down the road with powerplant screaming and the driver flailing his arms in an effort to regain control. Actually it was none of that. In fact, there was remarkably little lurching or screaming.
Instead, it started second or third attempt, settled into a typical off-beat two-stroke cackle, and waddled off down the road with a fair attempt at dignity. The handling, surprisingly, is quite respectable. "It's so little, light and narrow, that you can get away with a lot," Neil explains. Nevertheless, we're grateful he fitted the front discs.
Locals are getting used to seeing the bright yellow buzzbox zapping around town, although you can tell the apparition of three grown men, worried about the consequences of all breathing at the same time, squeezed into the cabin, is too much for some. There's a bit of pointing and chuckling going on as we pile out for a cappuccino.
The engine is reasonably civil, smooth and not too loud, but the fact it's just had a rebuild is clearly playing a part in this. However the makers were cynical enough to fit a horn warning lamp, to alert the driver to the fact the horn was on, as it might not be heard over the engine!
We're not of course talking luxury travel here, and our photographer may need counselling after experiencing the joys of entering and exiting the back seat. Neil also confesses the internal wiring contains some mysteries. For example, the wipers come on if you hit the right-shaped bump.
You can't help developing a grudging respect for the Trabant, however, and it's not hard to work out why Neil loves it. He's right, it does have charm, while the sights and sounds (and smell!) of the little two-stroke battling away under the bonnet get to you. Who knows what the original owner thought, after being presented with the keys, having waited 12 or so long years, but you can see the current one is pretty damned happy.
DREAM CAR OR DUD?
Time magazine in 2007 ran with a feature called The 50 Worst Cars of All Time, which no doubt had some auto-execs ducking for cover.
The poor old Trabant made it on to the list with this epitaph: "This is the car that gave Communism a bad name. Powered by a two-stroke pollution generator that maxed out at an ear-splitting 18hp, the Trabant was a hollow lie of a car constructed of recycled worthlessness… A virtual antique when it was designed in the 1950s, the Trabant was East Germany's answer to the VW Beetle — a 'people's car,' as if the people didn't have enough to worry about. Trabants smoked like an Iraqi oil fire, when they ran at all, and often lacked even the most basic of amenities…"
That seems a little harsh to us, and Trabant owners may draw comfort from the fact the next car on the list was the Aston Martin Lagonda (which has also recently featured in Unique Cars).
NEVER SAY DIE
There were four major generations of Trabant: P50 – rounded body shell with a 500cc two-stroke engine, built from 1957 to 1962; P60 – same body shell as the P50, but with a larger 600 engine, which lasted 1962 to 1964;  P601 – has the 600 engine from the earlier series, but the new body with the mini fins, you see in the main story (also sold as an estate version). Lasted 1964 to 1990; Trabant 1.1 – 1990 to 1991, using the P601 body but now fitted with a four-stroke Polo engine.
In all, over three million Trabants were produced. While the 601 series remained unchanged visually, it in fact received numerous upgrades over time, including a switch from 6 volt to 12 volt electrics.
Several prototypes of new and upgraded machines were produced over the years, but never made it into production.

SPECIFICATIONS
1977 Trabant P601

Body: two-door sedan
Engine: 695cc two-stroke fan-cooled twin
Power/torque: 27hp (20kW)/50Nm
Transmission: four-speed manual
Drive: Front engine, front-wheel-drive
Suspension: transverse leaf and wishbones (front); trailing arms with coil over dampers (rear)
Brakes: Disc/drums
Value: approx $1500-5000 (unrestored)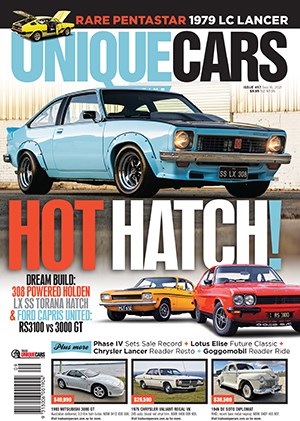 Subscribe to Unique Cars Magazine and save up to 42%
Australia's classic and muscle car bible. With stunning features, advice, market intelligence and hundreds of cars for sale.
Subscribe