Porsche 911 GT3 RS Review
---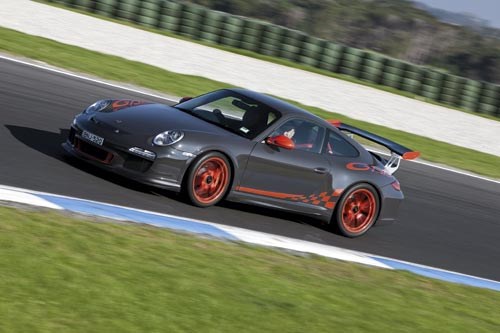 Porsche 911 GT3 RS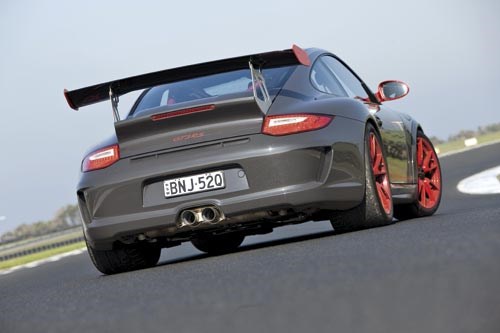 Porsche 911 GT3 RS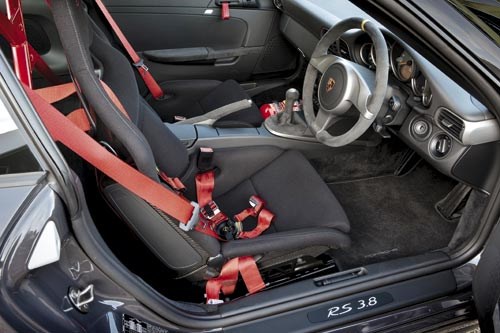 Porsche 911 GT3 RS
New road racer is arguably the purest Porsche yet...
Porsche 911 GT3 RS
It's a bare-boned race car for the road with few luxuries and shuns the Porsche AWD system, sending its power to the rear wheels only.
Its flat-six engine is naturally aspirated, with no turbo spool-up affecting the direct relationship between your right foot and explosive power.
The 911 GT3 RS, now available here for a cool $337,700, is even more extreme than the GT3, itself a lightweight 911 designed as a weekend racer or driven on public roads.
Porsche has pushed the RS even further. It's lighter and more powerful than the GT3, with changes that make it more fun to drive on the track and harder to live with on the road.
The RS has a massive cop-baiting rear wing, made largely of carbon-fibre that sits above a huge air intake, and an extended lower lip spoiler so low that a hydraulic nose lift-kit is an option.
Pumped out wheel arches accommodate wider tracks for a better footprint and the suspension is even more race focussed than the GT3. Bright red decals, wheels, mirrors and rollcage add to the race look. This is not a car for wallflowers.
In order to save weight, the rear windows are now made from polycarbonate instead of glass, the flameproof seats are wafer thin, and titanium has been used for the muffler.
The RS runs the same 3.8-litre dry-sump, flat-six as the GT3, but another 11kW is liberated by an improved air filter and intake. That raises peak power to 331kW while maximum torque remains at 430Nm.
Pressing the Sports button opens up the exhaust flow and increases the mid-range torque by up to 35Nm.
This fantastic engine can spin all the way to 8500rpm, but it's the way it responds to throttle inputs that makes it such a joy to play with.
This is partly due to the fact that Porsche has used a single-mass flywheel instead of the regular dual-mass one. This saves eight kilograms, but more importantly, its lighter weight makes the engine far more responsive.
The downside is a terrible rattling noise from the six-speed manual transmission and relatively rough idle, but this is a hardcore racer after all. And being a racer, it comes with a rollcage, a fire-extinguisher and race harnesses.
With so much power and a kerb weight of just 1370kg, it's no surprise the RS is quick and it sprints from 0-100km/h in just four seconds and has a top speed of 310km/h.
The power is impressive, but it's the agility, the accurate steering, the way you can feel everything on the road, and the high-speed grip that make this Porsche so much fun on the track.
Pushing through turn one at Phillip Island at an almost unbelievable speed, it feels like the big sticky Michelins will never let go. And if they do, Porsche's renowned brakes will wash off warp speeds in an instant.
The RS is so good, it makes a 911 Turbo feel cumbersome around the track and that's quite a feat.
SPECIFICATIONS
2010 Porsche 911 GT3 RS
Body: Two-door coupe
Weight: 1370kg
Drivetrain: Rear-engine, Rear-wheel Drive
Engine: 3.8-litre flat-six
Transmission: 6-speed manual
Power/torque: 331kW @ 7900rpm/430Nm @ 6750rpm
Performance: 0-100km/h – 4.0 seconds
Price: $337,700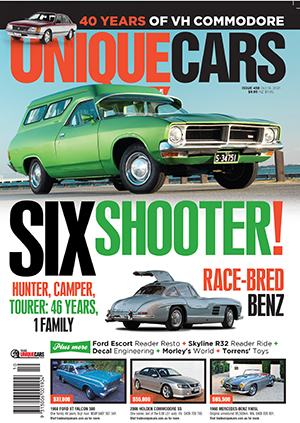 Subscribe to Unique Cars Magazine and save up to 42%
Australia's classic and muscle car bible. With stunning features, advice, market intelligence and hundreds of cars for sale.
Subscribe