1954 & 1966 Chevrolet Corvette Review
---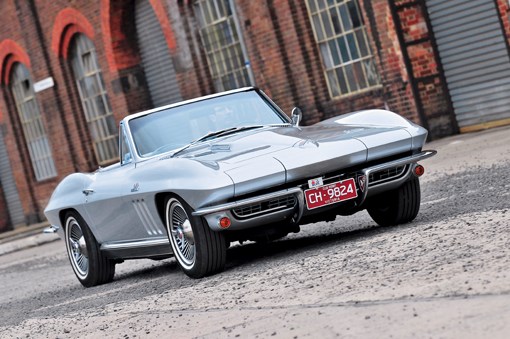 1954 & 1966 Chevrolet Corvette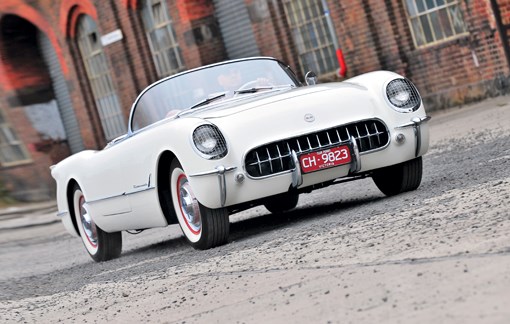 1954 & 1966 Chevrolet Corvette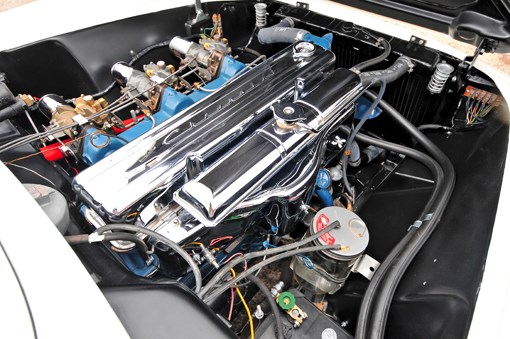 1954 & 1966 Chevrolet Corvette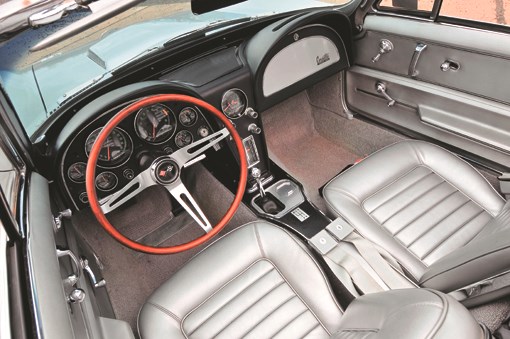 1954 & 1966 Chevrolet Corvette

Concours standard restorations are a hot topic in the classic car world, but these two 'Top Flight' stunners play by a new set of rules.
1954 & 1966 Chevrolet Corvette
'Fully restored', 'concours standard', 'unmolested', 'original'. Alongside 'The cheque's in the mail' and 'Of course I'll respect you in the morning', they're the four great lies of vehicle restoration.
Yet often there's no intention to deceive, and most buyers are just as ignorant as sellers as to what these terms really mean or imply.
The problem is many classic car owners have a very different interpretations of these commonly used terms. For some, 'restored' means just like it left the factory; for others, it means something far better.
So if you were buying a 'restored' early Corvette, would you expect to see shiny paint underneath or over-spray? And if it was described as 'original', would you be disappointed with new paint and new upholstery?
These were some of the questions facing Melbourne's Louis Rokas when he purchased his first Corvette – a 1954 roadster – in 2003. But when he met New South Wales Corvette enthusiast Murray Forman at a National Corvette meeting in Melbourne in early 2004, he found the answers.
Murray's mission was to foster a new Australian Chapter of a North American club called the National Corvette Restorers Society (NCRS) and he needed 25 firm expressions of support to its Board of Directors in the US.
He attended a major Corvette gathering in Melbourne and by the time he was ready to fly to the 2004 NCRS Nationals in Canada soon afterwards, he had his numbers including Louis, who agreed to help set up the local branch.
"There were officially recognised and unofficial Corvette clubs in every Australian State, but because there were no universal guidelines as to how the cars should be preserved or restored, most judging was subjective and the criteria changed on a regular basis," Louis explains.
"The NCRS doesn't replace or threaten any of these existing clubs; it simply provides an agreed set of restoration and originality guidelines that everyone can follow. So you can compare a vehicle you have never even seen to its NCRS score for its operations, interior, exterior, mechanical and chassis."
Enthusiastically embracing the project, Louis flew to the US a couple of months later to meet the NCRS Board and attend the Carlisle Corvette show in Pennsylvania.
The first Australian committee was elected there, with Murray as President, Louis as Treasurer and the first NCRS meeting was set for March 2005 at Kurrajong Hills in NSW, with 10 members from the USA attending to coordinate the judging.
"Over that meeting we were educated in the art of judging Corvettes, NCRS style," says Louis. "It was the most intense three days of judging that any of us had ever been involved in. I can't begin to describe the atmosphere – it was electric. We were like kids selected to play their first inter-school football game; very green, but excited and determined to make it happen.
"I think I learnt more in those three days than I had in the past four years of being involved in the local clubs."
Like a lot of great car stories, the NCRS started in a bar back in 1974 in Indiana. By the late-'50s and early-'60s, the Corvette, due to its styling and performance, had become very popular and even those who couldn't afford a new or used one promised themselves that some day, they would.
Owning and driving a Corvette was a statement in itself, but beyond that, the car seemed to beg to be modified, raced, wrecked, fixed and restored.
As the '60s rolled on, Corvette clubs started popping up around the world, mostly for social enjoyment.
At that stage, the owner of a '55 Corvette that had five previous owners would be hard pressed to have any real idea of how to determine if the car retained its original engine or transmission, let alone be sure if the body was painted in a color available for that model year. Of course, many didn't care, and still don't. But there were quite a few who did.
The National Corvette Restorers Society formed from that bar room gathering in 1974 was dedicated to "the preservation, restoration and enjoyment of early Corvettes", but it has grown to become a reference source, an archive, a technical sounding board, an on-line store and an official interface with Chevrolet and General Motors, which has endorsed it by supplying valuable production information.
For example, at one stage in the 1960s, the Corvette production line ran out of engines, so they 'borrowed' 20 from Chevrolet passenger cars, ground down the engine pad and re-stamped the blocks with Corvette numbers. Using documents procured from GM by the NCRS, these 'bastard' cars have been able to be identified as genuine Corvettes.
Unlike their American counterparts, who grew up with the various Corvette models, Australian Baby Boomers saw relatively few of the earlier C1 and C2 cars until quite recently and local regulations that required the conversion of all left-hand drive cars favoured the cheaper and later C3 and C4 models as a starting point.
For those wanting a Corvette muscle car, the C3 and C4 models also fitted the bill a lot better than the straight-six and smaller V8-engined early cars.
The rarity of those early cars drove Louis' passion to eventually own one. The 1954 roadster had the classic shape he wanted and after doing his research, he found his San Francisco-delivered dream car with its 235ci straight-six and two-speed Powerglide auto in Nevada, in 2003.
Back in Melbourne, Louis realised the car he'd bought was in good, but not great condition so, inspired after joining the NCRS, he decided to give it a full body-off restoration to NCRS standards.
However, after looking around for a suitable workshop he concluded there was no one in Australia who could do the restoration to the required level without considerable involvement on his part.
"There are very few people here that understand what it is to restore a Corvette to NCRS standard," he explains. "One evening in frustration I called Murray Forman and explained my predicament and asked would he be interested in helping me."
A few weeks later, in early 2007, the car was on a transporter to Sydney and Louis followed it a few days later. Together with a team of other NCRS enthusiasts the car was pulled down, all parts were catalogued, the body was dispatched to the media blasters and all the components that needed to be replaced were ordered from the 'States. Many parts had to be ordered several times over as they were not as specified in the catalogues.
"I found out the hard way that you don't believe everything you read in some suppliers' catalogues," he says.
Then there were the parts that had to be remanufactured, blasted, repaired and prepared for coating or chroming. After two years, many phone calls and emails and flights to Sydney, the '54 was finally completed to NCRS 'Top Flight' standard – the highest level of authenticity and restoration for Corvettes.
But few Corvette 'tragics' stop at one and the next most desirable 'Vette that Louis could afford was a 1960s convertible – ideally a big block.
"Needless to say I learnt my lesson very well with the C1," he concedes.
So before buying his '66 soft-top with its 427ci, 390hp V8 and four-speed manual transmission, he did the research and commissioned the help of some very knowledgeable NCRS people in the US before the transaction was completed.
The car, he discovered, was number 308 off the Corvette production line in late-1965. It had originally been delivered in New York, but had later turned up in Pennsylvania. There, it had been in an accident that damaged a rear quarter panel and had later been given a full body-off restoration to bring the body back to delivery condition, although the chassis wasn't touched.
The best part though, was that it had covered just 19,800 miles from new when Louis bought it and was factory-complete in every detail, right down to the original date stamps on the hose clips.
"I specifically bought the '66 because it met NCRS guidelines. So when I take it to shows around the country and people ask 'How much work did you have to do to it after importing it to bring it to this standard?' my answer is, 'I gave it a good wash and a polish'."
Proving his point, the car qualified for a Top Flight award at the 2006 Melbourne NCRS Chapter meeting and after a little more work Louis hopes it will ultimately achieve a 97 to 98 percent rating. Then he will move on to his next challenge.
"I'm still looking for the '58, which will complete my Corvette dream and my wife's for that matter. She loves the cars and this shape in particular, as she was born and bred in the USA."
The formation of the Australian NCRS is not going to change the way Corvettes are restored in Australia overnight. Of the estimated 5000 or more Corvettes in the country, just 110 owners, representing a carpark of about 300-odd vehicles, are members of the NCRS. But Louis isn't concerned.
"We know that many of the cars not registered with the Chapter meet NCRS judging standards in many, if not all areas," he says. "However, because that can't be verified, they can't be evaluated and rated by any international measure."
But with values of early-build C1 models from 1953 soaring up to $250,000-plus; C2 models from 1963-'67 – particularly early split-window coupes – topping $100,000 and big-block 427 C2 and C3 models fetching up to $170-$180,000, agreement on originality and appropriate restoration is becoming increasingly important for collectors.

RESTORING CONFIDENCE
The National Corvette Restorers Society is dedicated to the preservation, restoration, and enjoyment of early Corvettes and related material as well as to encourage and publish studies and research pertaining to their history.
An additional purpose of the Society is to conduct meetings, tours, and programs of any sort relating to the development and history of Corvettes.
NCRS members man an information booth at all major US car shows and technical classes are held at NCRS National Meetings, with older members pooling their knowledge for younger members and Corvette 'freshmen'.
The NCRS also maintains a database of all Corvette models produced, with production dates, the factory where they were built, suppliers and the components fitted to all models cataloged and updates continually.
Membership of NCRS Australia is open to both Corvette owners and enthusiasts. Annual membership is $35 and those interested should visit the website: ncrs.com.au.
JUDGE AND JURY
The NCRS judging system is a model that is the envy of marque car clubs around the world.
It's designed to educate each owner about their car as well as providing recognition for excellence in the areas of restoration, performance, or preservation.  It's not a 'cleanliness contest' like many events, nor do entrants compete against their friends' Corvettes. 
Vehicles are judged to a common standard by five teams of two judges each, with each team covering one section of the score sheets: Operations, Interior, Exterior, Mechanical and Chassis. A total of 4500 points are up for grabs and the raw score is divided by 45 to derive the net score.
A Top Flight award is awarded to a vehicle that achieves a net score of 94 or more; a Second Flight award is awarded for 85-93.9 percent and a Third Flight Award is given to vehicles that achieve 75-84.9 percent.
Mileage points are added to raw score at the rate of 45 per 100 miles driven, up to 10 percent of the raw score maximum. The car must score at least 75 percent to be eligible for these points.
The NCRS does not consider the restoration or replacement of components as 'counterfeit' as long as the intent is to restore the car to its former or original state as it left the factory.
SUPER 'VETTES!
For instance, repainting an original black Corvette with black lacquer paint, or installing accurately reproduced black vinyl seat covers in a car that left the factory with a standard black interior, are considered acceptable.
However repainting an original blue car red, installing a red interior in a car that left the factory with a blue interior, replacing the engine of an original small block Corvette with a big block, or replacing the carburetor on an engine with a fuel injection unit are regarded as 'counterfeiting'.
Judges are also required to be realistic about what constitutes an 'original' standard of finish, with owners less likely to lose points for a pin hole in the paint or poor panel fit, because that's the way many Corvettes left the factory!
SPECIFICATIONS
1954 Chevrolet Corvette

Body: two-door roadster, fibreglass
Weight: 1227kg
Engine: 235ci (3.9-litre) six-cylinder
Transmission: two-speed auto
Drivetrain: front engine, RWD
Power: 150hp (112kW)
Performance: 0-96km/h – 11secs
1966 Chevrolet Corvette

Body: two-door roadster, fibreglass
Weight: 1354kg
Engine: 427ci (7.0-litre) V8
Transmission: four-speed manual
Drivetrain: front engine, RWD
Power/torque: 291kW/613Nm
Performance: 0-96km/h – 5.7secs
Unique Cars magazine Value Guides
Sell your car for free right here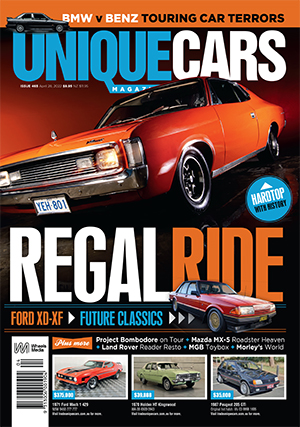 SUBSCRIBE TO UNIQUE CARS MAGAZINE
Get your monthly fix of news, reviews and stories on the greatest cars and minds in the automotive world.
Subscribe