Roaring Forties RF40
---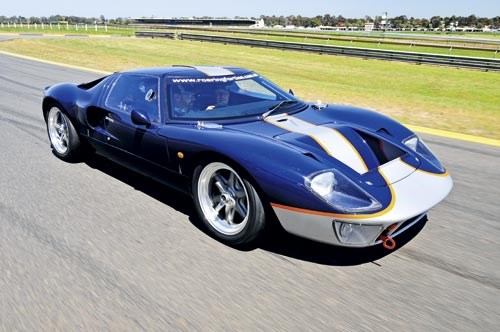 Roaring Forties RF40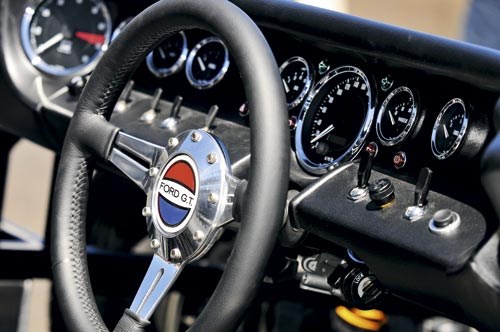 Roaring Forties RF40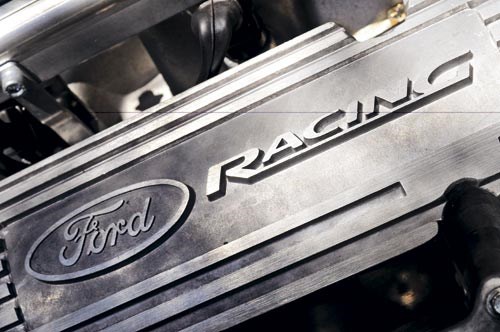 Roaring Forties RF40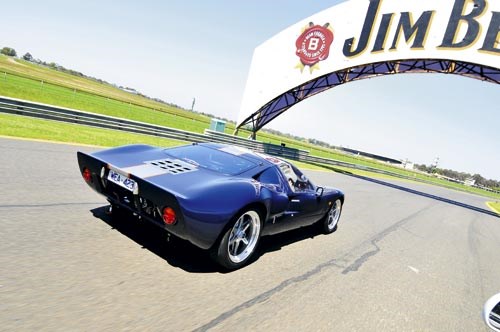 Roaring Forties RF40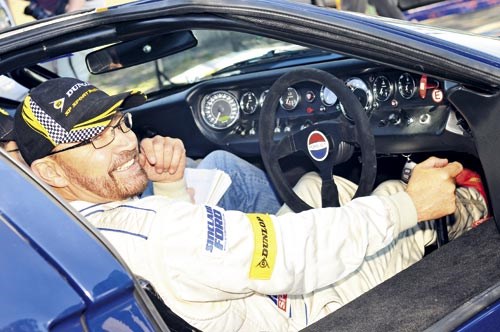 Roaring Forties RF40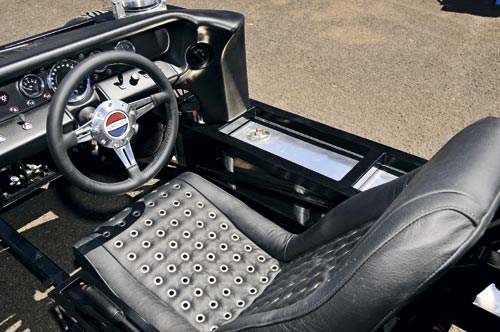 Roaring Forties RF40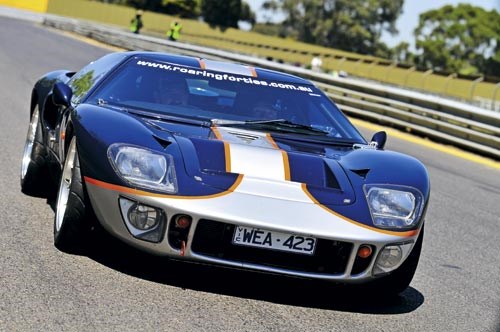 Roaring Forties RF40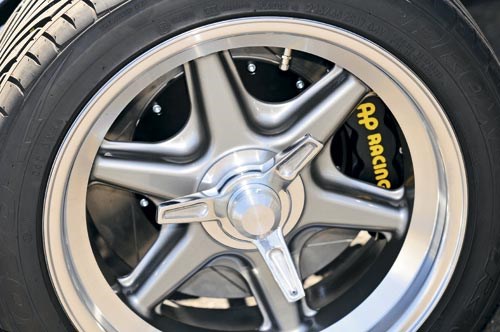 Roaring Forties RF40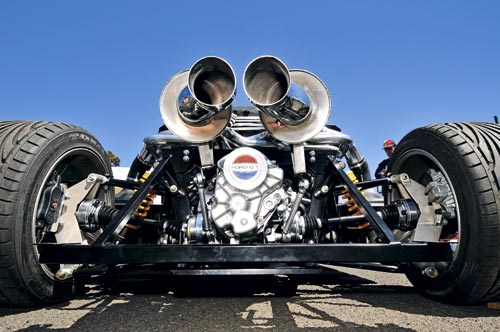 Roaring Forties RF40

V8 champ John Bowe has brought his racing experience to the latest Aussie-built RF GT40 sports car
Roaring Forties RF40
Low volume 'kit cars' seldom deliver the driving or handling refinement of their mass-produced rivals. They're usually blighted by lack of budget and expertise to develop and finesse such niceties as properly-weighted steering response, correct spring and shocker rates and overall chassis refinement – often because it's not possible to build any two cars the same.
The problem is that the driving enthusiasts who pawn their lives to fund such emotion-charged projects rarely have the technical background or resources to back their dreams, while the engineers who pursue their lifelong ambition to create their own car are rarely top drivers and lack that critical input.
However thanks to the involvement of two-time Bathurst winner John Bowe, Melbourne's Roaring Forties have been able to leap both hurdles with the latest incarnation of their RF GT40 replica.
Roaring Forties already had the technical runs on the board as two of its directors, Jonathan Klopsteins and chief engineer Paul Bottomley, had prior experience with Prodrive/FPV and Holden respectively.
Under their influence over the past three years, the RF GT40 replicas have morphed into very sophisticated vehicles that are now fitted with modern Ford steering and suspension components, rather than the Cortina and Escort-sourced parts of the originals. Even more significantly, they are designed to accommodate the latest emission-compliant FPV 5.4 litre Modular 260kW and 290kW engines and are set up to employ the six-speed Getrag transaxle.
The next area they focused on improving was the car's suspension. The early cast-iron front uprights were becoming difficult to source and as Bottomley had a great deal of experience with the design and manufacture of such components (including those used on the Elfin MS8), he decided to make an RF GT40 specific aluminium upright from a clean sheet design.
This approach gave Roaring Forties the freedom to ensure that the best suspension geometry was imbedded in the design, but to achieve this they needed expert driver input. Enter John Bowe.
JB first drove an early Roaring Forties car around seven years ago while doing a story for Unique Cars and felt it was a bit under-done in its suspension and chassis set-up. The steering was heavy, the car didn't have the balance he wanted and he had some issues with its suspension geometry.
So when Klopsteins contacted him and asked for his advice, he was keen to help. Initially Bowe tested an RF GT40 at one of his John Bowe Driving Days, but then extended his programme to include ride and handling tests on public roads and the Baskerville, Symmons Plains, Winton and Sandown circuits, using two variations of geometry and several different tyre compounds and constructions.
His feedback would have been relatively worthless without Roaring Forties' ability to produce millimetre-accurate chassis.
Thanks to rapid prototyping by RapidPro, CAD modeling and the highly accurate laser cut manufacture, Roaring Forties were able to change the car's suspension uprights to a completely new design, yet retain the car's original pick-up points, ensuring the changes can be retro-fitted to earlier RF GT40s.
Slipping alongside JB into the snug cockpit of the blue and silver development car at Sandown you could sense he is proud of his work.
"I loved working with these guys because they are academically trained and what they are doing is based on sound engineering principles," he said. "It was like working with a V8 Supercar team, rather than just a bunch of enthusiasts.
"Initially we developed a track set-up, then worked on road set-ups, using many of the roads we used to test the Tickford FPV cars I worked on. Basically the aim was to make it more driver friendly."
Out on the Sandown circuit and JB was clearly in his element and having fun.
"These cars have a great nostalgia factor. They look like they have just stepped off the grid at Le Mans in 1966 yet you can spec them up with all the latest gear so they are as fast as a modern supercar.
"In fact with the work that we have done, they are a real alternative to a Ferrari or Lamborghini as a track day car and turn just as many heads. I'll go out on a limb and say the Roaring Forties is better than many of the established players.
"Yet it's now also very much at home on the road and you can use it to take your wife or kids to the shops – but not both!"
He recalls some tests he did for Roaring Forties on a private road where he was able to drive comfortably with one hand on the steering wheel at around 220-230km/h.
"The clutch is not at all heavy and the steering is also much lighter and has a good centre point and feel. It's off a modern Ford now and doesn't have power assistance, but it doesn't need it."
We explore a few corners at Sandown, braking late into the apex, then powering through with the car feeling rock steady on its road rubber.
"It points much better now," he said. "The different uprights and geometry have made a big difference and this car has the Koni shocker option."
Cresting the back straight and diving deep into Dandenong Road corner under brakes, there's never a doubt that the car will pull up.
"They are proper racing brakes," said JB. "It stops, goes and handles now like a real thoroughbred."
A total of 176 chassis have now been completed since Roaring Forties began building its GT40 replicas in Dromana back in 1996, with 26 of them leaving the company's new Thomastown, Melbourne factory since the current team rescued the company from receivership in 2006.
Basically a Roaring Forties GT40 costs what you can afford. Customers are given a speadsheet with a list of options and go from there. A basic RF GT40 kit – they can't build turn-key cars at their level of kit component manufacture – will allow you to built a road-legal car and starts at around $100,000 plus GST, but you can spend double that if you tick all the boxes.
Most enthusiastic buyers complete the cars themselves, but Roaring Forties can recommend build services for the more daunting bits – body prep and paint are typically outsourced for example - to complete the job professionally.
SPECIFICATIONS
2010 Roaring Forties RF40
Body: two-seater coupe, fibreglass or kevlar
Weight: 1200kg (approx.)
Engine: Ford 5.4-litre V8; 5.4-litre V8 supercharged; Ford 302 Windsor V8
Power/torque: 260kW/290kW (5.4); 373kW/450kW (5.4 S/C)
Transmission: 6-speed Getrag
Drivetrain: mid-engine, RWD
Price: Base chassis kit starts at $18,178 plus GST. Complete base car around $100,000 plus GST (excludes paint and tyres.)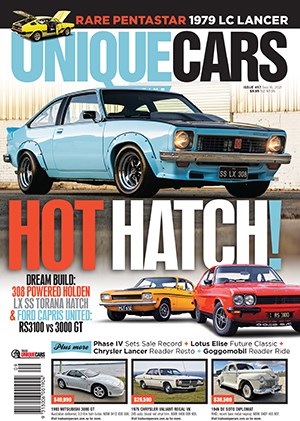 Subscribe to Unique Cars Magazine and save up to 42%
Australia's classic and muscle car bible. With stunning features, advice, market intelligence and hundreds of cars for sale.
Subscribe