Ford AU Falcon salt racer
---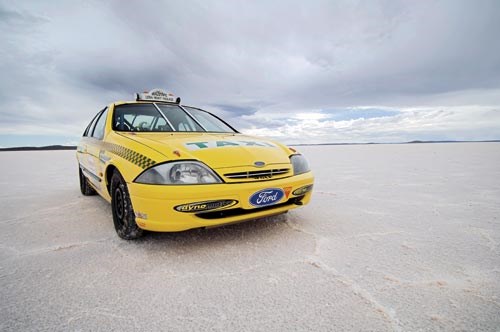 Ford AU Falcon salt racer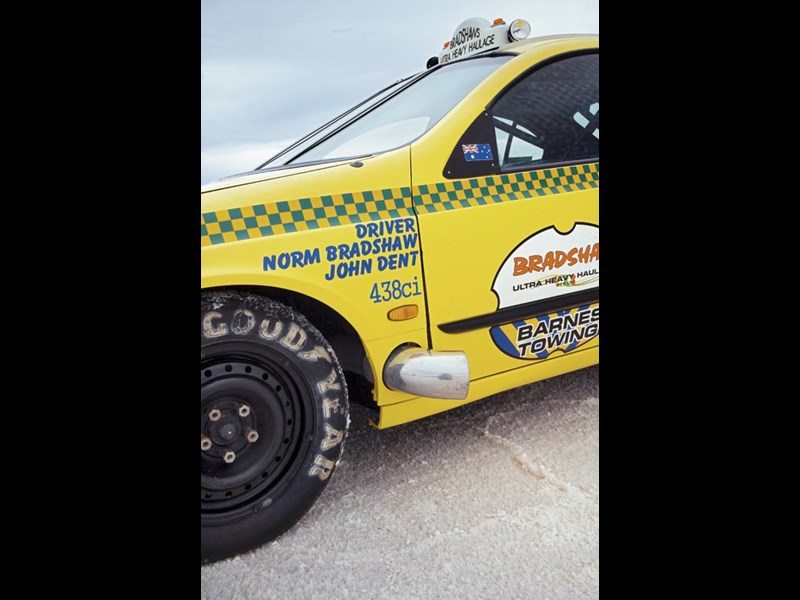 Ford AU Falcon salt racer

Ford AU Falcon salt racer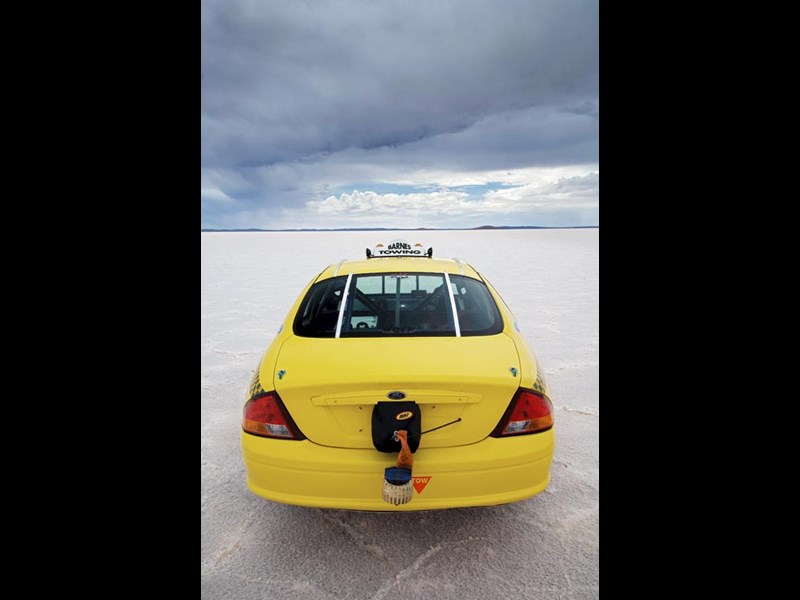 Ford AU Falcon salt racer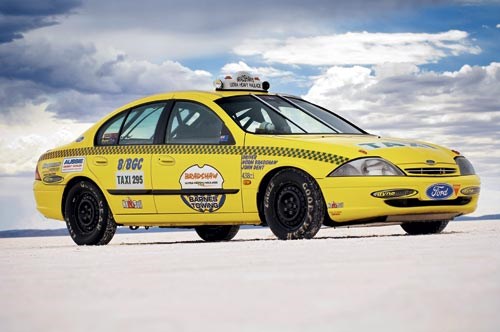 Ford AU Falcon salt racer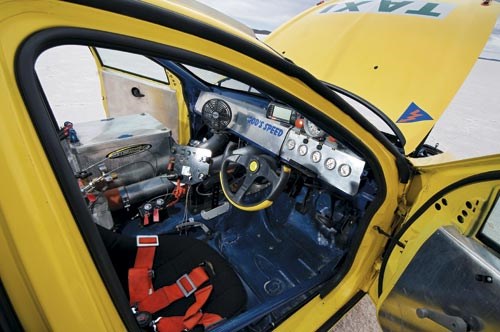 Ford AU Falcon salt racer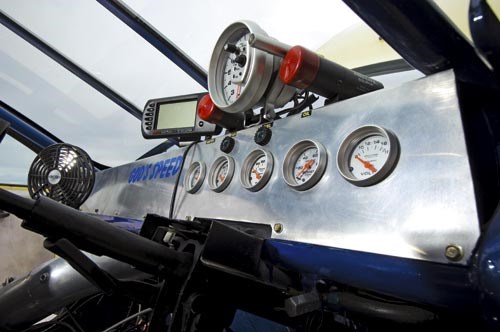 Ford AU Falcon salt racer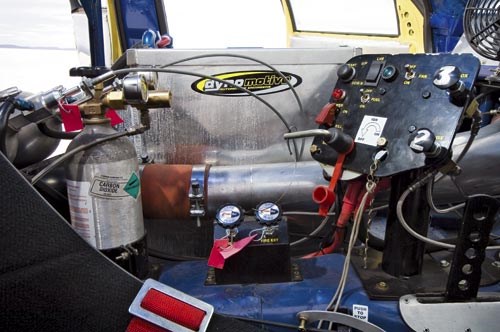 Ford AU Falcon salt racer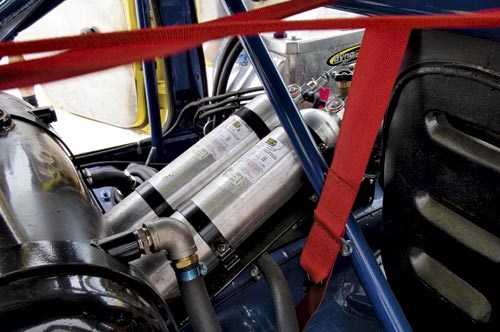 Ford AU Falcon salt racer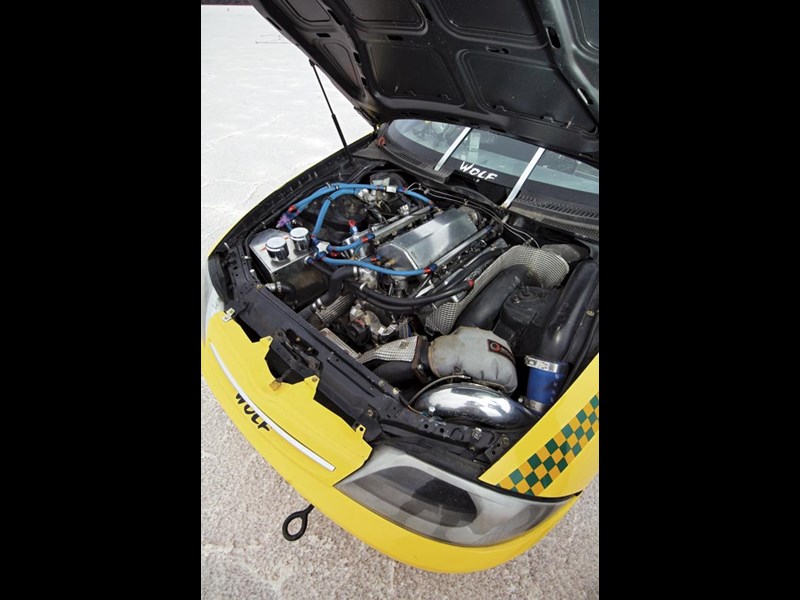 Ford AU Falcon salt racer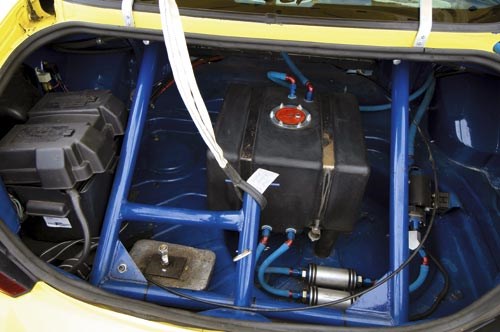 Ford AU Falcon salt racer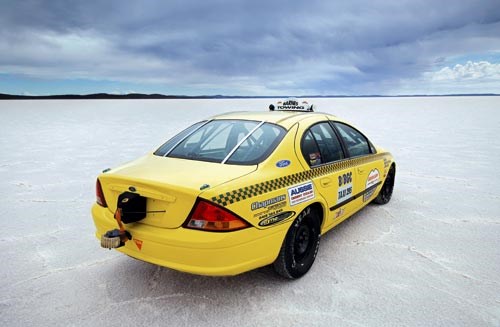 Ford AU Falcon salt racer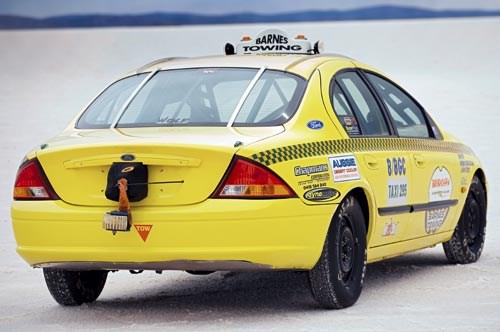 Ford AU Falcon salt racer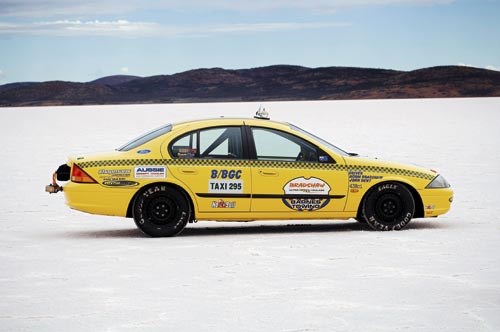 Ford AU Falcon salt racer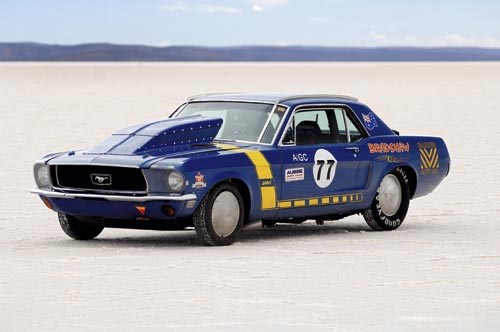 Mustang

Salt taxi: An aerodynamic AU Falcon makes the perfect base for a high-speed assault at South Australia's Speed Week
Ford AU Falcon
Slippery customer for SA Speed Week...
Melbourne to the famous Lake Gairdner salt lake in South Australia is a trip of approximately 1400km. In a taxi, that equates to something like a $3500 fare and 15 hours of potentially tiresome conversation about the government, bad roads, talkback radio and sporadic abuse of fellow motorists.
In the taxi of Norm Bradshaw, the drive would be cut to a theoretical 3.5 hours, though with 150km of outback dirt on the final section to the lake, let's call it a neat four hours.
Meanwhile, Norm's potential cruising speed of around 400km/h also means it's unlikely there'll be much scope for idle chat, and you wouldn't hear anything above the roar of the exhaust. Plus you'd be stuffed in the boot as there's no passenger seat!
Finally, despite being on the road for only a fraction of the time, I'm guessing the fare would double as his taxi sucks juice rapidly and maintenance costs are high.
SMOOTH OPERATOR
I'm referring to the yellow AU Falcon cab that after clocking a million miles around Melbourne was bought by Norm and transformed into a mad salt lake race car with the objective of hurtling across seven miles of hard flat lake bed at speeds usually reserved for the Tullamarine runway… or in some cases the freeway feeding it!
The Falcon was purchased minus engine and gearbox but in comparatively straight condition, complete with chequered taxi stripes. According to Norm, the plan was always to grab an AU, and an old dead taxi was the cheapest way to do it.
"There were four to choose from, and this one had the least damage," he explains. "The AU model supposedly has about the best aerodynamics of the Falcons with one of the lowest drag coefficients in the wind tunnel. It was built as an economy car with a slippery shape, but unfortunately no-one liked it!
"Out here you're looking for an efficient shape through the air, and I wanted to try and keep the panels as per production specification. That's why I chose the AU."
Aero is important, so is power and gearing in pushing a car through the air at high speed, and beneath the bonnet lies a serious engine in the form of a 438ci Ford V8 complete with massive 13.5 inch Turbonetics turbo. The ManO'War block was imported from the US with significant strengthening. Based on a Ford Windsor, it runs an Eagle crank, Eagle rods and JE pistons and is mated to trick Yates heads with the potential to spin to 10,000rpm.
Apparently the 'basic' Windsor with a blower will see trouble at around 1000hp, but the stroked and beefed example here, with turbo, produces a steady 1200hp at around 8000rpm. Add ice to the equation and tweak the boost to 14 psi, the engine can deliver 1500hp and safely rev to 9000rpm.
"Ice gives the car an extra 300hp-plus," says Norm, referring to the enormous box replacing the passenger seat that'll take 50kg of dry ice. "We run the induction through the ice, based on the principle that the colder the intake air the better. If we just run it through water, the air induction temps will be around 30 to 40 degrees, but with ice in there, it drops to minus 70 degrees and we see instantly better than a 300hp difference."
Between the dry ice and the fact the turbo is bigger than those found on most prime movers, the AU makes serious power, but also very strong torque with around 1840Nm on offer -- an important ingredient in propelling the car upward of 250mph (402km/h). In fact, the car is geared for 275mph (443km/h) at 8000rpm, and if all goes well, it'll progress further in the future with more rpm.
A Wolf custom engine management module has been fitted after initially trialling a remapped Holden ECU and is designed to ensure mixtures and spark behave at warp speed, which arrives in a hurry. As you'd expect a 13.5 inch turbo isn't overly progressive, but behaves more like a light switch from near 4000rpm where boost arrives suddenly and with great force.
The gearbox is a three speed Lenco drag-style set-up with air-shifter. First gear is fully manual requiring the clutch, after which pneumatic gear shifting occurs through second to third allowing for clutchless flatshifting, with compressed CO2 fed from a bottle in the centre of the cabin. The diff is the tough Ford nine-inch with Detroit locker.
PILOT ONLY!
Inside the crusty vinyl seats are gone along with countless Nordic pine air fresheners; the only remaining pew being the driver's race example. The dashboard houses Procomp gauges for boost and fuel pressures, water and oil temps, a big tacho and a 300mph speedo, all readily visible thanks to the Momo wheel with the top half cut out.
Brakes aren't that important, but a parachute lever allows the rear mounted chute to be deployed to steady things up after a maximum run or if things get a little pear shaped.
With the ice box, induction plumbing, CO2 bottle and fire bombs taking up most of the front half, the rear contains an additional 40litre water tank for additional cooling as initial testing revealed higher than comfortable engine temperatures. The tank's also been deliberately placed for additional weight and improved distribution. In fact, the car weighs nearly three tonnes, with added ballast throughout, particularly in the rear with 350kg in the boot.
Unlike most racing categories where weight's the enemy of performance, salt racing needs additional weight, well placed, for traction and stability. Apparently the ideal balance is approximately 60 percent rear, 40 percent front weight distribution in a rear drive, and the taxi's even had lead added to the rear differential and axle housing.
A full roll cage adds further body and chassis stiffness in addition to safety, and the suspension has been lowered by a mild two inches as, according to Norm, discussions with a few Ford engineering people revealed lowering it any further reduces aerodynamic efficiency.
From the outside the only real giveaways to the taxi's new role in life are the straps on the windscreen to prevent glass implosion at high speed and the small stability rails along the roof. Although a close look at the passenger side headlight reveals the giant turbo in its place and the skinny 4.5 inch bias ply Goodyear Eagle race rubber does hint strongly at competition duties.
They're much narrower than normal race rubber in order to reduce rolling resistance and run at close to 70 psi, although many competitors alter the tyre pressures in lieu of changing differential ratios as a quick way of gaining a higher top end.
UP TO SPEED
In general terms, Lake Gairdner's salt is hard and fast, providing decent traction but still short of bitumen levels of grip. During a run, the first three miles are used for building speed so that by the time the first timing marker is reached just beyond the three mile Norm's in top gear and accelerating hard through each subsequent mile to the seven mile end point, after which there's plenty of lake left to drop the speed and return to the pits.
Even in an ideal year where dry conditions produce a thick hard crust, cars will still generate wheelspin easily and the Falcon would have little trouble spinning wheels through to redline, but in 2009, rain the day before the event has resulted in a slippery surface.
"When it's dry, the salt here is usually harder and deeper and faster than Bonneville", says Norm, who went to Utah last year for a look at their racing. "They had 560 competitors, and hold probably six to eight meetings a year.
"Sixteen miles from the pits there's a massive casino with 2000 rooms, it's totally different from here! But it's an adventure here, and there are funny stories of blokes with a dead piston using a baked bean tin to limp in to camp!
One of Norm's motivations for building the Falcon was the fact that it's an all-Australian car. Having previously run a '68 Mustang with good mate John Dent up to a healthy 201mph (324km/h) (see breakout), his future plans include a possible trip to Bonneville if things go well.
"The Mustang is an American car, but this was designed and built here, so we're proud of that. If we can get it running well here, the record for this class is 247mph, so if we can get near that it'd be worth putting it in a container and heading over to Bonneville."
GETTING TO GRIPS
The Falcon had few opportunities for testing prior to Speedweek, with some dyno work and a short run at the Mangalore airstrip. So it was an all new effort for the car which included having to perform multiple car-licencing passes at ever increasing speeds on the slightly damp and slippery track, with the first runs postponed a couple of days following the rain.
Despite the slippery conditions where for two days competitors could only run to the four mile mark, Norm managed a healthy 188mph (303km/h) from the AU minus ice and on approximately 1000hp, and the signs were good for more speed in the future should conditions be just right.
"The car ran well, I'm happy with everything, but I just couldn't hook it up," he recalls. "Anything above about 5000rpm and I was getting big wheelspin. On my last run on the Friday I tried a bit hard and was sideways for about 700m! But I got out of the car with the biggest smile on my face!"
Plans include a clutch change and trialing slightly wider and taller Mickey Thompson rubber at the rear to help grip and gearing. A few team members are also suggesting installation of a beaded seat cover could make all the difference, though it's unlikely this taxi will ever see commuter duties again.
"I'm not actually licenced to drive a cab!," says Norm. "Besides, although you're not in the cab long, it'd be an expensive fare!"
EXTRAS...
LONG WEEK
Organised by the Dry Lakes Racers Australia club, the annual Speedweek event is Australia's only salt racing opportunity. It's held each March (although 2007 and '08 events were cancelled due to rain and other factors) on what is actually a National Park, sanctioned by South Australia's government and local indigenous communities.
It's a huge lake, covering one million acres, but is accessible at only one site via Mt Ive station. Compared with the famous Bonneville salt flats in Utah, it's isolated, with bush camping in a usually scorching March sorting out the true enthusiasts.
324km/h MUSTANG!
Parked next to the taxi in the salt pits is the '68 Mustang of John Dent, best mate of Norm. The Mustang started competitive life as a circuit car before a transformation to salt racer in the hands of both John and Norm.
Powered by a massive 499ci V8 the naturally aspirated coupe contains two massive Barry Grant four barrel carbs on top of the Tri Flow intake manifold producing a healthy 810hp and has clocked 201mph at Lake Gairdner.
"I like the simple approach to horsepower, with big cubes, lots of fuel and air, one distributor and one coil pack," says John. "It's easy to get going!"
Putting a classic Mustang on the corrosive salt can't be good for 45-year-old metalwork, but John's philosophical.
"We'd done the circuit thing, and drags are over too quick. What else could I do with it? It's funny, I clean the car when I get back, but six months later you'll get a huge clump of salt just fall out of nowhere! I suppose when running it at 200mph the salt gets rammed in there pretty hard!"
SPECIFICATIONS
Ford AU Falcon salt racer
Body: four-door sedan, ex-taxi
Engine: 438ci Windsor 'Man O'War', Eagle crank and rods, JE pistons, Yates heads, 13.5in Turbonetics turbo, ice-cooled intake.
Power/Torque: 1500hp @ 14psi (approx.)/1840Nm
Transmission: Lenco three speed air-shifter; Ford 9" differential.
Tyres: Goodyear 28"x4.5" rear, 26"x4.5" front
(From Unique Cars magazine, number 298, 2009)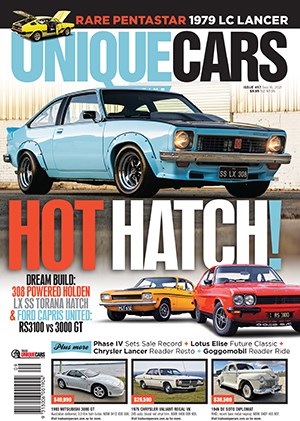 Subscribe to Unique Cars Magazine and save up to 42%
Australia's classic and muscle car bible. With stunning features, advice, market intelligence and hundreds of cars for sale.
Subscribe