Ferrari 750 Monza review
---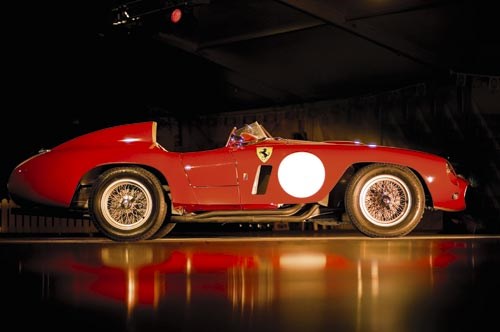 Ferrari 750 Monza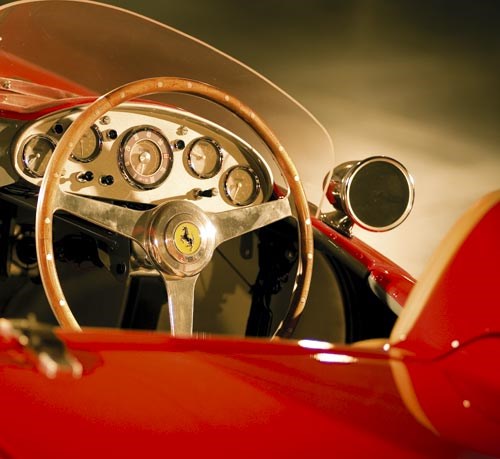 Ferrari 750 Monza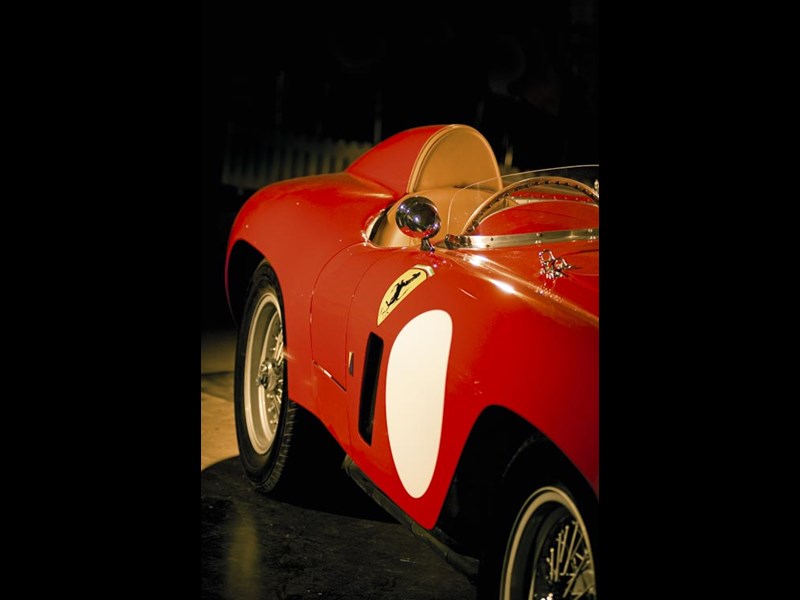 Ferrari 750 Monza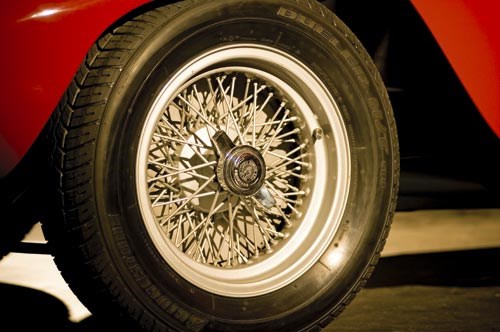 Ferrari 750 Monza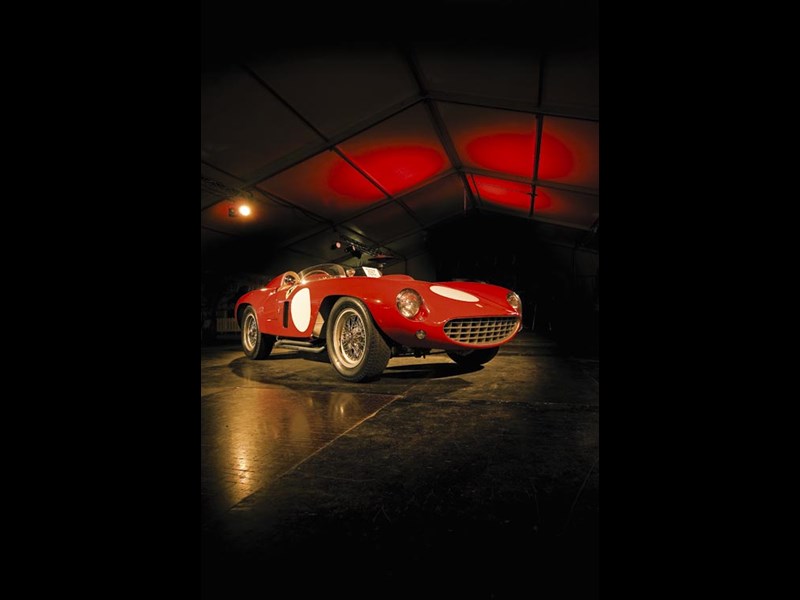 Ferrari 750 Monza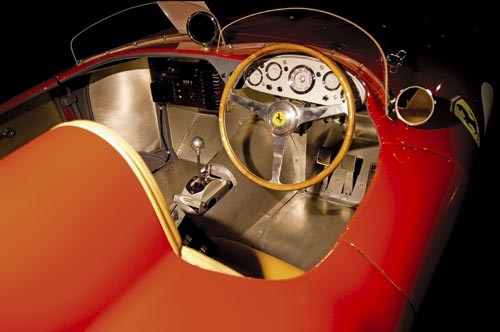 Ferrari 750 Monza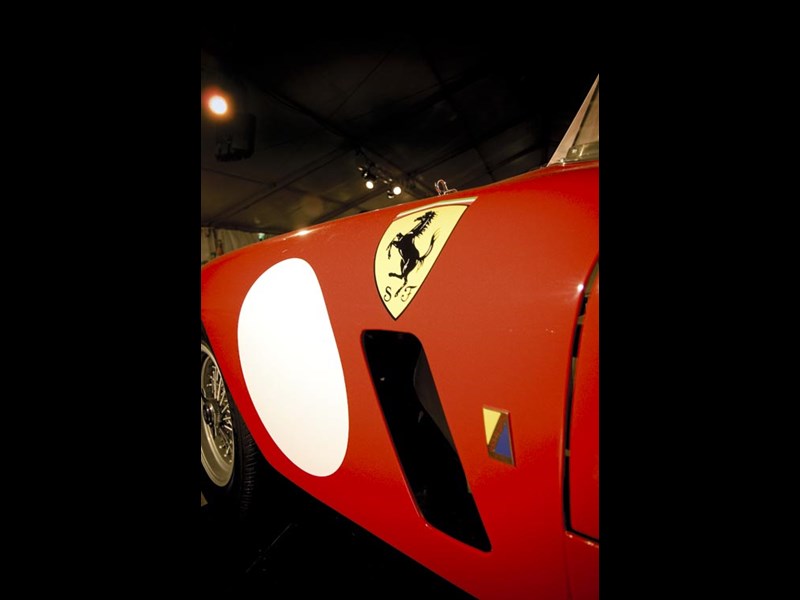 Ferrari 750 Monza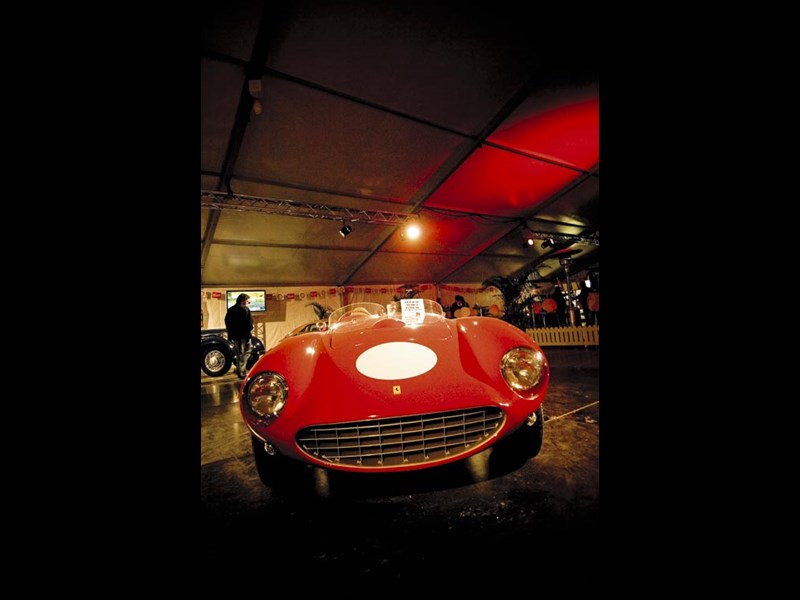 Ferrari 750 Monza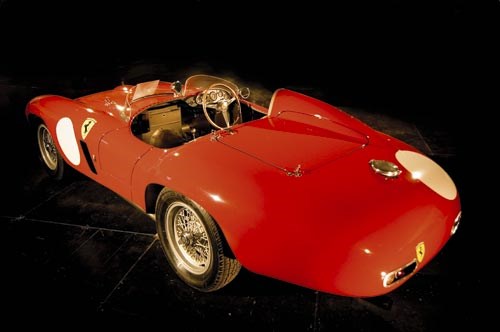 Ferrari 750 Monza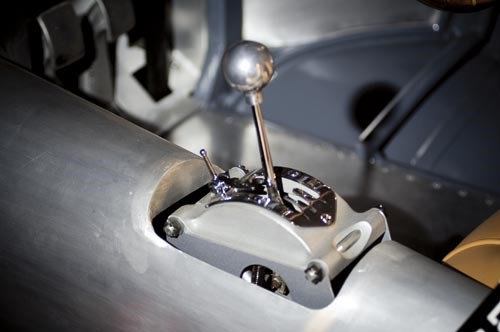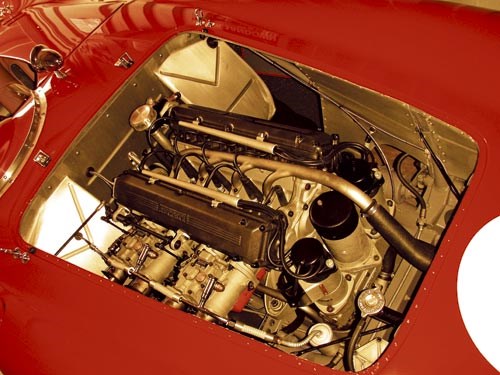 Ferrari 750 Monza

Ferrari's first – and last – four-cylinder sports car has a special place in the company's history
From Unique Cars magazine, issue #277 (Sept-Oct, 2007)
Ferrari 750 Monza
Sir Stirling Moss can take some credit for the advent of Ferrari's beguiling 750 Monza sports car.
The enigmatic young Englishman in the early-1950s was breaking reputations and lap records with abandon at the wheel of a series of four-cylinder Alta-powered HWMs, Connaughts and Cooper racing and sports cars to the point where they were beginning to shade Ferrari in international competition.
Ferrari had dominated Formula 2 racing in 1949, but Gioacchino Colombo's diminutive 1497cc supercharged V12 used in the Tipo 125 GP car had been an embarrassing failure for the Scuderia in the first two years of the new F1 World Championship, with arch-rival Italians Alfa Romeo winning the title in 1950 and 1951.
With the World Championship adopting the naturally-aspirated 2.0-litre or 500cc supercharged Formula 2 rules for 1952-3, Enzo Ferrari knew that a major change in engine strategy was called for and he looked to England for inspiration.
The four-cylinder engines developed by Alta used less fuel, were much lighter in a class where there was no minimum limit and also had a broader torque band that better suited the four and emerging five-speed gearboxes of the era.
In the early-'50s Ferrari instructed noted Italian engine designer Aurelio Lampredi to build a new four-cylinder engine and in 1952 a Lampredi-developed 2.0-litre, alloy engine was introduced and fitted to a Ferrari 500 F2. Driving this car, Alberto Ascari captured the World Championship in successive years, 1952 and 1953.
However Ferrari's focus was not just F1, because there was also a lot of kudos to be gained in the new World Sportscar Championship introduced in 1953.
Initially it was the company's brutish 250 MM and later 340 MM V12-engined cars that flew Ferrari's flag in events as diverse as the Le Mans 24-Hour race and Sicily's Targa Florio, but during the season the Scuderia enlisted the help of their new four-cylinder engine family to win the inaugural world title for enclosed-wheel cars.
FOUR TO THE FORE
The first Ferrari four-cylinder sports car was the 625 TF, which resembled the Vignale-designed 250 MM Barchetta and was powered by a 2498cc 'four' instead of the 250's 3.0-litre V12. But the same day that Mike Hawthorn debuted it at Monza in June 1953, Ferrari also fielded a new barchetta-bodied car for Alberto Ascari – the 735 S – featuring an enlarged 2942cc version of the same Lampredi engine producing 260hp (193kW).
While it failed to finish after a collision, this new sports car with its recessed headlamps and drooping grille led the race and made such an impression that it was dubbed the 750 Monza (in Ferrari tradition, the '750' referred to the capacity of one of its four cylinders) and became the international flag bearer of Ferrari's fortunes in sports car racing.
The 750 Monza went into limited production in 1954, with power officially rated at 250hp (186kW). It featured beautiful aluminium bodywork, initially penned by Pininfarina, but executed by Sergio Scaglietti – the first collaboration between Ferrari and Scaglietti and one that has lasted to the present day.
The Monza's styling is regarded as one of the prettiest ever to grace a racing sports car and presaged the droop-nose look of the famed 250 GTO, while its faired-in headlights suggested the lines of the flowing Testarossa sports car.
Imitation is the sincerest form of flattery and in Australia Sydney's JWF Milano paid homage to the Monza's lines.
FAST FOUR
Although entered and campaigned by the Scuderia for most of the 1954 and '55 seasons against the legendary Mercedes-Benz team with its sleek, silver SLR sports cars, the Monza became a particular favourite with privateers, who snapped up most of the limited production.
Sitting on a 2.2m wheelbase and with a robust welded tubular steel chassis, the Monza was very sophisticated for its day, with beautifully balanced handling. The suspension was independent, with unequal-length A-arm and transverse leaf spring in the front, while the rear featured a de Dion axle-beam, transverse leaf and parallel trailing-arms.
Drivers found its ride very stiff, but the car's balance inspired confidence to attack corners at high speeds. Aluminium drum brakes provided ample stopping power, while the responsive steering required a relatively lazy four turns lock-to-lock.
It was also quick, as its overall weight of 760kg gave it an impressive power-to-weight ratio of 4.0kg/kW, while the four cylinders endowed it with impressive fuel economy in endurance races.
Even by modern standards, the engine is impressive. The largest capacity production four-cylinder of recent times was the 2990cc engine used four decades later by Porsche in the 968 coupe of 1992/3, which developed 240hp (176kW)..
Production of the 750 Monza lasted from 1954 through 1955, by which time up to 40 are believed to have been built. Ferrari records of the time, like those of many other makers of exotic cars, were notoriously vague, with many cars having several 'lives' (and chassis numbers).
ONE AND ONLY
Australia is believed to have just one genuine Ferrari 750 Monza and for this we can thank a number of people, including Australia's first Formula One driver Tony Gaze and four-time Australian Grand Prix winner Lex Davison.
The Brisbane-based chassis 0498M is an early, ex-factory team car that is understood to have been driven by Mike Hawthorn and Alfonso De Portago in the Goodwood Trophy Nine-Hour race in 1954, but failed to finish.
It was later sold to American George Tilp who engaged Phil Hill to drive the car in a series of races in the US during 1955, with the future World Champion recording several victories and numerous places and class victories.
Hill remembered the car well when questioned at a recent Goodwood Revival meeting, as it was largely through his successes in it that he came to be noticed by Ferrari for the factory drive that ultimately led to his world drivers' title.
However all racing cars have a use-by date and by the late-'50s the 750 Monza had become uncompetitive. In Italy it would have been abandoned or scrapped; in the UK it would have gone into a shed, but in the US it went the way of many other early-1960s European sports cars and received a heart transplant.
Encouraged by Carroll Shelby's transformation of the spindly AC Ace into the rumbling Cobra and the similar sex change by the Sunbeam Alpine in becoming the Tiger, some 750 Monzas in the US found themselves with fat American V8s between their front fenders.
Chassis 0498M, it appears, was one of them. But by the time Houston Texas enthusiast Rick Grape acquired it in the 1990s, the offending piece of US iron had vanished, leaving a chopped piece of machine-turned engine cowl as evidence.
Grape discovered the Monza while washing horses for a woman in Texas around 10 years ago. It had been stored in a barn, but in later years had been dragged out and left under a tree, where he found it.
Grape fell in love with the idea of restoring "one of those European cars", but the task was daunting. There was no engine and no transaxle and the thin aluminium body needed some work. Eventually discouraged, he sold it to a Brisbane enthusiast, who already had a fine collection of British and European sports and racing cars.
RETURN TO FORM
The car arrived in Australia about four years ago, with its chassis in excellent condition and its shape very straight, although sections of the alloy bodywork were very thin and needed replacing.
Almost immediately it was dispatched to Victorian restoration specialist Graham Smith at Bellbrae Paint & Panel near Torquay, while the hunt went on for the missing mechanicals.
A transaxle was purchased from UK historic racing specialist Rick Hall allowing the project to be finished by late-2005. By this stage Smith had returned the Monza to its original factory red, rather than the white that it had worn during its American racing years.
But there was still no engine, so while the global search for a correct 3.0-litre 750 Monza power plant went on, the car was temporarily fitted with a 3.0-litre Ferrari V12 engine from a 250 GT, which was a fairly straightforward installation often carried out on Monzas overseas.
With this engine on board, the Aussie Monza soon became a familiar sight at many historic racing car events, participating twice in historic parades at the Australian F1 Grand Prix and turning up regularly for car shows at places like the recent Suncoast Classic Rally.
And if you were up early some mornings in Brisbane, you could often see and hear it having a cleansing run to get the Sunday papers.
FORMULA FOUR
Then last year, collector Tom Wheatcroft in the UK came up with not only a correct four-cylinder engine, but one with a unique Australian connection.
While racing in F1 and F2 in the UK in the early-'50s, ex-WWII Spitfire Squadron leader Tony Gaze regularly brought racing cars back to his native Australia and to New Zealand to campaign and then sell – a practice Jack Brabham turned into an art form in the late-'50s and early-'60s.
One of Gaze's cars was an ex-works 1952 Ferrari 500 Formula 2 car that he had upgraded to F1 specification with a 750 Monza 3.0-litre engine acquired from the Ferrari factory.
The car was sold to the late Lex Davison in early-1956 and although generally outclassed in the company of the more powerful and more modern Maserati 250Fs of the day, took Davison to two of his four Australian Grand Prix wins in 1957 and 1958.
Many years later the engine was removed when the Ferrari was restored back to its original 2.0-litre F2 beginnings and it became available.
On its arrival, the engine was immediately sent to Auto Restorations in New Zealand, where it was totally rebuilt to its original factory specification and was installed in the Monza in late-July this year.
Now the beautiful Ferrari 750 Monza is complete. Moreover, chassis 0498M is unusual, in that it has been raced by two world champions.
Unique Cars magazine Value Guides
Sell your car for free right here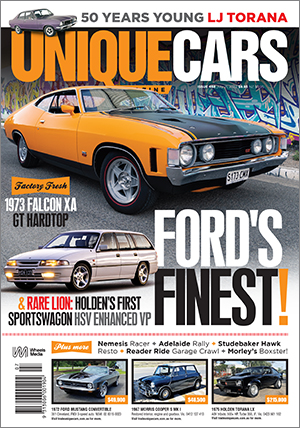 SUBSCRIBE TO UNIQUE CARS MAGAZINE
Get your monthly fix of news, reviews and stories on the greatest cars and minds in the automotive world.
Subscribe