1969 Australian Touring Car Championship Porsche 911T Rallye
---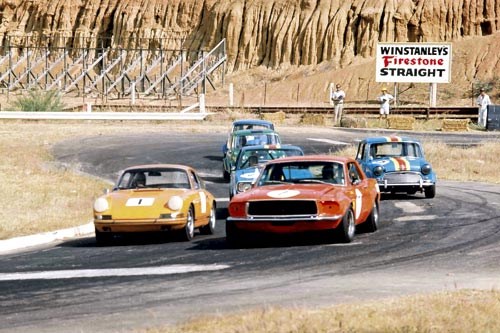 1969 Australian Touring Car Championship Porsche 911T Rallye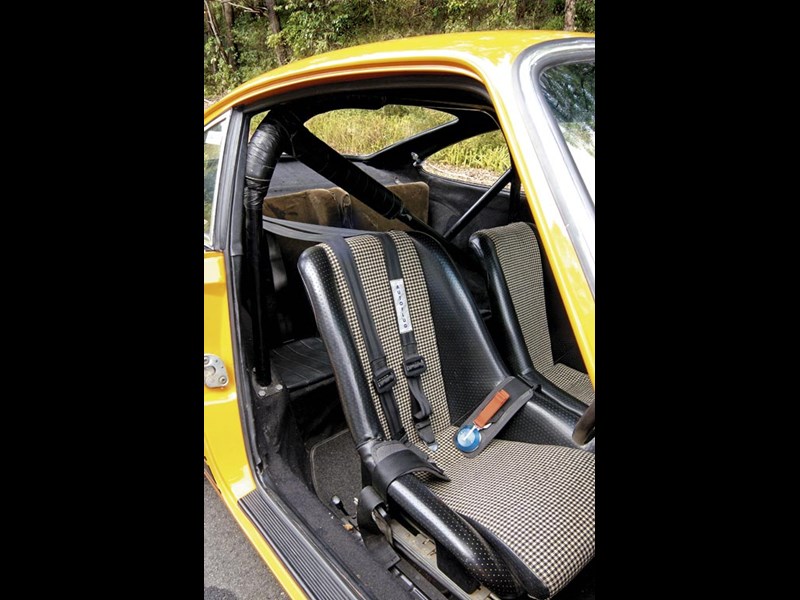 1969 Australian Touring Car Championship Porsche 911T Rallye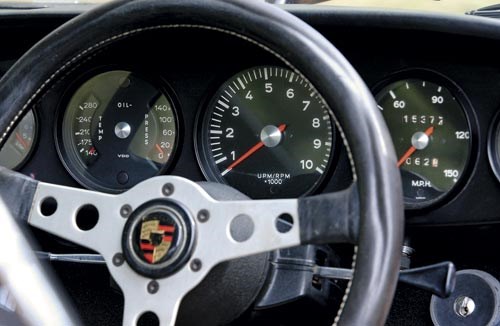 1969 Australian Touring Car Championship Porsche 911T Rallye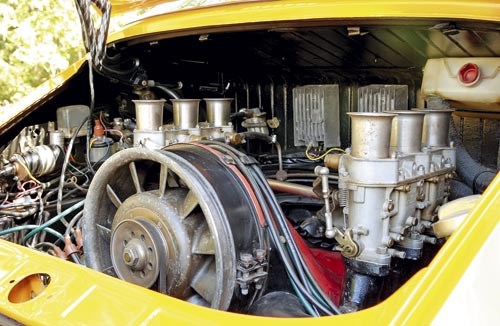 1969 Australian Touring Car Championship Porsche 911T Rallye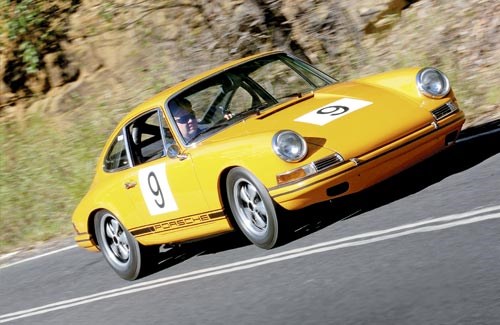 1969 Australian Touring Car Championship Porsche 911T Rallye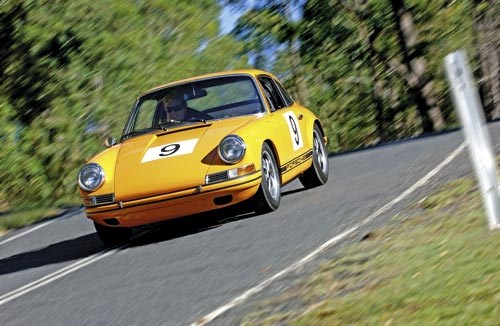 1969 Australian Touring Car Championship Porsche 911T Rallye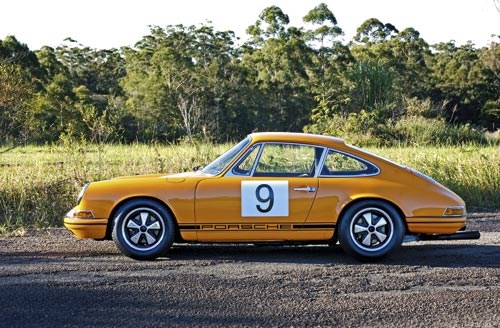 1969 Australian Touring Car Championship Porsche 911T Rallye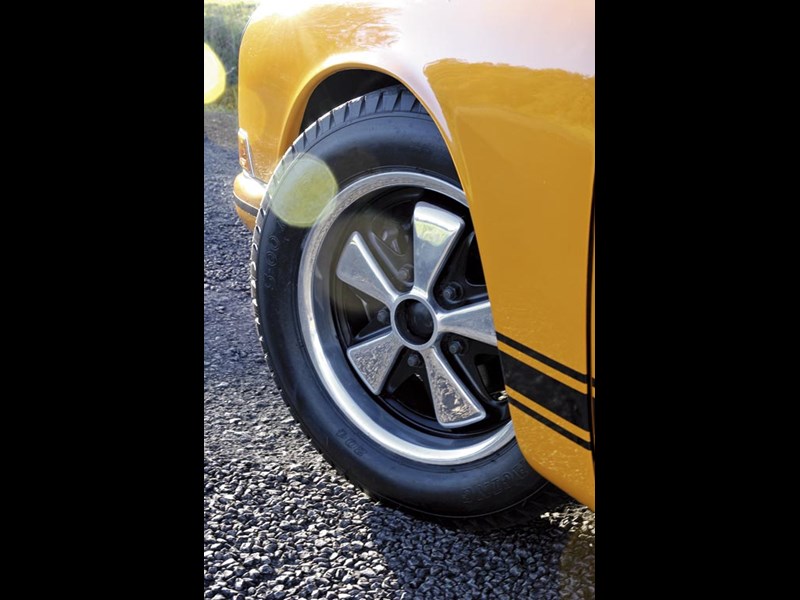 1969 Australian Touring Car Championship Porsche 911T Rallye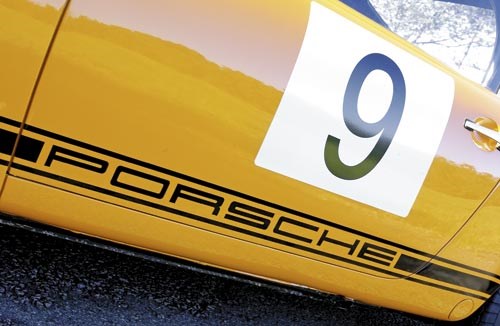 1969 Australian Touring Car Championship Porsche 911T Rallye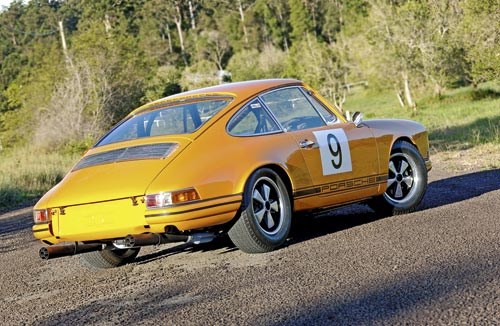 1969 Australian Touring Car Championship Porsche 911T Rallye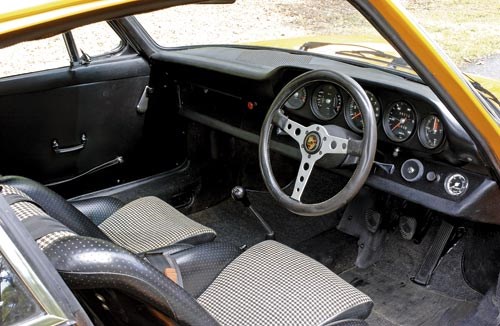 1969 Australian Touring Car Championship Porsche 911T Rallye

The story behind a true giant killer...
1969 Australian Touring Car Championship Porsche 911T Rallye
In 1969, Alan Hamilton pit his 2.0-litre 911 up against the V8s of Geoghegan, Jane and Beechey, only to come within a point of pulling off the biggest upset in Touring Car history
Tortured, the flat-six howls as Alan Hamilton wrings every last ounce of speed from it down Symmons Plains' long back straight. Teeth clenched, his face a grim portrait of determination framed in an open-faced Bell helmet, he wills the little 911 to go faster and faster still.
In the distance, Hamilton can see the blue Monaro slowing. He doesn't know it, but Norm Beechey has just lost his lower gears and is having to slip the clutch to get the car out of corners. There's blood in the water, and Hamilton can smell it.
Lap by lap, he reels the floundering Holden in until at last he's just a few tantalising seconds behind. This is it, the moment he's been waiting for all year; the moment when a season of consistent finishes and perseverance against much more powerful machinery finally pays off. All he needs to do is get past Beechey and the 1969 Touring Car Championship is his.
Corner by corner he closes in on his prey, riding the ragged edge, fighting to contain ever more lurid slides. He's catching fast, but with just one lap to go, the question is: can he catch him in time?
Smoke billows from the Monaro's disintegrating drivetrain as the gap closes to five car lengths, then two. Out of the final left-hander, the two cars are locked, charging line astern as they race towards the chequered flag.
"C'mon, C'mon!" rages Hamilton, desperately urging the Porsche on. But it's no good. Miraculously, Beechey's Monaro somehow manages to survive just long enough to beat the 911 – only to die metres across the line.
Inside the orange 911, Hamilton turns the air blue.
In the end, it was just one car length, one place, and one point that stood between him and a place in history as the man who beat both the odds and legends like 'Pete' Geoghegan, Bob Jane and Beechey to become the first champion of the modern Touring Car era.
To pit his 2.0-litre 911 against the thundering V8s and win would have been an amazing feat. To do it at the beginning of Touring Car's golden era, when thousands of fans flocked from around the country to witness the pure theatre of their heroes going at it hammer and tong, would have been sweeter still. But it wasn't to be.
"The perennial bridesmaid, that was me back then," chuckles Hamilton, lamenting on what could have been. "At the end of the day, you just couldn't expect two litres to beat five."
Indeed, nobody did. In fact, back when Hamilton debuted his new 911 in 1968 few would have given him a snowball's chance in hell of getting on the podium, let alone finishing the following season battling with Geoghegan for the championship. But then Porsche and its drivers always did enjoy playing the underdog card to its fullest advantage…
The year was 1967, and after winning the Australian Hillclimb Championship in his modified 904 Bergspider, the 25-year old son of Porsche importer Norm Hamilton decided to have a crack at the Touring Car Championship with a 911.
Initially, he had intended to race the cutting-edge 911R, but with ATCC rules prohibiting the use of such lightweight materials as Perspex and fibreglass, Hamilton sent a letter to Zuffenhausen requesting the next best thing – a steel-bodied 911R. Fortunately, his timing couldn't have been better.
In an effort to expand its range, Porsche had launched the new entry-level 911T that August. Billed as the first 911 to be sold in Germany for under DM20,000, not only was this poverty-spec Porsche considerably cheaper than its siblings, it was also 35kg lighter – which made it the ideal platform for a racer.
With the 911T homologated for Group 3 Grand Touring, Porsche developed a new Rallye Kit to cater for its loyal band of gentleman racers, offering a range of go-faster goodies to suit almost every application and budget. Taking cars off the line, Porsche saved 25kg by deleting all the usual sound dampening and rustproofing before building each car to its individual specification.
In its basic form, the 911T 'mit Rallye Kit' was offered with the 119kW 911S engine, along with ventilated disc brakes, Recaro seats, and stiffer, lower Koni suspension. But as always with Porsche, the customer could have anything he liked, so long as he could pay for it. And that included the ballistic 'Carrera 6' engine and running gear from the 911R!
Sporting such exotica as titanium conrods, Marelli ignition and 46mm Weber carbs, the 1991cc six was good for 157kW/206Nm.
Complete with a lightweight flywheel, slippy diff, competition clutch and remote oil cooler, it turned the Rallye into a very potent package. Knowing the firepower he would face in the ATCC, Hamilton had to have it.
Trouble was he had no idea how he was going to afford it. With the Porsche already on the boat, Hamilton began the arduous process of knocking on the door of virtually every bank in the land, until he finally found one that would lend him the money, just in the nick of time to go racing.
The year 1968 would be the last that the Australian Touring Car Championship was decided over one race. Despite the nimble 911 having a small advantage over the bumps and twists of Warwick Farm, Hamilton knew he would have his work cut out to stay with Geoghegan's '67 Mustang and the 350 Camaro of Beechey.
Predictably, Geoghegan proved untouchable, securing himself his third consecutive championship. However, Hamilton managed to get as high as second in the race, until he blew a rear tyre at Creek Corner on the last lap and speared off into the scenery. Amazingly, he was able to recover and crossed the line running on the rim to take third. Hamilton might have rued his misfortune, but it was an auspicious debut for a car that was raced fresh out of the box.
After nine years of being little more than a support race, the ATCC became a series in its own right in '69, to be contested over five rounds. The points system was a simple 9-6-4-3-2-1 affair, with drivers able to drop their worst result at the end of the year.
Understandably, the system wasn't hugely popular with the smaller classes, seeing that the V8s were guaranteed to win most of the rounds, but it was a step in the right direction for the championship. And what a championship 1969 would prove to be!
It was business as usual for the favourites when the season opened at Calder Park on March 23. Geoghegan had made the most of the freshly resurfaced track to score pole ahead of Bob Jane's TransAm Mustang with Hamilton in fourth behind Beechey. But at the end of the 50-lap race it was Jane that took the chequered flag after fending off a desperately lunging Geoghegan, leaving Hamilton to trail home a distant third.
Mount Panorama was the venue for round two on April 7. Despite bending his rear suspension after hitting the wall at Forrest Elbow in practice, Hamilton managed to score a creditable second place, a long way behind the show-boating Geoghegan. It was a pattern that would repeat itself for the remainder of the season.
Alan Moffat's long-awaited Coca-Cola-sponsored TransAm Mustang was undoubtedly the star attraction at Mallala on June 16. However, fans were not given the race they anticipated. With Beechey a non-starter with yet another blown engine it was Jane, Geoghegan, Moffat and Hamilton that took up the first four spaces on the grid. Moffat was the first to go out in what would become a race of attrition; followed by Jane at half distance. In the end, Hamilton trailed Geoghegan home by a respectable 44secs to take yet another second. Things were starting to fall into place for the Porsche driver.
Come Surfer's Paradise on August 31, the stars were truly starting to align for Hamilton. Both Moffat and Jane were non-starters, with Geoghegan topping Beechey and Hamilton in qualifying. The race had looked like a foregone conclusion until Geoghegan was forced out with a puncture on lap eight. Beechey held on to take his first win of the season leaving Hamilton in second, trailing Geoghegan by just three points going into the final round.
Lady Luck, it seemed, was still smiling on Hamilton at Symmons Plains that November. Jane had already pulled out to attend overseas commitments, leaving John Harvey to drive his Mustang, while Moffat was struggling with engine trouble. On the front row sat Geoghegan, Harvey, Moffat and Beechey with Hamilton in fifth.
But with just one minute to go Geoghegan's Mustang refused to start, leaving his crew little option but to bump start it after the race had begun and doom him to certain disqualification. All Hamilton had to do now was win!
In the race, Harvey led Moffat until lap seven when the Coca-Cola Mustang suffered yet another engine failure. Beechey and Hamilton followed. By lap 15 Harvey was out with a puncture leaving Hamilton to chase the ailing Monaro for the win that would never come.
"You know, it's funny," chuckles Hamilton. "I've never really forgiven Norm for that one. Every time he comes around I like to give him a bit of curry about what happened in that race. You see, he was out of the running entirely at that point, and his car had all but expired. In fact it actually did expire about 20m over the line. It finally just dropped dead!
"Still, I can't complain. We did well to get where we did. Unlike the V8s, the Porsche proved to be very reliable. We had a colossal season in '69, doing hillclimbs and medal races as well as the Touring Cars, but aside from routine servicing we didn't actually have to do anything to keep it going."
After retiring the Signal Orange 911 at the end of the '69 season Hamilton sold the car on where it would eventually find itself in the US. There it stayed until it was tracked down by David Bowden and brought home in November 1998.
Amazingly, the car was still in 95 percent of its original condition when Bowden had it restored back to its '69 specification. And it was shortly after the restoration had been completed that the Signal Orange 911 was reunited with its former owner for a support race during the 2000 Clipsal 500.
It was a reunion that would bring back fond memories for Hamilton.
"I keep idly trying to buy it back off the Bowdens, but they're not the least bit interested in selling it," he says.
"Which is just as well, seeing I'm probably getting too old to be getting around in race cars these days. There's a lot of truth in the old story that the older I get the faster I was…"
ORIGIN OF THE SPECIES
Contrary to popular belief, the seminal 1973 Carrera RS wasn't the first homologation special in the 911 family. That honour went to the 911T Rallye. Although it was conceived primarily as a potent GT3 contender for Weissach's band of gentleman racers, the T/R has the distinction of being the first Porsche to win the Monte Carlo Rally when 'Quick' Vic Elford peddled a virtually standard version with the 134kW 'S' engine to an historic victory in 1968. As it happens, the T Rallye is also one of the rarest 911s ever made. As some were essentially sold in 'Kit' form, just how many were built is uncertain, however best estimates place the total production number at around 35 with only four in right-hand drive making the ex-Hamilton car a very rare and expensive commodity.
SUMMARY
1968 Porsche 911T Rallye
Body: steel monocoque coupe
Weight: 920kg
Engine: 1991cc, air-cooled, flat-six
Power & Torque: 157kW/206Nm
Transmission: five-speed manual
Brakes: discs, all-round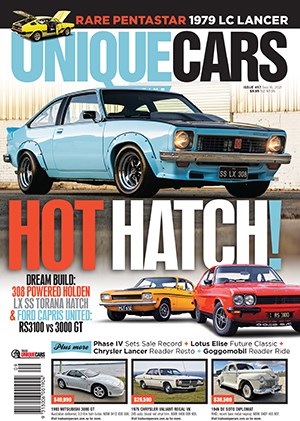 Subscribe to Unique Cars Magazine and save up to 42%
Australia's classic and muscle car bible. With stunning features, advice, market intelligence and hundreds of cars for sale.
Subscribe