Ford RS200 Evolution review
---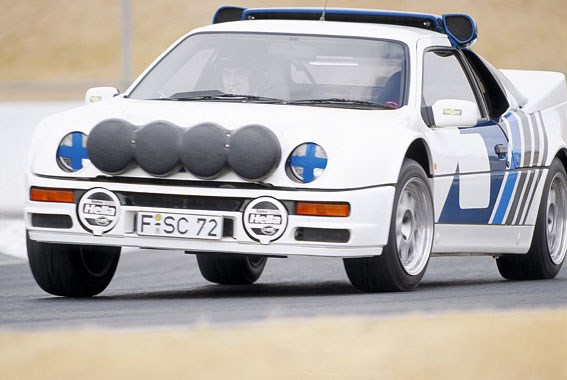 Ford RS200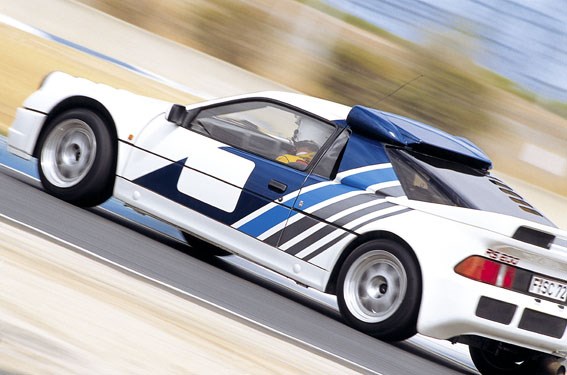 Ford RS200

A fearsome example of Ford's legendary Group B rally rocket has arrived Down Under...
Ford RS200 Evolution
Is this the quickest factory-built road car in the country?
Motoring journalism is a profession fuelled by comparison. Whenever we sit behind the wheel or even in the passenger seat of a car there will be benchmarks etched by experience that need to be achieved or exceeded. But as I struggled to breathe in the confines of a Ford RS200 Evolution under maximum acceleration, there was simply nothing in my hall of memories against which to assess this tiny, almost innocuous, mid-engined Ford.
It is a car that is deceptive in the extreme. Minus the roof-mounted air-intake with 'ears' that denote this car as an Evo, the RS starts looking like something you could take for a Saturday afternoon cruise down to Bunnings. Provided you didn't want too buy much.
The RS200 cabin looks far too sparse to be the work space of drivers in quest of a world rally championship. Nowhere to be seen are the cross-braced roll-cage and intrusion bars that dominate the interior of current WRC cars. There's not even a 'dust flap' in the roof.
No need for panic however, for all the crash protection you'll need is cunningly concealed within the body structure. The seats are cramped but comfortable; the white painted floor lacks a foot brace and the front firewall is too distant to provide any support during deceleration.
Over on the driver's side is an ordinary looking leather-bound steering wheel attached to a column and control stalks lifted from the Ford Sierra parts bin. Ahead of the wheel sits a plastic dash festooned with gauges and sandwiched between two el cheapo air vents. The only features that really set the RS200 cabin apart from a conventional, old-fashioned rally car are the dual gear levers protruding from the centre console. More about them later.
Australia's only RS200 is owned by Virgin Blue executive Rob Sherrard, but behind the wheel today is tuning guru Julian Godfrey whose UK-based workshop is responsible for fettling some of Europe's fastest RS200s. As we trundle towards Queensland International Raceway's main straight, Julian glances across with a 'you ready for this?' look on his face.
I fail to grasp the inference; too busy enjoying the comforting sound of the twin-cam engine buzzing away behind the rear cabin bulkhead, rekindling memories from 25 years ago of Greg Carr's BDA Escort rally car snaking its way through a freezing Canberra forest.
Ten seconds later and with the circuit's long back straight disappearing at 30 metres a second under the RS's stubby nose I understand just what that look had been all about. The buzz had become a scream that enveloped the cabin and wouldn't subside until Julian began belting the taller of the two gear levers, each movement creating a metallic 'clang' as the lower gear engaged. With the car's speed dropping by 50km/h within metres of each downshift I wished I'd spent more time extracting the last few millimeters of slack from the harness straps.
Mid-corner breathing is difficult but any opportunity must be seized before launching down the short straight towards QIR's infamous mid-field hairpin. I can't see the RS's tiny speedometer but guess that our approach speed is somewhere around 190km/h. Two bends later we're onto the main straight and en route to 219km/h – not quick in absolute terms but astonishing for a car that was made to do its best work on treacherous forestry tracks and narrow mountain roads.
Hand-timed and including a little 'oops' as Julian applied the RS's prodigious power a little too early in one bend, our flying lap came up at around 1 min 20 secs. That's nine seconds shy of the current V8 Supercar lap record and achieved by a driver having his first look at the circuit, in a car running on old and cold treaded tyres, its suspension settings all over the place and with 90kg of awe-struck passenger aboard.
"Set up properly for the circuit with the right gearing and a driver who knows the track, the RS200 would have no trouble lapping faster than a V8 Supercar," said Wayne Park – the ex-Sierra racer whose Brisbane-based engineering business takes care of the RS200 on behalf of its owner.
"The Sierras I drove for Glenn Seton during the early 1990s had about 600hp (450kW) but even compared to them the RS200 is phenomenal," Park said. "The car just accelerates and pulls up and changes direction so fast that a two-wheel drive car even with the same amount of power wouldn't get near it."
The RS200 is a product of the age when top-echelon rallying was dominated by mega-powered all-wheel driven cars that competed under the sport's Group B regulations. Lancia started the battle for forest-track supremacy with its two-wheel drive 037 before Audi developed its four-wheel drive Quattro and Peugeot the 205-T16. By 1985, Lancia was back in contention with its Delta S4 and Leyland was making up the numbers with the Metro-based and underdeveloped 6R4.
During 1983 Ford began working on its own Group B contender – not a derivative of a road-going model but a purpose-built competition car. The RS200 was devised by Ford's Boreham motor sport facility and styled by the company's Ghia subsidiary. Check the panel immediately behind the doors of Rob Sherrard's Evo and you'll notice tiny 'Ghia' badges just like the ones fitted to upmarket Escorts and Lasers. The body tub is a composite of aluminium and carbon fibre with a Sierra windscreen and doors. The lightweight bodies were built by fibreglass specialists Reliant, whose Scimitar GTE used many Ford components.
The basic RS200 engine was a 1.8-litre BDT twin-cam with a single Garret turbocharger set at 1.2 Bar and developing 340kW.
In an interesting departure from mid-engined design convention, the RS200 used a five-speed transmission produced by 4WD specialist FF Developments and mounted at the front of the car. There it contributed to effective weight distribution and provided a 37/63 front-rear torque split. Via a second gearlever, the driver of a rally-spec RS200 could lock the centre differential for 50/50 power distribution and maximum traction on ice. The suspension is a complex arrangement of double wishbone pivots, bump-soaking coil springs and a pair of angled shock absorbers for each wheel.
Two hundred RS200s were supposed to be built but actual production of 1.8-litre cars is estimated around 160 plus 20 of the 2.1-litre Evolution. The vast majority of 'basic' cars were sold for road use and without the centre diff lock. In 1989 when an RS200 register was created, 148 survivors were located.
All the rally-spec RS200s were built in left-hand drive but conversion to RHD – a task undertaken before Sherrard's car was brought to Australia – is straightforward and involves no structural modifications.
"The cars are all modular, so swapping from left to right-hand drive just takes a couple of days," Sherrard said.
Swapping gear ratios, the clutch and even an engine is equally simple and a range of gear sets are available; giving the car top speeds ranging from 200-330km/h.
The RS200 joined the international Group B rally fray in 1986 and finished third at its inaugural event. A few months into the season and with disquiet about the Group B cars' speed already growing, an RS driven by Joaquim Santos veered off the road and fatally injured a group of spectators. Then came the horrific crash that killed Lancia driver Henri Toivonen and navigator Silvio Cresta when their S4 left the road during the Rally of Corsica and exploded.
Group B was abolished at the end of the 1986 season, leaving Ford to sell its remaining RS Evos to private competitors. Some ended their lives as contenders on the British rallycross circuit but the majority was sold to Europe where they showed extraordinary ability as hillclimb cars.
"I guess I'd wanted an RS200 ever since I saw them running in Group B almost 20 years ago," Sherrard said. "This car was in a guy's collection in Germany and although it was road registered it was pretty much brand new."
Tapping away at his laptop while the Wayne Park's crew makes minor adjustments, Julian Godfrey is cagey how much power Sherrard's RS200 is developing, but estimates on the high side of 500kW won't be far from the mark. The specially developed engine fitted during his Australian visit runs 2.2 Bar of turbo boost and feeds off the same $5 per litre fuel used by Formula One cars.
Early in the model's development, an Evo in the hands of rally ace Stig Blomqvist accelerated from rest to 100mph (161km/h) in 8.1 seconds and stopped again in less than 13 secs. The same car was also capable of reaching 60mph (96km/h) from rest in an astonishing 2.6 seconds.
Almost 20 years later and battling the Sherrard car's tired clutch, Julian Godfrey shattered the latter record with a 0-100km/h run of 2.2 seconds. With 'forest' gearing, the new clutch that's now been fitted, and appropriate tyres, a 1.8 second time is likely when Sherrard powers away later this month from the Noosa Hillclimb start-line in search of a new course record.
"I feel a bit like an amateur musician who's been able to get his hands on a Stradivarius violin," Sherrard said. "The first serious event I did with the car was Targa Tasmania and finished 14th but that was just a matter of 'point and squirt' where I'd rush down the straights and take it easy through the corners.
"From now on I'll probably just do hillclimbs and the occasional short rally but given how strong RS200s have been in the European hillclimb championships, it'll probably do pretty well."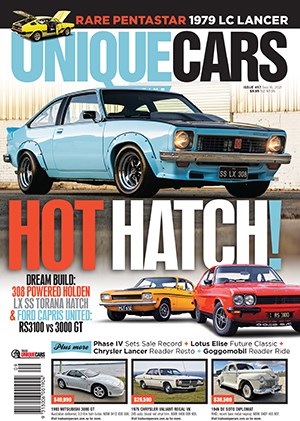 Subscribe to Unique Cars Magazine and save up to 42%
Australia's classic and muscle car bible. With stunning features, advice, market intelligence and hundreds of cars for sale.
Subscribe