Love The Beast: Eric Bana's 1973 XB Falcon Hardtop
---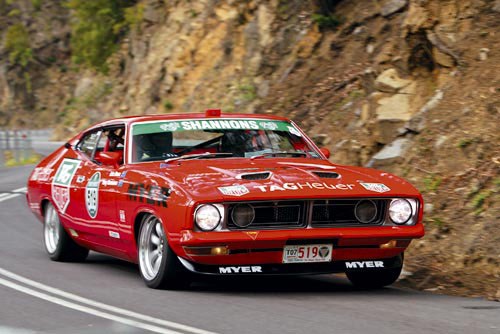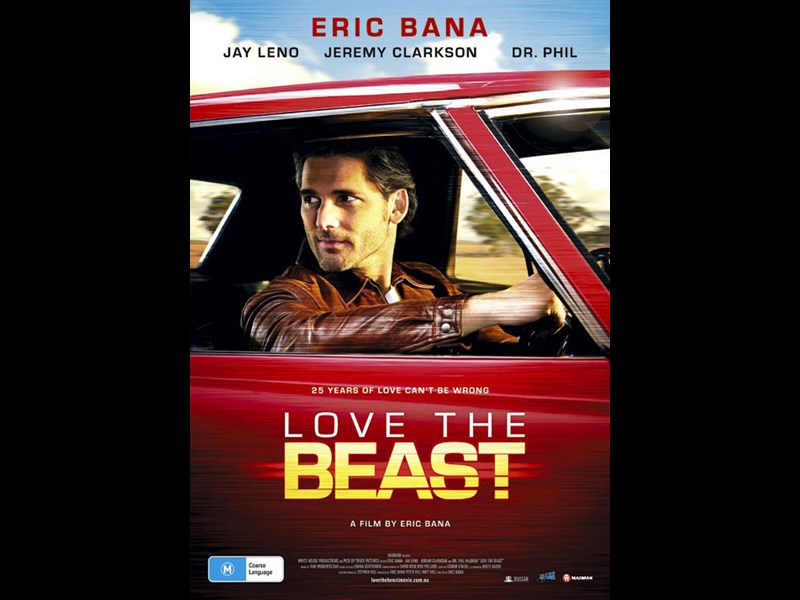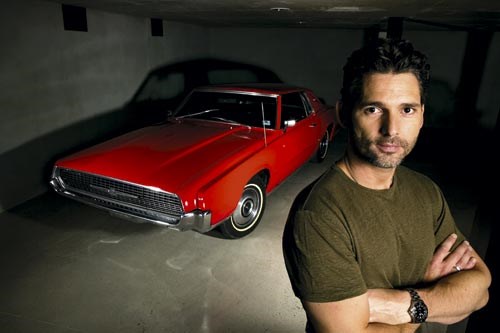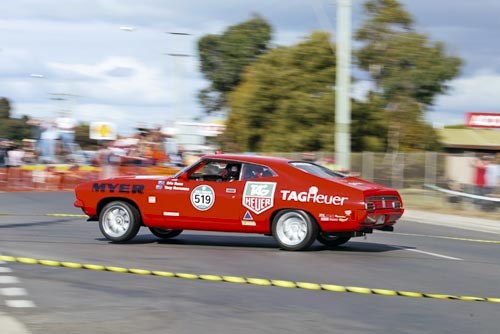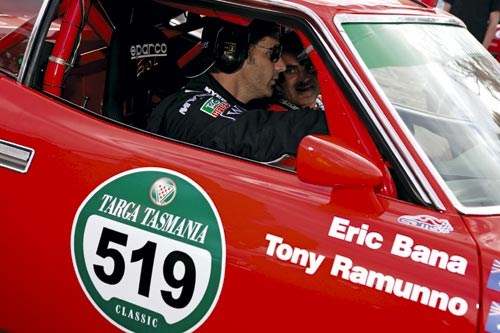 Eric Bana has directed and produced what may well become the iconic Australian car movie. In this world-first, we talk to him on life, making the ultimate car-doco… and that car
LOVE THE BEAST: Eric Bana's 1973 XB Falcon Hardtop

Think about the good car movies over the years; the ones that stick in your memory and will forever. While most are getting a little long in the tooth now and are fictional in the genre of Le Mans, Bullitt, and Vanishing Point, good documentary style car movies are very thin on the ground. And local ones? Yep, it's hard to think of many.
So, Eric Bana's first foray into the 'real life' car movie genre is well-timed. The film, which opens in March, deals with an iconic Australian car, built, loved and driven by an Australian bloke. And not just any Aussie bloke, rather, a high-flying A-list actor.
Unique Cars magazine was privileged to be offered the world-first opportunity to both view and review the film and had three hours with Eric into the bargain. He's been a Unique Cars reader from a very young age and has the mag sent to him wherever he is in the world.
So what was the catalyst for a man that can make more money in Hollywood than he ever would producing a documentary Down Under?
"I had always been bitterly disappointed in any film, documentary – any product that's been angled towards (car enthusiasts) – never feels like it fulfils the emotional side," he begins. "(It was) what I was trying to get to with Love the Beast. Peter Hill (one of the producers along with Bana) and I wanted to satisfy that void, speak to the heart of that market, people that love their cars and see the importance of the social side of it."
According to Bana, the doco is about "what my car means to me and my buddies. I opened the garage door and there was the XB, and I thought, 'why don't I do that'."
The idea for Love the Beast was born.
GETTING PERSONAL
The movie starts at the beginning: the kid in Tulla, industrial Melbourne suburban upbringing, loved and well-adjusted, but austere and happy in the only way Aussie '70s childhoods can be. It's in this environment that the seed for ownership of a big Ford took root in the Bana psyche.
It's obvious that Mad Max had a big effect on Bana, along with the Moffat/Bond Ford one-two at Bathurst in 1977. In short, there was always going to be a big Ford coupe in Bana's life, but little could he know just how pivotal the big, fat, '74 XB Falcon GT would be in shaping his character and the life directions he would choose. It was, and remains, hugely influential – much more than the sum of its parts.
Bana's lifelong car mates feature prominently in the film, and it's clear that they're as important today as they ever were as kids, offering the perfect counterpoint to the hysteria of the red carpeted world of Hollywood. Bana is clearly thankful for what that world offers him, but he alludes to the false nature of fame in the film, and it's obvious that this group of mates has Eric's complete trust.
The car offers what he calls "the campfire", but when you are as 'big' as Bana has become, the chance to completely drop your guard is a rare commodity. This tight little bunch of piss-taking buddies allows that in spades, and this gives us the subtext for Love the Beast. Yes, it's about a car, but a much more interesting theme underpins the film: of friendship, growing older, the changes relationships undergo while inanimate objects, no matter how much we love them, remain static.
Both father Ivan and mother Ellen, immigrants from Croatia and Germany respectively, are proud of their son, and feature in the movie as a strong, non-interfering support base. Once again, there's an anchor around this story of normality – made extraordinary by circumstance.
BIRTH OF THE BEAST
The film traces the lineage of the car from those teenage roots, and shows rare footage of 'The Beast' from the rusty rough days of 1983 when Bana first dragged it home to set about rebuilding the car. This lack of early archival history presented a challenge for the first-time director, as Bana admits "who takes photos and video of that stuff? You're a kid, surrounded by mates and spanners. You're not wandering around with a handycam".
The film's not hindered by this, though, as the grainy and rough stills interspersed with small cuts of archival footage contribute to setting the scene of how homegrown the big Ford coupe is.
The car serves the purpose of 'fun-young-bloke-wheels' for some years until the idea to give it a belt at Targa Tasmania in 1996 takes hold –"Let's race it".
While most Aussie revheads are familiar with this event, the movie caters for the international market by providing a detailed and emotive description of what is one of the world's few closed road tarmac rallies, open to just about anyone, and run at full-noise. That first foray sees the XB come in a creditable third in class and, in Bana's own words, "I was hooked". And, after seeing the movie, so were we.
The decision is made to turn the car into a fire-breathing, full-on tarmac rally car for the 2007 Targa, and it undergoes a two-year, no expense spared restoration. A John Sidney built 408ci V8 engine is shoehorned under the bonnet, and the thing is transformed – like really transformed. It's here that the plot is thickened. Has he overdone it?
The film moves to the 2007 event and the idea for the doco moves into go-mode. Fully committed now, Bana realised it was a big undertaking. "Targa for me was the action backdrop, but it was also the visual proof of 'the campfire'," he explains. "It was almost like 'gettin' the band back together'. So then it got manic."
Longtime mate and navigator Tony Ramunno (and childhood mates and service crew, Temps and Jack), embark on the '07 Targa, and it's only here that it becomes obvious there's a movie being made. We're treated to helicopter shots of The Beast, fabulous in-car footage from every angle conceivable and loud, stirring music from Powderfinger, INXS, Arcade Fire, and Black Rebel Motorcycle Club, among others.
There's also enough sideways action to keep any petrolhead happy and the subtext of mateship, danger and potential loss works nicely on a cerebral plane.
DUAL ROLES
It was a big ask to make a movie while trying to remain focussed on competing at a high level, and Bana admits he felt the pressure. "Filming at Targa is really hard, because you start here in the morning and finish here in the afternoon and you can't move, so it has to be really planned.
"It was full-on, we had three or four crews running around, there were days when we could get the chopper, days when we couldn't. I think we had 160 hours of footage, I had to be super-tough. Anything that wasn't driving the story forward was out. It was like having to throw your babies off the balcony.
"In the end, I only got what I think is right. You can't open it up to a 12-man jury, you'll never get the thing finished."
Throughout the movie there are neat cameos from US talk show host Jay Leno (as big a car nut as there is); Top Gear's Jeremy Clarkson drops in with one-on-one chats and Dr Phil adds a degree of human analysis along the way. While he does open Eric's eyes as to why this car has become an obsession for him, I'm not quite sure that he adds a whole lot to the film. But the other two are perfect; they truly 'get it'.
Clarkson focuses on the connection between owner and car and offers one of the best lines in the film when he incredulously asks of Eric, "So, 600 horsepower and leaf springs! Are you mad?". It turns out to be a somewhat prophetic comment and the big Pom happily lays claim to predicting what happens to The Beast in Tassie.
Back to Targa, and we're taken through each day of the '07 event whereby Eric arrives on Day Three at a point that every driver searches for: That Perfect Flowing Day. Such a shame that it's all about to change, in more ways than Bana could have dreamed. Life's twists and turns find the perfect metaphor on those sinews of challenging Tasmanian blacktop…
It's not giving too much away to reveal that the car is badly damaged on Day Four when Bana overcooks a tight, tricky right hander and tosses it into the trees. The car turns out to be very bent, but it's here that the subtext of the film comes into play and for this writer, becomes most interesting.
The mood changes. It's clear that Bana is very shaken by the crash, and he starts to question. It's far from an epiphany, but overlaid is a phone voice message from his son, asking if he's alright. It belts you right in the guts. It's not overplayed but the message is clear: he could have died.
CRASH TEST
Here the vulnerable nature of the man becomes apparent. Yes, he's a flippin' big star, with confidence to burn. But in the seconds after the crash (and we're there before the dust has even settled, via Ramunno's handycam) he's a young husband and dad, and Hollywood is a long way away. It's powerful stuff.
It's a memory that will live with Bana forever. "It was a miracle that we got the crash on film," he explains. "Pure luck that the camera was running at that time. We had about eight different camera mounts on the car, so I could have had it shooting out over the boot. We were just fortunate that day we had it where we did.
"The crash is part of the story and I had to be careful about how I treated it because I know that Australian audiences go into the film knowing that the car gets crashed. What I was trying to do was almost have them forget about the fact the car crashes. So people would go 'shit, that's right, the car crashed'.
"That moment is the biggest arse of Australian filmmaking history. The fact that Tony had the foresight to grab the handycam and catch me 15 seconds after we had nailed that tree. I absolutely thought immediately following the crash, 'I could have died there'. What you see in my face is not only disbelief, it's also the most relief I have ever felt in my life because that was going to be our last rally.
"I was really getting into circuit racing, and I'd had enough of being responsible for another person. When you look at it on paper, circuit racing is about 138 times safer than tarmac rallying – we all know why – so I'd decided that was to be the last one.
"I didn't tell the guys that going into it, I didn't want to tell them until we had finished the event, so that relief on my face is the culmination of a month or two of sleepless nights, going 'should I really be doing this with arguably my best mate as navigator'. It was that moment that every yoga instructor hopes to get to.
"It's probably the only time in my life that I have felt it and Tony is about six inches away from my face with a camera. You just go, 'I'm going to see the kids tonight'."
Eric's wife Rebecca talks about "letting Eric be himself". She is supportive, but the question hangs in the air: Is this just too risky? Do I have the right to risk myself? While there is a period here in the movie that risks indulgence with moody shots of Bana sitting near the car while it gathers dust – a shadow of its former pristine glory – this also adds clarity the further the film goes on. This car, this Beast, the thing that has supplied the glue of mateship for Bana all his life, is severely wounded. Or, as Eric says, "I've killed it". Once again, we're not mourning mere metal. Bana is mourning the loss of what that car represents: Solidity, his life. And that's where the movie works at its brilliant best.
Bana puts it like this: "When the car was screwed, and I realised how badly, it was like, 'Do I put it to bed now and I've got 25 years of fantastic memories and move on with my life, or do I, as Dr Phil says, 'honour its tradition'?"
And we are left with the question, will he fix the car? Eric does little to clear the quandary when he says to me, "The DNA and the heart of the car is far more important than the condition."
I'm not going to ruin anything, but that's a big question. Suffice it to say, I was left wondering, "Does it matter any more? Is moving on the best choice? Has the car done more than you can ask for already?"
We'll leave that for you to answer. When you see what is a great car movie, but much, much more than that.
Love the Beast opens March 12.
Unique Cars magazine Value Guides
Sell your car for free right here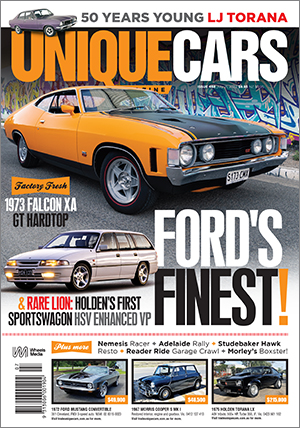 SUBSCRIBE TO UNIQUE CARS MAGAZINE
Get your monthly fix of news, reviews and stories on the greatest cars and minds in the automotive world.
Subscribe