Mad Max Revival at Toecutter Gang: Johnny The Boy Lives Tour 2016
---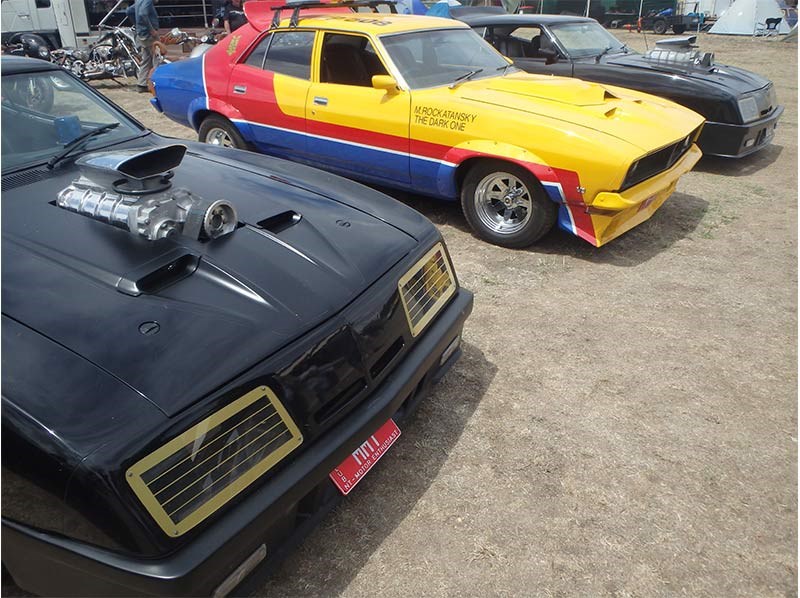 They're two of the most recognisable cars in movie history: the cops' cars from the Australian cult classic Mad Max. They're not happy smiley cars like Lighting McQueen from Cars - or Herbie the Love Bug - but the cars from Mad Max bring a different kind of joy to car enthusiasts around the planet.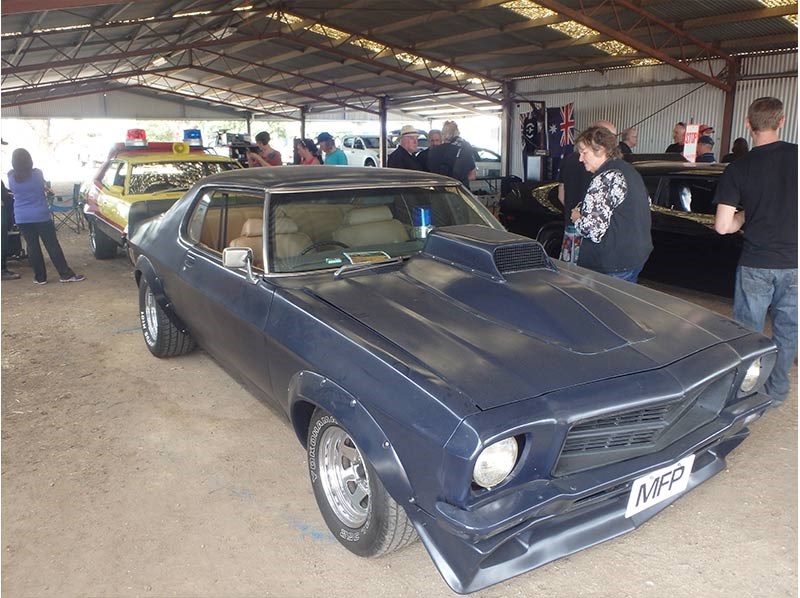 Max's Falcon hardtop has been replicated – word is, there are 25 around these days, including several in the hands of US-based enthusiasts – but apparently it's only recently the Holden Monaro based Pursuit Special seen in the opening chase scenes of Mad Max has been replicated. The distinctive bonnet scoop, the missing driver's side headlight surround, the zoomy exhausts and the boot spoiler – even the tan trim – has all been faithfully replicated in this. The only thing missing – quite understandably! – is the stoved-in driver's door and rear quarter panel…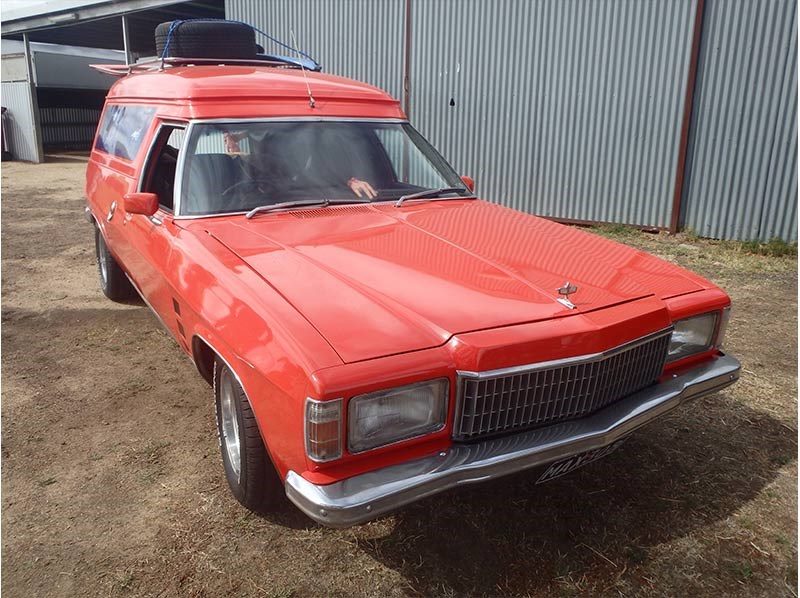 In the movie, after tending his resignation to his boss FiFi, officer Max Rockatanski decides to take a break for a few weeks with his wife Jesse and his infant son Sprog. This is a clone of the car they do it in – a Holden panno with a 70s-era popular mod of XC Falcon GXL headlights and a distinctive science fiction space mural on the side. Right down – up? - to the roofrack carrying the spare, this panno is cooler than Sprog's ice-cream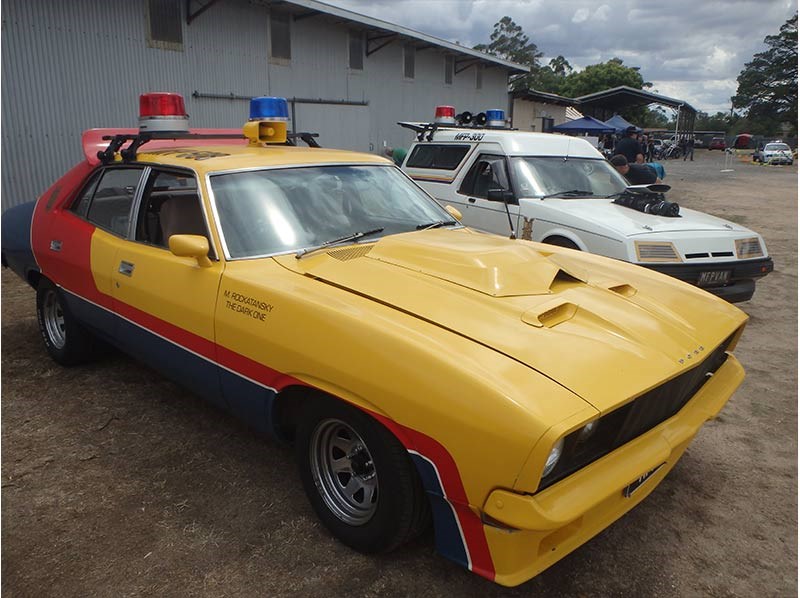 Aussie fans have built a few replicas of Max's black Falcon – so have a few US based fan – but apparently this is the first time the Pursuit Special, stolen by the Night Rider after he 'whacked a young probie' has been replicated. For any classic cars nuts out there with one of these… what a cool way to keep a Monaro resto project alive and cruising while you save the cash for proper panel and paint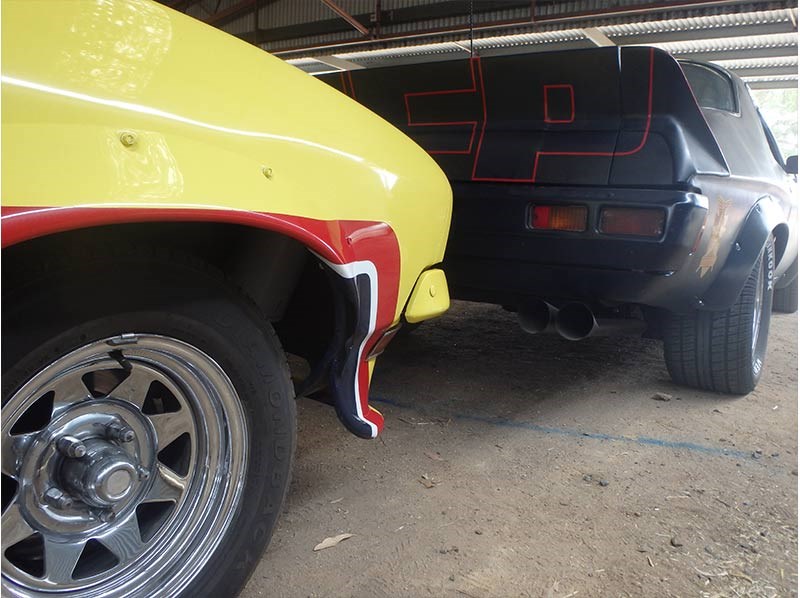 Tap… tap… tap…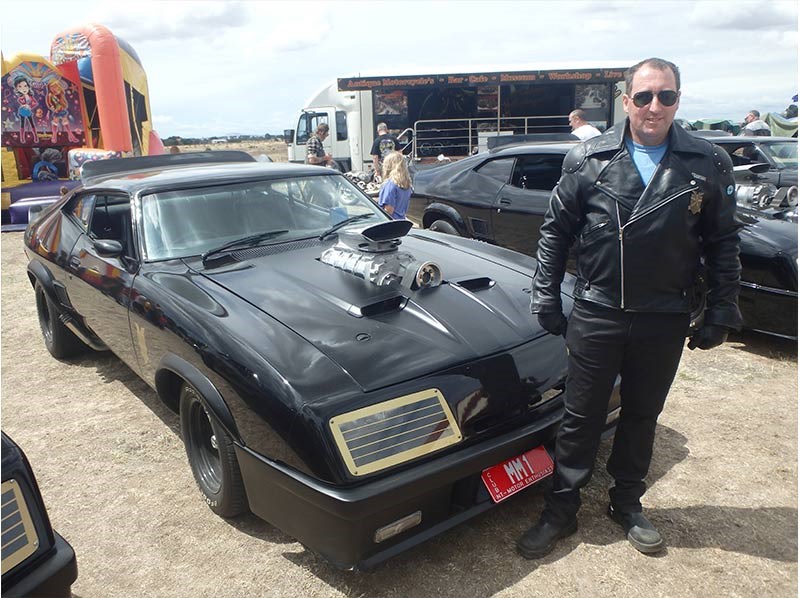 This bloke is a legend. As well as getting up real early – he's a baker - Rod Coverdale brought his two – yep, two - Mad Max cars down from Darwin. This is his 'Max' car and he also owns one of the MFP Interceptors in our pics. Yep, legend. Good on him, we say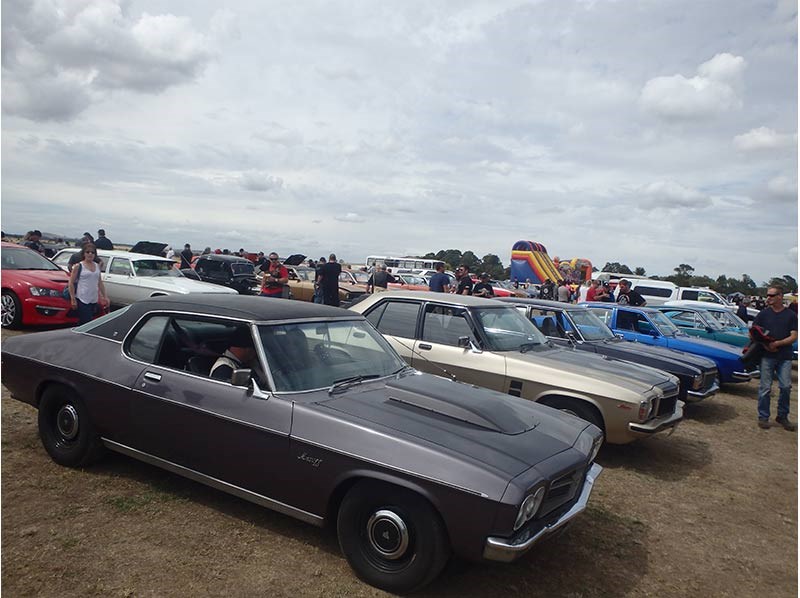 And there was a cool cruiser car show, too. Let's hope Victorias' Freedom Riders decide to out on their charity (proceeds to help fight Multiple Sclerosis) and all-good Mad Max inspired event again!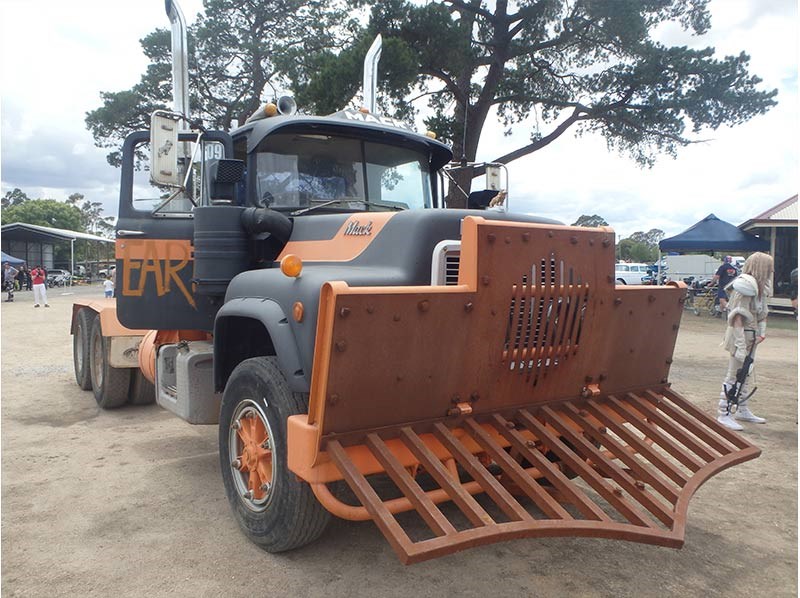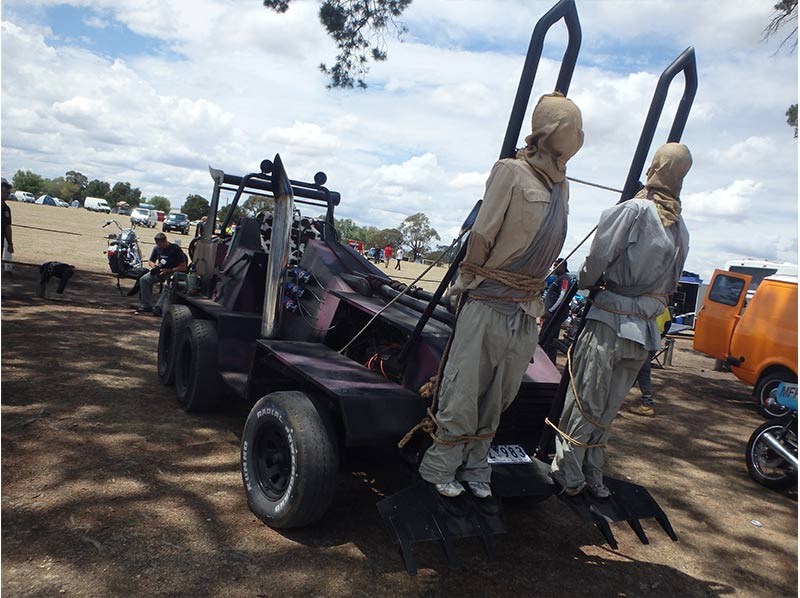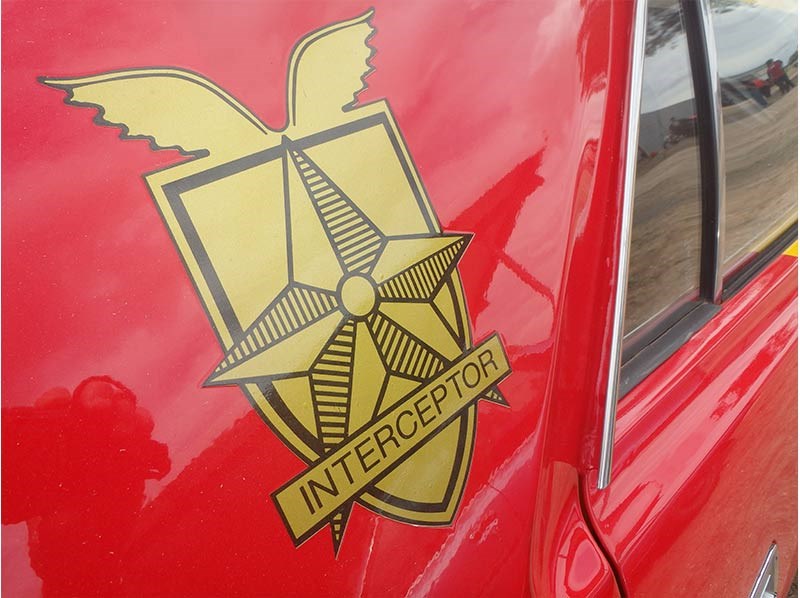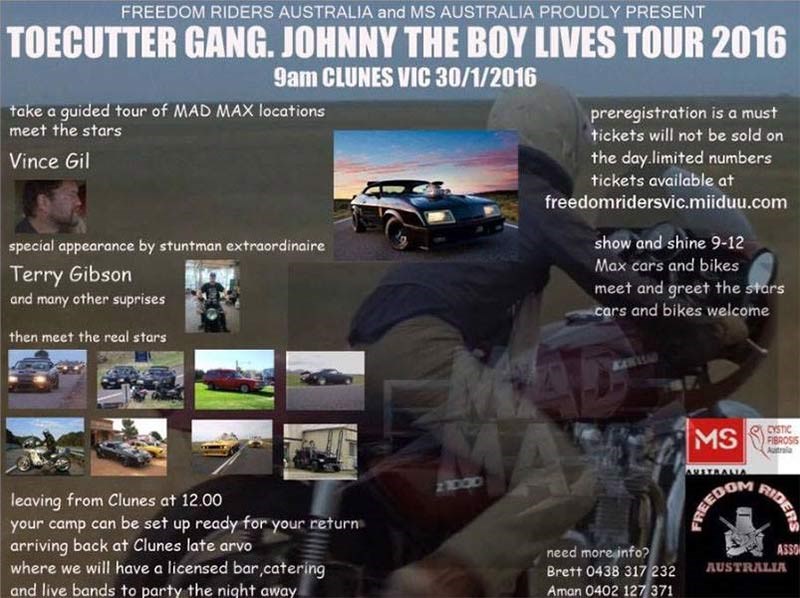 A Mad Max (the first version) revival was presented by the Freedom Riders Australia and MS Australia, at Clunes in Victoria last weekend
Mad Max, the ground-breaking road warrior movie – the general theme of which was rebooted last year as Mad Max Fury Road - is a huge element of Aussie car culture. Sure, it kick-started the career of director George Miller (and his mate, Byron Kennedy, who tragically died in a helicopter crash) and actor Mel Gibson, but the real stars of this cult classic movie were the characters' now legendary Aussie cars: the MFP (Main Force Patrol) Ford interceptors, the Pursuit Special HQ Holden Monaro - stolen and crashed by the Night Rider - and of course, Max's sinister black 'six-hundred horses through the wheels' supercharged XB Ford Falcon Hardtop.
All that, and more, was celebrated at the first-ever Toecutter Gang: Johnny The Boy Lives Tour. Centred on the rural Victorian town of Clunes, where several of the movie's scenes were filmed, the Freedom Riders-organised event attracted plenty of Mad Max enthusiasts - and their cars and bikes - from as a far away as Darwin!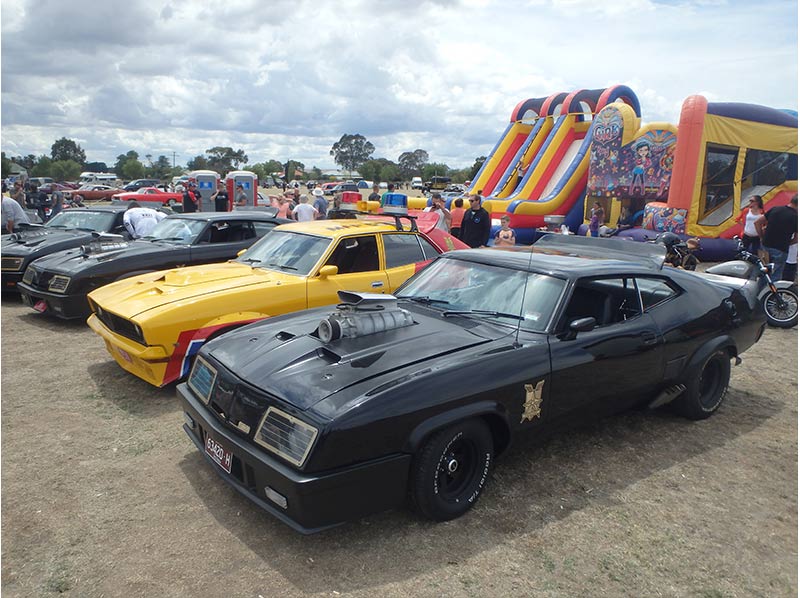 The stars of the weekend were undoubtedly the half-dozen beautifully constructed replicas of Max's black Falcon hardtop closely followed by a number of the distinctive yellow-with-red-and-blue-stripes MFP cars. Rumour was, the HQ Holden Monaro Pursuit Special replica on display (set up with an MFP replica in the chase/ramming scene that sent the Night Rider and his floozy to their fiery deaths) was a first; although there are as many as 25 Mad Max Falcon hardtop replicas around the planet, no-one seems to have attempted a recreation of the stolen Holden Monaro pursuit special before.
There was also a scattering of other replica character cars from the movie – Max and wife Jesse's sweet orange custom Sandman-like Holden panel van (the one that ripped Cundalini's hand off, and that Jesse cooked after holding the radiator when she rammed the gate) a couple of less-authentic (but still hugely cool!) black hardtops in the car park and a few wilder recreations – such as Humungous' hostage machine - from the Mad Max II sequel.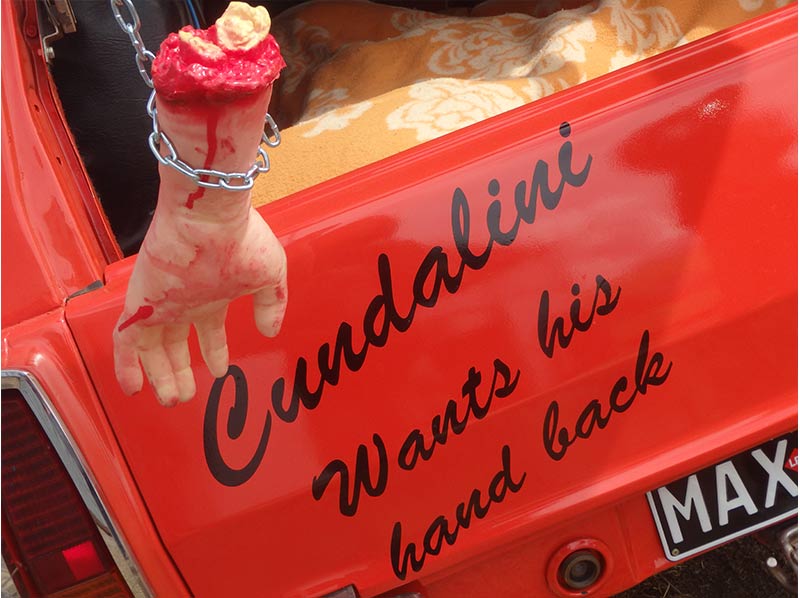 On the back of the panno are these words - guaranteed to raise a smile from the Mad Max faithful while cruising Melbourne traffic    
There was also a stack of replica bikes – and reportedly one or two originals - from the movie, too, plus a handful of actors, stunt-men and bikers who were involved in the creation of the original low-budget cult classic movie that saw Mad Max and his fellow officers clashing with the Toe Cutter's gang of nefarious bikies, including the Night Rider and Johnny the Boy (hence the name of the event).
In all, with the enthusiasm of the cars' owners, all the spectators and the big-screen showing Mad Max in glorious endless repeat – and plenty of sound grabs for the movie being played from cars (and spoken) all day (such as 'You've seen it… you've heard it… you're still asking questions?!") it was a ripper display of the passion and attention to detail of Max fans - on both two wheels and four.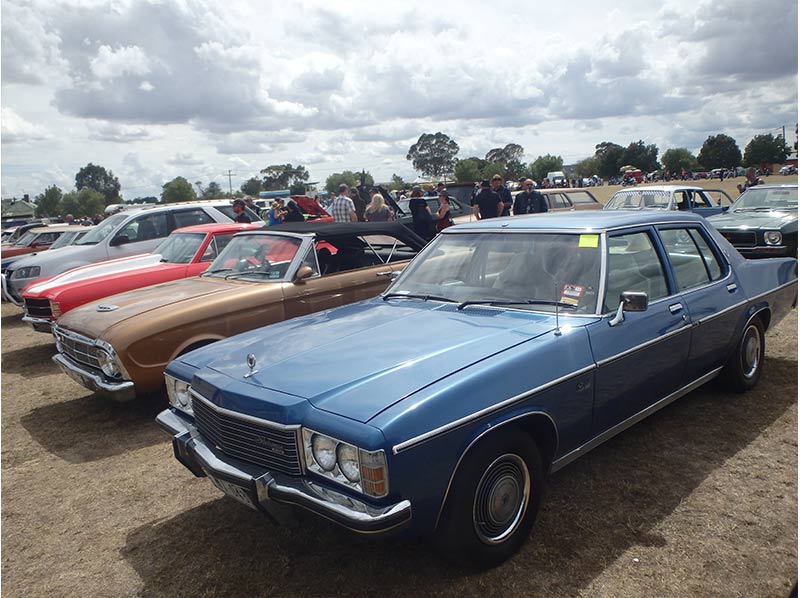 It was also a ripper excuse – do we ever need one?! – for a tops old-school chrome-bumper car show, with a stack of mostly Aussie classics and cruisers coming from Melbourne and rural Vic to line up on the showground before a tour of some of the locations around Clunes used in the original movie.
We didn't have our swags and due to commitments elsewhere, unfortunately, we had to leave before the bar opened, but we'll be keeping our eyes and ears open for the intended repeat of this Mad Max inspired car- and bike-nut weekend in three years' time.
That'll be the 40th anniversary of the launch date of the original Mad Max… You'll be back! You're hooked!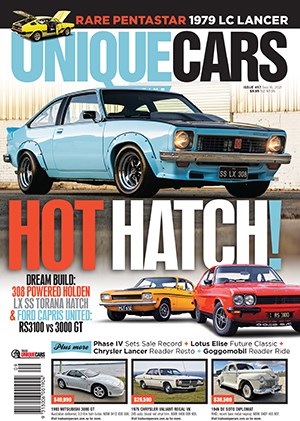 Subscribe to Unique Cars Magazine and save up to 42%
Australia's classic and muscle car bible. With stunning features, advice, market intelligence and hundreds of cars for sale.
Subscribe