Targa Tasmania 2014
---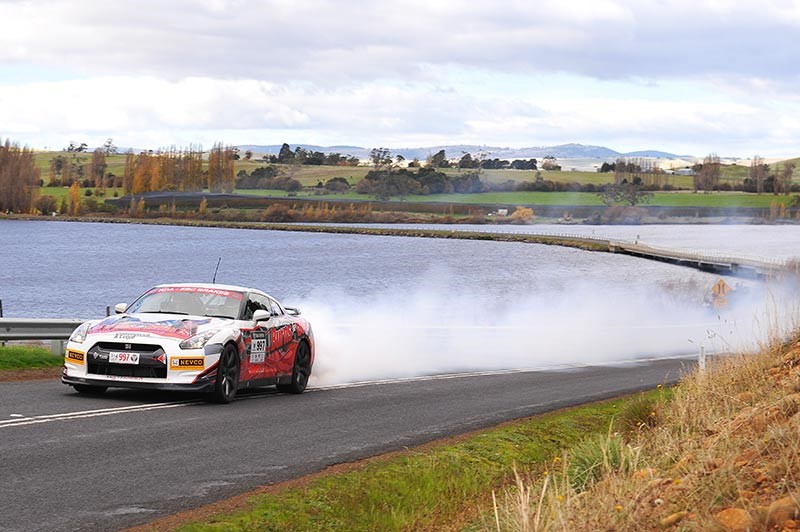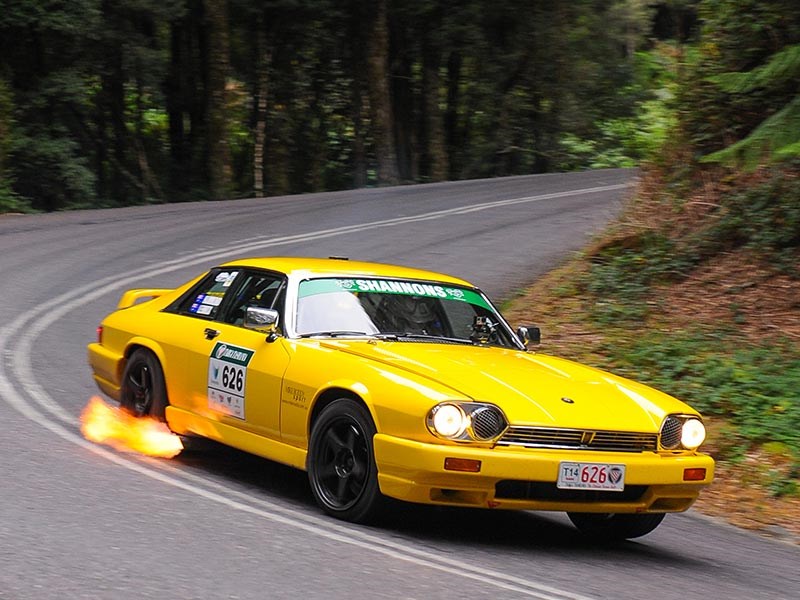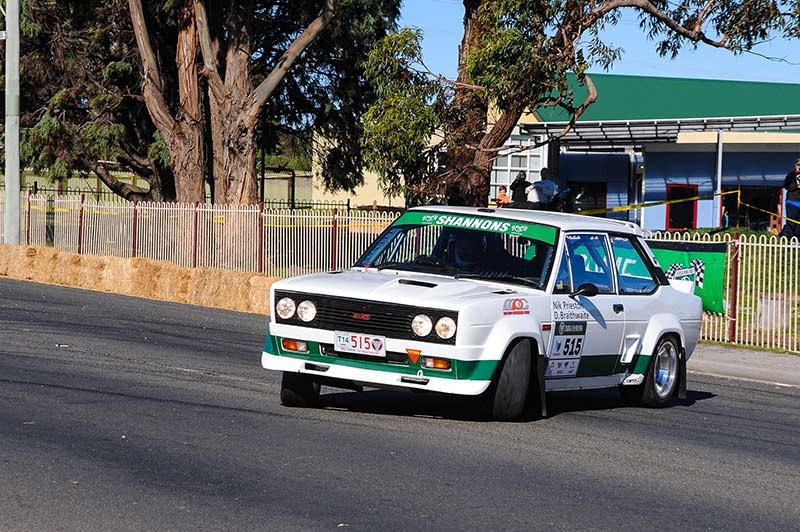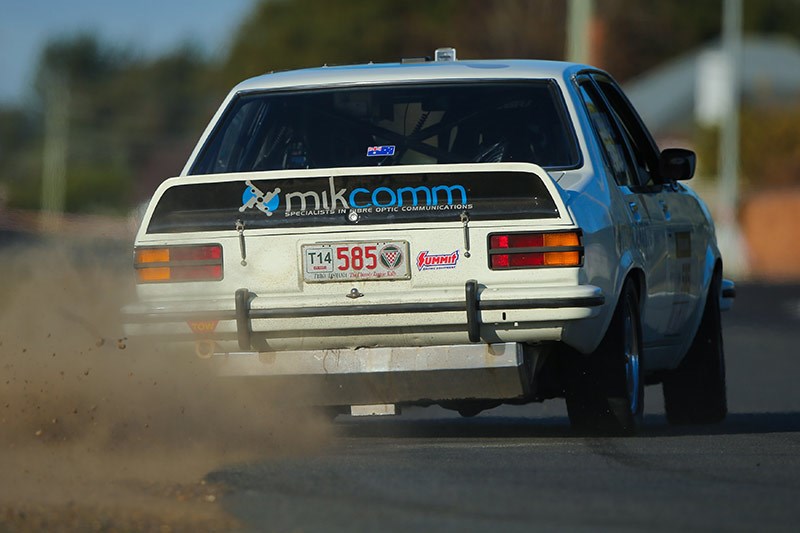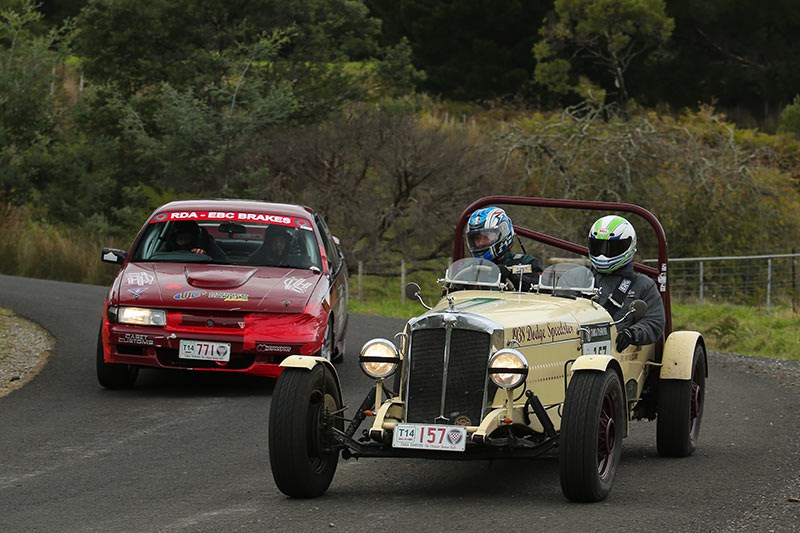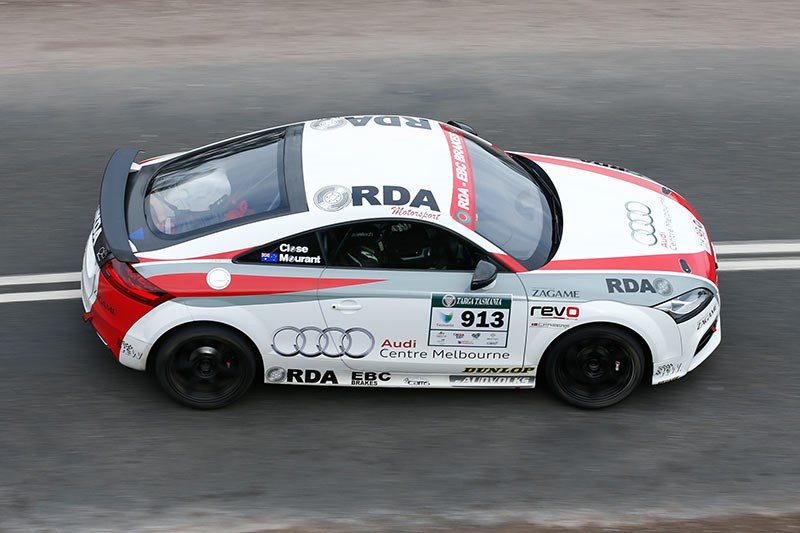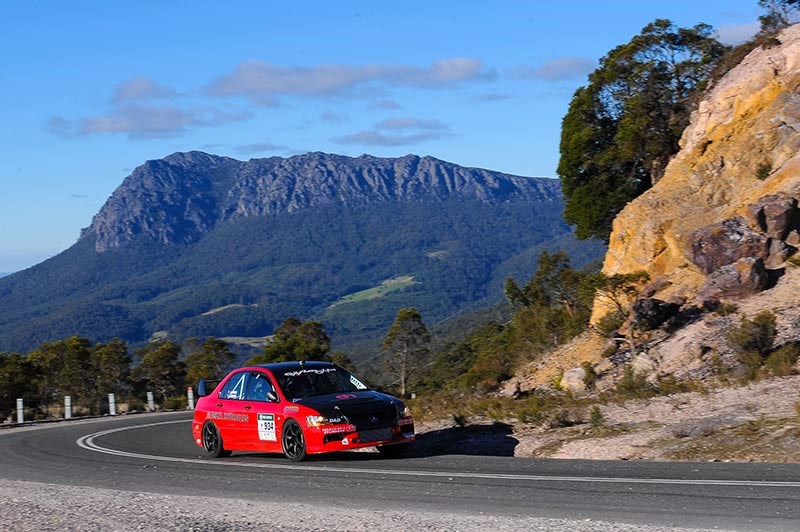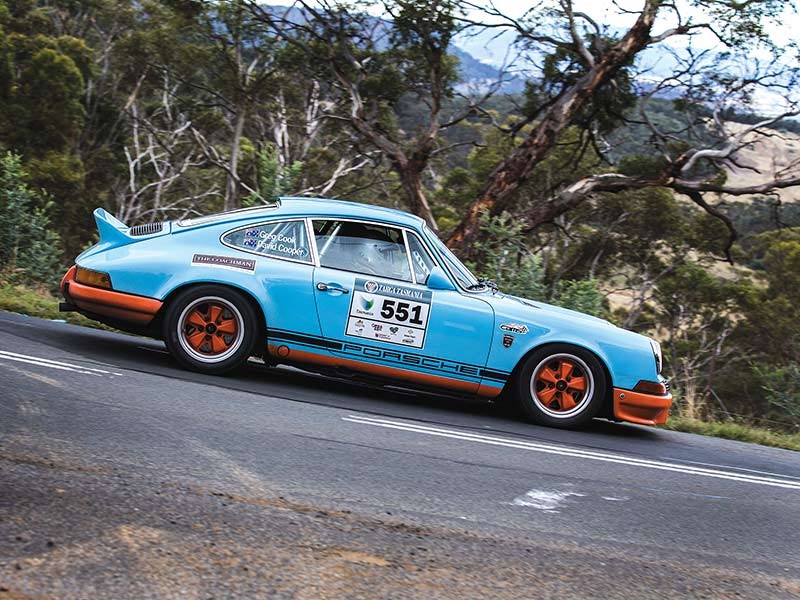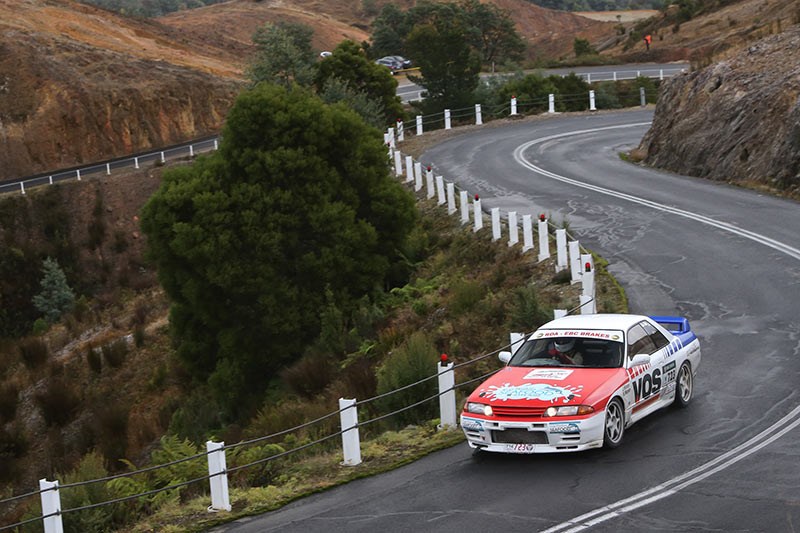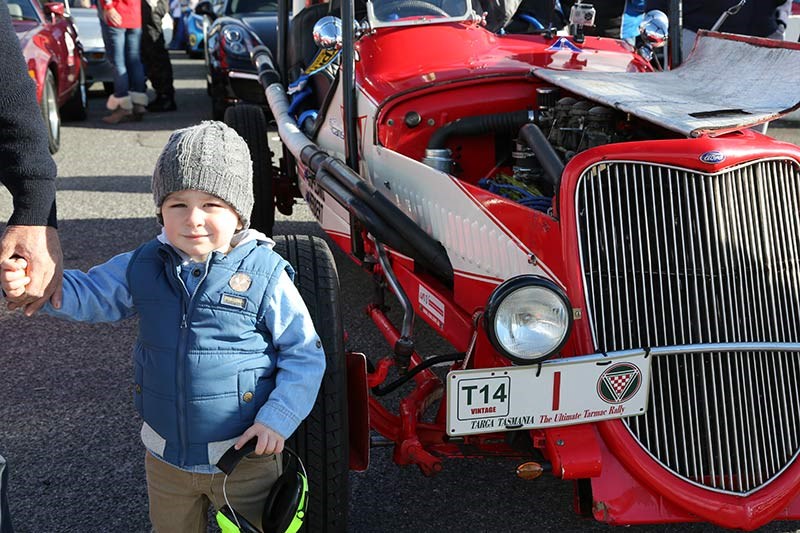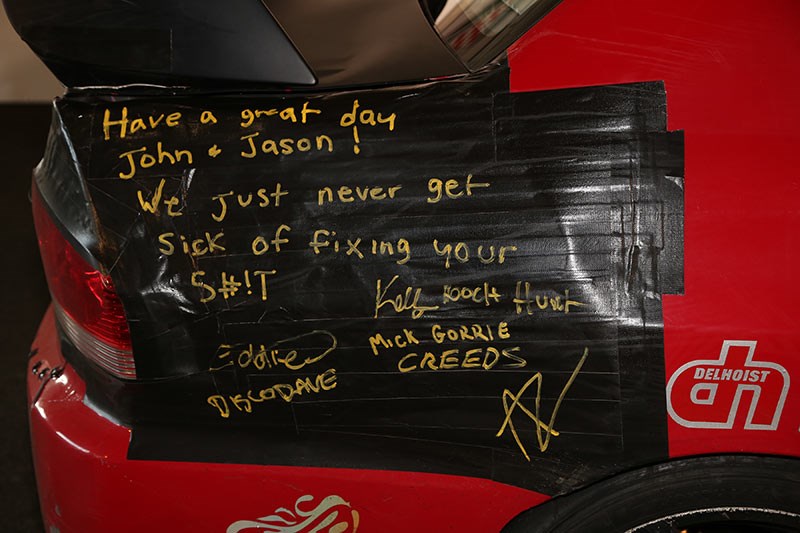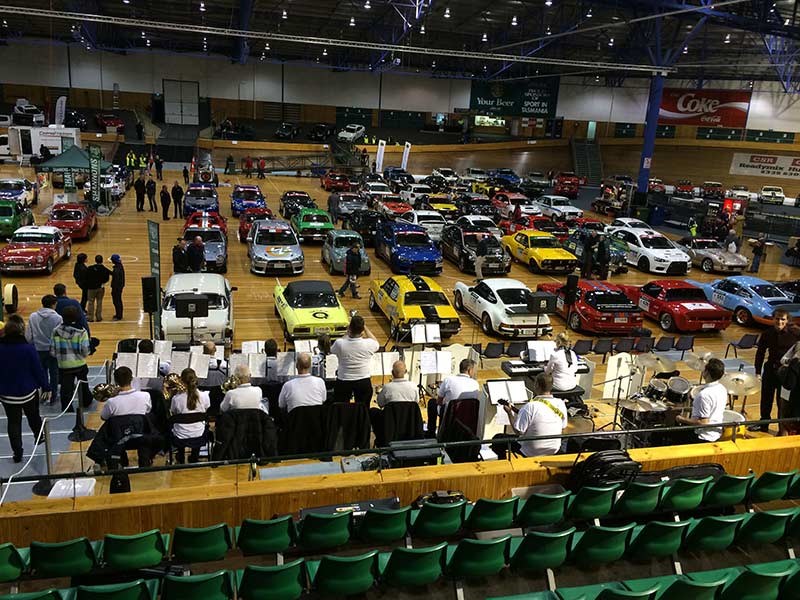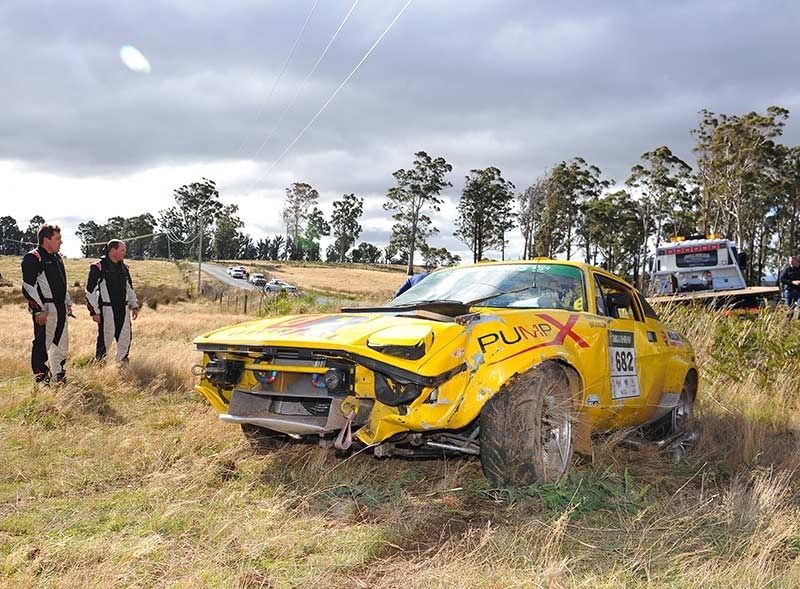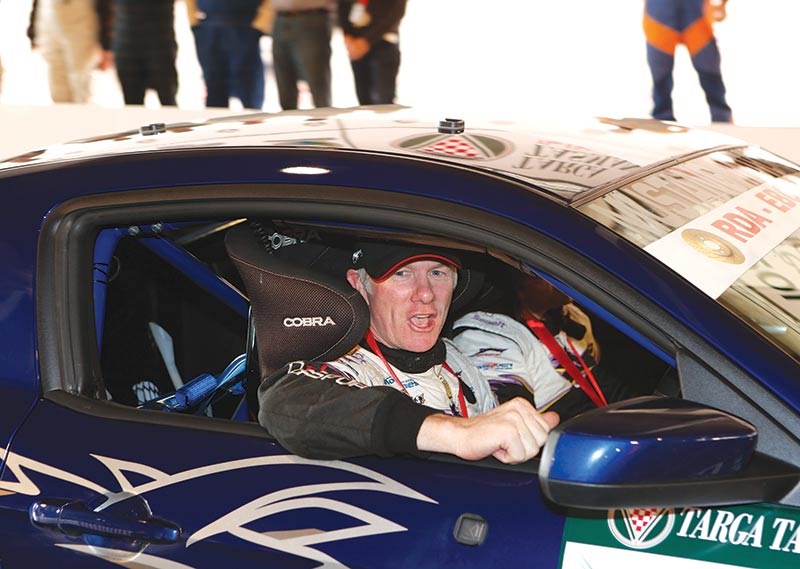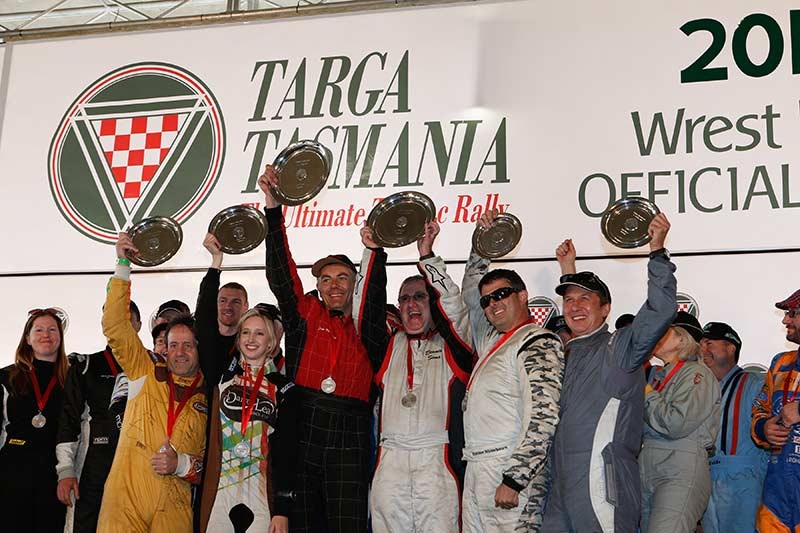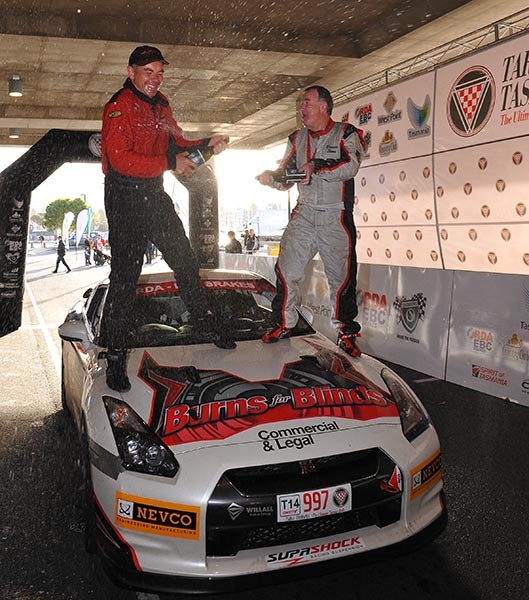 Slick roads and a see-sawing leaderboard: The 23rd Targa Tasmania was the most dramatic in years...
Targa Tasmania 2014
Ultimate. It's a pretty strong word, especially when it forms part of a brand's marketing speil. But when applied to Targa Tasmania in "The Ultimate Tarmac Rally" it's entirely appropriate.
For competitors, it's six days of warfare as the Targa story unravels over snaking tarmac roads, exploring the best wilderness our island state has to offer. Not that you have much time to admire it…
There's also the ever-present threat of rain, ready to catch the unwary and turn the results list on its head, as it did this year... but we are getting ahead of ourselves.
The lead-up to the 23rd Targa Tasmania was a difficult one for 2012 and 2013 outright winner Jason White. The Tasmanian had lost both his father and grandfather in quick succession, adding a sense of poignancy to his focus on winning three in a row. Additionally, White, along with co-driving uncle John, was competing in a Mitsubishi Lancer Evolution IX, after their familiar Lamborghini Gallardo Superleggera caught fire at Targa Wrest Point earlier this year. Despite this lead-up, the Whites were still among the favourites to take out the big dance yet again.
With Jim Richards retiring his mighty Porsche 911 GT2 RS in favour of a Showroom Sports-category Porsche Cayman S, the list of 'Modern' outright contenders was shortened, though it was no less imposing.
Winners from 2008 Steve Glenney and Bernie Webb returned with a Nissan R35 GT-R, two-time winner Tony Quinn (along with Kate Catford) was back with a similar vehicle and Australian Targa Championship leaders Jamie Vandenberg/Dennis Sims completed a threatening Nissan threesome. Matt Close/Gary Mourant fronted in Close's familiar Audi TT RS, a formidable opponent on narrow, twisty Tassie roads.
Another contender, the local Matt Rickards/Michael Potter Mitsubishi Lancer Evo IX, dropped out before Prologue with an engine failure during testing.
The Prologue, 'Leg Zero' in Targa terminology, is a chance for the 180 competitors, in everything from a 1934 Ford Indycar Special to an Audi R8 V10, to ease into the epic. The first run, Kayena, is literally a 'warm-up' stage, with times irrelevant. The second, through the residential streets of George Town, is an opportunity for the fans to get up close to the cars, while the times gleaned from the 4.8km stage are used merely for 'seeding' – determining starting positions for Leg One.
For White, who topped the timesheets, it meant more: "Winning the prologue was always important for my father. The old man always loved a prologue victory and would have a tear in his eye, so we couldn't really ease into it – we had to go for broke right from the start. It was a bit irresponsible for tyre wear. There's no way we will be able to maintain that pace all the way to Hobart."
Glenney, who finished 2.8sec down, grinned: "I'd love to go hard early and break their hearts, but Targa is a long event so you've got to manage tyres and car. It's a bit of a balancing act." The battle lines were clearly drawn.
The skies dawned clear for Leg One, with eight stages covering 93 competitive kilometres awaiting crews as they departed from Launceston's Country Club.
Leg One traditionally begins with stages that offer a generous 'base' time, allowing competitors to 'clean' (i.e. get no 'penalty' time) the stage at a relatively gentle pace.
Despite struggling to start the Evo in frosty morning conditions, the Whites, along with the entire Modern field who completed TS1, were able to clean the 5.52km Westwood stage.
The same was true of High Plains, with the exception of David Ayers, his 2013 Nissan GT-R suffering electrical and gearbox gremlins.
The picturesque town of Sheffield lends its name to the first true test of Targa Tasmania, the 14.62km TS3. It was here that Glenney made his move, completing the stage with a 16sec advantage over the Close TT RS. The Whites were another couple of seconds back, tying with the Quinn GT-R, Vandenberg's similar car another second behind.
Stage wins followed for White and Vandenberg (tied on Nook) and Quinn on Moriarty, though Glenney took a 19sec lead into the lunchbreak. Ayers appeared to have fixed his issues, cleaning Merseylea, but then failed to restart after lunch.
Two longer stages awaited, the 16.09km Paloona and the tough 26km of Mt Roland. Four of the emerging Big Five – White, Glenney, Close and Quinn – cleaned Paloona, but it was tough for Jamie Vandenberg, who lost some 41sec. He lost another 34sec to Glenney on Mt Roland, who went into the first night with a 27sec advantage over Close. White was another 3sec back, Quinn 55sec in arrears and Vandenberg 1min37sec down in fifth.
"I loved the Sheffield stage today,'' Glenney said. "There's spots where there's time to be made, a lot of corners and crests, so we pressed on.''
The North East Loop that forms Leg Two is legendary among drivers, encompassing famous stages such as Elephant Pass and The Sideling before ending with the atmospheric town stage in Longford – former jewel in the international Tasman Series crown.
Compounding the increased challenge was the tighter base times, and the threat of ice through Roassarden. It was tight at the top, too, with Glenney, Close, White, Quinn and Vandenberg filling the top five slots on every stage of the day. After a cautious (by his standards) start, Glenney took victory on all afternoon stages before Longford (an 'un-timed' test). His lead extended to 38sec overnight with White now second. Close, the morning pace-setter, was third, 1min 04sec behind the leading GT-R. He was followed by Quinn (+2min 16sec) with Vandenberg only two seconds further back.
Glenney: "We've had lots of little niggling issues but we've been battling with those and still pushing hard, but only edging small gaps. We always want more, but I'm fairly pleased because we managed to use our tyres well."'
Jason White was surprised at his own pace. "We never thought we would be winning stages this year in the Evo but we're really rapt with the way we're performing. The higher roll centre [compared to the Lamborghini] has taken some getting used to in the faster corners, but it's still not bad," he said.
Leg Three had the competitors leaving their Launceston Silverdome base for the last time, as the parade shifted to a new camp, in Strahan on the west coast.
The morning stages were classified as intermittent with overnight dew settling under the trees, and Glenney, for whom tyre management had been a buzzword thus far, extended his lead on Mole Creek. Next, it was the intimidating 37.10km of Cethana, and White hit back, completing the incredibly varied, brake-killing stage in 16min 50sec, to shade Glenney by 4sec – just over one-tenth of a second faster per kilometre. The two leaders then split Castra. It was getting tight, especially after Isandula, when both Close and Vandenberg joined the leading protagonists in cleaning the stage.
Through Oldina, held in dry conditions, Burnie boy Vandenberg showed he was getting to grips with the R35 GT-R, taking the outright stage victory and strengthening his hold on fourth place over Tony Quinn.
Indeed, the top five once again dominated the stages, though on the final 32.62km blast into Strahan (TS24 Rinadeena) Brendon Winterbourn and Anthony Chudleigh usurped Quinn for the fifth fastest time in their Evo X, helping them consolidate sixth overall.
It was on Rinadeena that the first sign of gearbox issues for Glenney/Webb were revealed, the GT-R losing some 15sec to White's Evo.
"I think we've got a gearbox problem again," Glenney said. "It looks and sounds similar to what stopped us back at Targa Wrest Point. I heard a noise five minutes in and we had to do the rest of the stage in fifth gear. Hopefully we can get it fixed."
Through the course of the epic day to the west, White had managed to gain 12sec on Glenney, the gap now down to 26sec. Close remained a threat in third (+1min 29sec), Vandenberg was fourth (+2min 36sec) and Quinn fifth, but 4min 40sec off the lead.
White was sounding more optimistic by day's end: "We've been on the absolute limit and it's about as much as we can do with the little shopping trolley. We had a real serious crack at Rinadeena. It's the fastest we've ever been through that stage – even in the Lambo. It was a hell of a ride."
'Super Saturday,' as Leg Four is known, started ominously, the roads slicked with overnight rain... and with more expected through the day. But it wasn't the biggest news of the morning, with Steve Glenney and Bernie Webb being forced to retire their leading Nissan R35 GT-R after the gearbox gremlins couldn't be solved overnight.
"We asked around but no-one had a spare," said a despondent Glenney. "The boys went to Launceston to get the 'box that failed David Ayers earlier this week, thinking it might be fixable.
"They got back at one in the morning, had it going by around four, but there were still faults and [they] couldn't get it to work properly. It's very frustrating. Sadly we're getting used to it."
White celebrated taking the lead by pumping out stage wins on each of the first three tests, extending his lead over Close to an impressive 2min 21sec. Vandenberg meanwhile was using the wet weather to impress, overhauling Close as he claimed a stage win over the 8.24km of Natone.
It was on TS29, the infamous Riana, where the Targa turned on its head. Event leader White was one of several to succumb to the treacherous conditions, crashing the Evo IX out of the race.
"It is really gutting," White said. "We had a two and a half minute lead and were lining ourselves up for a good finish.
"I tried to brake but just couldn't do anything. It was like ice," he said. The Evo slid straight-on into a left-hander and shot into the scrub, copping substantial front-end damage. After a full night, the White crew was able to restart and make the chequered flag at reduced pace; a fitting tribute after a week of hardship.
With only the final 17.47km Roseberry stage remaining, Vandenberg led Close by a thin margin, but pressed on to deliver a stunning time that bested Close by 12sec, taking a 16sec lead into the last day.
"There's been plenty of dramas today and luckily we managed to stay out of them," said Vandenberg.
"We've been making up time on Matt (Close) all day, but we stopped to help Whitey, so we were given a 'derived' time for the stage.
"There's still a long way to go, but we've been rotating our tyres to maximise grip and wear every day. We've still got two good sets, so it shouldn't be an issue tomorrow."
In response, Close said: "We've been fairly conservative as it was absolutely treacherous out there. We had a couple of moments early so we pulled our horns in a bit.
"We thought we'd made the wrong tyre choice, but the conditions were the problem today, not the tyres."
Quinn/Catford were third, but now over 5min behind the leaders; it would be a two-way fight to the flag. Winterbourn/Chudleigh were fourth in the Evo X, and another GT-R – this time with Frank Purdey and Cameron Reeves in the chairs – was fifth.
The final 100km competitive of Leg Five may sound like a wind-down, but they hide the most imposing Targa stage of all – the incomparable 58.13km of Mt Arrowsmith. Compounding this with another greasy, surface, there was little to gain, but much to lose. Was Close going to gamble?
The wet climb out of Strahan indicated that he would, as he finished only 2sec off Vandenberg after 32.97km. Amazingly, David Ayers, in his repaired-once-more GT-R, took the fourth quickest time, behind Quinn but ahead of Winterbourn.
Vandenberg extended his lead by another 5sec through the mystical moonscape of Queenstown, taking a 23sec lead into Mt Arrowsmith. But Close wasn't done yet, pouring every last ounce of energy into a 9sec stage victory, closing the gap to Vandenberg to 14sec, after nearly a week of competition; fingernails were at a premium.
Both leading combatants were able to clean Tarraleah thanks to drier conditions, leaving Ellendale and Grasstree Hill to go – a competitive distance of under 15km. But the Vandenberg GT-R was in clear trouble, blowing ominous smoke after Tarraleah, the crew needing to refill the sump. They left Ellendale on their last legs.
Matt Close, however, was pressing on through Ellendale, hoping that another cleaned stage would be enough to take his first Targa victory over the ailing Vandenberg. Sensationally, Close put the TT RS off the road with one stage left.
The pressure was then off for the R35 GT-R of Jamie Vandenberg and Dennis Sims, at least competitively. But they still had to make the finish... which was no guarantee, losing over 1min 30sec on the Grasstree Hill finale. Their 5min cushion over Quinn held up enough to win the 23rd Targa Tasmania by 4min 44sec.
"It's the biggest rollercoaster ride I've ever been on," Vandenberg said. "We thought our race was over at lunch time.
"We've never heard so many rattles in the car before and we considered pulling the pin and just cruising to the finish.
"The pressure was off a bit once Closey [Matt Close] crashed, but our engine was making some awful noises and we used 15 litres of oil today. We had no idea if we were going to get there. It's been an emotional and stressful day," he finished.
Not only did Vandenberg take his first Targa Tasmania victory, he also won the 2013/14 Australian Targa Championship, beating White by a scant five points. He will defend his championship at Targa High Country, to be held from November 7-9 in the Victorian High Country.
CLASSIC
Fought over two classes (Early Classic and Late Classic), the Classic Outright category is always a hotbed of competition. There was something for everyone, from big-cube V8s to rotaries and the venerable flat-six 911s. Of course, rally classics including Ford Escorts – and even a Fiat 131 Abarth – were on-hand at the Silverdome.
The Miedecke/Wilson Capri Perana was heavily favoured and led by some 1min 24sec after Leg One. He was chased by the Haysman/Branum Triumph TR7 V8, the 1984 Porsche 911 of Ireland/Ribot and the 1985 Mazda RX-7 of Faux/Mihajlovic.
By the atmospheric Longford town stage at the end of Leg Two, Haysman had taken the lead, Faux was second and the mighty Jensen C-V8 of Ullrich/Ullrich was third. Miedecke had set the morning pace, but suffered suspension issues that put him out of winning contention.
Miedecke surged through Leg Three, the small-block Ford V8-powered Capri taking every stage bar one, but it meant little: he was still over 40min down overall.
Haysman remained on top by the end of Leg Three, now 2min 44sec ahead of Faux and 4min 33sec ahead of Ullrich. Things looked promising for Haysman, who last year had to retire from the Classic Outright lead on the final day.
The wet conditions of Leg Four threw the 1982 Porsche 944 of Achterberg/Fitzgerald into contention, topping the times on the 25.34km Reece Dam stage to lead the Late Classic field. The front-engined Porsche scored a string of fastest times before sliding off, as so many others did, in Riana. By day's end Miedecke had climbed to 31st and Haysman still led, though Faux had clawed a lot of time back and was threateningly placed only 48sec in arrears. Ullrich remained third.
Climbing out of Strahan, Haysman's rotten last-day luck reappeared, the Triumph V8 dropping almost a minute and losing the lead to Faux. But worse was to come for Haysman, crashing out on Ellendale. The other V8 contender, the Chrysler big-block-powered Jensen of Ullrich, had won the Queenstown stage, only to stop on Mt Arrowsmith.
These retirements gave Faux an unassailable lead, and he won Classic Outright by 4min 04sec over the 1974 Porsche 911 Carrera RS of Paterson/Geue. The McClintock/Skinner 1985 RX-7 took the final step of the podium, with the first V8 home being the Aussie-grown 1969 Holden Monaro GTS of Woodward/Gibson.
EARLY MODERN
Catering for vehicles built between 1986 and 2002, the Early Modern class mixes Porsche 911s with all-paw turbo classics such as the early Mitsubishi Lancer Evolutions, with RX-7s, Skylines and the occasional big-hitting Commodore also in the fray.
Sadly, fan-favourite Adam Kaplan had to withdraw his sideways VL Group A before the event with engine troubles, leaving the Cowman VN Group A as the sole locally-built machine.
Local Ben Manion and co-driver Julie Winton-Monet led the Early Modern field at the end of Leg One, with a 29sec lead over the Nunn/Johnstone Porsche 944 S2 (3.0-litre, four-cylinder) in their 1990 Nissan Skyline GTS-t (rear-wheel drive, 2.0-litre turbocharged six). In third after Leg One were the Perinis with their 2000 Porsche 911 GT3.
The order remained the same after Leg Two, Manion stretching the lead to 58sec over Nunn and 3min 27sec over the Perini Porsche, having won every stage bar Rossarden.
On Leg Three, the Thatcher/Handley 1994 Skyline came to the fore, overtaking the Perini Porsche for third place on the Cethana stage, only to return that position to the GT3 on the last stage in Rinadeena. In a day that saw Manion and Nunn split the stages five/three, it was the Nissan driver's pace on Rinadeena which saw him into an overnight lead of 3min 32sec, Nunn having issues on the day's final stage and losing over 2min. They would be unable to restart the following day.
On Leg Four's second stage, Pieman, Manion suffered an alternator problem which lost him a very comfortable lead. The Howarth/Howarth 1995 Skyline GT-R emerged from the murky conditions to take the lead of the category, surging to 2min 30sec ahead of the Perinis by the end of the leg, Thatcher/Handley in third a further 3sec back.
The final rush back to Hobart saw Manion restart, but over 20min behind. He was supremely quick, but by then it was too late.
Howarth survived to take the flag, 3min 27sec ahead of Thatcher/Handley, the race-long battle with the Perini Porsche resolved in the Nissan's favour. Perini took the final podium position.
SHOWROOM
Designed for modern, near-factory machines with appropriate safety provisions, the Showroom classes are split between two-wheel drive, four-wheel drive, 'Sports' (for cars over $100,000) and 'Modern Muscle Cars'.
The Showroom 2WD class was a hot-hatch race between Renault Meganes and a Mini Cooper Works GP. Last year's early pace-setter Adam Spence led early once more in his Megane, only to go off in Leg One on the Merseylea stage. Fortunately, he was able to rejoin, having lost over half an hour. This gave team-mates Bollom/Challoner-Miles a Leg One lead of 3min 50sec over the Robinson/Browell Mini. Over the remaining legs of competition, that gap extended to an impressive final victory margin of 16min 58sec.
In Showroom 4WD, the top positions were hard fought, as it reignited a traditional Impreza/Evolution battle. The Arentz/Moscatt Evo X and the Newman/Lewis STi traded times throughout, Arentz finally emerging victorious by 2min 23sec after a massive week of competition.
Showroom Sports held a special interest, multiple Targa winner Jim Richards entering the category for the first time in a Porsche Cayman S. He was up against a pair of rapid Audi TT RSs, their all-wheel drive transmissions and turbocharged five-cylinder motors a potent combination in this trim.
In the event, Richards/Oliver had a comfortable lead of 11min 34sec over the Minshall/Gentleman TT RS before heading into the troublesome Leg Four stage of Riana. Incredibly, the veteran duo crashed out, leaving Minshall to take line honours ahead of the similar car of Crimp/van der Mey.
Some spice was provided in the Modern Muscle Cars class, with the Holden Commodore SS Ute of Cuneo/Martin entered amongst some serious American muscle, including the supercharged Shelby Mustang GT500 of Dean/Cole and the ZR1 Corvette of Ford/Maher.
The Corvette produced some cheeky stage times on Leg Two, the car's regular driver Neill Ford handing the reigns over to V8 Supercars driver Steven Johnson for a day due to business commitments. Starting the day 1min 41sec behind the Mustang, Johnson closed the gap by 30sec.
Leg Three saw the second Corvette, the Z06 of Daniel Ford, win the Mole Creek stage before retiring after Castra. This gave Dean a relatively untroubled run home, winning the category by 9min 14sec over the ZR1 with Neill Ford back behind the wheel.
SHELBY STORMER
Mustang Motorsport Managing Director Craig Dean is officially part of the Targa Tasmania furniture. After an impressive Targa debut back in 1997 (which saw him take the Rookie trophy and an impressive 14th outright), he was able to climb the outright podium one year later, taking his twin-turbo Lexus SC400 to second overall behind Jim Richards.
It was also in 1998 that Dean's name became inexorably linked with modern Mustangs, taking to the circuits in a Saleen S351 in the Australian GT Production series.
This year, Dean not only supplied the Targa Regularity 'Stang for editor Leechy, he competed in the Modern Muscle Car competition himself. Dean, along with co-driver Jenny Cole, entered Mustang Motorsport's imposing 2013 Shelby GT500, with one aim – to win the category.
"We wanted to make up for the disappointment of 2013, where we were bogged early-on after an incident with another competitor," explained Dean. "Although we made up seven of the 23 minutes lost, we obviously ran out of time."
Adding to that sense of unfinished business was the 2014 entry list, which included the Ford family's two Corvettes – the cars that deposed Dean in 2013.
Although there is some modification allowed, Dean advises that the awesome Shelby Mustang, converted to right-hand drive by Mustang Motorsport, is largely standard. "We've upgraded the brake rotors and pads to last and altered the rear springs, but it is otherwise standard – down to the Goodyear Eagle F1 tyres," he said.
It's under the bonnet, however, where the Shelby hits hardest. An aluminium-block 5.8-litre V8 with a 2.3-litre displacement supercharger means this beast puts out 447kW to the rear wheels, along with 800Nm torque. A carbon fibre driveshaft and heavy-duty six-speed complete the picture.
"Obviously, having all that grunt to put down means traction is at a premium, but we knew the tyres would last the event," explained Dean. "Tasmania hadn't had much rain in the last few months, so the final, wet days meant things were pretty dicey." Translated: It was sideways everywhere.
With the mindset of seeing the finish line, Dean and Cole adopted a cautious approach from the outset, and led by 25sec from the Daniel Ford/Nathalie Ford 2007 Corvette Z06 at the end of play for Leg One.
It was the 2011 Corvette ZR1, of Neill Ford/Colin Maher, that surprised on Leg Two. After falling 1min 21sec behind on the first day, the challenging Leg Two stage of Rossarden saw the Chevy claw back 8sec on the Mustang.
"I looked at the time and thought, 'Jeez, someone's had a good breakfast!'" laughed Dean. It was only at the St. Helen's lunch stop that he realised Steven Johnson had subbed in for Ford, who was on business that day. "Thankfully, it was only that day. But it gave us a chance to see the true potential of the Mustang versus the Corvette."
After Leg Two, Dean and Cole managed their pace through the increasingly slippery conditions along the west coast, bringing the Mustang Motorsport machine home to victory in the Modern Muscle class and finishing an incredible sixth outright; ahead of all-wheel drive GT-Rs, Lancer Evolutions and Impreza STis.
But the best bit? "We hope to be back next year, further advancing the Mustang's motorsport capability." Good news for anyone who has seen the Shelby in action.
 
*****
 More reviews: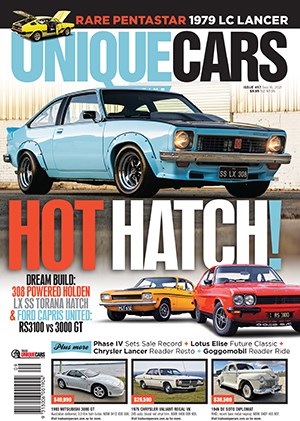 Subscribe to Unique Cars Magazine and save up to 42%
Australia's classic and muscle car bible. With stunning features, advice, market intelligence and hundreds of cars for sale.
Subscribe