Copper Coast Mania
---
Amateur Motorsport is best served in something that's not your daily driver, especially when the prize stakes are low. but when the karma stakes are high, all bets are off; let's race!
Copper Coast Mania
If you can't afford to break it, you can't afford to race it; that's a mantra I live by hence why I haven't raced a car for about 15 years. Actor Eric Bana then added another layer, bending his XB Falcon in Targa Tasmania before realising, publicly via his movie, Love the Beast, that for him the emotional cost far outweighed any dollar loss.
So here I am in South Australia at the starting line of the Copper Coast 500 Sprints, waiting for the flag to drop. My Holden VY SS Sandman was purchased new in 2004 at great expense and has been an inextricable part of my family ever since; if I break it, it can be fixed. If I bend it, tears will be shed and a dear family member lost. Fortunately this is, in theory, a straight-line event. Select first, drop the clutch, give it the beans and hold on.
Ah the clutch; the 140,000km-old weak spot in my Purple People Eater. It wasn't happy with my conduct first run, allowing the revs to flare and stinking up the start line before biting and getting a boogie on.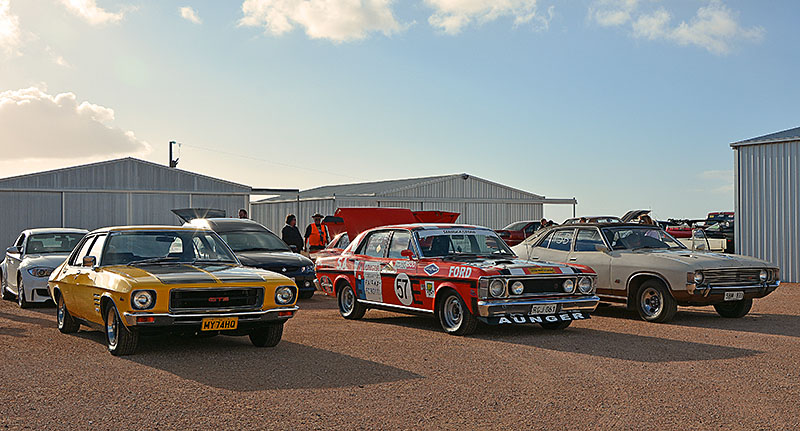 Seconds later, 16.502 to be precise, it's all over and I'm mid pack. But I live to fight another day, unlike the old boy after me, who cooked the clutch in his stick-shift BMW 1M and set off home, barely even bothering to stop after his run before bolting for the gate. German cars. Hmph.
The Sprint, now in its third year, is put on by the Leukaemia Foundation by way of its Aussie Muscle Car Run arm. Headed by the inexhaustible Kevin May and the uncompromising Rachel Carson, the AMCR now hold a series of events across Australia with two aims; raise funds for The Foundation and have a bunch of automotive fun while doing so.
Previously known as the Kadina Muscle Car Sprints, Kevin, Rachel and local man-on-the-ground Bill Clarke elected this year to open it up to anything and everything, just so long as it was deemed interesting enough to put on a spectacle.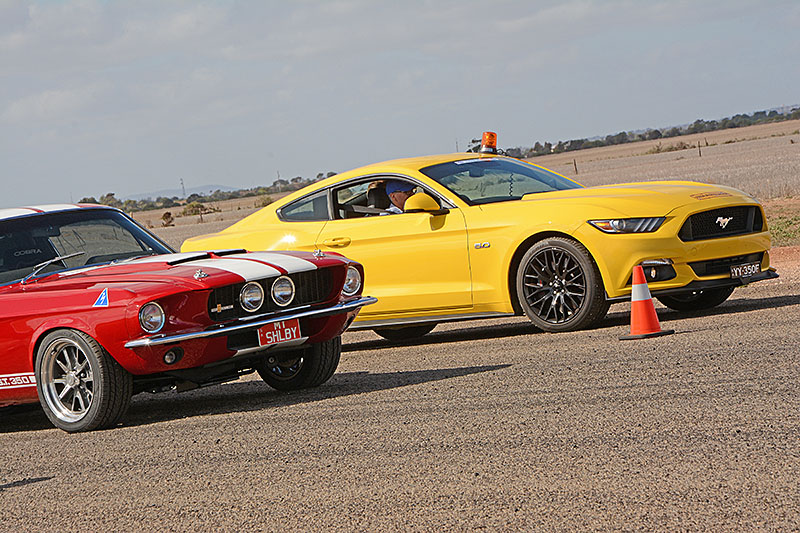 There aren't many events you'll see a current-model C7 Corvette form up next to an FD Mazda RX7, a HSV Senator and an old Dodge truck with a 440 cube twin-turbo big-block!
All have an equal chance of taking out the prize, which is precisely nothing; just the fun of giving your machine a good, hard caning the way you can't do on a public road.
"We're here to have fun, raise a bit of money and not worry about sheepstations," Kevin explains between bursts of radio communication with the start line. "The proceeds help out the Leukaemia Foundation, Royal Flying Doctor Service, Kiwanis and the Moonta Aeroclub, as well as go back into facilities here," he continues, gesturing to the Kadina Airfield which is closed one day per year, just for this event.
The track's dual status as a runway means no tyre-warming burnouts, which worries some of the more drag-orientated participants, but not me; stickying up the rubber will just cause my clutch more anguish.
I decide it's the tyres that must die; wheelspin is acceptable and the track is a bit loose; Willowbank this ain't. As I idle out to the start line with the rest of 'Group C', I still detect clutch odour. It smells exactly like Wynard Station.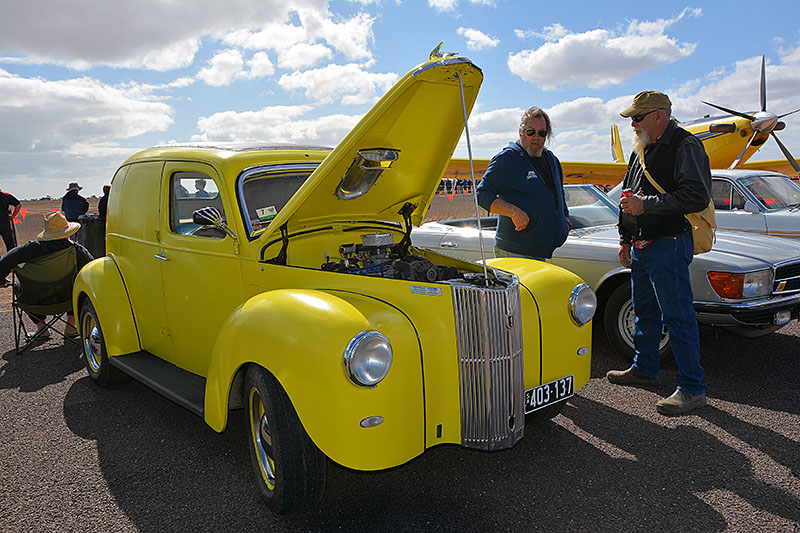 Second time out, I lay a fair snakey and drop it hard into second, chasing the tail at it slithers behind me. I reckon I changed into fourth last time, but realise as I approach 500m that the VY's lusty LS1 will charge into the redline and allow me to forgo the last gearchange. I'm deep in the red when I cross the line for 16.281.
Despite the event's relative straightforwardness, the big starts have taken their toll and the field is already thinning out; I'm advised I can line straight back up for another go. Back at the start line, the flag drops and I get what is the perfect combination of spin and forward motion; at least, that's what I thought. Again, I can smell clutch and I've done a 16.698.
The thinning crowd means Rachel and Kevin can take their cars out for a belt; both are true muscle car fanatics, although from opposite sides of the scale; Rachel's a Holden girl, while Kevin is a Ford man.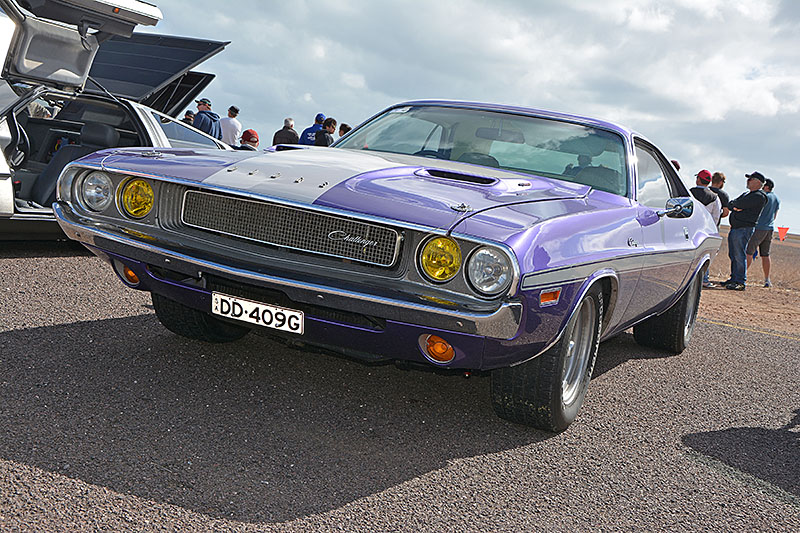 "Want me to take you for a run?" Kevin asks. Hell yeah! Don't let the white hair or aging machinery fool you; the 70 year old laid down a searing time; his XW Falcon Phase II 1970 Bathurst race replica showing my VY Sandman a clean set of heels, despite a clunky 2-3 gearchange.
The whiteboard shows a 15.393; "What did you think of that?" Kevin asks with a cheeky grin. I'll be honest, charity never felt so good!
If you want to get involved, please contact Kev or Rachel through the website at: aussiemusclecarrun.com
MALCOLM & JOSH BEATTIE
2014 CHEVROLET C7 CORVETTE LT1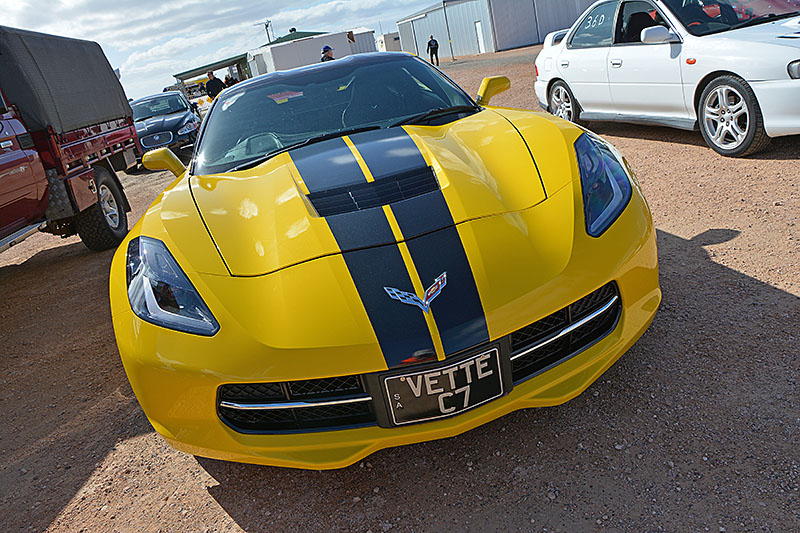 MALCOLM BOUGHT the Corvette new in 2014 and had it shipped straight to Shogun Vehicle Conversions in the Philippines. He was keen to know what it would do down the half-kilometre, so entrusted his son Josh with the task.
"It's all stock, aside from the right-hand-drive conversion," Malcolm informs us. "It's got launch control; you put the feet hard on both pedals, lift off the brake and it sorts itself out," Malcolm continues, "but the lad forgot all about it!"
Josh interjects, "Nah, I forgot on the first run, but remembered to turn off the air conditioning, then I used it on the second run but left the aircon on! Still, I knocked off 0.04 seconds in climate controlled comfort!" he laughs.
"I'll be selling this soon," Malcolm advises, gesturing to the yellow missile he's barely run in. Whipping out his phone, he scrolls through a bunch of tasty jpegs, "I've actually ordered a new one; it's supercharged and knocks about 0.8 seconds off the 0-60mph time!" At a flat 3.0 seconds to the metric tonne, it's certainly not sitting around, and we'll expect better than 14.4 next time!
ROB WANN
1974 DODGE D5N TWIN TURBO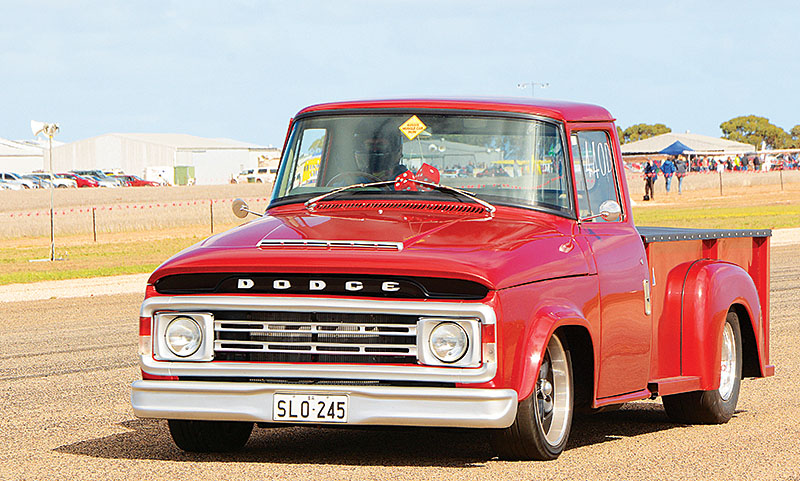 ASIDE FROM the Air Tractor AT-502 crop dusting plane in the show and shine, Rob's Dodge truck was surely the standout heavyweight at the Copper Coast 500 Sprints.
Built from an old ETSA truck, the flatbed was binned in favour of the custom step-side tub, scratch built aside from the factory Dodge wheelarches.
"We're still getting it engineered so it hasn't seen a weighbridge yet, but it would have to be about two tonne!" Still, motivation is no problem for Rob's truck, which has had the 245ci low-compression Hemi binned in favour of a 440ci big block force fed by twin Garrett T3/T4 turbos.
"We're only making about 7psi of boost and we're having some problems," Rob admits, speculating that the boost-referenced pressure regulator isn't keeping up with the Demon carburettor's demands under extreme load. "I've had a fiddle and turned it up; we did a 16.695 before with me backing off, then getting back on it, then an 18.1 just rolling through the traps.
"But I can't diagnose it properly here and now; if I tear up the runway things will get emotional!" he laughs.
Unique Cars magazine Value Guides
Sell your car for free right here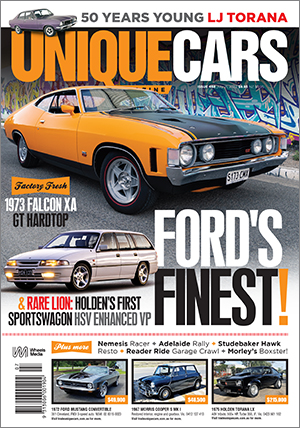 SUBSCRIBE TO UNIQUE CARS MAGAZINE
Get your monthly fix of news, reviews and stories on the greatest cars and minds in the automotive world.
Subscribe