Goodwood Revival 2013
---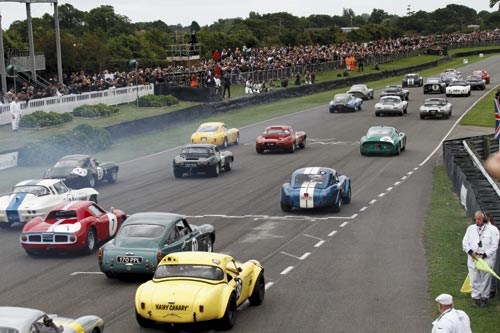 Goodwood Revival 2013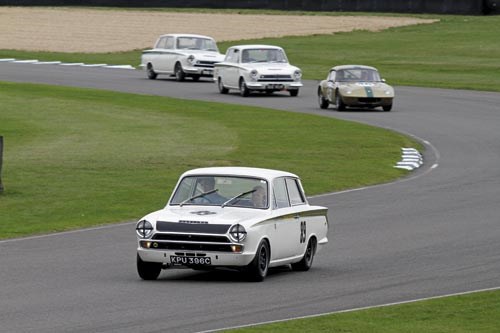 Goodwood: Cortina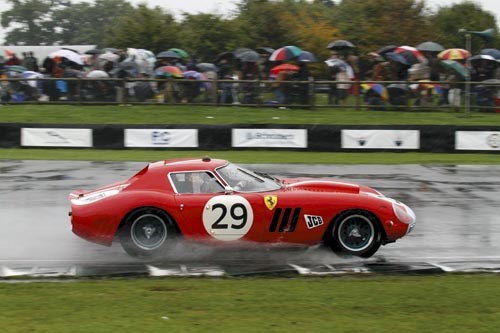 Goodwood: Ferrari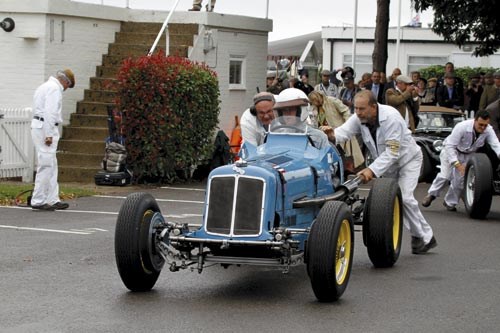 Goodwood: ERA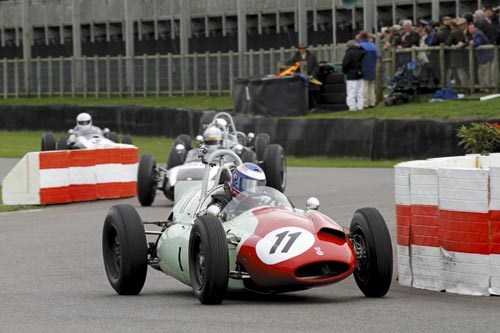 Goodwood: Cooper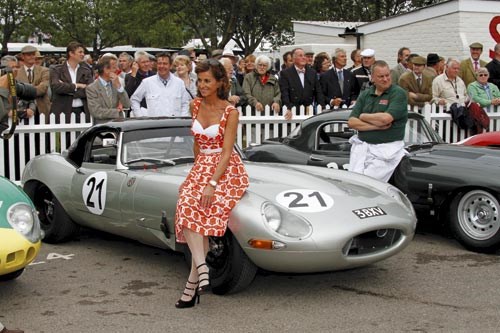 Goodwood: Jaguar E-Type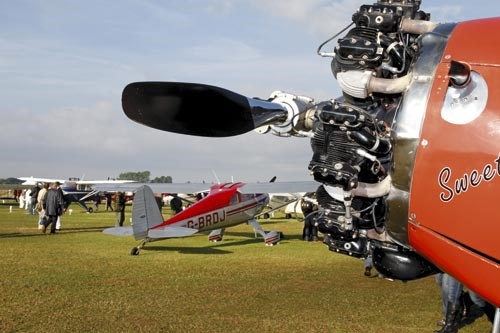 Goodwood: Boeing Stearman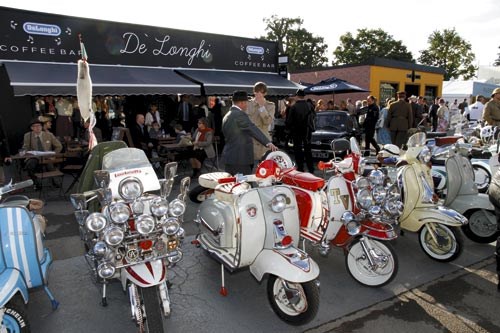 Goodwood: Scooters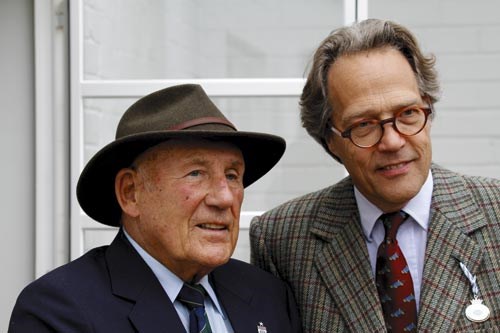 Goodwood: Sir Stirling Moss & the Earl of March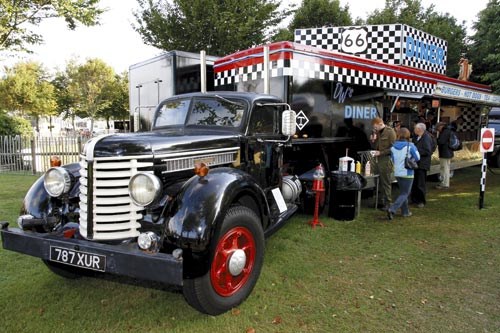 Goodwood: Diamond T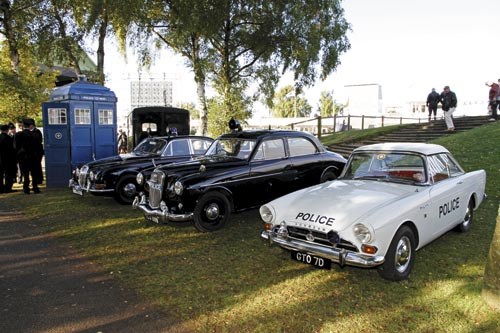 Goodwood Revival 2013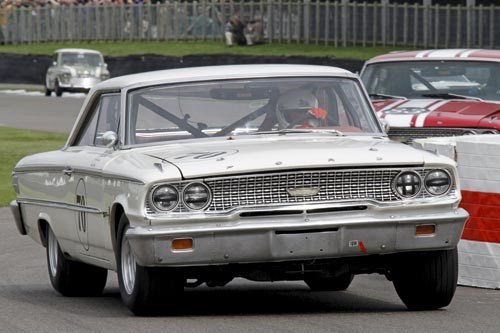 Goodwood: Ford Galaxie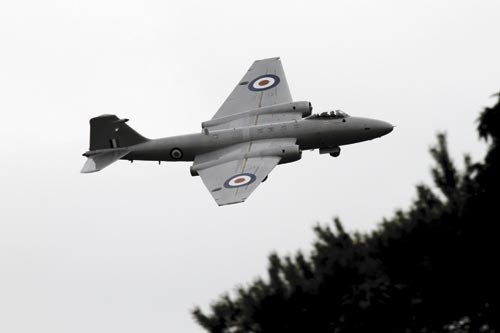 Goodwood: English Electric Canberra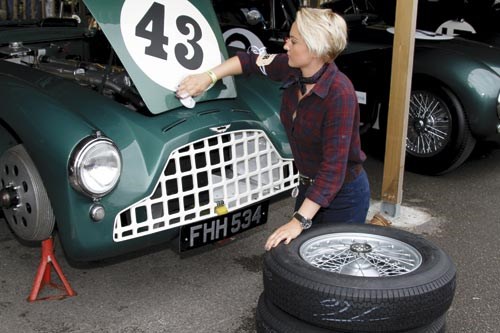 Goodwood: Aston Martin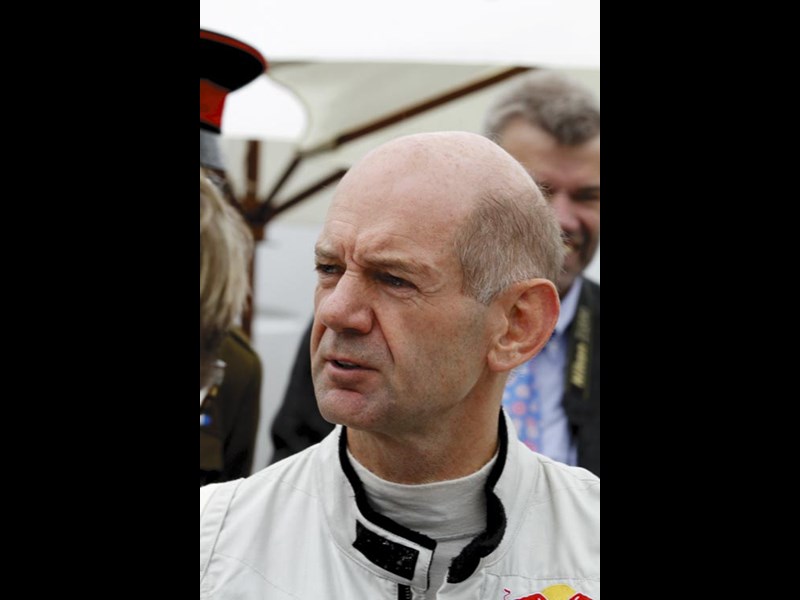 Goodwood: Adrian Newey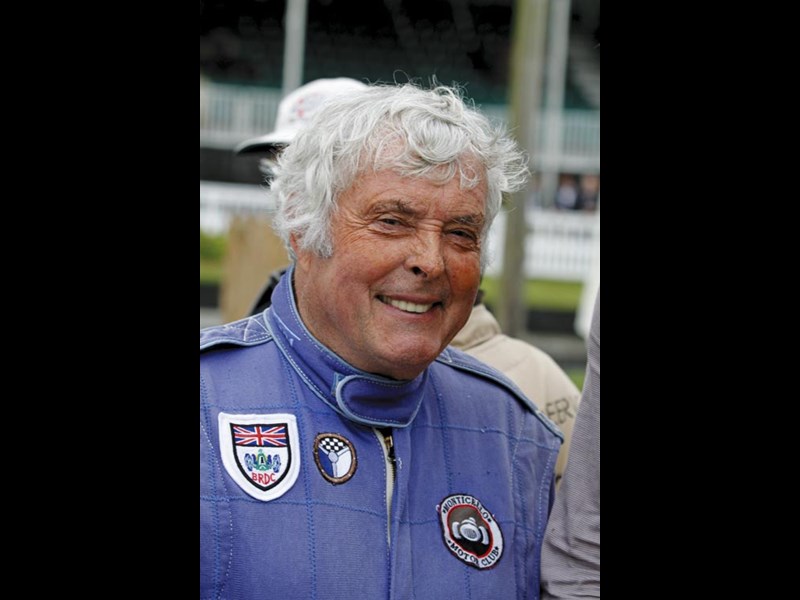 Goodwood: Brian Redman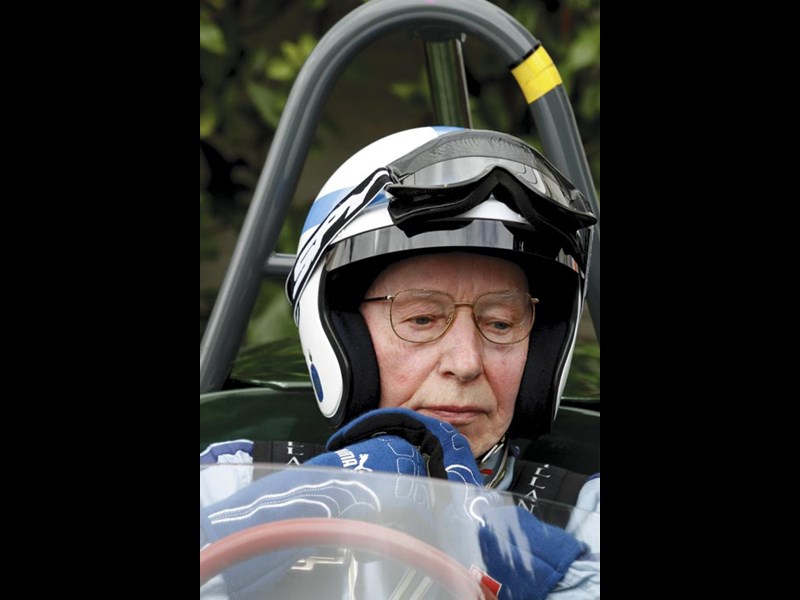 Goodwood: John Surtees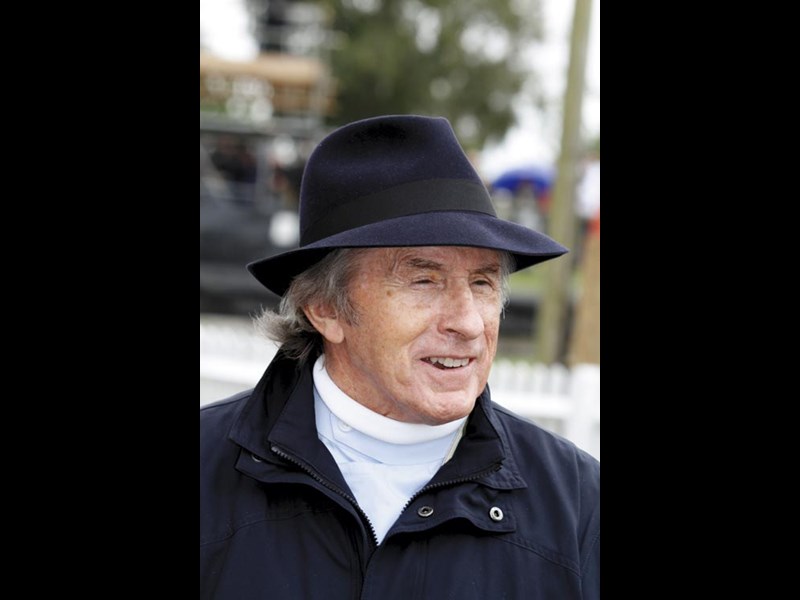 Goodwood: Sir Jackie Stewart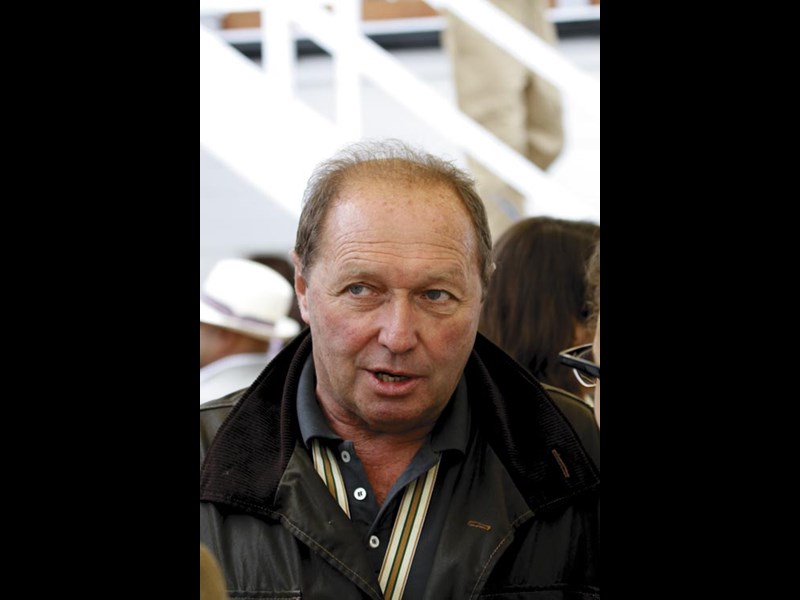 Goodwood: Jochen Mass

Goodwood: Derek Bell

The Goodwood Revival continues to draw the world's best racing cars and big crowds, says Tony Watts...
Goodwood Revival 2013
HIGH OCTANE REVIVAL
To paraphrase a line from Forrest Gump, historic race meetings are like a box of chocolates: You never know what you are going to get.
The Goodwood Revival, held September 13-15 in the UK, was touted as 'the biggest historic car race meeting in the world'. So I arrived with high expectations which were actually exceeded. However it's not everybody's idea of an historic meeting.
It first came about in 1998 as the brainchild of the Earl of March, whose grandfather had opened the Goodwood Motor Circuit in 1948. The 2.4-mile (3.9km) circuit lies on the Goodwood Estate, and was originally the ring road for RAF Westhampnett, an airfield constructed during World War II.
Goodwood claims the circuit was – along with Silverstone – Britain's leading racing venue until 1966, when it was shut down over safety concerns.
The Goodwood Revival aims to relive the circuit's glory days, and that means the majority of races are for vehicles from the 1950s and 1960s, though of the 15 races for the weekend, the Goodwood Trophy included Grand Prix and the up-to-1500cc Voiturette cars of a type raced between 1930 and 1950. There are better historic meetings than the Revival if you're determined to see pre-War Bugattis racing, for instance.
What is unique about the Goodwood Revival is that many of the spectators become part of the theatre by dressing in period attire. And recreations of car dealerships, period motor shows, and fairgrounds add to the atmosphere.
The fairground, across the road from the circuit, featured plenty to keep children entertained, from period rides to a 'wall of death' display, and plenty for grown-up children too: I fancied a 1930 Rolls-Royce Phantom II Drophead Coupé, though not its GBP1.2m asking price. If you're interested in vintage fashion or motoring memorabilia, you could spend half a day in this area alone.
Bonhams conducted an auction on site on the Saturday, the highlight being an ex-Scuderia Ferrari 1935-36 Alfa Romeo 8C-35 Grand Prix Racing Monoposto that sold for GBP5.9m, though those of us with more modest means could have walked away with a Spitfire cockpit mirror and some instruments for a more realistic GBP625, for instance.
The aeronautical side is a big part of the event, with the Freddie March Spirit of Aviation concours d'elegance for historic planes a feature of the Revival since 2007. Spectators were treated to a display by a Spitfire in the middle of Sunday, though with strong winds some of the other aircraft, including a Lancaster bomber, were unable to take off.
And while fly-pasts are appropriate, some of the theatre did seem somewhat incongruous: In the paddock, a snowy scene created in celebration of the 60th anniversary of Edmund Hillary and Tenzing Norgay's ascent of Everest may have sat well with the cooling Sunday afternoon weather, but did seem odd at a motor race meeting.
And as I wandered around self-consciously in a three-piece suit, I realised that the last time I'd worn a three-piece suit was on my wedding day, and that I was being nostalgic about a period that ended the year I was born.
Fortunately, one of the first vehicles I saw in the paddock was a 1964 Sunbeam Lister Tiger Le Mans Coupé. Only two of the aluminium-bodied coupés were built, and it happened that I'd been driven to Sandown to a race meeting in one as a teenager (for the life of me I can't remember how that came about). At least I could lay claim to some genuine nostalgia today.
Asking the mechanic whether the car had been in Australia I received a fairly noncommittal reply, as he pointed to a magazine article pinned under the wiper about the car's time there. Not the usual friendly banter I expect at a historic meeting, though he was engaged in mopping up a spill around the intake trumpets at the time, so perhaps he was more concerned about the car going up in flames than having a chat.
Still, for anyone interested in GT racing cars of the era, the paddock represents something like Nirvana. The 1960-1964 closed cockpit field included seven Ferrari 250s of various designations and a 330 GTO, seven Jaguar E-Types, six AC Cobras, three Aston Martins (including the ex-Graham Hill 1962 Project 212 Le Mans racer), two Corvette Stingrays, a Maserati Tipo 151, and a Lister-Jaguar coupé.
Under the adjoining shelters were World Championship and production racing sports cars from 1955 to 1960, featuring five Jaguar D-Types, five Lister- Jaguars, three Maserati Tipo 61 'Birdcages' and a selection of other rare and exotic vehicles of the period.
A range of open wheel Grand Prix and Formula 2 cars included Lotuses, Brabhams, BRMs, Lolas and even a jewel-like 1964 Ferrari 1512, driven by John Surtees in the 1965 season. The sound of its 1.5-litre flat 12 at full throttle was as thrilling as admiring its incredible packaging in the pits with the engine cover removed.
And as though that display wasn't overwhelming enough, in the adjacent paddock, 27 Ford GT40s, which featured in a 45-minute, two-driver race on Saturday afternoon, had me wondering whether you could actually have too much of a good thing. It is a rare pleasure to see one original GT40, but seeing this many in one place made them seem common, somehow.
Strangely absent from the paddock were the drivers of the cars – I'd expected to find Adrian Newey somewhere near his GT40, or Emanuele Pirro, who was racing in one, but they were nowhere to be seen.
This is because there is a separate enclosure with what looks like a gentleman's club with a mess-hall attached for drivers and their families, from which general admission ticket holders were excluded. My hosts from Rolls-Royce gave me a tour, so I got a brief glimpse, but the general public doesn't rub shoulders with the drivers, which seems something of a shame.
That said, the Revival is no static display of vehicles, and it is a great pleasure to see the cars on track banging wheels and rubbing panels in some instances. Whether you believe in 'the good-old days' or not, watching the rarest cars on the planet four-wheeldrifting around the Goodwood circuit's sweeping bends makes you appreciate the skill of the drivers – you could see the work at the wheel to keep it all under control, especially as the rain fell on Sunday afternoon. It was entertaining racing, despite the lousy English weather.
One Revival regular told me she thought the event may become a victim of its own success, and with somewhere around 150,000 visitors for the weekend I could see her point. It's probably why the drivers are given their own compound. She admitted she'd stopped going to the Festival of Speed for that reason.
But I doubt there's any other event in the world that attracts such a fine collection of historic racing cars and motorbikes.
When I bumped into Wayne Gardner on his way to ride a Matchless G50, I asked him what he thought of the Revival. "I've done it 10 or 11 times," he said. "There's nothing else like this. It's an honour to be here." I'm not sure I could have said it more succinctly.

The writer attended the Goodwood Revival as a guest of Rolls-Royce Motor Cars.

***** 
More reviews:
> Goodwood Festival of Speed 2013 here
Unique Cars magazine Value Guides
Sell your car for free right here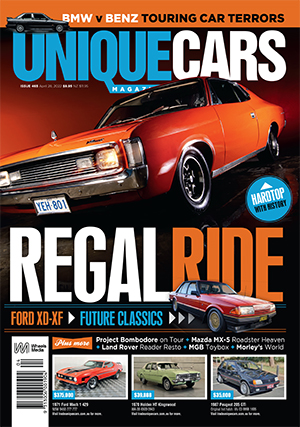 SUBSCRIBE TO UNIQUE CARS MAGAZINE
Get your monthly fix of news, reviews and stories on the greatest cars and minds in the automotive world.
Subscribe