Porsche Rennsport motor racing festival 2013
---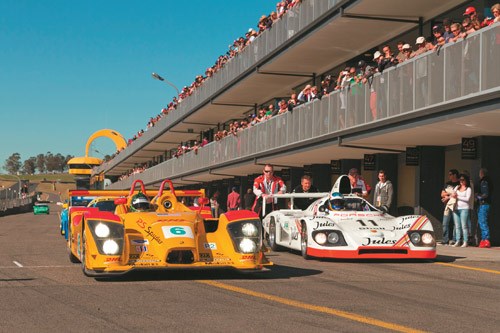 Porsche Rennsport motor racing festival 2013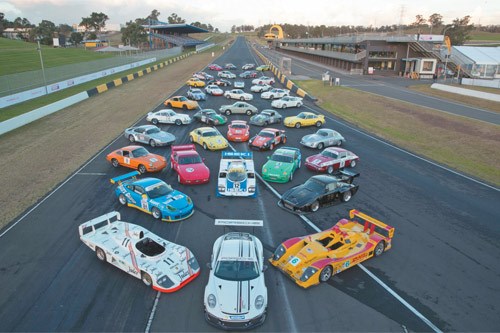 Porsche Rennsport motor racing festival 2013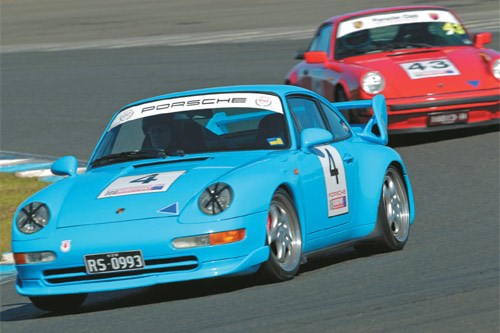 Porsche Rennsport motor racing festival 2013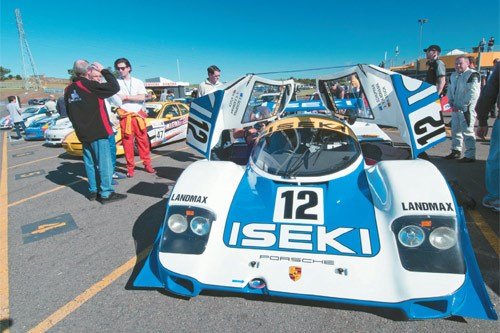 Porsche Rennsport motor racing festival 2013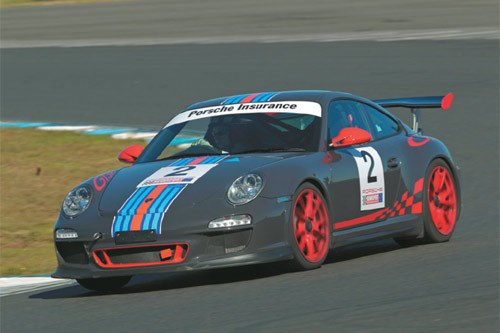 Porsche Rennsport motor racing festival 2013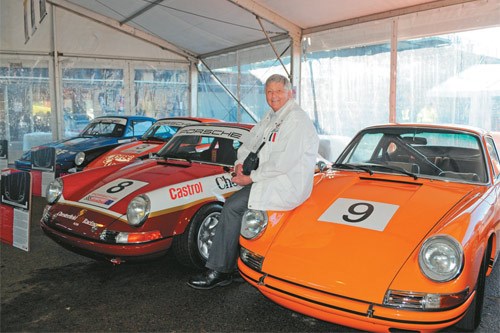 Porsche Rennsport motor racing festival 2013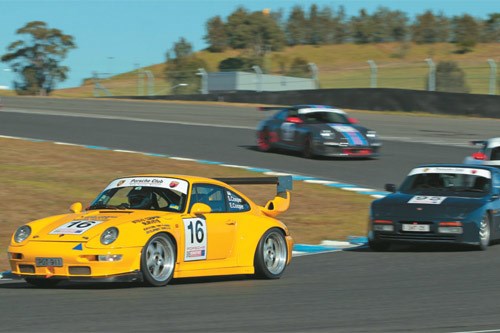 Porsche Rennsport motor racing festival 2013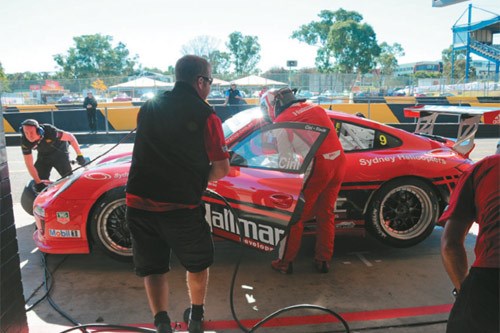 Porsche Rennsport motor racing festival 2013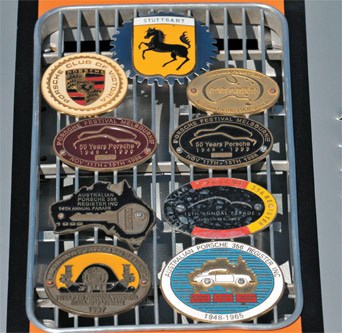 Porsche Rennsport motor racing festival 2013

Australia's first Rennsport Motor Racing Festival was a 'must-do' magnet for Porsche enthusiasts
Porsche's Paradise
Alan Hamilton was there, at the wheel of the Signal Orange Porsche 911 TR in which he took on the Australian Touring Car establishment in the late 1960s, missing the 1969 title by '10 yards' and a single point. And so was 1970 Australian Driving Champion Leo Geoghegan, the pair pressing flesh again for the first time in more than 30 years.
The connection? They, like a roll call of Australian driving luminaries from Alan Jones to Peter Brock, John Harvey to Jim Richards, all raced Porsches during their illustrious careers. And if they weren't at the inaugural Porsche Rennsport Motor Racing Festival staged at Sydney Motorsport Park over the May 25-26 weekend, then the cars they made famous were.
'Rennsport' (Renn = race) is an American idea dating back to 2001 when the inaugural Rennsport Reunion was staged at Lime Rock Park in Connecticut. It was an overwhelming success, with 18,000 spectators watching more than 300 classic Porsche racing cars of all ages being exercised as the good Professor Ferdinand intended.
Since then, three more Rennsport Reunions have been staged in the States with similar success, with a number of Australian Porsche enthusiasts – including Ford Performance Racing co-owner Rusty French – heading over to take part.
However the inaugural Australian Rennsport never tried to replicate its US counterpart. Rather than an historic festival in a country with a much smaller car park of early racing Porsches, Rennsport Australia was more focussed on current Porsche racing.
More than 240 Porsches, from early 356 models to the latest 911s and Le Mans winners, took to the Eastern Creek circuit over the weekend for 37 track events, with on-track action including rounds of the 2013 Carrera Cup and GT3 Cup Challenge feeder series, along with races for Porsche sports cars of all ages, Historic Group S and N Porsches, Regularity (average speed) events and demonstrations.
Off-track, there was plenty to keep both participants and punters busy, with another 120 immaculate Porsches in the Concours and Show 'n' Shine displays, while the most significant cars in Porsche history were gathered for everyone to admire in the Porsche Strasse marquee. Together with the privately owned Porsches driven to Rennsport, the total Porker population was estimated at around 500 – plenty to keep busy the estimated 4000 enthusiasts who gathered in perfect cloudless weather over the weekend.
Rennsport Australia grew from a conversation last year between Australian Carrera Cup Elite Class driver, Marc Cini, and Porsche Cars Australia's Director of Marketing and Motorsport, Kevin Nicholls.
Cini, like many other Carrera Cup drivers, was frustrated by the restrictions on racing and practice facing the category in its role as a support to the V8 Supercars and was looking for an Australian forum where the Porsches could perform to their full crowd potential; Nicholls, on the 50th year anniversary of the 911, was convinced and Rennsport Australia was born around a core of Championship rounds for both the Carrera Cup and hand-me-down GT3 Cup Challenge series.
In the US, getting the word out to enthusiasts would have brought hundreds of priceless historic Porsches out from private collections, but Australia is not so bountifully blessed.
Instead, there were two special Porsches on track from the company's Museum in Stuttgart – the 1981 Le Mans-winning 936/81 Spyder that had already been seen in Victoria at the Phillip Island Classic and Australian Grand Prix in March and the 2005-06 American Le Mans series-winning RS Spyder V8 sports car that had been in Australia since appearing at Bathurst last year.
Australia's 2004 Carrera Cup Champion and current FPV V8 Supercar driver, Alex Davison, again drove the former, while reigning Carrera Cup Champion, Craig Baird, willingly accepted the invitation to pilot the Spyder RS in on-track demonstrations.
Despite the fast and furious Carrera Cup action, which included two unique one-hour Pro-Am races, the real stars of Rennsport Australia were the 'ordinary' Porsches that turned out in their droves for the one-make meeting.
Strolling the car park and paddock was a Porsche spotters' paradise, with 'RS' rolling off the tongue as easily as 'GT' might at any regular Eastern Creek meeting.
Many people brought their Porsche pride and joy out for a rare outing, while some enthusiasts, like Sydney's Senes family, emptied their garages to bring a full selection – in their case a stunning black 1959 356 Speedster, a 1973 Carrera RS 2.7, a 1989 wide-bodied 911 Speedster, a very low-km 1992 964 RS 3.6, a 1995 911 RS CS 3.6 and a rare 1998 993 Turbo S – all but the Carrera RS Australian-delivered cars.
Behind the grandstand, 120 enthusiasts were polishing the bejesus out of their Porkers in the Show 'n' Shine with eight special cars parked beneath the central marquee in the much more critically judged full Concours.
Celebrity Sydney Porsche repairer Ron Goodman took out the major trophy with his stunning black 1953 model 356 Cabriolet from Paul Muras' beautiful red 1989 front-engined 928 S4 coupe.
But Ron Goodman was far from a one-trick pony. Back in the paddock his extraordinary display of early 356s included two early racing examples prepared for Rennsport USA that embarrassed many later model Porsches in the Historic Porsche races, with Goodman spending as much time sideways (even on the straight bits) in his early 356 Le Mans spec Coupe on its cross-ply tyres as he did driving neatly!
A Porsche Kids' Driving School with special Porsche-liveried pedal cars, an off-road course for Cayenne 4WD demos, a full Porsche Rennsport showroom stocked with the latest models in Racing Yellow and the Porsche Sports Driving School that gave thrill rides in the latest Cayman S coupé on the circuit's skidpan, were attractive distractions.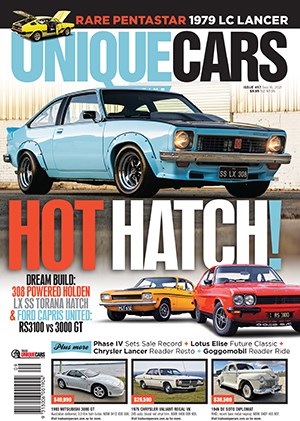 Subscribe to Unique Cars Magazine and save up to 42%
Australia's classic and muscle car bible. With stunning features, advice, market intelligence and hundreds of cars for sale.
Subscribe