US Muscle Car Showdown homepage
---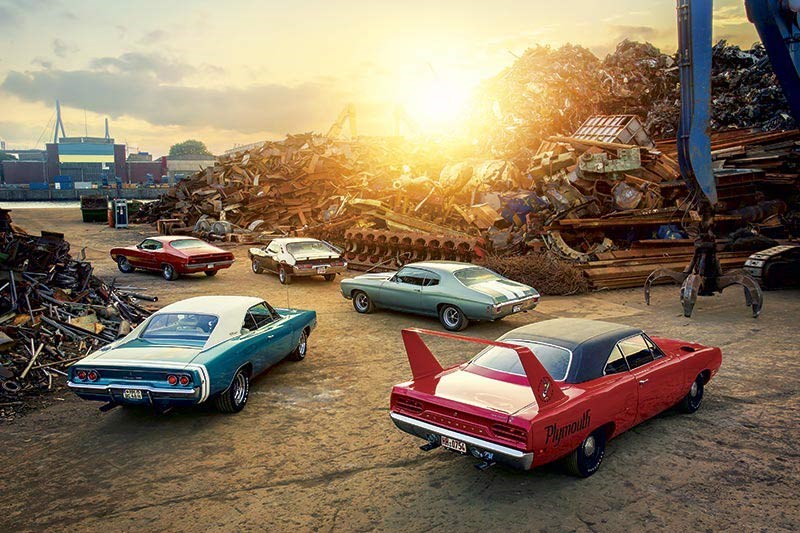 US Muscle Car Showdown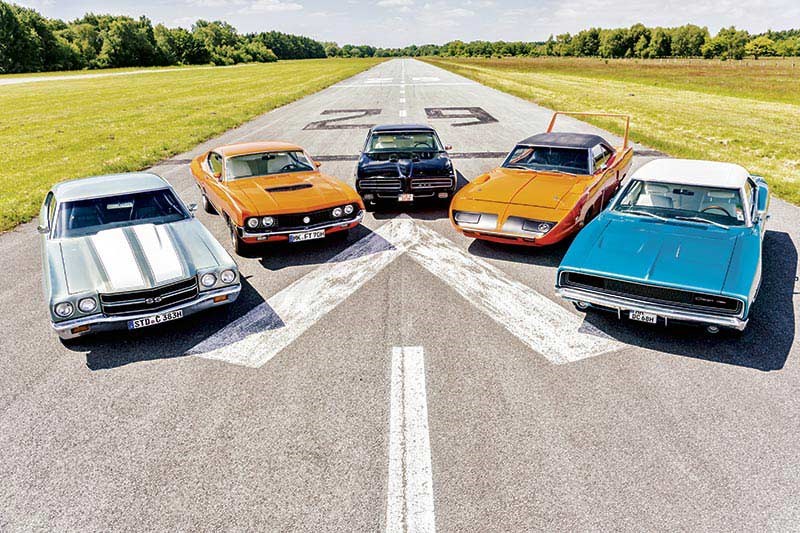 US Muscle Car Showdown

We compare five classics from the golden era of muscle cars in one road and track test: Ford Torino, Pontiac GTO, Dodge Charger, Chevrolet Chevelle and a Plymouth Superbird.
US MUSCLE CAR SHOWDOWN
HEAVY METAL
America no longer recognises itself. The 1950s jukebox-romance of cruising in Daddy's Caddy is gone. Almost accidentally, something new is brewing in the workshops of the Detroit big-three. Welcome to the 1960s!
Young engineers who, a few years earlier, were cruising around American suburbia in self-built hot rods are employed in Detroit's development departments with a new concept: Factory hot rods; unadorned middle-class cars, without unlimited chrome or luxury, but with lots of performance straight off the dealer's floor.
They convinced their bosses that cheap speed was the zeitgeist and that it would sell.  With some trepidation, General Motors were the first to test the water with the 6.3 litre Pontiac GTO hitting the road in 1964. and within a very short space of time every US manufacturer had its own muscle car program.
To accompany them Ford, General Motors and Chrysler offered a whole universe of psychedelic colours, funky ad campaigns, catchy slogans and performance accessories for most models. Some 50 years later, muscle cars are no less desirable.
THE CONTENDERS (in order of how we rated them #1 - 5):
THE VERDICT
After giving the cream of the muscle car crop some serious pedal, we had to make a decision. And it's not in the order you picked 'em.
Sometimes a group test can be upsetting: how can you rationally assess such irrational cars?

Road and track, performance and image, that's all that mattered. But these voracious muscle cars disappeared from the market almost as quickly as they'd appeared when the various oil crises of the early '70s came along. But what's the winner out of Ford's Torino, Pontiac's GTO, The Chevy Chevelle, Dodge Charger and Plymouth Superbird?
After extensive driving, it all comes down to a spirited argument in the editorial office regarding the merits of displacement, horsepower, colour, sound and adrenaline. No, the Superbird doesn't soar over all of them. Its design and the magnitude of its image are as hard to believe as its current market price, but its handling and practicality certainly don't reflect this. In fact, its usability is pretty much inversely proportional to its value:
therefore the racecar with the XL-sized wing ranks only fifth.
The Ford Torino GT is definitely the underdog of this group. It doesn't feature on anyone's list of great muscle machines and this as much as anything keeps prices under control. However with its two-ton weight, elegant SportsRoof, ample 429 V8 and white pleather interior, the Torino is more suited to a romantic getaway than the traffic light grand prix. Fourth place, with an honourable mention.
It feels like everything has already been said about the Dodge Charger: the superstar of the muscle car circus scores highly with its beguiling mix of bad-boy image and beautifully sculpted body, but the chassis is completely overwhelmed by the brawn of the 440 motor; treat it with respect and you can still dream of NASCAR glory. A 1968 Charger can now cost well over 10 times its original price and thanks to a tight-knit global community of
enthusiasts, MOPAR parts are readily available. Congratulations on a fine third place.
The Chevelle is widely under-valued, but those in the know love their Chevys and it's easy to see why. The test car may have had significant engine and chassis mods to achieve full potential, but that's the way it's always been; therefore it wins its 2nd place fair and square.
None of this glorious madness would have even existed, were it not for the 'Gran Turismo Omologato' – not that many Americans actually knew – or cared - what the abbreviation stood for. The GTO is not just the seed from which the Muscle Car phenomenon grew: it still impresses today with its well-resolved handling and punchy performance. With a 'stick-shift' manual and triple-carb 6.5 litre V8 producing noise, torque and power in biblical proportions, it's a well-deserved first place for the Pontiac!
Unique Cars magazine Value Guides
Sell your car for free right here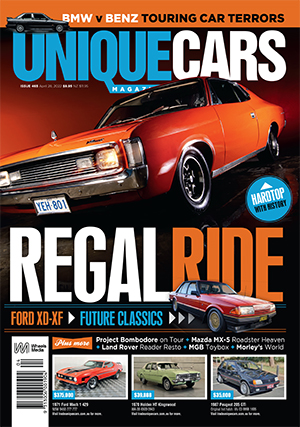 SUBSCRIBE TO UNIQUE CARS MAGAZINE
Get your monthly fix of news, reviews and stories on the greatest cars and minds in the automotive world.
Subscribe