Chrysler VH Valiant Charger E49 vs Plymouth Hemi 'Cuda
---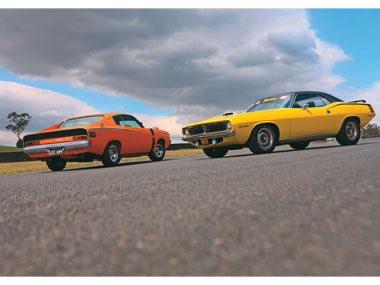 VH Valiant Charger R/T E49 vs '71 Plymouth Hemi 'Cuda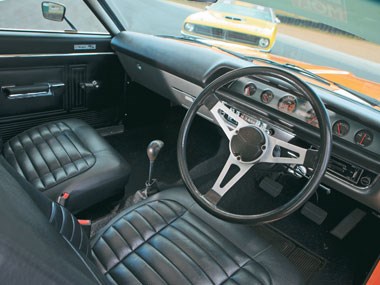 VH Valiant Charger R/T E49 vs '71 Plymouth Hemi 'Cuda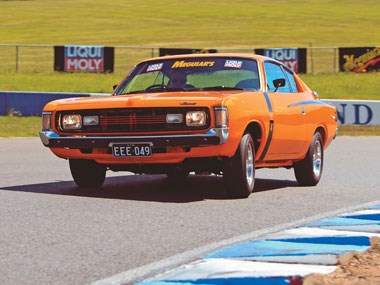 VH Valiant Charger R/T E49 vs '71 Plymouth Hemi 'Cuda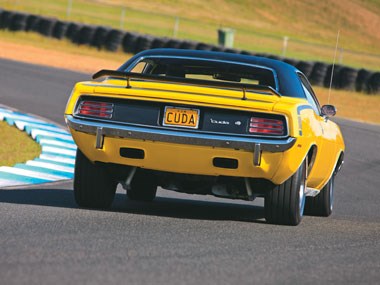 VH Valiant Charger R/T E49 vs '71 Plymouth Hemi 'Cuda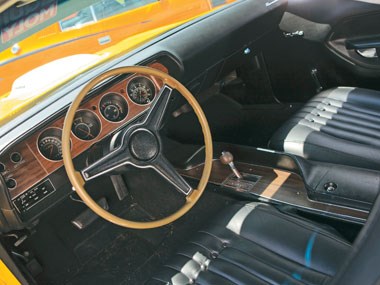 VH Valiant Charger R/T E49 vs '71 Plymouth Hemi 'Cuda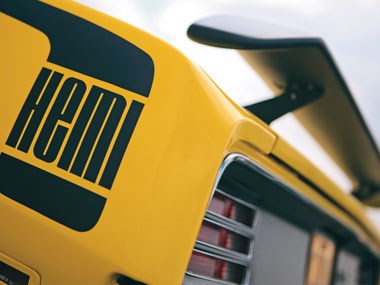 VH Valiant Charger R/T E49 vs '71 Plymouth Hemi 'Cuda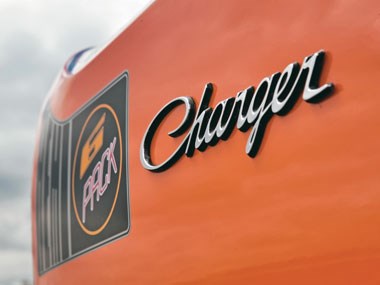 VH Valiant Charger R/T E49 vs '71 Plymouth Hemi 'Cuda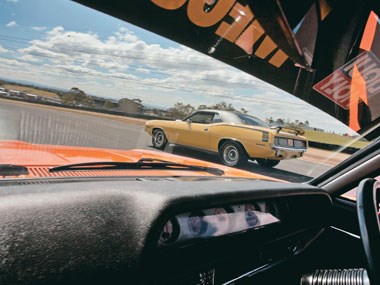 VH Valiant Charger R/T E49 vs '71 Plymouth Hemi 'Cuda

USA vs Oz: '72 VH Chrysler Valiant Charger R/T E49 vs '71 Plymouth Hemi 'Cuda. The yank and the Aussie go head-to-head.
Like the Camaro and Monaro, the Aussie 1971 Valiant Charger and Yankee Plymouth 'Cuda evolved in parallel universes and were the product of the same thinking. But again, like the two GM cars, they were worlds apart, even if their interiors were uncannily close.

The local Charger was a last-minute spin-off from the first clean-sheet Aussie VH Valiant design, which, by 1971, had matched, then overtaken, the US Dodge Dart in size with its 111in (2819mm) wheelbase and extra width. In a process similar to the first Mustang, the Charger wheelbase was chopped to 105in (2667mm) but the budget didn't extend to a new front section. Imagine a 1965 Mustang fastback rear mated to a 1965 Falcon front on a similarly chopped wheelbase.

Even if the thinking was proven, the local Charger can look like two different cars mated together from some angles - something that applied equally to early Valiant-based Barracudas, but not the 1970 model, styled by John E. Herlitz.

The 1970 'Cuda and Dodge Challenger shared a brand new E-body platform, a shorter, wider version of the Chrysler's B-body platform. Despite sharing the same platform, the two shared no sheetmetal.

The E-body Barracuda was now able to shake the stigma of 'economy car' and it marked the end of any association with the Valiant compact. The 'Cuda wheelbase lost two inches compared to the Challenger for a 108in (2743mm) wheelbase, which left it better balanced as a V8 than the local Charger but too close in size to Aussie family cars for it to be a compact, more youthful alternative here. That a post-1970 'Cuda was so scarce on Australian roads - even allowing for the restrictions of that era - says something.

Three versions were offered for 1970 and 1971: the base Barracuda (BH), the luxury-oriented Gran Coupe (BP), and the sport model 'Cuda (BS). There was also a low-end model called the Barracuda Coupe for '71 only, which (like other Coupe series' Chrysler offered in 1971) had a fixed rear passenger window and minor B-pillar instead of roll-down rear passenger windows. The high-performance models were marketed as 'Cuda, deriving from the 1969 option. The E-body's engine bay was larger than that of the previous A-body, allowing the release of Chrysler's 426ci (7.0-litre) Hemi to the general public.

The 'Cuda's styling adds credibility to suggestions that the VH Valiant and XA Falcon styling team were working alongside each other in a shared US studio - the 'Cuda's front is close enough to identical to the XB Falcon facelift. The 'Cuda's curved sides and 'Coke bottle line' were clearly inspired by the Camaro, yet both were starting to look out of date by 1972 as Detroit was already moving towards a squarer, formal look - even if it would have been up to the minute in Australia. The 'Cuda's almost perfect proportions also hide the fact that it is a big car - too big to race on tighter local circuits and not different enough from local offerings to be worth the expense and trouble to bring one here.

Despite the local Charger's poverty origins, its cut-and-shut styling was not a big negative in the 1971-72 context. In fact, it was spot-on for an emerging youth market and, in hindsight, the Charger did more to keep the VH Valiant viable than it's ever been given credit for.

There were parallels in the competition models, too. Dan Gurney's All-American Racing (AAR) Team, which raced 'Cudas in the Sports Car Club of Americas Trans Am racing series, led to a special 'Cuda AAR in the same vein as the E49 Charger. But whereas Ford and Chevrolet built special models (Boss 302 Mustang and Camaro Z28) intended to mimic the race cars, Plymouth built a street rod. Along with the similar Dodge Challenger T/A, AAR 'Cudas sported a unique 340ci (5.6-litre) V8 with triple carbs and 290bhp (216kW). Externally, a matte-black, lift-off fibreglass bonnet, through body-side strobe stripes, tri-colored AAR shield, XW Falcon GT-style bonnet pins and a standard black ducktail spoiler gave AARs the requisite road-racer look. The AAR 'Cuda also had special shocks and re-cambered rear springs which raised the rear end 1.75 inches over the regular 'Cuda, which allowed clearance for exhaust pipes that exited in front of the rear wheelwell (after routing through the standard muffler beneath the boot). Although a worthy attempt, outright success eluded the 'Cuda AAR just as it did the local E49.

Because the AAR is thin on the ground in Australia, we brought in the even more desirable 426 Hemi version as a stand-in. At this point, it should have been a knockout victory for the 'Cuda, but this round marked the contest's turning point.

The 'Cuda impressed Ponch: "I love the Cuda's 426 Hemi personally. It actually handled better than I thought it was going to. You could use the power to drive it out of a corner."

Phil Walker damned it with faint praise: "A beautiful looking car but it was just like getting into a boat. Behind the wheel, the driving position was not good." Then Jim Richards: "It wasn't a favourite. I like the styling and it had a good engine, but it was not quite as good as expected." Joe Kenwright noted the superb transmission: "The way the big Slapstick TorqueFlite auto lets you drive it like a manual and harness all that power to make it stop as well as go was a milestone for the era. Just as well when it came with drum brakes."

John Bowe captured the ambivalence towards the 'Cuda: "Americana at its best, straightline and not much else. But that Hemi engine is so huge and strong. Typically American steering with bugger-all feel and seats that need sand paper to stop you slipping off. Yet I could own one if I had an oil company sponsor. "

Yet there was no such ambivalence towards the E49 Charger. Jim Richards was a fan: "The Charger just felt right, if not the best on the circuit." John Bowe agreed: "The E49 is unique with its four-speed and triple Weber six. I also love the styling of the car. Its handling is great and to sit in and drive, it is as good as any car here."

Joe Kenwright noted that it was the only one that was not a V8 in the contest, its engine "sounded like an old long-stroke Jaguar or Aston Martin when pulling out of a corner, then breathed like a thoroughbred at higher revs." It was something that didn't impress die-hard V8 man Phil Walker: "It doesn't sound any good; it won't idle. I like things that work quickly and nice. But the way it turns in for its age, you can't fault it."

It was at this point that superior Aussie seats were emerging as a significant difference - if not a deciding factor - in this contest. As editor Ponchard noticed: "It's as if Australians were permanently cornering," to which Kenwright added: "…while the Americans lounged in a straightline."

Jim Richards summed up the X-factor that backed-up the E49's exceptional driving feel for a win that was undisputed: "The styling was far better than other cars of the day and definitely became a trendsetter."
FAST FACTS
1971 CHRYSLER VH VALIANT CHARGER R/T E49
NUMBER PRODUCED: 149
ENGINE: 4340cc 6cyl, OHV, 12v, triple Weber carburettors
POWER: 225kW @ 5600rpm
TORQUE: 441Nm @ 4100rpm
WEIGHT: 1365kg
GEARBOX: 4-speed manual
WHEELS: 14 x 7.0-inch
TYRES: ER70H14
BRAKES:  discs (f), drums (r)
0-100km/h: 6.1sec
0-400m: 14.4sec
TOP SPEED: 211km/h
PRICE WHEN NEW:  $4300
1971 PLYMOUTH HEMI 'CUDA
NUMBER PRODUCED: 783
ENGINE: 5563cc V8, OHV, 16v, triple two-barrel carburettors
POWER: 216kW @ 5000rpm
TORQUE: 468Nm @ 3200rpm
WEIGHT: 1594kg
GEARBOX: 4-speed manual
WHEELS: 15 x 7.0-inch
TYRES: E60-15 (f), G60-15 (r)
BRAKES: discs (f), drums (r)
0-97km/h: 5.8sec
0-400m: 14.4sec
TOP SPEED: 220km/h
PRICE WHEN NEW: US$4340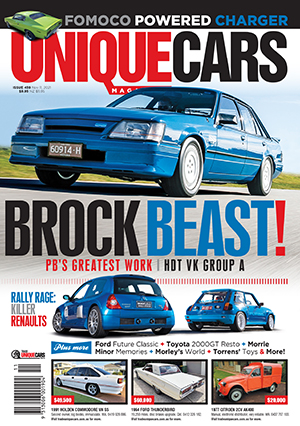 Subscribe to Unique Cars magazine for 12 months and save!
Australia's classic and muscle car bible. With stunning features, advice, market intelligence and hundreds of cars for sale.
Subscribe