Holden HT Monaro GTS 350 v Chevy Camaro SS 350
---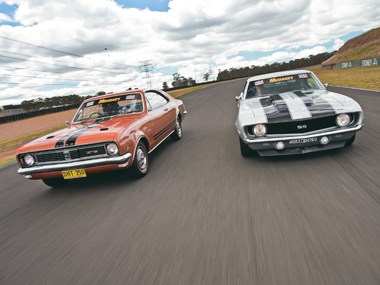 '69 Monaro vs '69 Camaro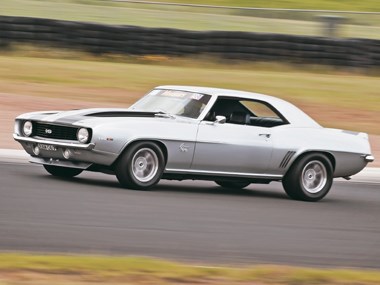 '69 Monaro vs '69 Camaro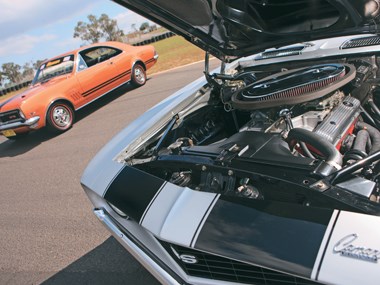 '69 Monaro vs '69 Camaro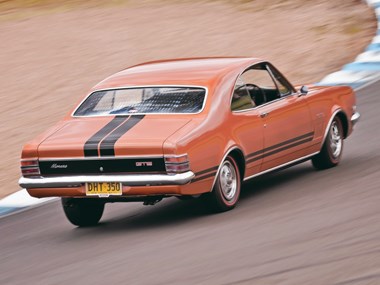 '69 Monaro vs '69 Camaro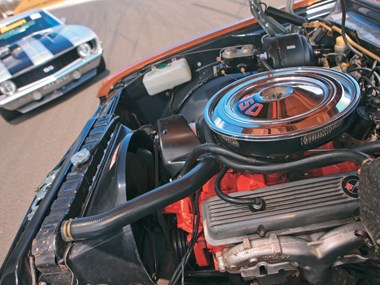 '69 Monaro vs '69 Camaro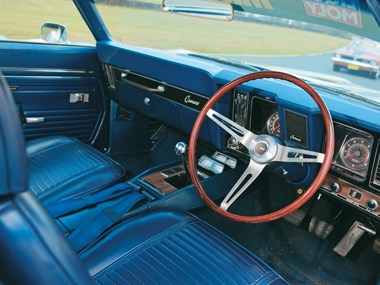 '69 Monaro vs '69 Camaro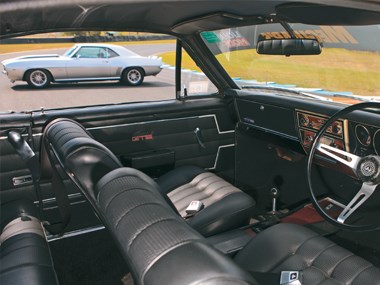 '69 Monaro vs '69 Camaro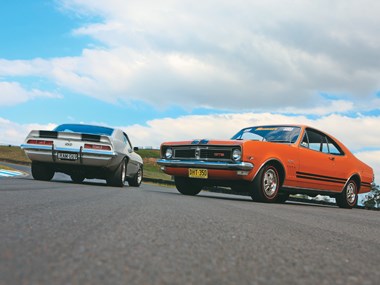 '69 Monaro vs '69 Camaro

USA vs Oz: Our '69 Holden HT Monaro GTS 350 goes head to head with the yanks' '69 Chevy Camaro SS 350.
The Camaro was an all-new 1967 release previewed in 1966. The HK Monaro was also slated for a 1967 release until Holden was forced to delay its next-generation family car and widen it to match the XR Falcon. Both '69 models were the ultimate refinement of a new generation of cars from Chevrolet and Holden.

They were also line-ball in terms of what they brought to the party as both were the responses to king hits from Ford: the Camaro was a hasty Mustang reaction while the Falcon GT prompted the GTS 350.

The GTS 350 reflected everything learnt from Bathurst the year before and then some - ready for another bout with a re-energised Falcon GT. And the Camaro was given what it needed to sustain its amazing sales and track successes in the face of a highly competitive 1969 Mustang.

The manual Monaro GTS 350, with its hotter 350ci (5.7-litre) V8, was a Bathurst special with plenty of upgrades over the GTS 350 automatic. Holden even nobbled the performance of the GTS 350 press cars by at least 15 percent so that no one, least of all Detroit, would find out that its local arm was selling a GT-HO track-buster.

Its true performance may never have been documented if Mel Nichols and Peter Robinson from Wheels hadn't revisited the later HG GTS 350 manual - the same car, but wrongfully dismissed as a shadow of the HT GTS 350 - and discovered that it was in GT-HO territory. The 300bhp (224kW) engine not only featured a much higher compression ratio than the auto (10.25:1 versus 9.0:1), it also had four-bolt mains.

Under the bonnet, the RPO L48 engine in the Camaro SS 350 was near enough to identical, but other improvements in the GTS 350 manual were driven by a single priority: to deliver Holden back-to-back wins at Bathurst, which it did. It was also a competent rally car.

The GTS 350 manual boasted a huge 25-gallon (113.7-litre) fuel tank, a Salisbury 10-bolt rear axle with limited-slip differential and a rear axle with radius rods and leaf springs with four leaves (same as GTS 327) versus the auto's three leaves.

The manual version also had "specially-designed shock absorbers, springs and stabiliser bar" described as "competition-tuned suspension" and the standard (fast-ratio) steering was unassisted. There were several brake-cooling measures, including slotted wheels. All HT models - including the GTS 350 - featured major changes to suspension bushes and the frame supporting the transmission.

On paper, the GTS 350 was at least as quick down the strip as the Camaro and on a long haul over anything other than the smoothest road, it would have been dust and daylight in the Monaro's favour.

Over 40 years later, Peter Robinson, following his epic drive of the HG GTS 350 manual in these conditions with essentially the same car, summed it up: "If I remember correctly it was almost as quick as a Phase III, but a very different car in character. The Monaro was more a born racer and less, what we then termed, a 'touring car'."

This race-bred character was instantly picked by editor Ponchard who noted that the GTS 350 felt a generation ahead of the two earlier Fords and much closer to a 1970s Holden. "You could feel all the elements that made it what it was when new." Ponch also noted the Monaro's more integrated dash and clean interior which have stood the test of time.

Because the GTS 350's dash was a product of the 1967 Camaro's, this was not enough to score against the 1969 Camaro dash and its fresh-air vents, both previewing what Australians would be looking at for much of the 1970s.

The 1969 Camaro highlighted the huge economies of scale in the US. Where the HT/HG gained little more than new plastic grilles and taillights to keep the HK's shape fresh until 1971, the final 1969 facelift of the 1967 Camaro was effectively a re-design inside and out. As a Holden, it would have been regarded as an all-new model, so extensive were the changes.

Through a limited dealer network, the Camaro, along with other US models such as the Pontiac GTO, was officially sold in Australia. The car featured in this shoot-out has been in Australia since new. Yet these first Camaros were never regarded as true competition for the Monaro. Their seats were not in the same league, the ride was fidgety and uncomfortable on local roads thanks to single-leaf rear springs that could not resist axle tramp and rear-end steering, their brakes were pathetic and the disposable body structure could never be trusted to deliver consistent handling over variable road surfaces.

The Camaro's quaint mixture of old and new, including door handles familiar to EJ/EH Holden owners, was seen as a stunning-looking Mustang response rushed onto the market as cheaply and quickly as possible. The 1969 model was Chevrolet's chance to catch its corporate breath. Bob Jane's ground-trembling 7.0-litre racing Camaro ZL-1 was based on the '69 body and its 1971 ATCC title further helped change local perceptions of the Camaro forever.

Everything from rear axle location, seating and dash design were changed to match the new 1969 look, which featured some of the most beautiful compound curves ever seen, along with fender accents inspired by the 'gullwing' Mercedes-Benz (which later found their way onto the HQ). The Camaro's integration of the C-pillar with GM's 'Coke-bottle' hip line and the slender windscreen pillars would influence car design for almost a decade. There is plenty of 1967-69 Camaro in the TC Cortina and XA Falcon.

Less obvious were the dealer-fit options which could transform a 1969 Camaro. You could order two 600cfm Holleys on a staggered inlet manifold, a Super Scoop forced-air induction bonnet design (read: A9X Torana almost a decade later) that exploited the high-pressure area at the base of the windscreen, rear disc brakes, Koni shocks, heavy-duty valve springs, transistorised ignition with a special distributor and a heavy-duty clutch and flywheel. Not only did our sample car feature many of these upgrades, it was the beneficiary of at least another decade of development in the hands of its enthusiast owner, including a switch to a modern Tremec six-speed gearbox.

Would the result have been different if this round was held on 1969 local roads with two stock cars fresh out of the showroom? Very likely, but on the day at Eastern Creek this was how it panned out:

Phil Walker summed up the overall sentiment: "The GTS 350 was like driving a truck. Everything was heavy. It was not my favourite. Yet I tried for two days to get the owner of the Camaro to part with his car. It's such a lovely, well-balanced car."

Jim Richards restored some perspective: "I raced a GTS 350. It was the biggest and the best for its time. It was quite a set-up, docile yet very quick, its seats were amongst the first to hold you in place. The design was classic Aussie muscle. It looked good anywhere, even if it was more conservative than the Camaro. Its engine is the X-factor."

John Bowe concurred: "The engine is lovely, full of torque and the gear ratios are nice and close. The driving position is excellent and I like the seat support more than the Camaro and the two earlier Fords."

Yet it's clear that Holden's efforts to make the HT GTS 350 unbreakable on Australian roads by isolating more road shock from the body hurt its chances.

Editor Ponchard: "The Camaro had loads of grunt, balance and it was a sharp tool. The power steering was beautifully weighted with no slack and sharp turn-in."

John Bowe: "It's no doubt that Trans Am improved the breed with the Camaro." Jim Richards: "Its handling and performance were up on the Monaro. Almost like a modern car in an old car's skin."

Though Joe Kenwright argued that the Camaro could never compete against the toughness and feeling of invincibility that the GTS 350 generated over any roads, so obvious even on the racetrack, he had to concede on the massive X-factor that favoured the Camaro.

By 1969, Monaro's chopped roofline over the sedan base was old-school Plymouth Barracuda and Rambler Marlin, even if it did generate more generous cabin space. The 1969 Camaro, starting with the same drivetrain as the Monaro, offered the same lower hip point and driver involvement as the Mustang as a bonus, then capped it with a more modern cabin and styling that many have judged to be the finest ever. John Bowe summed it up: "The styling is just the best." No one disagreed with him.
1969 Chev Camaro SS 350
NUMBER PRODUCED: 96,275 (all SS Camaros '67-69 - '67: 34,411, '68: 27,884, '69: 34,932)
ENGINE: 5733cc V8, OHV, 16v, single Rochester carburettor
POWER: 224kW @ 4800rpm
TORQUE: 515Nm @ 3200rpm
WEIGHT: 1558kg
GEARBOX: 4-speed manual
WHEELS: 14 x 6.0-inch
TYRES: F70 x 14
BRAKES: discs (f), drums (r)
0-97km/h: 8.3sec
0-400m: 15.9sec
TOP SPEED: 195km/h
PRICE WHEN NEW: US$3007
1969 Holden HT Monaro GTS 350
NUMBER PRODUCED: 700 (estimate)
ENGINE: 5733cc V8, OHV, 16v, four-barrel Rochester carburettor
POWER: 224kW @ 4800rpm
TORQUE: 515Nm @ 3200rpm
WEIGHT: 1380kg
GEARBOX: 4-speed manual
WHEELS: 14 x 6.0-inch
TYRES: 14 x 6.95 tubeless
BRAKES: discs (f), drums (r)
0-97km/h: 8.1sec
0-400m: 15.8sec
TOP SPEED: 201km/h
PRICE WHEN NEW: $3995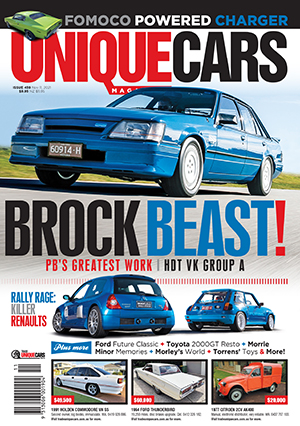 Subscribe to Unique Cars magazine for 12 months and save!
Australia's classic and muscle car bible. With stunning features, advice, market intelligence and hundreds of cars for sale.
Subscribe