Pontiac Luxury (1959-1969) - Buyer's Guide
---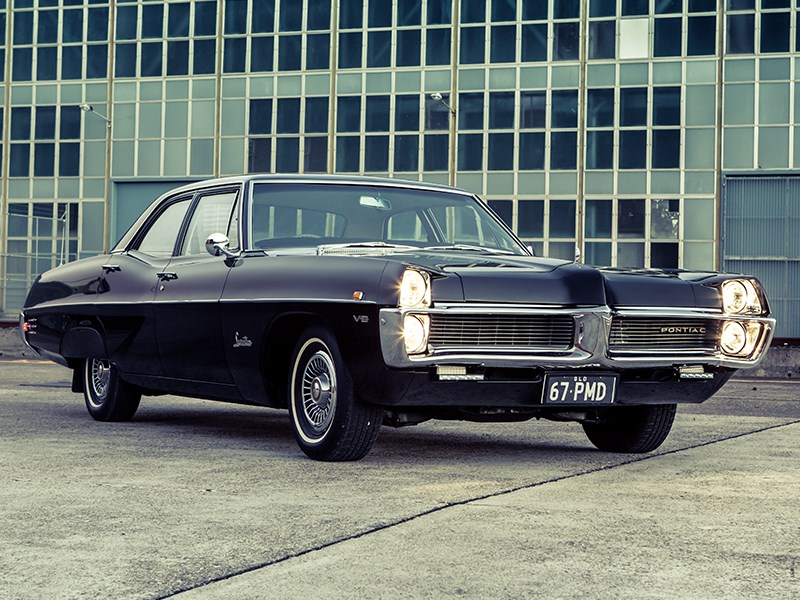 Full-sized Pontiacs in Australia are currently split almost equally between cars asembled here and imports
Pontiac was a strong seller in Australia until the late-1940s when Holden started building its own cars and couldn't sustain a full range of North American brands.
Imports continued to arrive until 1958, with styling that closely shadowed Chevrolet's before a new shape influenced principally by Buick appeared. A year later came the 'split-grille' which would become a Pontiac styling feature for decades to come, as shown on the Laurentian above.
Pontiacs then recommenced local assembly, but the models we saw in Holden showrooms were hybrids that used a Chevrolet chassis and mechanical components topped by Pontiac sheet metal.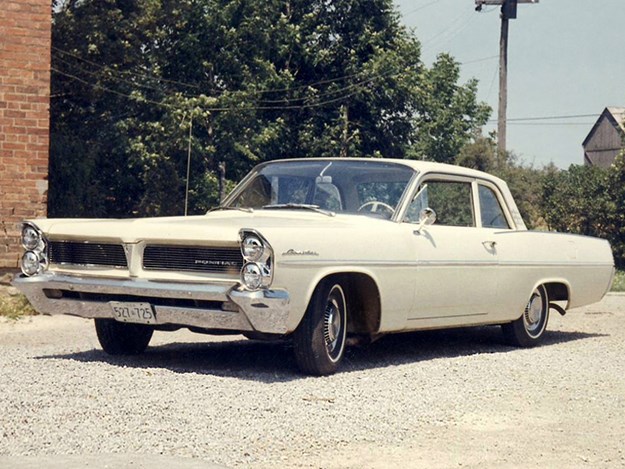 Billed as 'luxury' models, local Pontiacs had leather seats, carpet and a heater/demister. Almost everything else including the radio and power steering cost extra. By the mid-1960s power steering was made standard but the local cars couldn't match the opulence of Bonneville and Grand Prix models being imported by several metropolitan dealers.
These cars would be powered by Pontiac's trademark 389 cubic inch (6.5-litre) engine or perhaps the potent Tripower 421 with triple carburettors. They had bigger wheels and better tyres than local cars and featured electric windows, tinted glass and air-conditioning that would make them more attractive to wealthy buyers. For 1965 the local Parisienne line was enlivened by addition of a pillarless four-door Hardtop with vertically stacked headlights introduced at the 1963 restyle and the body now featured a pronounced 'Coke-bottle hip' that gave 1960s General Motors cars their distinctive profile.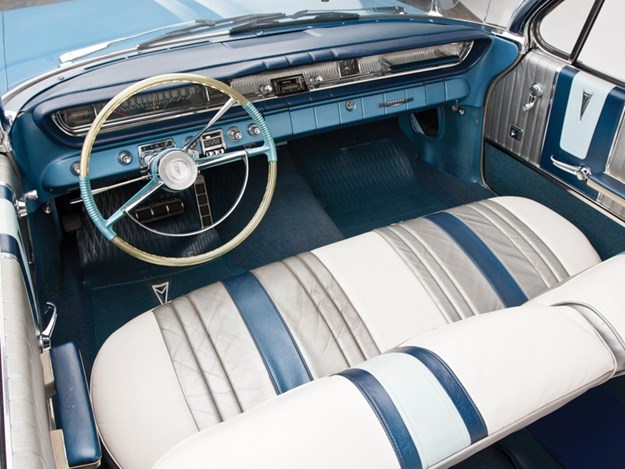 These were the first Australian Pontiacs to use a 171kW version of the 327 cubic-inch (5.3-litre) Chevrolet engine with performance to match the 6.5-litre Ford Galaxies that were also being assembled locally. Pontiac styling for 1967 shifted dramatically to incorporate a pronounced 'beak' that further emphasised the length of its large cars. In North America it
again followed Buick's lead by featuring hidden headlights on Grand Prix models, but Australian cars stuck until 1968 with stacked lights. The final 1968-69 Parisiennes had grille-mounted lights flanking a nose-extension more extreme than anything previously seen on a locally built car.
With the Statesman introduction GM-H saw no reason to continue the costly process of importing components to assemble the US-designed cars, so late 1969 saw the Parisienne and companion Chevrolet Impala disappear.
'Full-sized' Pontiacs available in Australia are currently split almost equally between cars that were assembled here and US imports.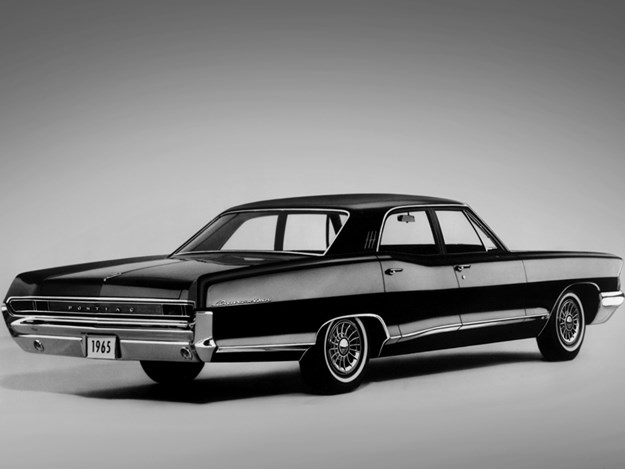 Currently the cheapest pre-1965 Parisiennes or Laurentians in average condition sell for under $25,000 and similar money will snare neglected examples of the mid-1960s Grand Prix and Bonneville hardtops.
These cars aren't bargain buying due to the amount of refurbishing they need, especially as the same models in excellent condition don't exceed $45,000.
We didn't see locally made Pontiac or Chevrolet convertibles and they aren't common as imports either. A Bonneville with power top in nice condition will likely cost around $60,000.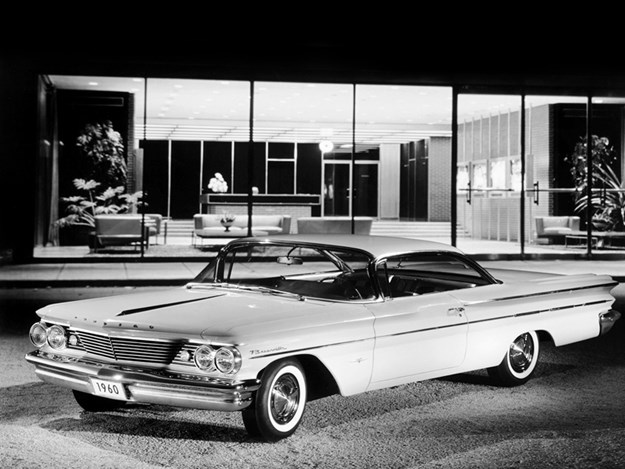 VALUE RANGE: Pontiac (1962-69 Bonneville Hardtop)
Fair: $18,000
Good: $32,000
Excellent: $45,000
(Note: exceptional cars will demand more)
BUYER'S CHECKLIST
Body & chassis
A solid chassis will protect older Pontiacs from catastrophic rust, but the frame needs to be checked for weakness around suspension locating points, chassis outriggers, the windscreen surround, turret edges, boot and internal floor-pans. Missing bumpers or peeling chrome will be expensive to replace or rectify. US suppliers have bars that should fit local models, but careful checking is wise to ensure you don't pay costly freight for incorrect parts. Even in the USA, parts that were once relatively common have become expensive, including rust-free doors at $600 each and $1000 for bumpers to suit 1968 'hidden headlight' cars. Convertible tops need checking for fabric damage and frame twisting.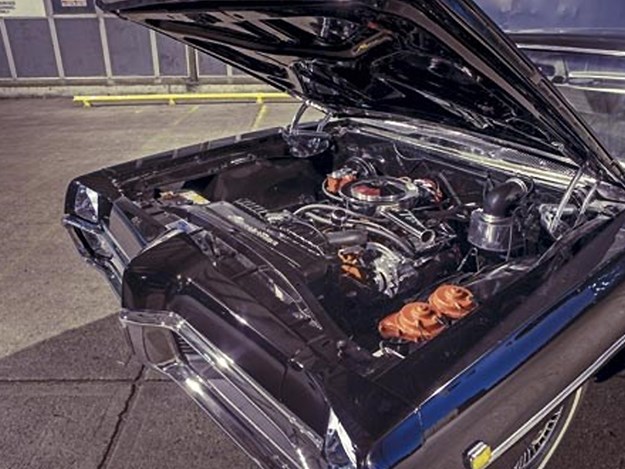 Engine & transmission
Everything beneath the bonnet of a 1960s Pontiac will be easy to acquire. The engines are under-stressed and only high mileages or serious neglect will cause major problems. After a test-drive listen for hissing or bubbling from the radiator. Oil leaks from the top section of the engine usually aren't seriously expensive to rectify but be wary of drips underneath
the engine which could be a main bearing seal. Stuttering and backfiring will likely be a timing issue or carburettor problem. The Powerglide transmission is old-fashioned but should shift smoothly. At speeds below 80km/h they should also accept a manual downshift to Low gear without shuddering or refusing to respond.
Suspension & brakes
Brakes are a real problem with these large, heavy cars. In good condition, the all-drum system with power assistance will pull the car up quickly and with minimal pedal pressure. Pressing on the pedal for 30 seconds while the engine is running will reveal hydraulic problems. Listen when the brakes are lightly applied for noise and vibration signifying binding shoes, out-of-round drums or warped front discs. 1960s RHD conversions would normally use new components as the cars were sold through dealers with warranty, however later or private imports can display dodgy engineering.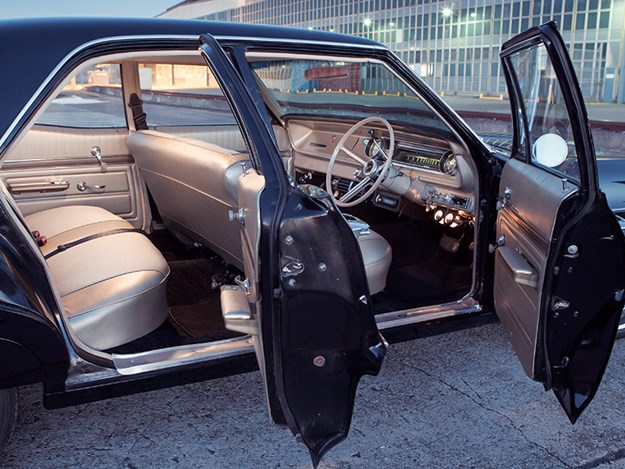 Interior & electrics
Early-1960s Australian cars came with leather trim and returning these to original condition will be costly. Imports used a range of fabrics and vinyl which can be obtained from restoration suppliers or overseas. Basic models have little that can fail but check that the heater/demister controls aren't seized. Cars with power windows and seat adjustment and especially those that are air-conditioned can be suffering from age-related faults that involve significant cost to rectify. Check that all power-assisted items work and get quotes to fix those that don't work before making an offer on a car.
1959-1969 Pontiac Luxury specs
NUMBER BUILT: 8000 (approx. total Aust. sales) 1.026M (US Bonneville)
BODY: All steel with separate body and chassis four door sedan and pillarless hardtop, two-door coupe and convertible,
four-door station wagon
ENGINE: 4637, 5358, 6375 or 6899cc V8 with overhead valves and single downdraft carburettor (triples optional)
POWER & TORQUE: 171kW @ 4400rpm, 445Nm @ 2800rpm (Parisienne 327)
PERFORMANCE: 0-96km/h 9.9 seconds, 0-400 metres 17.5 seconds (Parisienne 327)
TRANSMISSION: Two or three-speed automatic
SUSPENSION: Independent with wishbones, coil springs and telescopic shock absorbers (f), Live axle with coil springs and
telescopic shock absorbers (r)
BRAKES: Disc or drum (f) drum (r) with power assistance
TYRES: 7.50x14 cross-ply
From Unique Cars #460, Dec 2021
Unique Cars magazine Value Guides
Sell your car for free right here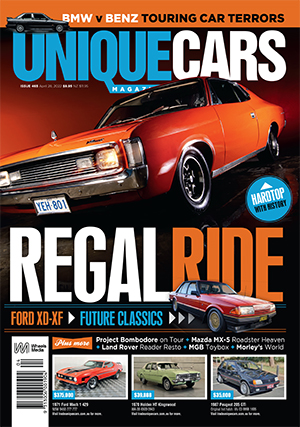 SUBSCRIBE TO UNIQUE CARS MAGAZINE
Get your monthly fix of news, reviews and stories on the greatest cars and minds in the automotive world.
Subscribe