Dodge Challenger 1970-1974 - Buyer's Guide
---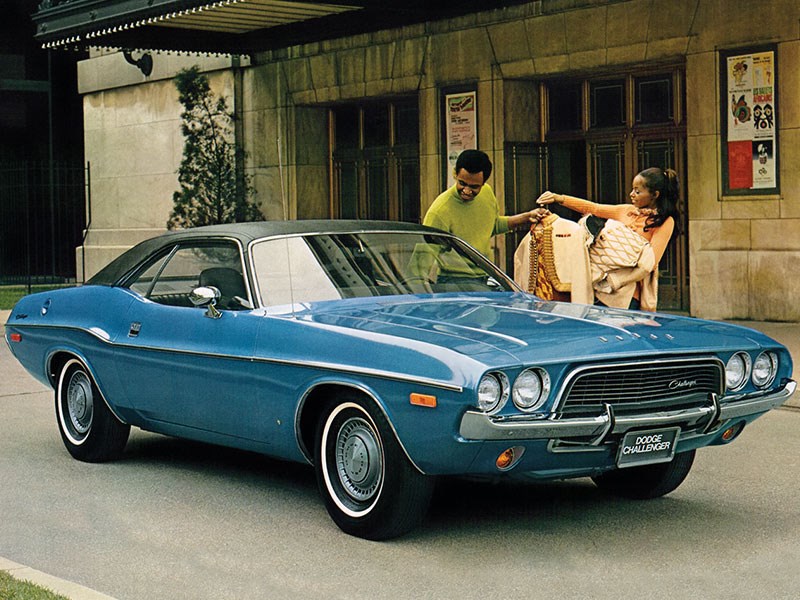 Air-conditioning wasn't available to Hemi buyers
When Dodge launched its Challenger (aka Plymouth Cuda) into a booming performance car market. it could not have known that the car's effective lifespan would be barely two years.
The concept of high-powered engines in low priced packaging had been making money for the entire industry since 1964, but Dodge didn't, until the arrival of the Challenger and 'Cuda, have a contender in the Pony class against Mustang, Camaro and Firebird.
The Challenger was aimed further upmarket from the 'Cuda, with the same choice of engines but a longer wheelbase and generally higher standard of equipment and specification.
| Read next: 1970 Plymouth Cuda review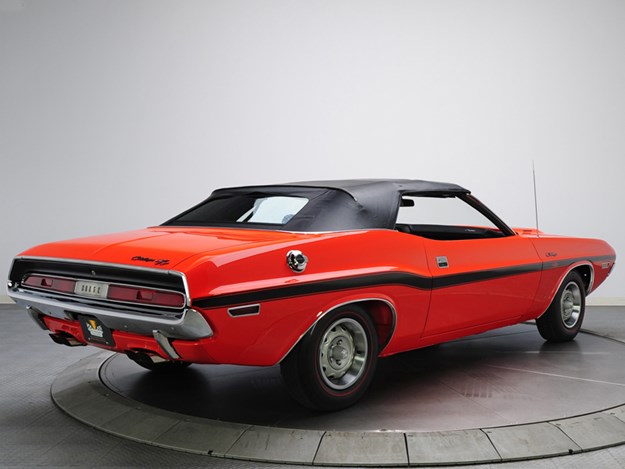 Three versions of the Challenger were built – base, R/T and T/A – with the upmarket SE trim package available on all except the competition-oriented T/A. V8 engines covered the gamut of mild to very, very wild with the smallest being a 5.2-litre similar to the 'Fireball' used in Australian Valiants and the most powerful being a 315kW Hemi.
| Buyer's Guide: 1970-1975 Dodge Challenger
Larger in size but less powerful was the 7.2-litre, 440 cubic inch big block which could be specified with a single four-barrel carburettor or as a 'Six Pack' with triple two-barrels.
A manual transmission was available, however the vast majority of Challenger buyers opted for automatic.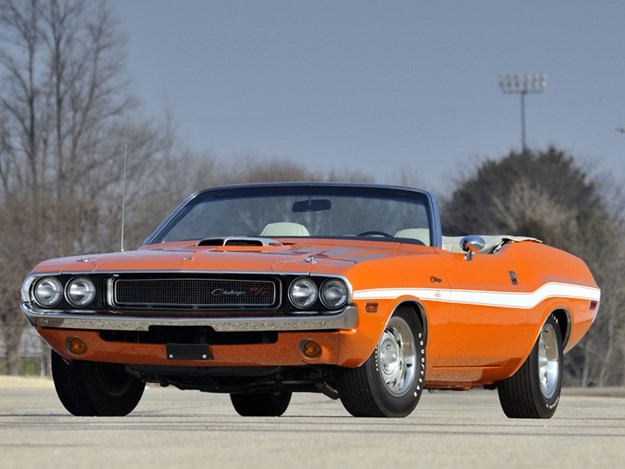 Convertible versions of the Challenger were built in small quantities and surviving soft-tops are among the most collectible and certainly the most expensive of E Body cars.
The SE was a muscle car for the mature driver. Its US$3498 price-tag very often swelled by options that saw most examples drive through the dealership door owing their owners at least $1000 more. The Hemi engine alone cost an extra $778.75 and they were never specified on their own.
| Reader Resto: 1970 Dodge Challenger
Leather seat trim was standard in the SE with a combination cloth and vinyl optional. So was vinyl roof covering with a small, landau-style rear window. Standard to Hemi-engined cars were 15-inch Rallye wheels but no disc brakes, just uprated drums.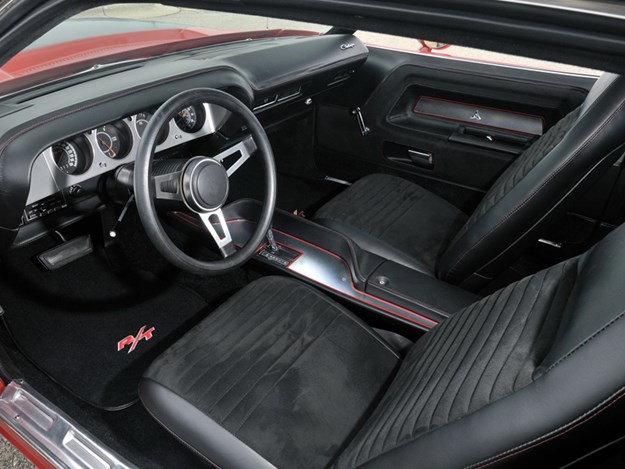 Incredibly for cars that weighed over 1600kg and would reach 225km/h, front discs were an $80 option on all Challengers apart from the T/A. Air-conditioning wasn't available to Hemi buyers either, because every available piece of underbonnet space was required to accommodate the massive engine and accessories.
Cancellation of Hemi production in 1971 didn't spell the end of Chrysler's E Body but it sure marked the beginning of a sad end. By 1974 the Challenger `range' had been reduced to a single model, with its most potent engine the 360 cubic inch (5.9 litre) `boat anchor' V8 developing a paltry 182kW. And worse was to come for Challengers in a fuel-shocked USA.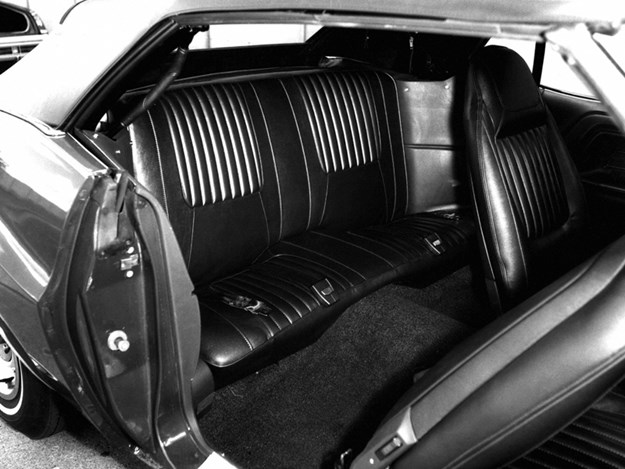 By 1976 when those `Hemi-powered drones' immortalised by Bruce Springsteen's Born to Run were howling down empty avenues, they had come to be regarded as uninsurable gas-guzzlers and thousands ended their lives in the jaws of a car crusher.
Today, even ordinary ones can bring close to $100,000 and a Hemi convertible, if ever you could find one, can literally make millions. Checking scarce cars to ensure their specification remains unchanged from original is worth the money spent on verification.
VALUE RANGE: Dodge Challenger (383 SE auto coupe)
Fair: $40,000
Good: $65,000
Excellent: $95,000
(Note: exceptional cars will demand more)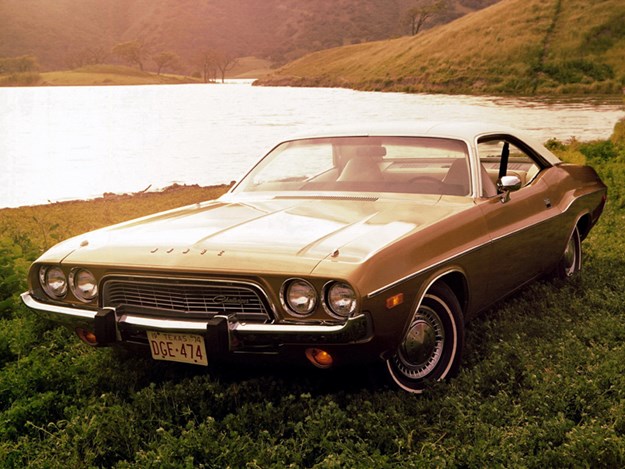 BUYER'S CHECKLIST
Body & chassis
E Body Mopars were a compromised design intended to be powered by six-cylinder engines or a small V8. Certainly they weren't intended to deal with the weight or torque of a 7.2-litre lump up front. Build quality wasn't flash either and cars that have never been crashed or restored may still have shocking panel gap inconsistencies, poor quality welds and body rattles. A car that has undergone the 'rotisserie' restoration treatment will cost considerable money but should, in the long term, be more enjoyable to drive and cost less to maintain than one that hasn't been touched. Rust attacks sills, floors and the turret. Closely check windscreen apertures and rear pillars for bubbling plus the lower door skins and sills.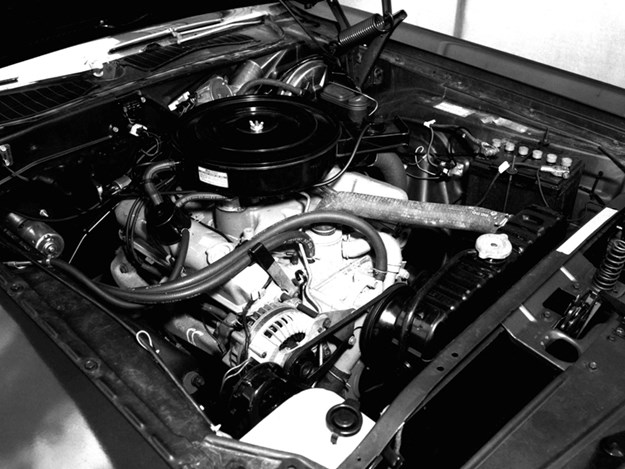 Engine & transmission
With the exception of the expensive and somewhat exotic 426 'Hemi' variant, every V8 in the 'Cuda lineage is straightforward. Basic cars will often have a 383 big block, of which we saw plenty in Aussie Dodges, or a 7.2-litre 440. Overheating is the big enemy of these engines so check for 'milky' oil due to water contamination, stains around hose connections and the water pump. Revamping the cooling system, including a new radiator, water pump and hoses should cost less than $1500. Authenticity in these cars is important and specialist engine shops can rebuild them to factory spec. Manual and automatic transmissions used in these cars have a great reputation for durability, just be wary of an auto that shudders when downshifting.
Suspension & brakes
Mopar vehicles were for many years characterised by their torsion bar front suspension. The system is light and simple but as the bars age they can delaminate and mountings rust. Creaks when u-turning or cracking noises from the front end on bumpy surfaces are danger signals. For owners who want improved handling there are now complete replacement front ends available which eliminate the torsion bars. They do cost several thousand dollars but are said to improve ride and lateral loadings, improve ground clearance and reduce weight. Disc brakes are pretty much a must-have in big-block cars and conversion kits are available for those that still have their original front drums.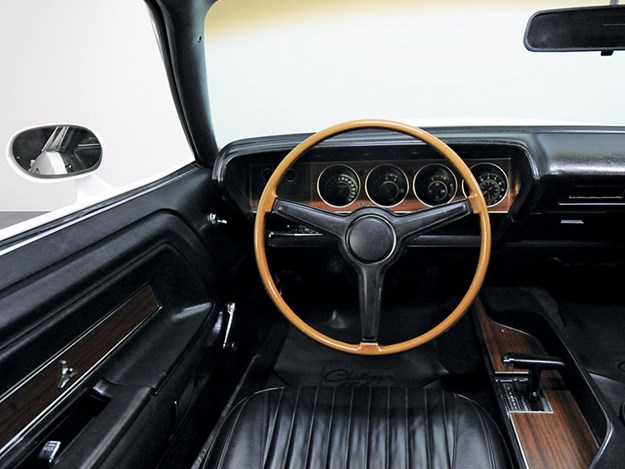 Interior & electrical
Even though a 'Cuda might have cost $60k or more, the interior is anything but luxurious. Vinyl seats, some with 'brushed nylon' inserts, were pretty basic and quickly sagged under the weight of occupants. Replacement seat vinyl and foam padding are being remanufactured, however suppliers recommend engaging a professional trimmer to undertake the fitting. Peeling plasti-wood trim, cracked dash plastics, door trims and armrests are also now available. However adding the cost of replacing just the dash and console with reproduction parts from one supplier totalled US$2400. Basic electrics are available and affordable.
1970-1974 Dodge Challenger specs
NUMBER BUILT: 1970 – 66,548, 1971 – 25,622, 1972 – 22,077 (all V8s)
BODY: Integrated body/chassis two-door coupe & convertible
ENGINE: 5210, 5565, 6275, 6974 or 7206cc V8 with overhead valves, single or triple downdraft carburettors
POWER & TORQUE: 279kW @ 4800rpm, 554Nm @ 3600rpm (440 4bbl)
PERFORMANCE: 0-96km/h: 5.9 seconds, 0-400 metres 14.4 seconds (440-6 4-speed)
TRANSMISSION: 3 or 4-speed manual, 3-speed automatic
SUSPENSION: Independent with torsion bars, control arms, wishbones, telescopic shock absorbers & anti-roll bar (f); live
axle with semi-elliptic springs & telescopic shock absorbers (r)
BRAKES: Drum or disc (f) drum (r) with power assistance
TYRES: F70-14 bias ply
From Unique Cars #460, Dec 2021
Unique Cars magazine Value Guides
Sell your car for free right here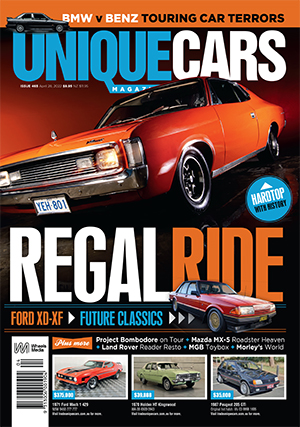 SUBSCRIBE TO UNIQUE CARS MAGAZINE
Get your monthly fix of news, reviews and stories on the greatest cars and minds in the automotive world.
Subscribe