Volkswagen Superbug 1600 - Buyer's Guide
---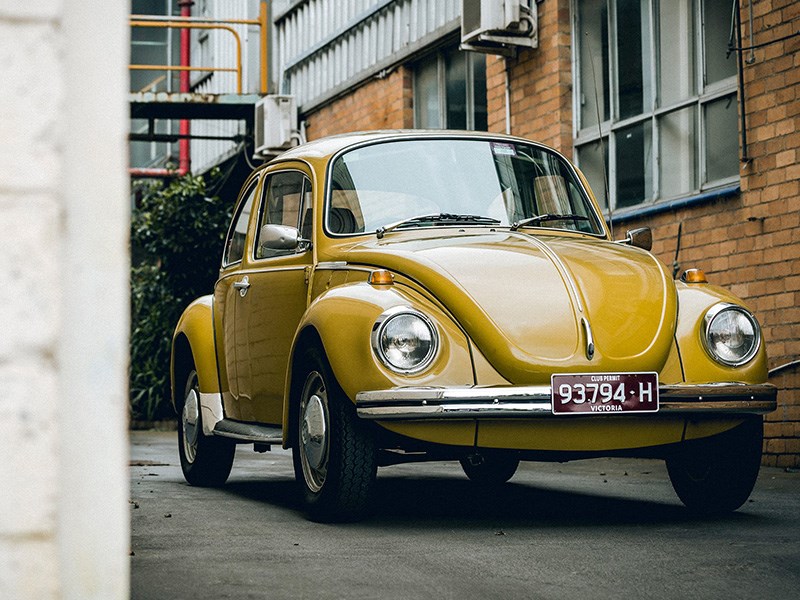 Australians were buying thousands of them and asked Volkswagen to build a Beetle that suited our conditions
In 1954, Australia called a truce with a country that a decade earlier had been its sworn enemy; buying cars that had been bankrolled by the most hated political figure of all time.
Adolf Hitler wanted a 'People's Car' (aka Volks Wagen) that all Germans could own. He also devised a cunning payment plan that ensured nobody got a car until the full price had been paid – if they got one at all.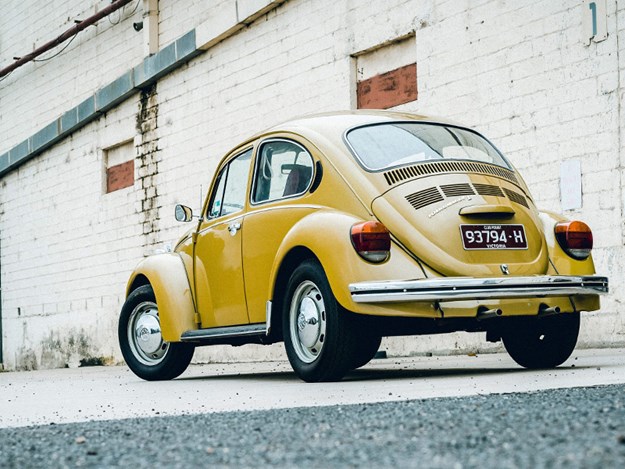 By 1971, when a lot of Germans still hadn't received their VWs and were driving Eastern Bloc Trabants, VWs were being built all over the world. Australians were buying thousands of them every year and even asked Volkswagen to build us a Beetle that better suited Australian conditions.
The Super Bug, as this model was officially known, came with a 1.6-litre engine, disc brakes and optional automatic transmission. The suspension was modified to eliminate the oversteer that terrified some owners of early cars but delighted those who reveled in their Beetles' tail-happy ways.
| Read next: VW Beetle - Herbie the Love Bug
The Super Bug S was launched in February 1971 and cost a very attractive $2245 before any accessories were added. These would include a radio to drown out 'dak dak' noises from down the back and maybe a weather shield so you could run with the window down in the rain without everything fogging up.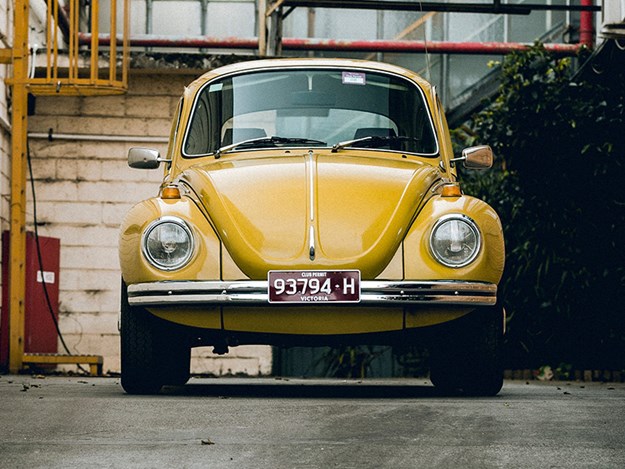 1.6-litre versions of the Beetle engine were still fed by a single carburettor and objected to revving past 5000rpm. Peak power available from an early 1.6 engine was 44kW, however that was affected from 1974 when some inefficient emission controls were introduced.
From 1973 the Super Bug featured a curved windscreen and improved interior. The 'screen was the legacy of proposed US safety legislation intended to minimize the incidence of occupants belting their heads on windscreens in crashes. Here we just wore the seat belts provided.
| Our Shed: VW Super Beetle build
Of greater benefit to safety was long-awaited improvement to the rear suspension. Replacing the ill-mannered swing axles were double-jointed trailing arms that stopped the outer tyre tucking under during hard cornering and instantly transformed the Super Bug into a reasonably quick and pleasant touring car.
Fuel consumption in early 1970s road tests averaged 9.4L/100km, with automatics (which were dropped in 1974) 10 percent less frugal. However, the restrictions of a 35-litre tank mean only 350km between fuel stops.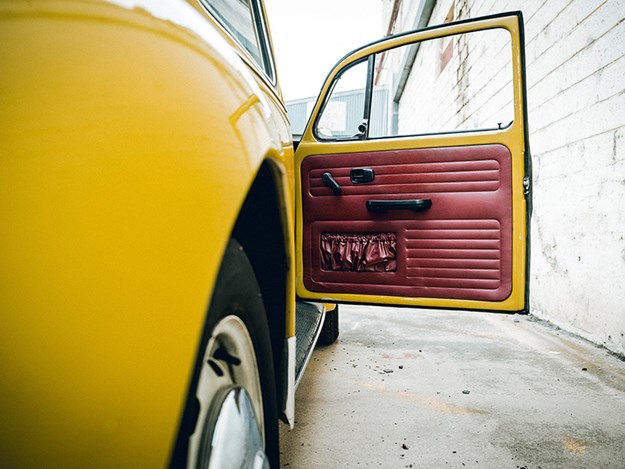 The unassisted disc brakes are heavier to use than you might expect in a car of this size. The pedal can be hard to locate in a hurry, however a good stomp pulls the car up quickly and without any wheel locking or wandering. Cars that have travelled big distances might not respond as well due to worn discs and suspension components.
As a family classic, the Beetle comes with impeccable credentials. More than 21 million in various guises were sold and they embody the kind of mechanical simplicity that makes even the most nervous home mechanic feel confident.
They easily transport a family of four, or you can fold the back seat into a very decent luggage platform. And while they won't quite replace your Forester or CRV as a family bush basher, competent drivers have taken Beetles into some forbidding territory and brought them back again.
VALUE RANGE: VW Superbug
Fair: $5000
Good: $12,000
Excellent: $20,000
(Note: exceptional cars will demand more)
Buyer's Checklist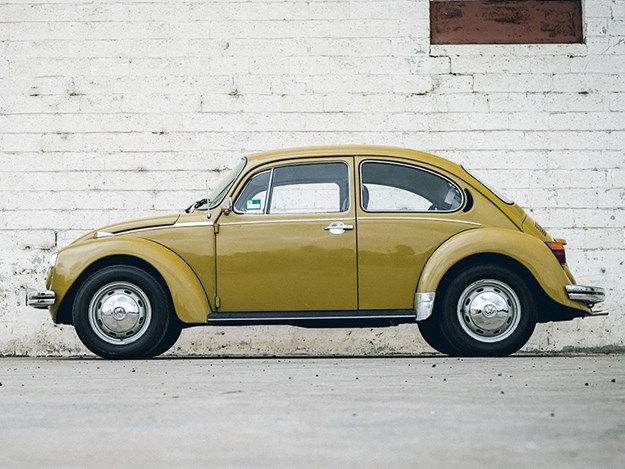 Body & chassis
Beetle body panels aren't difficult to find but choosing a Bug that is dent-free and not rusted, even one that costs a lot more than lousy ones, is smarter than spending big on a resto. Look at the bonnet, mudguard wheel arches, the front boot-lid lip, roof gutters and door skins. More serious and expensive to rectify will be damage to the floor pan, around the fuel tank, firewall and front chassis rails. New bumpers are available locally at $250-450 each. Check that the engine-cover release doesn't need excessive force.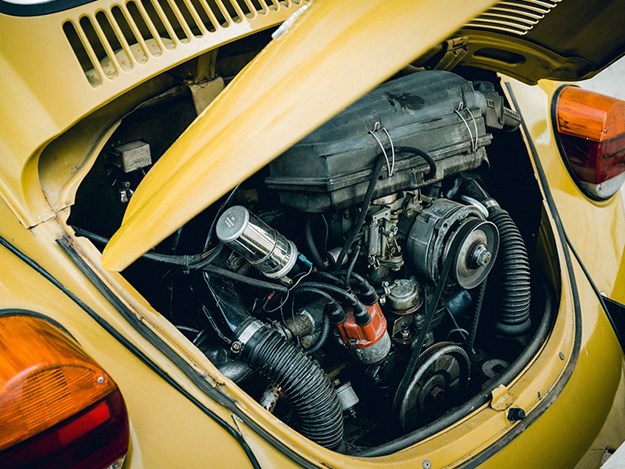 Engine & transmission
The Beetle engine is easy to inspect so look for oil leaks which are common and only a worry if serious. Cylinder heads suffer cracks or loose studs and any car that misfires or feels sluggish should be compression tested. Some will have received enlarged or even twin carburettors teamed with extractor exhausts which are noisier than standard but can deliver 30 percent more power. Clutch shudder often results from neglect and can be cured with adjustment. If not, clutch replacement can be undertaken at home with a complete standard clutch unit costing about $200.
Suspension & brakes
Super Bugs have front discs which are said to survive for up to 200,000 kilometres between rotor replacements. Make sure the handbrake releases without effort; the cable may be stretched if it doesn't. New cables, along with all kinds of Beetle brake parts, are still available and cheap. Wandering under brakes is likely to be due to a loose or worn steering box. The last cars went to rack and pinion. Creaking over bumps is a symptom of worn ball joints (new ones cost $60-80 each). Front shock absorbers which are tired or too firm will cause excessive bounce. Correct tyre pressures are critical to both ride and handling, with the rear tyres needing to be significantly higher than the fronts.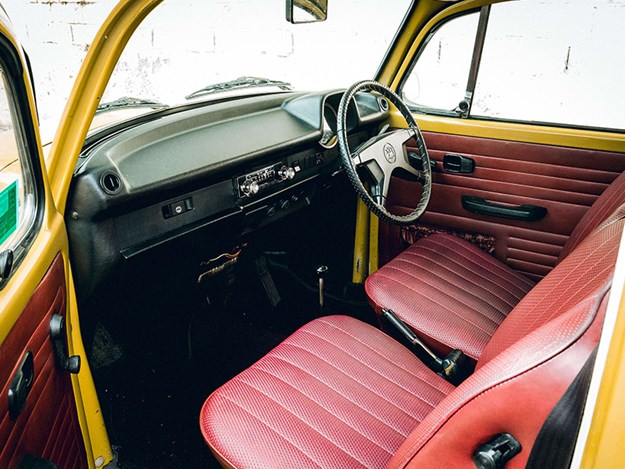 Interior & electrics
The quality of 1970s VW trim is outstanding, so collapsed seat padding and seriously worn vinyl denote a car that's been worked hard. Parts to refurbish the interior are still available and not very costly. Check that the windows wind up and down easily as the mechanism will bind with lack of use. The 12-volt electrics on post-1966 cars are simple as well and generally reliable. A variety of genuine electrical parts remain available and US suppliers offer after-market starter motors and alternators at A$250-450 each.
1971-1976 Volkswagen Superbug specs
Number built: N/A
Body: All-steel unitary construction two-door sedan
Engine: 1584cc four-cylinder with overhead valves & single carburettor
Power & torque: 44.5kW @ 4400rpm, 111Nm @3000rpm
Performance: 0-97km/h 16.9 seconds 0-400 metres 20.3 seconds
Transmission: Four-speed manual or three-speed automatic
Suspension: Independent with Macpherson struts and anti-roll bar (f) Independent with trailing arms, torsion bars and telescopic shock absorbers
Brakes: Disc (f) drum (r)
Tyres: 155SR15 radial
From Unique Cars #456, Aug 2021
Unique Cars magazine Value Guides
Sell your car for free right here
Unique Cars magazine Value Guides
Sell your car for free right here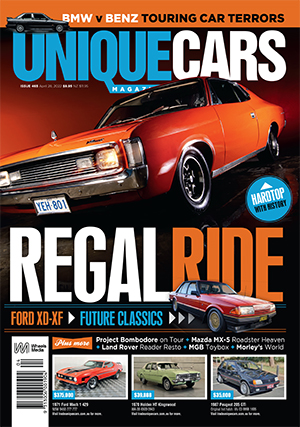 SUBSCRIBE TO UNIQUE CARS MAGAZINE
Get your monthly fix of news, reviews and stories on the greatest cars and minds in the automotive world.
Subscribe