MG MGA - Buyer's Guide
---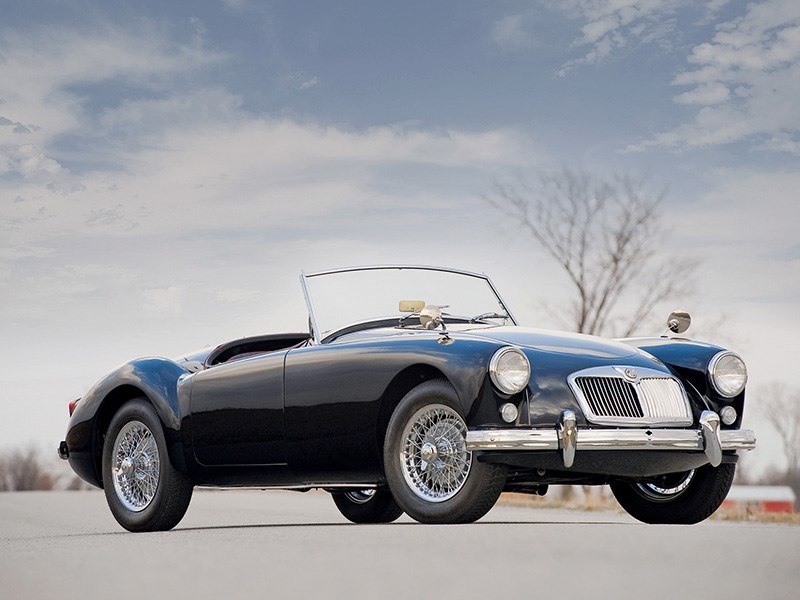 The MGA is very much on the collector radar but still offers solid buying
In the space of a few months during the 1950s. MG transformed itself from a brand trapped in the past to market leader in the realm of affordable sports cars.
The MGA was so different from previous T Series that the company was nervous about its effect on conservative markets like the United States. They had no need to stress.
Of the 100,000 As built during the ensuing five years, more than 80 percent were exported and most were bought by US-based enthusiasts. That still left plenty for UK and Colonial sales from which Australia's stock of cars has largely come.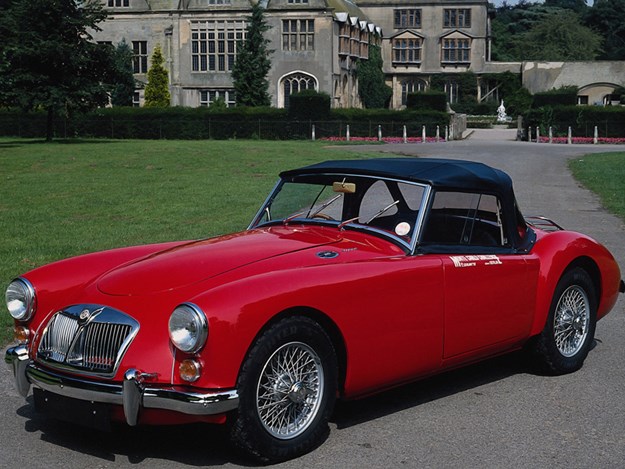 The shape was inspired by MG's EX181 competition car and beneath its sleek skin the newcomer was well-equipped to confront Triumph's TR and the Austin-Healey 100. Although just 23cc larger than the TF unit, BMC's all-new B Series engine delivered 10kW more power; output that when combined with excellent aerodynamics boosted top speed to 158km/h.
| Reader Resto: 1961 MGA
Gone too was twitchy T Series steering, with rack and pinion helping make the best of a new front suspension with coil springs and tight 8.55 metre turning circle.
Brakes on early cars were drum at both ends, however that changed in 1959 with the arrival of the MGA 1600. An extra 100cc beneath the bonnet boosted power to 54kW and sent top speed beyond the magic 100mph (161km/h) mark. Accompanying the extra performance were front disc brakes plus revised indicator clusters front and rear.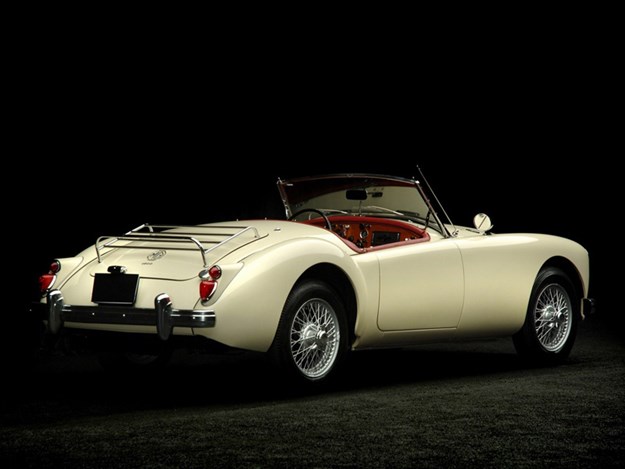 A year earlier and in search of more speed, MG had introduced a troublesome Twin-Cam model. It was intended primarily for competition use but durability problems meant the car with its distinctive centre-lock steel wheels was to see little in the way of on-track success. Just 2100 were built before MG admitted defeat, leaving Twin-Cams as the least common and most expensive of the MGAs.
| Past Blast: 1960 MGA twin-cam
In June 1961 and with its new MGB still a year away BMC released a Mark 2 version of the `A'. Bored to 1622cc, the engine developed a healthy 64kW while visual changes included a recessed grille and horizontal taillamp clusters. Just 8719 were built, making this the hardest to find of the pushrod MGAs.
From 1956 a Fixed Head Coupe version of the 'A' was offered and while these were popular with UK buyers, Australia preferred the less-claustrophobic Roadster.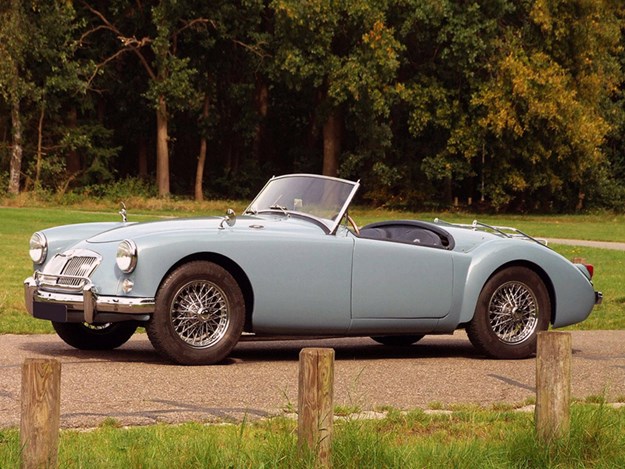 'A' Roadsters are the only post-war MGs built without external door handles, so accessing the cockpit involves finding a cunningly-concealed chain – or just stepping over the side. Once aboard there's plenty of space, although the pedals are a long way away and shortish drivers might struggle to find a driving position which doesn't put them uncomfortably close to the steering wheel.
Prices are climbing but average cars aren't as yet unreasonably high. Just $35,000 should buy an older restoration needing some mechanical and cosmetic refurbishing, with recent restorations likely to cost $20,000 more.
Cars with concours potential seem headed for $100,000.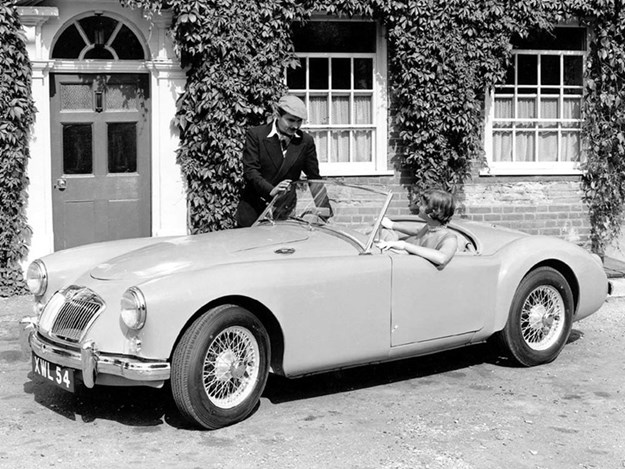 VALUE RANGE: MGA
Fair: $15,000
Good: $42,000
Excellent: $62,000
(Note: exceptional cars will demand more)
Buyer's Checklist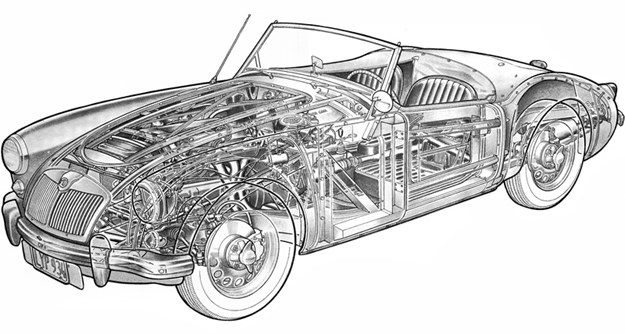 Body & chassis
Australian cars aren't prone to the kind of chassis rust which afflicts their Northern Hemisphere counterparts, however a front to rear inspection for corrosion or repair patches is wise. Rust can affect the `F-frame' – front and rear door shut panels and the sills – in serious cases causing the body to collapse once it's separated from the chassis. Shoddy accident repairs can result in ill-fitting doors so make sure they close without needing to be slammed or lifted. The alloy bonnet is easily twisted and poor fit is a common problem but not a major worry unless you're buying a show car.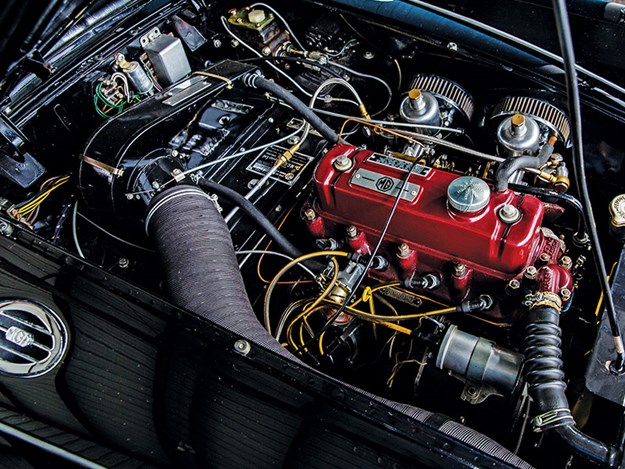 Engine & transmission
Few traumas here as BMC B-Series motors are simple and very robust. Smokey exhaust and rattles signify an overhaul on the horizon, although tired engines can be kept running well beyond their use-by dates. Twin carbs need to be correctly balanced and getting the timing right is critical to optimum performance. Overheating and backfiring mean a session with the timing light is due. Lack of any synchromesh on first gear and rapid synchro wear on second mean all kinds of odd graunches can come from otherwise healthy gearboxes. Gear-selection problems when stationary are more likely a symptom of clutch wear . Hard use can break rear axles, in extreme cases even twisting the housing, but unless the diff is really screaming just keep the oil topped up and leave it alone.
Suspension & brakes
If you've been cossetted by modern cars with cushy brake systems, first experience of an A might be daunting. Drums on early cars work well but suffer fade if pushed hard. Later disc-braked cars stop better and for longer, but the pedal does need a hefty stomp as there is no assistance. Clunks and vagueness in the front end can indicate worn upper wishbone bushes which are bronze and need to be replaced by a specialist. Axle-tramping starts can crack rear springs and damage splined wire-wheel hubs.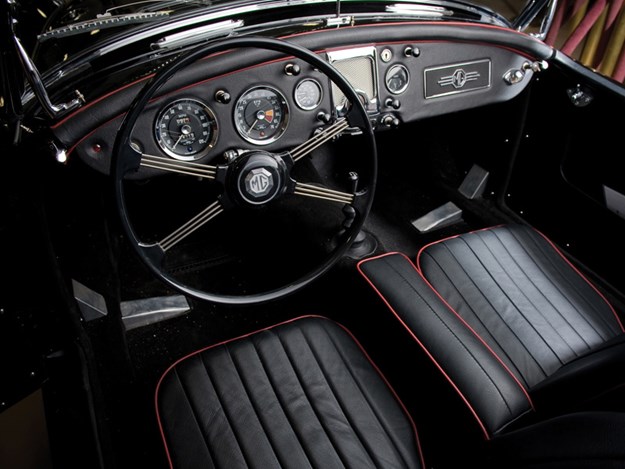 Interior & electrics
Twin six-volt batteries live in boxes behind the seats and must not be overfilled or the resulting corrosion will cause them to fall through the floor. Wiring to the rear lights runs under the car and is prone to damage. The SU electric fuel pump can stop without notice however a light tap to the pump body is suggested to free stuck contact points. Some cars had leather seats from new but most today have been retrimmed in vinyl. Floorboards are the A's only timber components but a cabin full of water will see them rotting quickly unless replaced in marine ply. Hood stows in the boot and with a bit of practice can be assembled and erected in 3-4 minutes.
1957-1962 MG MGA specs
Number built: 101,700 (inc. Twin Cam)
Body: All steel, separate body/chassis two door convertible or coupe
Engines: 1489, 1588 or 1622cc in-line four cylinder with overhead valves, 1588cc with double overhead camshaft, all with twin side draft carburettors
Transmission: Four-speed manual
Performance: 0-97km/h 13.3 seconds 0-400 metres 19.8 seconds
Suspension: Independent with wishbones and coil springs and lever action shock absorbers (f) live axle with semi-elliptic springs & lever action shock absorbers (r).
Brakes: Drum or disc (f) drum or disc (r)
Wheels & tyres: 5.50 x 15 cross ply or 165 x 15 radial
From Unique Cars #456, Aug 2021
Unique Cars magazine Value Guides
Sell your car for free right here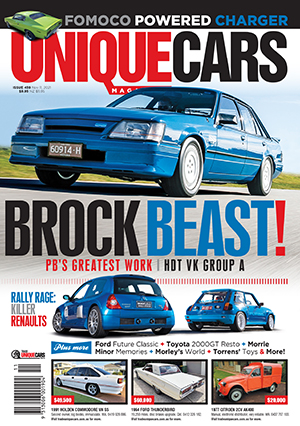 Subscribe to Unique Cars magazine for 12 months and save!
Australia's classic and muscle car bible. With stunning features, advice, market intelligence and hundreds of cars for sale.
Subscribe