Subaru WRX 1994-1998 - Buyer's Guide
---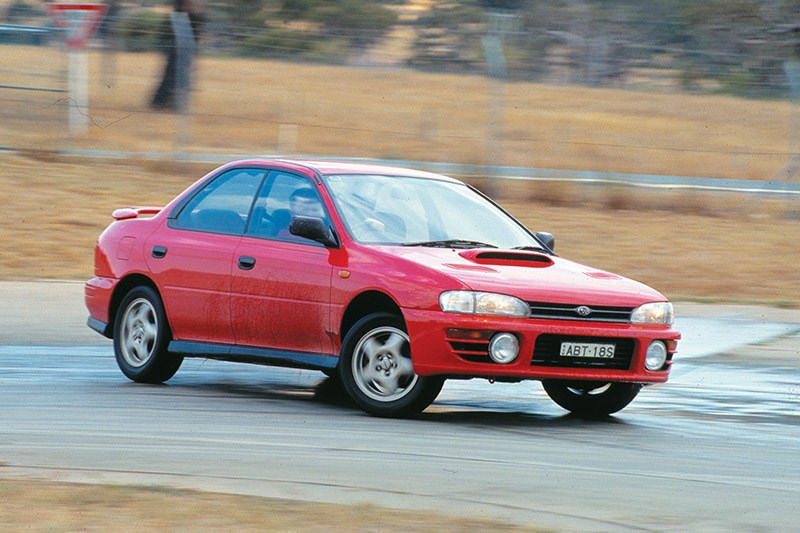 Posters were handed out at rallies and motorshows finding their way onto thousands of teen bedroom walls
During its first 20 years in the Australian market, Subaru was characterised by small, basic 4WD utes and wagons plus passenger models with less appeal to performance motorists than a Corolla. Then came the Impreza WRX.
Subaru's World Rally car – the 'X' standing for 'experimental' – arrived here in February 1994 with 155kW and just 1245kg to propel. For those who wanted to move house at 180km/h there was also a hatchback version.
Subaru back in the 1980s had won pretty much every local rally title with its 4WD RX Turbo sedan, but nobody wanted an RX as a road car. The WRX was a vastly more saleable prospect, with posters handed out at rallies and motor shows finding their way onto thousands of teen bedroom walls and all of those kids aspiring to one day be 'Rex' owners.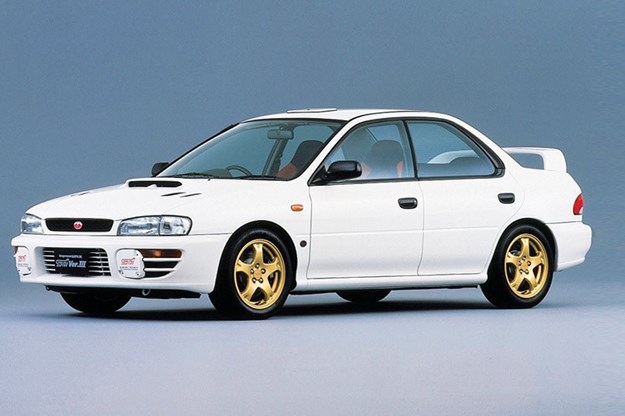 Launch price was $39,990 but a year later that had steepled past $45,000 and some buyer resistance was being encountered. Potential owners were unimpressed by the soaring price when WRX trim was barely basic and list of standard features skimpy.
Saggy cloth seats and a $35 stereo had no place in a car costing more than $40,000 but there was air-conditioning and ABS plus power windows, a leather-bound steering wheel and leather-topped gear-lever.
The most significant aid to WRX drivability was the addition from late 1996 of a four-speed automatic transmission option. Instantly, the people whose only objection to Rex ownership was the need for frequent gear changing had no further excuse.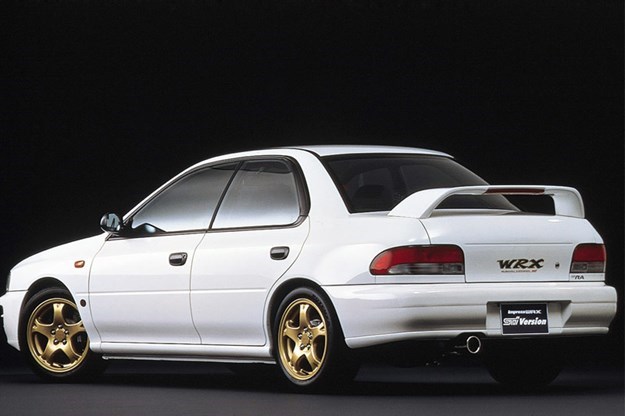 Virtually nothing happened in a WRX until engine revs reached 2500rpm, but thereafter it became a blur of turbo whine and up changes. For those wanting a less frenetic experience, the automatic allowed just a flick of the lever to keep the motor 'on boost'.
Winding, bumpy bitumen and unsealed rural roads were the Rex's element. Combining a short wheelbase with understeer-biased handling ensures that the car can be punted along at decent pace without taxing the capabilities of most drivers.
Fuel consumption depends to an understandable degree on how and where the car is being driven. Puttered around the suburbs is likely to return better than 10L/100km but letting Rexie off the leash drops than figure by 30-40 percent.
Brakes are adequate for a car with the WRX's performance potential but can suffer noticeably during long and fast mountain descents or on the racetrack. Upgrades are available if your car will be frequently used under competitive conditions.
WRXs once attracted would-be rallyists, getaway drivers and general ratbags. Owners of cars that survived those early years tend to be more mature with a responsible approach to maintenance.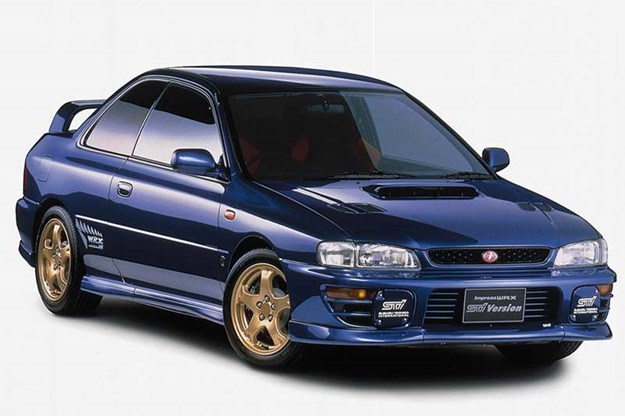 Spending $20,000 should secure something excellent in the 1994-96 age range, while $5000-10,000 extra brings a Club Spec or very low-kilometre 1997-98 model within reach. Less than 25 percent of Australian-delivered WRXs were Hatches yet they generally cost less than sedans.
Despite their age, these WRXs still need theft protection and it's best to replace any system fitted by a previous owner. It is not unknown for recently purchased cars, with the immobiliser deployed, to still go 'missing'.
VALUE RANGE: Subaru WRX (1994-97 manual)
FAIR: $5500
GOOD: $12,500
EXCELLENT: $20,000
(Note: exceptional cars will demand more)
BUYER'S CHECKLIST
Body & chassis
Poor-quality crash repairs are a major issue with older WRXs. Check panel gaps, orange-peel paint, misaligned bumpers and windows that whistle due to poor
sealing. By now, neglected cars will be starting to rust around window apertures, wheel-arches, the bonnet lip and boot floor. Most won't have done much off-
road work but a glance underneath for scarred sills and stone damage to the floor-pan is advisable. Impreza body panels are still easy to locate and not too
expensive. Complete doors were seen at $120 each and tidy looking nose section complete with lights and grille was advertised at $650 plus freight. The low-
mounted fog lights are susceptible to damage.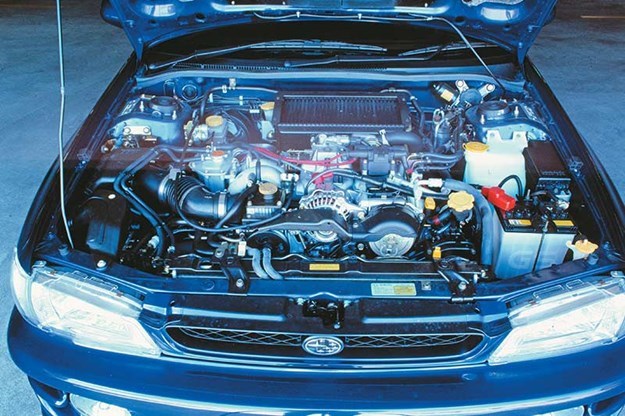 Engine & transmission
WRX engines need to be evaluated from cold and when warm, so make sure your test drive gives the engine sufficient time to reach full temperature. At start-up,
listen for bearing rumble and timing chain rattles. Once the car has been given a decent run, allow it to idle and look for underbonnet oil smoke and coolant
leaks. White exhaust smoke indicates imminent turbo failure. Oil changes every 5000 kilometres are required and coolant must be replaced annually. Clutch
shudder is common, early gearboxes slightly notchy but not noisy. A gearbox that crunches on fast second-third upshifts has synchromesh problems. Rear
differentials will normally clunk a little but serious thumps signify a problem. Synthetic transmission oil is recommended to reduce heat and prolong component
life.
Suspension & brakes
Undersized brakes are a WRX bugbear and hard use will warp rotors. Larger, after-market brakes will by now be fitted to a lot of cars, with higher quality
rotor/pad combinations costing around $2000 per set of four. Front driveshafts that click when accelerating and turning simultaneously are suffering constant
velocity joint wear. Power steering and driveshaft joint leaks, exhaust system damage and scuffed wheel rims are other areas to check while at ground level.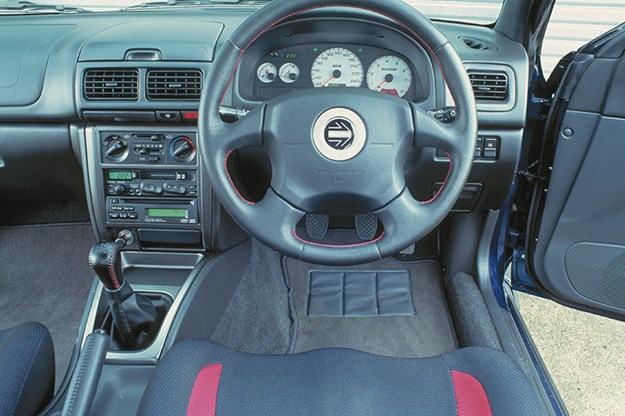 Interior & electrics
Interior squeaks and rattles are endemic but check that the roof lining is securely in place. The temperature controls look like throwbacks to Subaru's bush-
bashing Brumby utility and can jam or fail to operate. Seat trim is durable but the seat-squab adjusters wear. A seat that collapses under acceleration can
leave the driver horizontal and unable to reach the brake pedal. Standard lighting isn't up to the performance and the only remedy lies with higher intensity
bulbs which can overheat the lights' plastic components or some rally-style driving lights.
1994-1998 Subaru WRX specs
NUMBER BUILT: MY94-98 Sedan: 3216, MY94-98 Hatch: 996 (Australia only)
BODY STYLES: All-steel, integrated body/chassis sedan and five-door hatch
ENGINE: 1994cc horizontally opposed four-cylinder with double overhead camshafts, fuel injection and turbocharger
POWER & TORQUE: 155kW @ 6000rpm, 270Nm @ 4800rpm
PERFORMANCE: 0-100km/h – 7.1 seconds, 0-400m – 14.9 seconds
TRANSMISSION: Five-speed manual or four-speed automatic (1996 onwards)
SUSPENSION: Independent with struts, coil springs and anti-roll bar (f) Independent with struts, coil springs and anti-roll bar (r)
BRAKES: Disc (f) disc (r) with power assistance and ABS
TYRES: 205/55R15 radial
From Unique Cars #454, June 2021
Unique Cars magazine Value Guides
Sell your car for free right here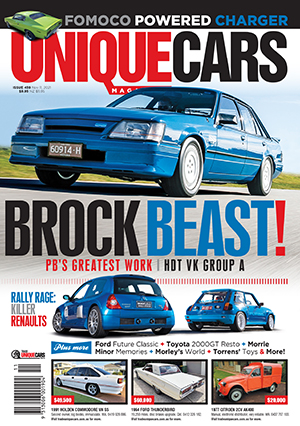 Subscribe to Unique Cars magazine for 12 months and save!
Australia's classic and muscle car bible. With stunning features, advice, market intelligence and hundreds of cars for sale.
Subscribe