Honda CRX - Buyer's Guide
---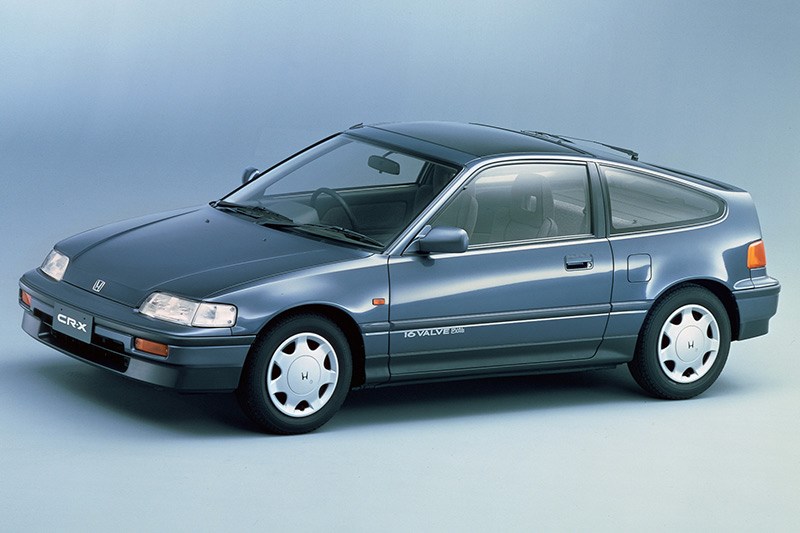 A first generation CRX was the most desirable Honda this side of a $210,000 NSX
Once upon a time and not too far into the past, a First Generation CRX was pretty much the most desirable Honda this side of a $210,000 NSX.
We are talking here about the late 1980s, in a market being hijacked by 'grey' imports never seen previously in Australia and where locally sold products needed to be something special to hold its own.
In respect of the early CRX, that 'something' was inherent cuteness, coupled to a cheeky anti-establishment stance and seriously good handling. These were factors that the Mazda MX5, which was shortly to follow the CRX, would also embody.
The original CRX was also Civic based, sitting on a 2300mm wheelbase but just 3755mm long. It was absolutely a two-seat sports car with not even a pretend rear seat, merely shallow luggage platform accommodating just enough luggage for a couple's weekend away.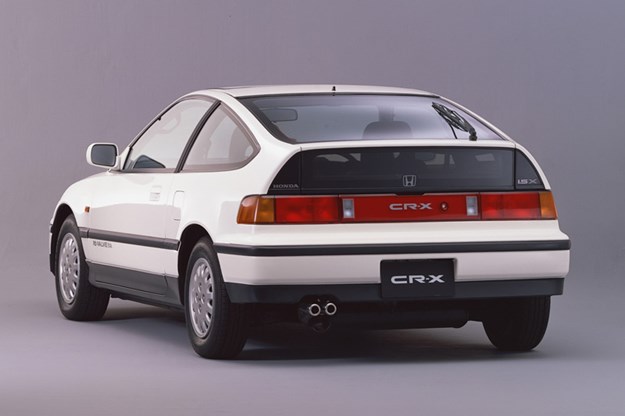 Power delivery was snappy and demanded lots of involvement from drivers via the five- speed manual gearbox fitted to all CRXs. Reshaped 1992-96 cars have more power but also carry more weight than the compact original.
Handling was the CRX's great forte and it proved a tamer of giants in Series Production races on tight tracks like Sydney's Amaroo Park. In Britain, the competition was even hotter, with around 40 cars banging doors in the Honda CRX Challenge.
| 2021 Market Review: Honda CRX
Rivals included Toyota's MR2 and, as time moved on, the Mazda MX5 and local Ford Capri. None of these, however offered the same levels of insolence as a CRX; numerous examples of which were accordingly uprated to become attention grabbing and trophy-winning show cars.
They also proved attractive to thieves but not to insurance companies, affecting availability of cover and the ability of owners to recoup the money they had sunk into their hotted-up Hondas.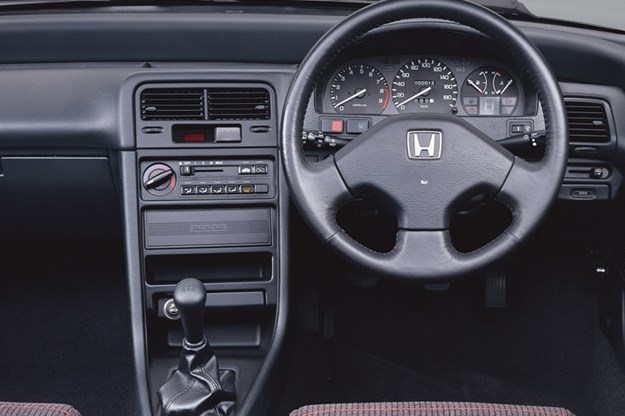 Standard equipment in early cars (power windows and steering, radio/cassette and a clever sliding sunroof) wasn't going to boost weight by very much but did influence the retail price.
'Del Sol' versions sold after 1993 were more attuned to cruising than competition. The name was Spanish in origin, referencing to the cars' removable roof panel that allowed sun into the cabin without compromising roll-over protection.
Engines fitted to these cars varied depending on their intended market. Those sold in the USA and some parts of Europe initially suffered with single-cam engines that delivered tepid performance. That motor was replaced in 1994 by a 1.6-litre V-Tec unit that produced 40 percent more power than the previous version.
Australia from the beginning scored the V-Tec 1.6 with 118kW plus an array of features including ABS brakes, central locking, uprated stereo and alloy wheels. Addition from mid-1994 of a driver's side airbag was accompanied by a $1300 price rise.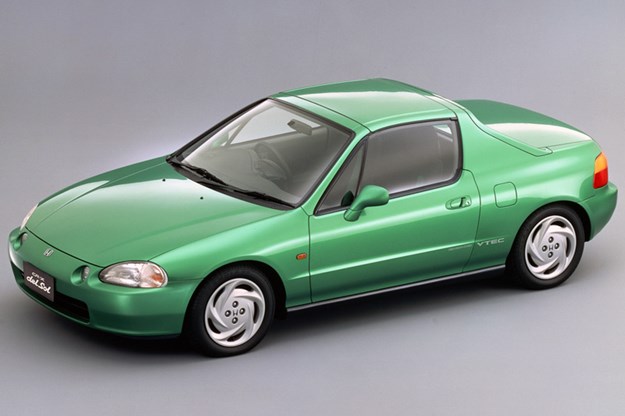 Due to extra its weight and generally softer demeanor, the De Sol wallows a bit where the original will sit flat. However, not everyone wants to drive a track star and the difference between the two versions isn't sufficient to justify a 50 percent price difference.
Pre-1992 have a good engine, decent performance and more features than the early ones and you can secure a good one at a substantially lower cost.

VALUE RANGE: HONDA CRX (1987-91)
FAIR: $5500
GOOD: $10,000
EXCELLENT: $18,500
(Note: exceptional cars will demand more)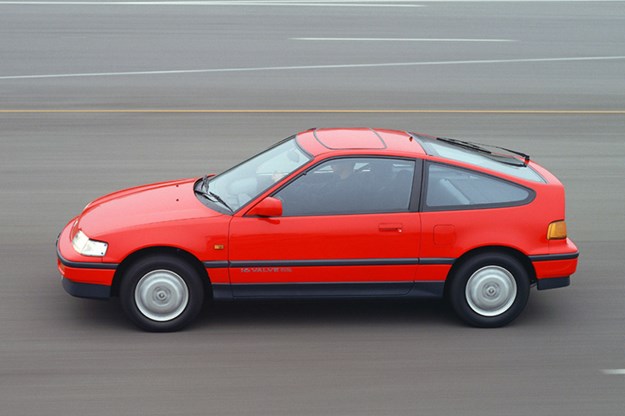 BUYER'S CHECKLIST
Body & chassis
Accident damage is a major issue, especially with early cars. Check panel gaps for consistency, front panel alignment and the bumper for kerb damage. Door alignment and the condition of body stripping are important and very different in price to rectify. A set of new door hinge pins is under $20 but new strips for the outside of the doors have been seen at over $200 per pair. Attractive 'crystal effect' tail-lamp units for the Del Sol cost $180 each, so don't put up with faded lights. The rear hatch on both versions is heavy so test the supports to stop it crashing down on your bonce.
Engine & transmission
Hard use doesn't have much effect on Honda longevity, but neglect will kill them quickly. Use of recommended lubricants is essential, otherwise there exists a risk of oil sludging and valve train wear. Overheating problems due to faulty thermostats did occur but they should all be fixed by now. That fault in V-Tec cars caused them to run too cold and inhibit correct operation of the valve timing. Rapid starts using plentiful engine revs will shorten clutch life so take note of shudder and slip under acceleration. Knocking from the front when accelerating out of tight bends points to worn CV joints. It can also be symptomatic of a faulty differential.
Suspension & brakes
Brakes in these deceptively quick cars can take a belting and need to be in top condition. The all-disc set-up should offer plenty of braking for anyone, just listen for squealing or rubbing from worn pads and note a pulsing brake pedal that signifies one or more rotors are warped. Make sure that the handbrake operates correctly. Front tyre wear is an issue with hard-driven cars and V-rated rubber is essential. Some owners have lowered their CRXs and then fitted larger, aftermarket wheels so look at the tyre edges for cuts that suggest they have been fouling the bodywork.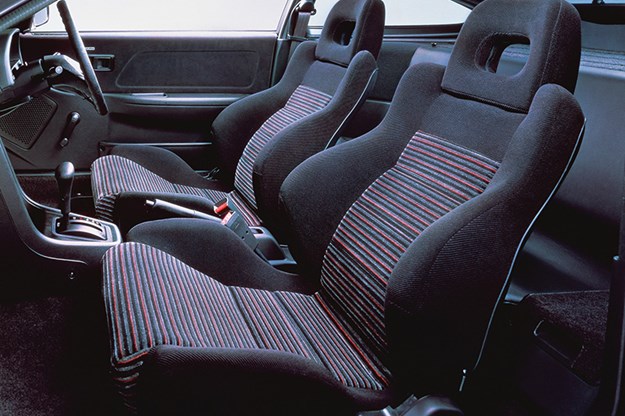 Interior & electrics
Owners report slow and sticky operation of power windows, so make sure that they move smoothly and without untoward noise. Early cars will likely show seat bolster wear and deteriorating cloth. Honda cabin plastics are high quality but expect dash cracks. A complete, early-series dash was offered in Japan at US$700 but with freight and taxes, expect one like it to land here at around $1800. Check the roof seals for damage that will allow water to around the sunroof or lift-out panel.
1988-1996 Honda CRX specs
Number built: 171,393 (1988-91)
Body: All steel, combined body/chassis two-door coupe
Engine: 1590cc four cylinder with double overhead camshafts & fuel injection
Power & torque: 94kW @ 6750rpm, 144Nm @ 5750rpm (1988-91)
Performance: 0-100km/h 9.6 seconds, 0-400 metres 16.5 seconds (1988-91)
Transmission: Five-speed manual
Suspension: Independent with wishbones, coil springs, struts and anti-roll bar (f) independent with wishbones, coil springs, struts and anti-roll bar
Brakes: Disc (f) disc (r) power assisted
Tyres: 185-60VR14 radial
From Unique Cars #454, June 2021
Unique Cars magazine Value Guides
Sell your car for free right here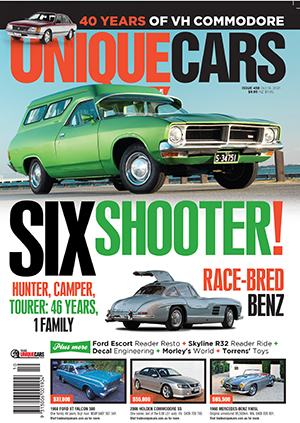 Subscribe to Unique Cars Magazine and save up to 42%
Australia's classic and muscle car bible. With stunning features, advice, market intelligence and hundreds of cars for sale.
Subscribe