Cadillac Eldorado - Buyer's Guide
---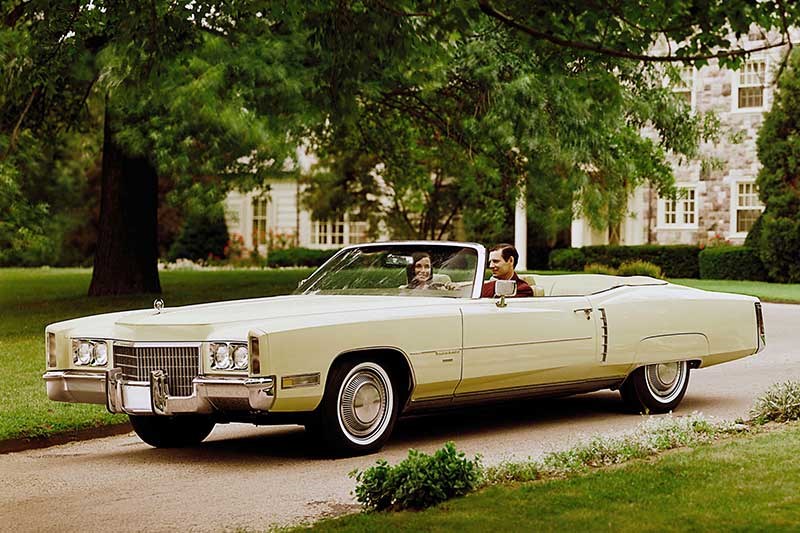 This series from GM's top shelf put paid to the assumption that front-wheel drive is confined to small fuel-efficient cars
Way back when BMC was announcing its amazingly-compact Mini, General Motors was working on a design that would bring front-wheel drive to some of the world's most cumbersome cars.
Crucial to making the front-wheel drive Cadillac Eldorado and companion Oldsmobile Toronado viable was a feat of engineering known as the 'Unified Powerplant Package'.  It mounted the engine/transmission unit on a sub frame with an integrated differential, two huge sprockets and chain drive transmitting power to the front wheels.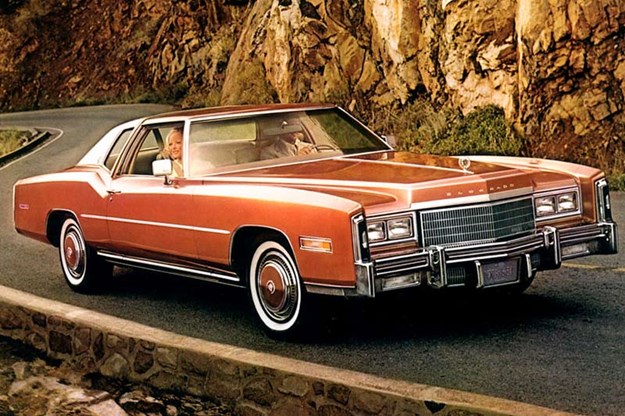 Being a Cadillac, the Eldorado needed to use one of Caddy's own engines and the long-serving 429 cubic-inch (7.0-litre) V8 was adapted to sit above a three-speed Turbo-Hydramatic. The front suspension used conventional torsion bars with double-jointed drive-shafts forming part of the suspension geometry.
Early 'Eldo' FWDs released in 1967 had single leaf springs at the back, working in conjunction with horizontal and vertically-acting shock absorbers. The leaves were replaced in 1971 by conventional coil springs. Despite weighing 2.2-tonnes, the Eldorado initially got drum brakes all round, with front discs an option costing $105. By 1976, front and rear discs had become standard.
| 2019 Market Review: Cadillac 1961-1990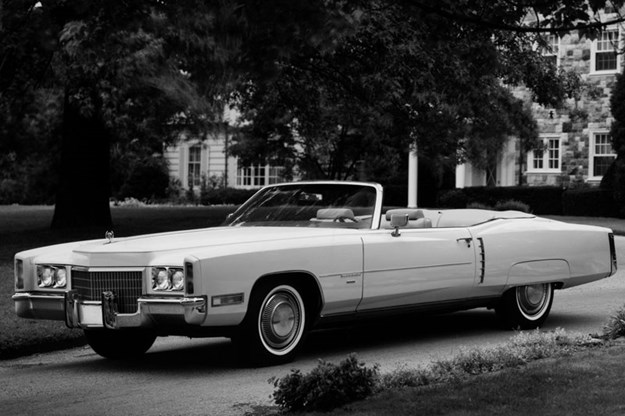 For 1968 Cadillac introduced a new engine and some minor upgrades but the real change came in 1970 when the 7.7-litre V8 was stroked to a sensational 500 cubic inches (8.2 litres). Claimed power was 272kW but that cascaded to an embarrassing 156kW when the effects of emission controls were felt and manufacturers forced to quote actual output not fanciful 'bench test' figures. 
Legislation was by then heavily influencing United States car design but the Eldorado kept its focus and market presence. In addition to the new suspension and passenger protection measures came news in 1971 of the first-ever front-wheel drive Eldorado convertible.
| Read next: 1959 Cadillac Eldorado Seville review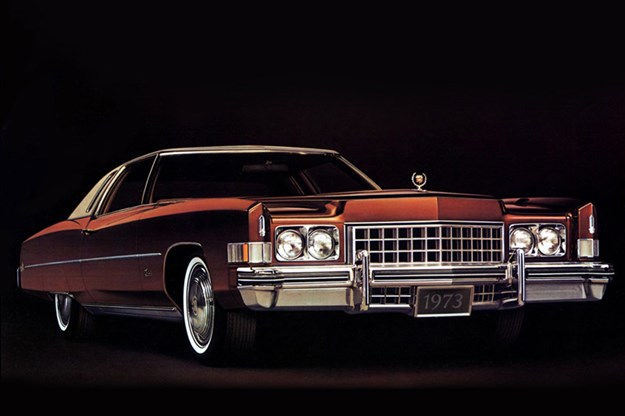 With suggestions rife that legislators would move to ban the sale of open-topped cars, Cadillac made no secret of its plans to limit the life-span of the open-top Eldorado. It even billed its 1976 model as the 'Last American Convertible'.
By then even Cadillac buyers were conscious of fuel costs and for its 1975 restyle, Cadillac downplayed the bulky appearance of the Eldorado with a new grille and bumpers, altered the coupe's rear pillar and reshaped the wheel arches. Coupes still weighed 2.3 tonnes and performance suffered when the 8.2-litre motor was replaced by a less-powerful 7.0-litre.  That said, official fuel consumption figures remained above 20L/100km.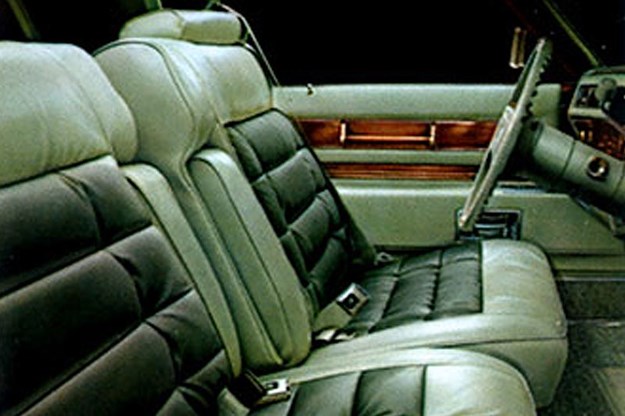 Coupes built from 1967-70 are generally the most expensive FWD Eldorados, with high-quality cars now exceeding $35,000. That can be eclipsed by a later Biarritz or Bicentennial convertible but those cars are scarce in Australia. Any that appear need to be documented and in outstanding condition to achieve high prices.
Local money for 1970s coupes starts at $10,000. For that outlay expect a car that is still LHD and needing considerably more than a cosmetic pamper.
Asking prices for convertibles can get extreme, however $30-35,000 will still buy a very good car.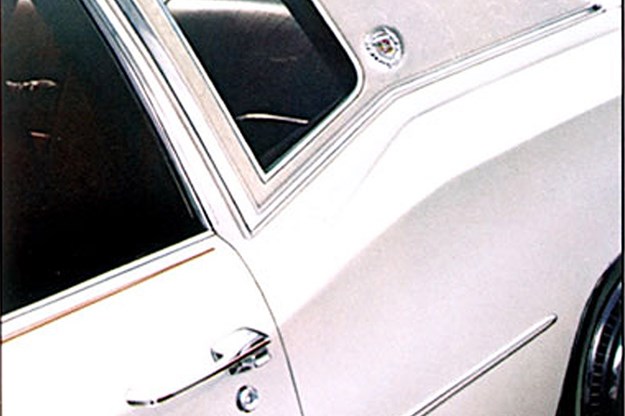 VALUE RANGE: cadillac eldorado  (71-76 Convertible)
Fair: $14,000
Good: $26,000
Excellent: $38,000
(Note: exceptional cars will demand more)
BUYER'S CHECKLIST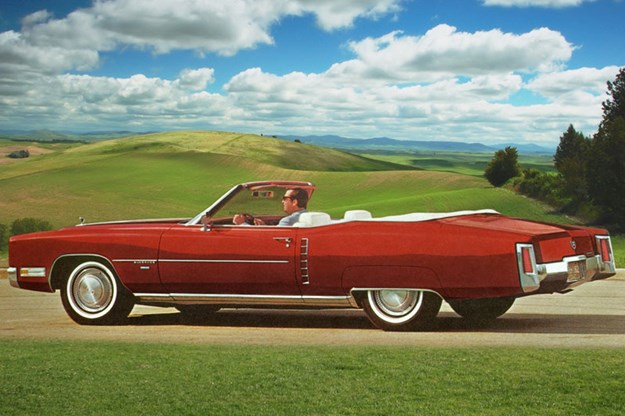 Body & chassis
The first area to check when considering one of these massive cars is for underbody rust. Up on a hoist is the best way to hunt for damage and dodgy repairs but feeling behind the sills can give you a fair idea. Window surrounds, especially the rear window, door bottoms, floors and the firewall, bonnet lip and wheel-arches must be inspected for bubbling or excessive filler. Parts to repair convertible tops that leak, shudder or don't lock into place are available but getting expensive. Tops that shudder or don't move at all may have worn cables or bushes, seized motors or simply a dud relay. Make sure you see the roof in place to check the heated window isn't cracked.
Engine & transmission
Cadillac engines are strong and immensely reliable. If there's smoke from the exhaust or breather it has probably been overheated. Providing the car is sound in other aspects, that's not a major disaster. If you find an Eldo that appears mechanically sound but lacking recent service history, budget to
change all of the underbonnet hoses and belts and have the radiator cleaned - just to be safe. Reconditioning the transmission is an engine-out job, but rarely required unless there are major vibrations or the tranny takes ages to select gears. Post-1972 motors are compatible with low-octane fuel – earlier ones prefer Premium or Ultra.
Suspension & brakes
Buying an Eldo that has been in Australia since new means considering the deficiencies of older RHD conversions. Have a specialist look at any components that may have been cut, welded or repositioned. Sagging springs are simple to replace and new shock absorbers will do wonders for a harsh ride. Ensure that the brake fluid is fresh and none of the wheel cylinders are leaking.  Replacement rear brake drums at around US$60 each are double the cost of new front disc rotors which can be found from reputable manufacturers at US$25 each. Local pricing will be 3-4 times the US cost.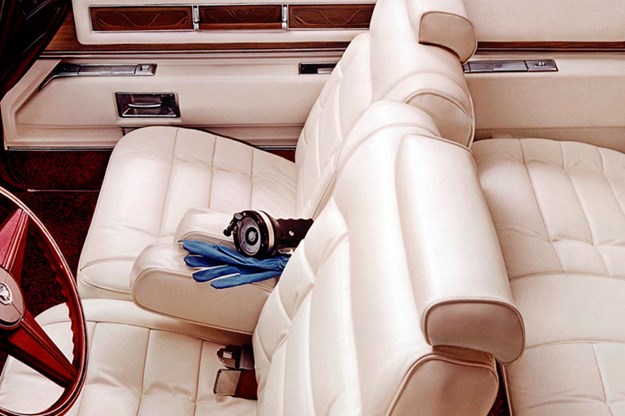 Interior & electrics
Cadillac varied its Eldorado interiors every model change and matching missing or damaged parts is a challenge.  Reproduction door-trims rarely duplicate the quality of factory items so finding a car with an excellent, original interior is useful. Spend some time in the driver's seat testing everything electrical before heading off for a drive. Air-conditioning, especially where ducting and other components have been modified during a RHD conversion can be quirky or just not work at all. Some apparent component failures can be due to failed relays and easily fixed. A quality battery is essential.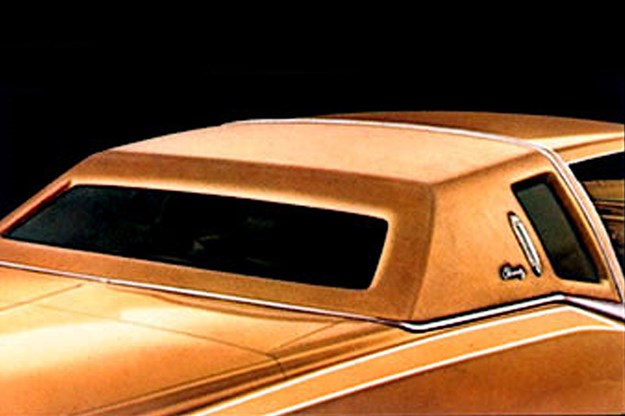 1967-1976 Cadillac Eldorado specs
NUMBER BUILT: 1967-71 110,201, 1972-76 188,673  (all types) 1977-78 108,160 (all types)
BODY: Steel integrated body/chassis two-door coupe & convertible
ENGINE: 6966cc or 8194cc V8 with single downdraft carburettor
POWER & TORQUE: 175kW @ 3800rpm, 556Nm @ 2400rpm (8.2-litre)
PERFORMANCE: 0-100km/h:  9.7 seconds, 0-400 metres 16.9 seconds (8.2 litre) TRANSMISSION: 3-speed automatic
SUSPENSION: Independent with torsion bars, wishbones, telescopic shock absorbers & anti-roll bar (f); live axle with single leaf or coil springs with shock absorbers & air-assist (r)
BRAKES: Drum or disc (f) drum or disc (r) with power assistance
TYRES: 9.00x15 cross-ply
Unique Cars magazine Value Guides
Sell your car for free right here
Unique Cars magazine Value Guides
Sell your car for free right here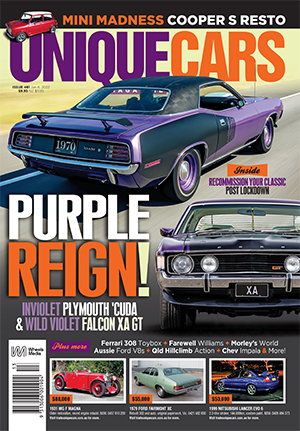 SUBSCRIBE TO UNIQUE CARS MAGAZINE
Get your monthly fix of news, reviews and stories on the greatest cars and minds in the automotive world.
Subscribe