1993 - 2002 Toyota Supra RZ Twin-Turbo - Buyer's Guide
---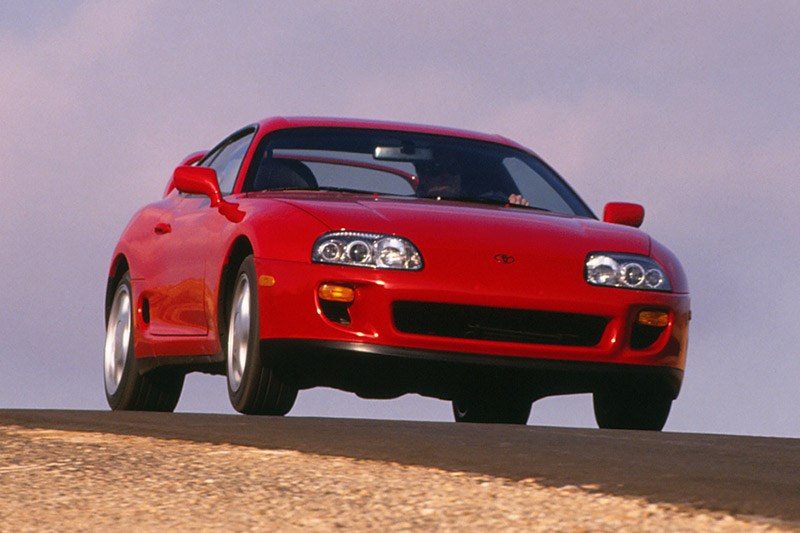 Toyota's Supra development team wanted the new Gen 4 model to be taken seriously - we think they really nailed it
Toyota Supra RZ
What on earth had happened to the Supra? The MA70 model that people bought during the late-1980s as a sporty alternative to a Cressida had by 1993 grown fangs and a fire-breathing twin-turbo engine and was off hunting Nissan GT-Rs.
The Gen 4 Supra came in two versions, both with 3.0-litre engines, but it is the Twin Turbo RZ that interests us.
Just weeks ago in a sale that had jaws dropping, eyes popping and gobs smacking throughout the automotive world, a near mint, 11,000 kilometre example of the RZ sold for almost $250,000. This was just $30,000 short of the money splurged days earlier on a rare Nissan R34 GT-R Nur.
| 2019 Market Review: 1983-2000 Toyota Supra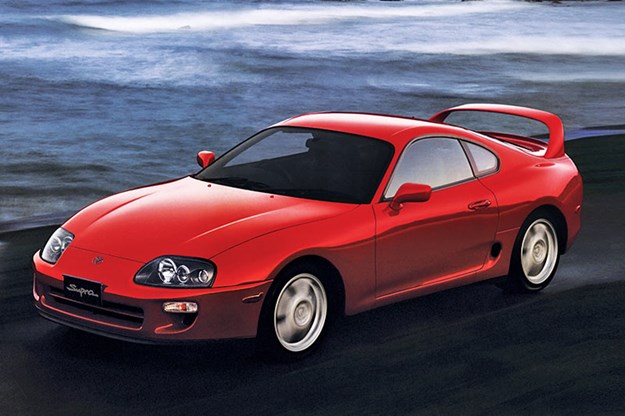 The Supra that arrived in 1993 sat on a wheelbase 55mm shorter than the previous model's. It was 65mm wider too, with a 1527mm rear track. The shape included hints of Celica but ground-hugging body extensions and bulging mudguards inspired the media to describe it as 'purposeful'. They were right.
Weight was shed wherever possible, including the use of aluminium body panels, drilled suspension components and even hollow carpet fibres. Despite Toyota's diligence, a six-speed manual RZ still weighed a substantial 1510kg Great aerodynamics with a drag coefficient of 0.31 weren't compatible with straight-line stability, so turbo cars are characterised by a massive wing that extended almost to roof height. To minimize tyre-shredding, switchable traction control was fitted as well.
| Read next: Toyota announces heritage parts project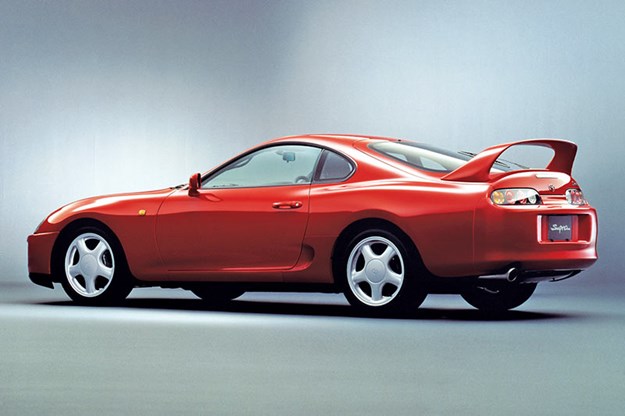 Two levels of trim were available, with factory leather seats extremely scarce. Most had Toyota's hard-wearing cloth and a comprehensive array of electrically-operated accessories, An LED upgrade isn't original but avoids the troublesome electronic dash.
New in the mid-1990s, a six-speed manual RZ would manage 5.1 seconds for the 0-100km/h sprint and 13.7 seconds over the standing 400 metres. While claimed power was a paltry 208kW, estimates of the standard engine's actual output ranged from 236-260kW.
Automatic versions are preferable if the car is to be frequently driven. The six-speed transmission and clutch have a heavier action than is typical of Japanese transmissions and would become tiring ploughing through peak-hour traffic.
| Read next: 1994 Toyota Mk4 Supra sells for AUD$246,000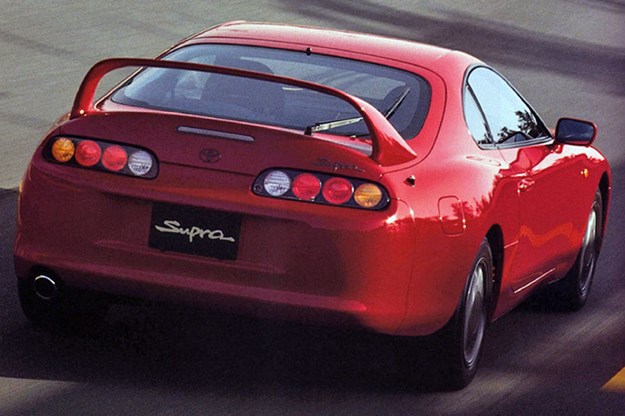 The standard 16-inch wheels are barely adequate for a car with this level of performance and most in the market have scored a boost in wheel diameter and quality of rubber.
Cars from the late-1990s and in the $45-60,000 bracket should come with at least some Australian service history and fewer than 150,000 kilometres. Unless you're very familiar with cars this complex and with such potential for mechanical catastrophe, find a specialist and arrange a complete mechanical and chassis assessment.
VALUE RANGE SUPRA (1997-2000, manual)
FAIR: $24,000
GOOD: $52,000
EXCELLENT: $70,000
(Note: exceptional cars will demand more)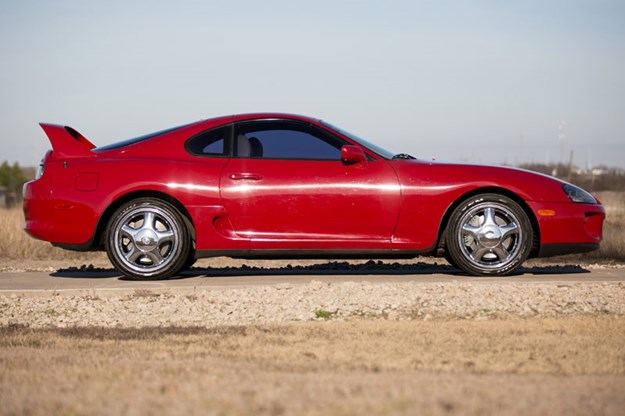 BUYER'S CHECKLIST
BODY & CHASSIS
Before even contemplating a test drive make sure the Supra you're considering hasn't suffered a serious accident. 'Cut and shut' repairs can be detected by checking the roof for paint inconsistency and underside for non-standard welding. Toyota build quality ranks with the world's best, so inconsistent shut lines between bonnet and mudguards or doors that don't shut easily indicate a car that is best ignored. If a lift-out Targa roof panel is fitted, remove it to check the seals are in good shape. Press down on the hatch to check for worn buffer rubbers that might permit water entry. Extreme body kits are prone to kerb and driveway damage so look for cracks, especially under the nose, and loose fitment.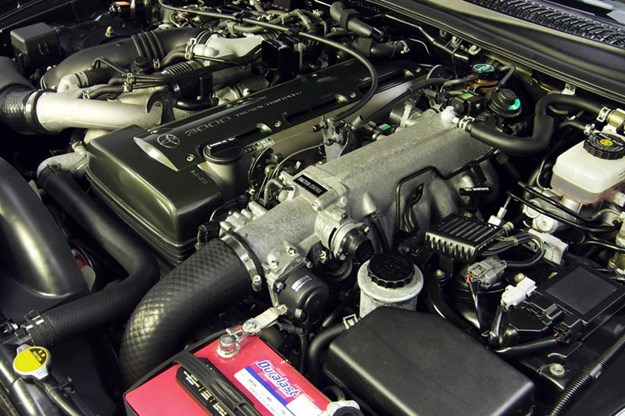 ENGINE & TRANSMISSION
Finding a car with an original, unmodified engine might be a struggle and those that have been seriously modified are fraught with actual and potential problems. Standard turbocharger checks are essential – clean engine oil a must, as are invoices confirming regular servicing. Once the engine is warm and been given a few bursts towards maximum boost, listen for rattling from the turbocharger housings and check the mirrors for any hint of smoke from the massive tail-pipes. Camshaft drive belts should be changed every 80,000km to avoid expensive upper-engine damage. A kit of belts, tensioner, water pump and associated bits costs under $500. Noise and a clunky feel are typical of the turbo's six-speed transmission but clutch slip or shudder indicate a $2000 repair bill is imminent.
SUSPENSION & BRAKES
A car that wanders may simply be a victim of incorrect tyre pressures or it could be suffering serious suspension damage. Look for inconsistent tyre wear patterns front and rear. Cars with larger than standard wheels place stress on suspensions so listen for rumbling wheel bearings and clunks caused by clapped out bushes. Some have been lowered to enhance handling but they will not be practical anywhere except at a race circuit. Four-piston brake calipers ensure excellent stopping but rotors can wear out after 40,000 kilometres. Make sure the ABS is working.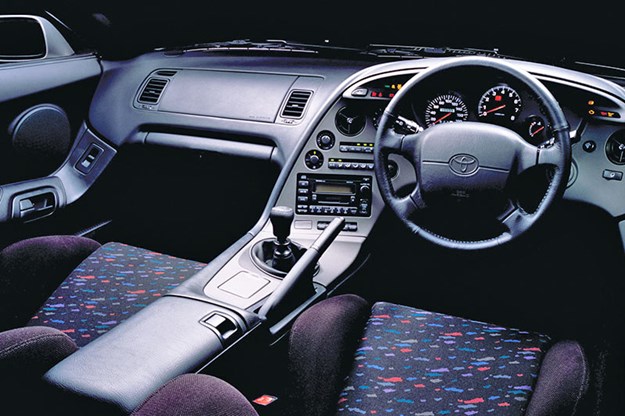 INTERIOR & ELECTRICS
Ageing electrical components need to be thoroughly checked, so flicking every switch and making sure it responds will save money. Make sure that the heater and air-conditioner deliver noticeably warmer or colder air within a minute of being activated. Ensuring the ABS light comes on with the ignition and extinguishes after the engine starts is essential. Wear to leather seat bolsters is common and easily fixed but significant dash and console rattles denote a neglected car.
1993-2002 Toyota Supra RZ twin-turbo specs
NUMBER BUILT: 45,223 (all Gen 4 Supra)
BODY: all-steel integrated body/chassis, two-door coupe
ENGINE: 2997cc double overhead camshaft six-cylinder with fuel injection
POWER & TORQUE:
208kW @ 5600rpm 
435Nm @ 4000rpm
PERFORMANCE:
0-100km/h  5.1 seconds
0-400m 13.7 seconds
TRANSMISSION: six-speed manual or four-speed automatic
SUSPENSION: Independent with upper and lower wishbones , coil springs and anti-roll bar (f)  independent  with coil springs, wishbones & telescopic shock absorbers (r)
BRAKES: disc (f) disc (r) power assisted with ABS
Unique Cars magazine Value Guides
Sell your car for free right here
Unique Cars magazine Value Guides
Sell your car for free right here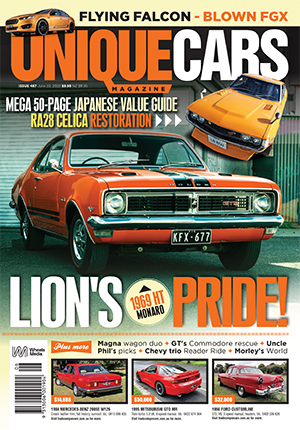 SUBSCRIBE TO UNIQUE CARS MAGAZINE
Get your monthly fix of news, reviews and stories on the greatest cars and minds in the automotive world.
Subscribe