1994-1998 Subaru WRX - Buyer's Guide
---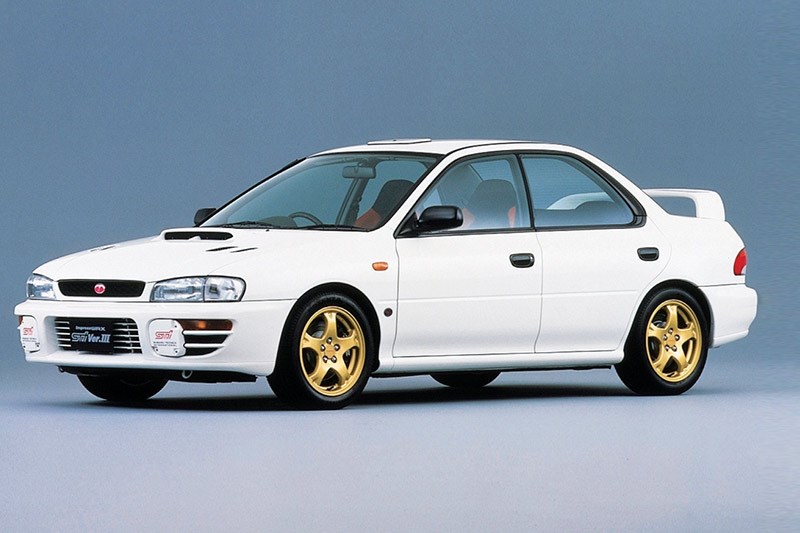 Wanna feel like a rally champ when you're only popping out for a litre of milk? - get yourself into a WRX and go for it!
Subaru WRX
Subaru's WRX (World Rally car where 'X' purportedly denoted eXperimental) arrived here in February 1994. The standard Impreza that appeared a year earlier had front-wheel drive, minimal power and no charisma. The all-wheel driven WRX with a version of the 2.0-litre turbocharged engine first seen in the larger RS Liberty instantly changed the way people viewed the Impreza and also Subaru as a brand.
With 155kW and 1245kg to propel, the WRX instantly acquired a reputation as a giant-killer. It became a winner at the top levels of rallying, here and internationally and also became the 'target' in many of the police chases that made their way to the 'six o'clock' news.
| Read next: 25 years of Subaru WRX: 1994-2019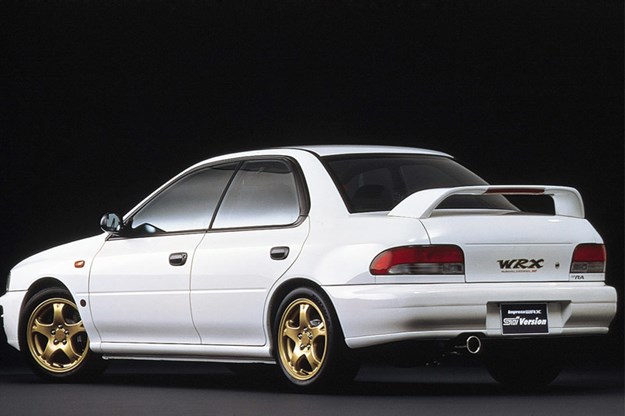 A National Championship in Australia took a while to manifest but once the trophy was in the grip of Team Subaru, led by the late Peter 'Possum' Bourne, it didn't let go. Overseas, WRXs cleaned up national titles in a variety of arenas and scored three World Rally Manufacturers' titles.
The WRX was sold as a sedan or very practical five-door Hatch. Launch price was cropped to $39,990 but within two years it had climbed to $45,000 without any discernible effect on sales.
| 2019 Market Review: Subaru WRX/STi 1994-2003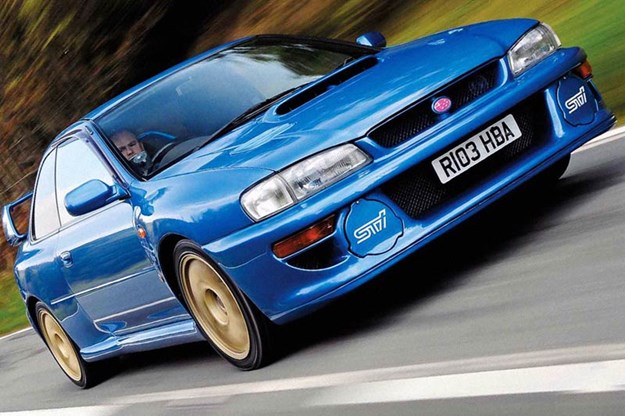 Interior trim was functional but basic for a car costing $40,000. Air-conditioning and ABS were standard, as were power windows, a leather-bound steering wheel and leather-topped gear-lever. Subaru took a long time to forgive me for describing the seats in an early build car as 'something you might find in a dentist's waiting room' but they were pretty crook.
'Special' editions became a feature of Subaru's marketing strategy for the WRX. Its first limited-volume variation arrived late in 1995 – a 'Prodrive Blue' model produced to commemorate Subaru's first WRC series win.
| Read next: 2014 Subaru WRX review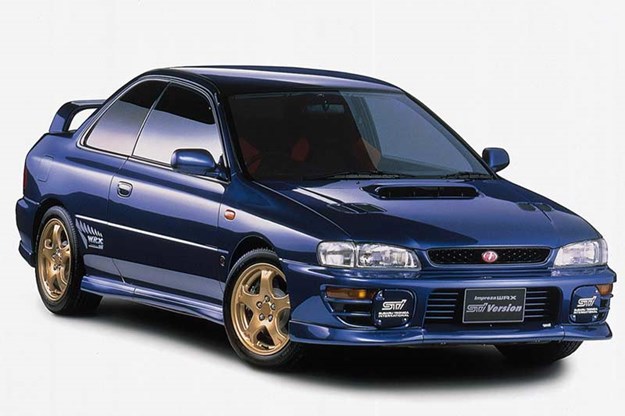 Two years later came Club Spec versions of the sedan (200 made) and Hatch (140). These rarities cost $2500 more than standard versions when new but in today's market carry a $3000-5000 permium.
Late 1996 brought a four-speed automatic transmission option. Now, people whose only objection to Rex ownership was the frequent gear-changing had no excuse, however sales didn't benefit much from the auto addition.
| Read next: 1999 Subaru WRX STi-22B review 
Spending $15,000 should secure an excellent 1994-96 sedan, while $3000 extra puts a Club Spec within reach. Less than 25 per cent of Australian-delivered WRXs were Hatches yet they generally cost less than sedans of similar age and quality.
VALUE RANGE WRX (Sedan 1994-99)
FAIR: $4000
GOOD: $9500
EXCELLENT: $15,000
(Note: exceptional cars will demand more)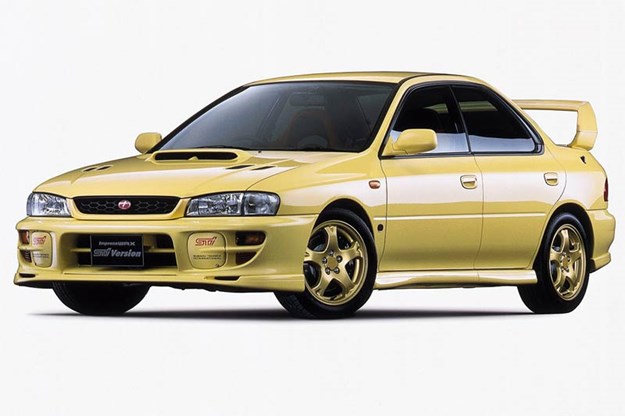 BUYER'S CHECKLIST
BODY & CHASSIS
Poor-quality crash repairs are a major issue with older WRXs. Check panel gaps, orange-peel paint, misaligned bumpers and windows that whistle due to poor sealing. A Subaru expert can tell at a glance whether the panels are original or replacements. Rust isn't a usually a problem but check the boot for water entry and any crash-repaired areas. Early cars that are still on their original paint-jobs (especially metallics) will be fading and possibly patchy. Most WRXs won't have done a lot of off-road work but a glance underneath for scarred sills and scrapes to the floor-pan is advisable. The low-mounted fog-lights are susceptible to stone damage.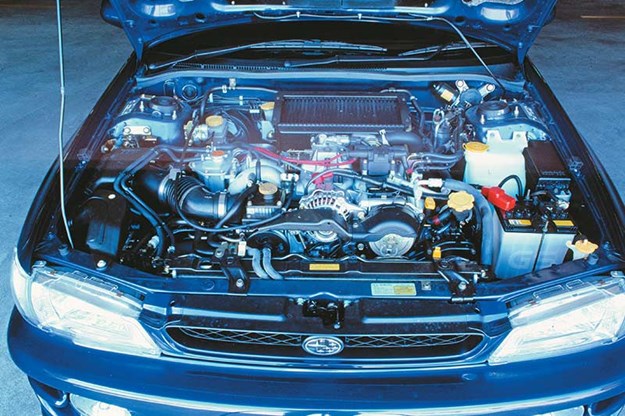 ENGINE & TRANSMISSION
WRX engines need to be evaluated from cold and when warm, so make sure your test drive gives the engine sufficient time to reach full temperature. At start-up listen for bearing rumble and timing chain rattles. Once the car has been given a decent run, allow it to idle and look for underbonnet oil smoke and coolant leaks. White exhaust smoke indicates imminent turbo failure. Oil changes every 5000 kilometres are recommended and coolant must be replaced annually. Clutch shudder is common, early gearboxes slightly notchy but not noisy. A gearbox that crunches on fast second-third upshifts has synchromesh problems. Rear differentials will normally clunk a little but serious thumps signify a costly problem. Synthetic transmission oil is recommended to reduce heat and prolong component life.
SUSPENSION & BRAKES
Undersized brakes were a WRX bugbear from new and cars still using factory brakes will often be suffering rotor warp. Larger, after-market brakes are available and cost from $300 to more than $1000 per rotor. Front drive-shafts cop a hammering so turn tightly at low speed and listen for clicking sounds that reveal constant velocity joint wear. Look for edge-worn tyres front and rear, signifying something amiss with the suspension alignment. Power steering leaks, bent or scuffed rims are other areas to check while at ground level. Bigger rims and lower-profile rubber are OK on smooth, friendly bitumen but if impromptu rallying is tempting, remember that big, wide tyres have minimal grip on gravel.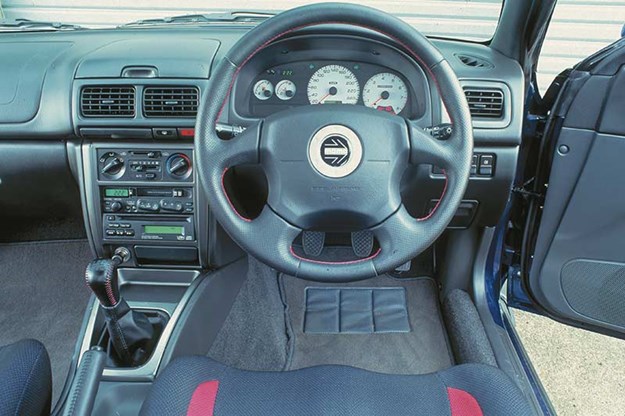 INTERIOR & ELECTRICS
Interior squeaks and rattles are endemic but check that the roof lining is securely in place. The temperature controls look like throwbacks to Subaru's bush-bashing Brumby utility and can jam or fail to operate. By this time of their lives, WRX air-conditioners will have been repaired and possibly even replaced at least once so make sure the breeze from the undersized outlets is nice and cold. Make sure the seat back locks properly after being adjusted as they can collapse under hard acceleration and leave the driver horizontal.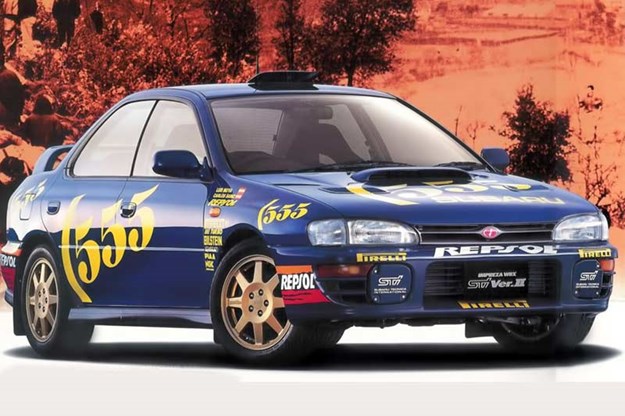 1994 - 1998 Subaru WRX specs
NUMBER BUILT: MY94-98 Sedan: 3216, MY94-98 Hatch: 996 (Australia only)
BODY STYLES: all-steel, integrated body/chassis four-door sedan and five-door hatch
ENGINE: 1994cc horizontally-opposed four-cylinder with double overhead camshafts, fuel injection and single turbocharger
POWER & TORQUE: 155kW @ 6000rpm, 270Nm @ 4800rpm
PERFORMANCE: 0-100km/h – 7.1 seconds, 0-400m – 14.9 seconds
TRANSMISSION: five-speed manual or four-speed automatic (1996 onwards)
SUSPENSION: independent with struts, coil springs and anti-roll bar (f) Independent with struts, coil springs and anti-roll bar (r)
BRAKES: disc (f) disc (r) with power assistance and ABS
TYRES: 205/55R15 radial
Unique Cars magazine Value Guides
Sell your car for free right here
Unique Cars magazine Value Guides
Sell your car for free right here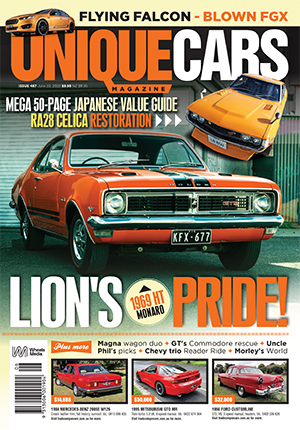 SUBSCRIBE TO UNIQUE CARS MAGAZINE
Get your monthly fix of news, reviews and stories on the greatest cars and minds in the automotive world.
Subscribe