Mazda MX-5 - Buyer's Guide
---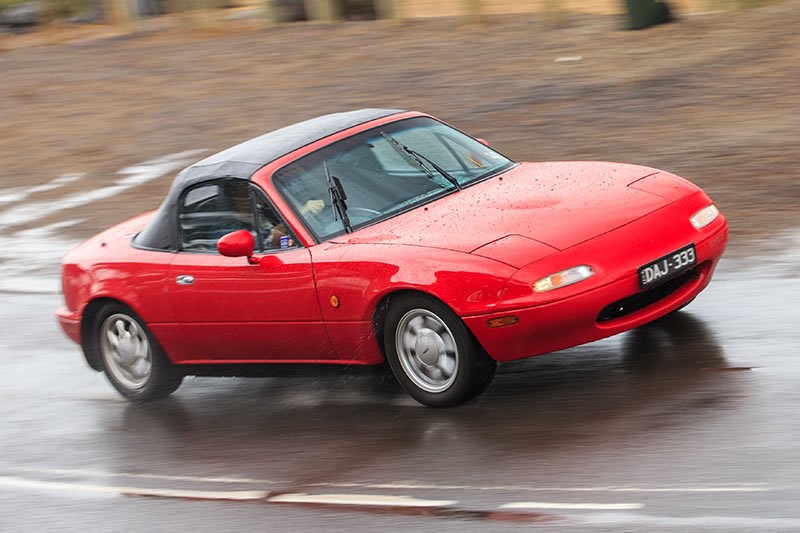 Sometimes new model planners and designers hit the bullseye - that seems to be the verdict with this little Mazda roadster
Mazda MX-5
This year marks 30 years since the world's best-selling sports car was launched. The Mazda MX-5  has won so many awards and been the subject of abundant praise for so long you think it should be top of every sports-car lover's 'must have' list. However you can today still buy an excellent early MX5 for a third the amount it cost new in the 1990s.
Simplicity was crucial to the MX-5's success but has also been a factor in its failure to inspire. The RX-7 and earlier Mazda rotaries with extrovert styling and performance to match now command serious money on the world market but so far the MX5 hasn't followed the trend.
| 2019 Market Review: Mazda MX-5 1989-2008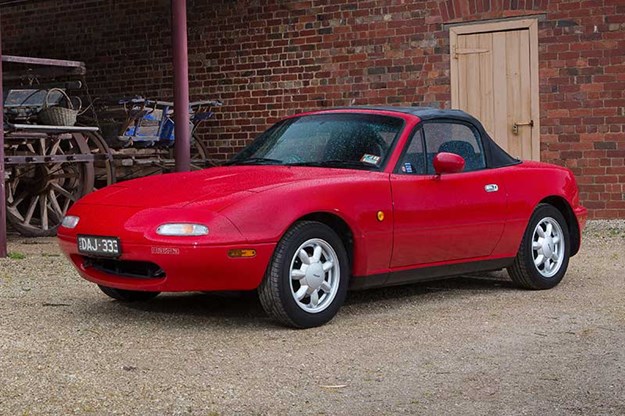 Is it too conservative in shape? Is the 85kW 1.6 litre engine or even the 98kW 1.8 just too underwhelming to attract a new generation of buyers?
Certainly the chassis isn't a problem; it's as close to perfection as can be found in a car of this type and price. Perhaps though it is so balanced and forgiving that a trip to a racetrack is required should you want to go looking for its limits.
Despite muted performance, the MX-5 when new was greeted with extraordinary enthusiasm by sports car buyers. At introduction in Australia the car was priced at $29550, with air-conditioning and the nicely-shaped hardtop extra. Similar money would buy a Honda CRX but the Ford Capri Turbo was $2000 cheaper.
| Read next: Mazda MX-5 - where it all began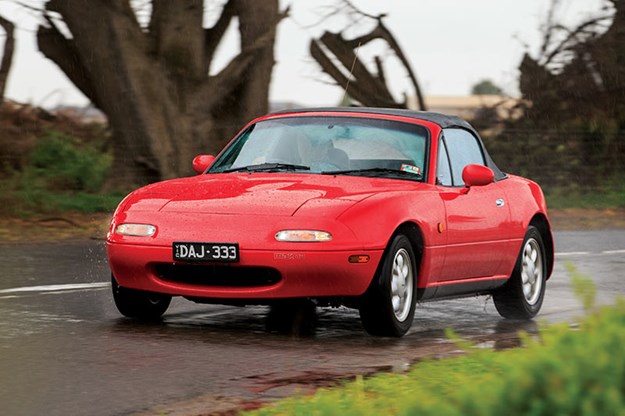 Driving an early 1.6-litre car to its potential demands constant shifting of gears, although thankfully the MX-5 gearbox and stumpy shifter are accurate and fun. From 1993, accompanying an upgrade to 1.8-litres and 98kw, an automatic transmission  was added to the option list. 
A 1.6-litre car in good condition that hasn't as yet clocked 200,000 kilometres will likely to cost less than $12,000. Pay a little more for one with a hardtop.
Cars in the sub-$7500 bracket needing paint and mechanical refurbishing offer no real saving because the repairs you make will push the overall cost well above the price of an already-excellent car.
| Read next: MGB/MX-5 hybrid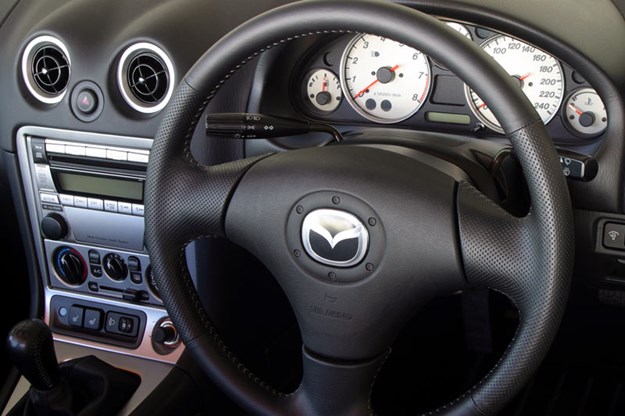 The 1.8 with manual transmission is noticeably nippier than the small-engined version and not a great deal more expensive to buy. For reasons probably related to price – a jump of over $10,000 in three years while in the midst of Australia's recession –  sales of 1993-98 cars faltered and they are now hard to find.
Attractions include power steering, an improved interior and uprated brakes.  Although not standard, most 1.8-litre cars in the market will have air-conditioning.
VALUE RANGE MX-5 (1989-93)
FAIR: $4000
GOOD: $7500
EXCELLENT: $12,000
(Note: exceptional cars will demand more)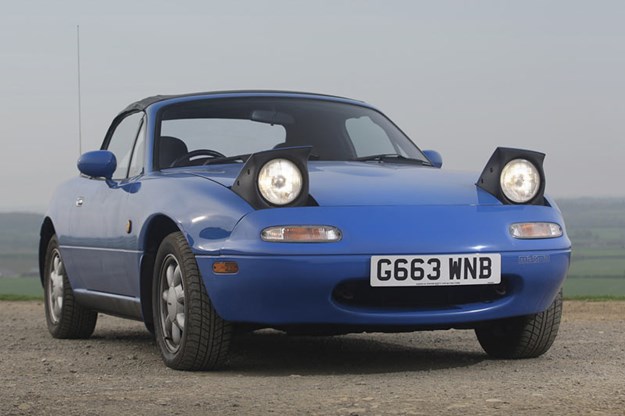 BUYER'S CHECKLIST
BODY & CHASSIS
No MX-5 purchase should occur without an on-hoist, underside inspection. These are low-slung, lightweight cars and the oldest of them have been in existence for 30 years so rust can be taking hold. Contact with speed bumps and other `calming devices' can scrape or crush underbody panels and components and paint loss leads to rust. The exhaust is particularly vulnerable. The MX5, despite appearances, is resilient and some cars have been quite heavily damaged before being repaired. Check the door gaps are similar on both sides and the boot isn't letting in water. The headlamps should raise and lower within a second of being activated.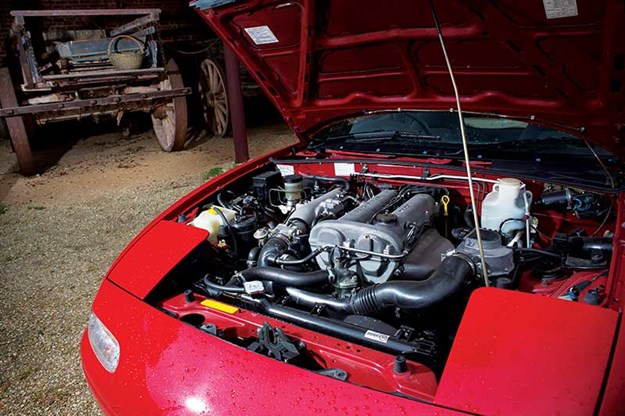 ENGINE & TRANSMISSION
Two problems afflict MX-5 mechanicals; neglect and owner abuse. Low kilometre cars can suffer oil leaks – usually minor and from around the cam covers – but major loss from the crank seal is costly to rectify. Sludge affecting the valve-train is a common problem so listen for rattles and chatter when the engine is cold. Cars that haven't had the cam and auxiliary belts changed in over 10 years should have them done as a precaution. Ensure that the electric cooling fans operate once the engine is warm. Clutch life depends largely on use/abuse and they will last 100,000 kilometres if treated gently. Clutch slave cylinders are less durable and often the reason for difficult gear selection when the car is stationary.
SUSPENSION & BRAKES
Shock absorbers bear the brunt of enthusiastic use and usually last less than 40,000 kilometres. Leaks from the power steering rack (where fitted) are difficult to spot with the plastic engine under-tray in place. Low profile tyres destroy ride quality. Tyres should be replaced before the wear bars are showing as worn tyres have a noticeable effect on steering response.  Setting an MX-5 up for a bit of club-level motor sport is easy and cheap, with several businesses catering specifically to these cars. Among the deals quoted were sets of competition-spec coil-over shock absorbers at under $1500 with sets of high-performance front brake components at $1700 per pair.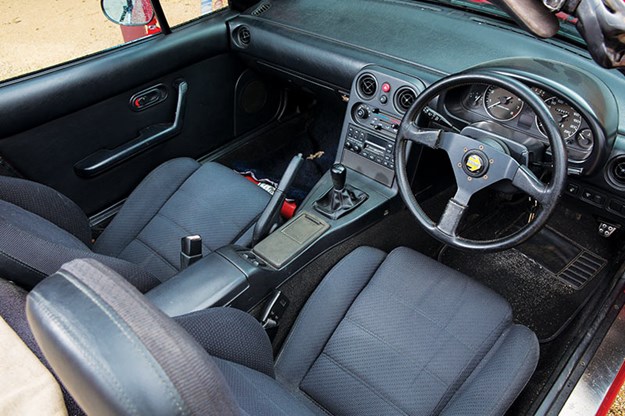 INTERIOR & ELECTRICS
Out of sight roof material on cars with hardtops can deteriorate rapidly. With the hardtop removed, check that the soft-top raises and lowers easily and isn't displaying deterioration. Also ensure the clamps that secure the folded top aren't damaged. Installing the rear window with the roof erected can damage the zipper. Trim fitted to early cars isn't especially durable, so look carefully for cracks, torn leather (where fitted) and damaged plastic. Check power windows for binding or noise when being operated.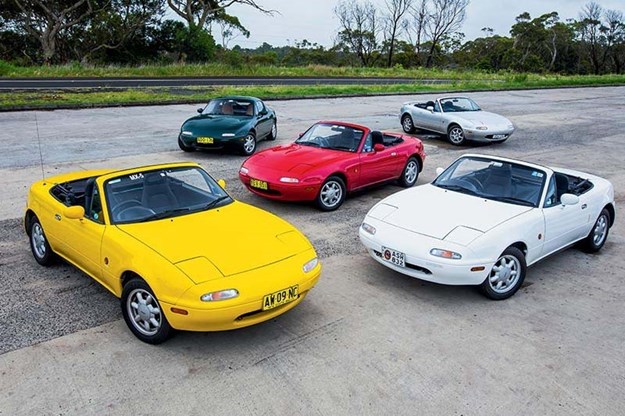 1989-1998 Mazda MX-5 specs
NUMBER PRODUCED: 430,000 (1989-98)
BODY: unitary steel two-seat roadster
ENGINE: 1598cc or 1840cc in-line four-cylinder with double overhead camshafts and fuel injection
TRANSMISSION: five-speed manual or four-speed automatic
POWER & TORQUE: 85kW @ 6500rpm, 130Nm @ 5500rpm (1.6 litre)
PERFORMANCE: 0-100km/h 11.4 seconds, 0-400 metres 17.5 seconds (1.6 litre)
SUSPENSION: independent with wishbones, coil springs, telescopic shock absorbers & anti-roll bar (f) wishbones with coil springs, telescopic shock absorbers & anti-roll bar (r)
BRAKES: disc (f) disc (r) power assisted
TYRES: 185/60H14 radial
Unique Cars magazine Value Guides
Sell your car for free right here
Unique Cars magazine Value Guides
Sell your car for free right here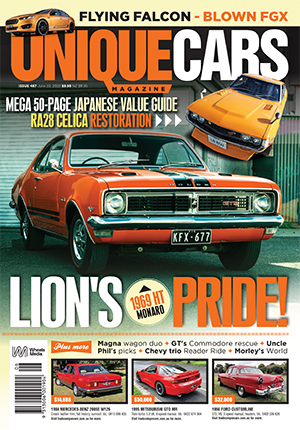 SUBSCRIBE TO UNIQUE CARS MAGAZINE
Get your monthly fix of news, reviews and stories on the greatest cars and minds in the automotive world.
Subscribe