1975-1989 Ferrari 308/328 - Buyer's Guide
---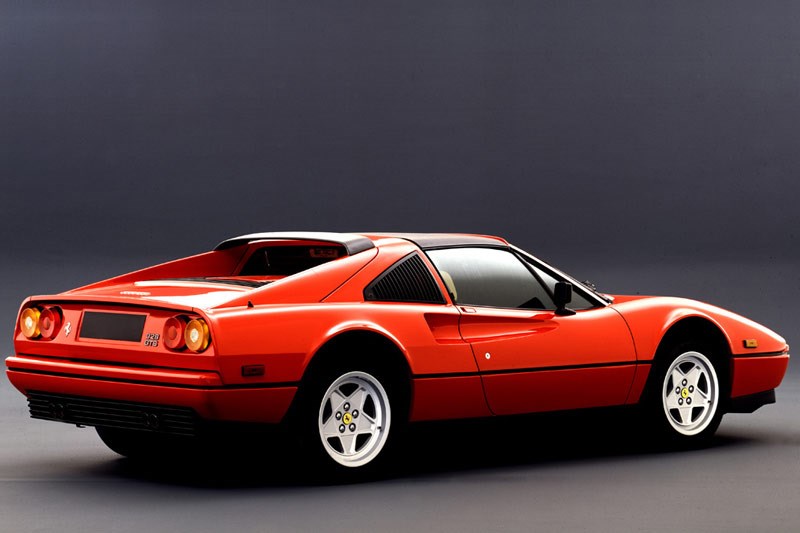 The 308 and 328 are emblematic of the exotic car era ruled by Enzo Ferrari
1975-1989 Ferrari 308/328
Show anyone with the slightest interest in cars a red 308 or 328 and almost certainly they will be correctly identified as a Ferrari. Paint them a different colour and the proportion of correct IDs would drop significantly.
These mid-engined, V8-powered two seaters are emblematic of the era when the world of exotic car making was ruled by Enzo Ferrari.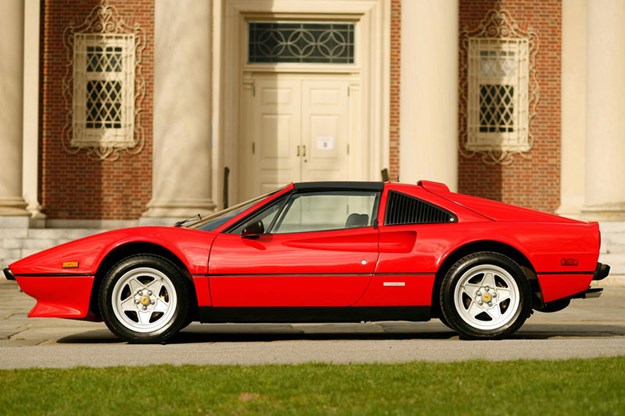 Even Ferrari acknowledged that the switch to Bertone's four-seat, mid-engine format for its GT4 was a step too far. In 1975 when the Pininfarina-styled 308 appeared, its job was to take Ferrari back to its pre-eminent position before Lamborghini and even Porsche came nibbling at its market share.
| Read next: Ferrari 308 GTSI review
The very first 308GTs were also the firstFerraris with fibreglass bodies. Derided when new by the 'purists', glass-bodied 308s survived for less than two years before being replaced in 1977 by a steel-bodied version. Today those early cars are worth considerably more than a steel-bodied GT. Four years later came the fuel-injected 308GTSi and in 1985 the 3.2-litre 328GTS.
Australia's earliest 328s arrived in 1986 and were priced at around $140,000. That was marginally less than a Lotus Esprit S4 Turbo but $20,000 more than the 3.2-litre Porsche Carrera. Output from the quad-cam, fuel-injected V8 was 198kW, developed at 7000rpm.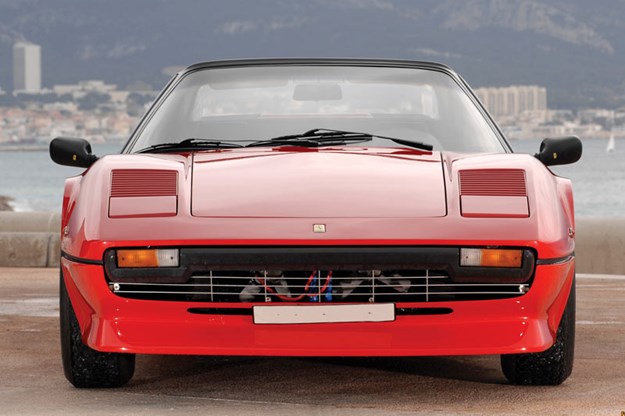 Five-speed transmission was mandatory and Australian-delivered cars came standard with air-conditioning. Offshore markets had the option of a fixed-roof 328GTB but here it came were only in GTS form with a removable roof section.
Distinguishing the 328 from earlier versions was a new grille, large cooling slots in the luggage compartment cover and new, five-spoke alloy wheels.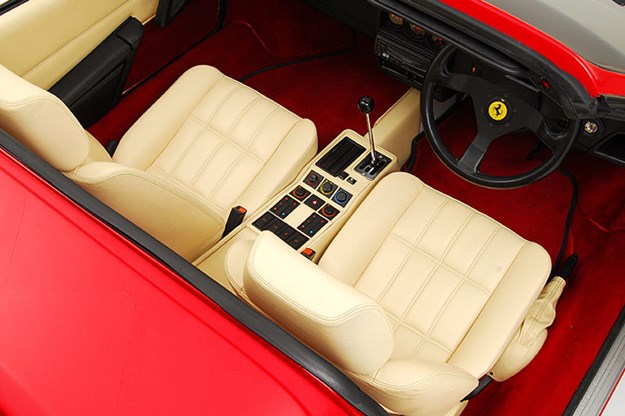 These are such complex cars that a professional inspection is mandatory. However, a perceptive test drive will usually reveal flaws that tell potential buyers to find another car.
Performance figures from overseas testing confirm this model as among the most potent supercars of its era and engine capacity. Acceleration from 0-100km/h recorded by a 328 running on leaded fuel was 6.2 seconds, with 0-160km/h taking around 15 seconds. Top speed was an achievable 255km/h.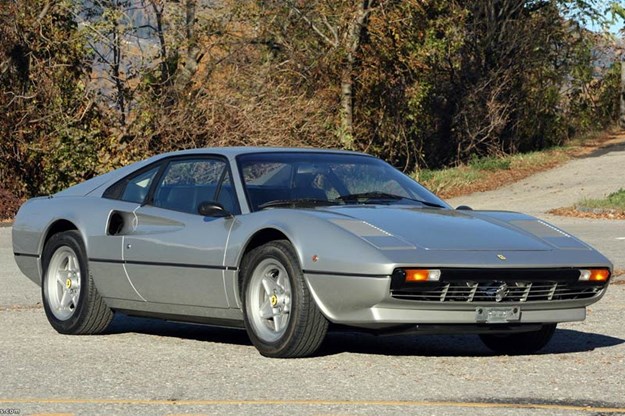 Premium unleaded fuel is an absolute minimum, with 98 Octane preferable for everyday use and essential if the car is going to be pushed hard during Club 'track days' that are popular with owners.
MARKET REVIEW
People who buy an older Ferrari are often fulfilling a childhood dream. Many aren't particularly wealthy but they are at the point in their lives where having a Ferrari becomes possible.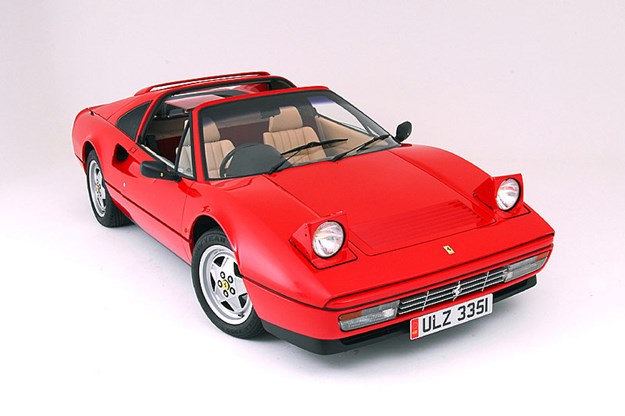 Prices have climbed by 30 per cent since 2015, however the 328GTS could still be the last of the 'affordable' two-seat Ferraris with real potential to deliver financial benefits to owners. As earlier and more costly cars are pushed towards $1 million, and beyond the means of all but the very wealthy, there will be increased demand for steel-bodied 308GTs, the later QV and 328.
There is just absolutely no sense in buying a cheap 328GTS – assuming one fitting the description might be available. Personal imports from Britain or other places where climates are harsh are worth avoiding, due to their potential for incipient rust.
VALUE RANGE: Ferrari 308/328
Fair: $45,000
Good: $160,000
Excellent: $220,000
(Note: concours cars will demand more)

BUYER'S CHECKLIST
Body & chassis
Most external problems with Ferraris of this age relate more to neglect and abuse than inherent flaws. Minor knocks to the vulnerable bumpers are common so check for 'quickie' repairs. Those low-set driving lights are very susceptible to stone damage and need close inspection. The lift-out roof panel should fit securely with no wind whistle or signs of water entry. Body rust is rarely a problem with Australian-delivered cars but not all Ferraris began their useful lives here and it has been 30 years. Check the sills, inside the wheel-arch lips and window surrounds for bubbling then send the car to a specialist for an on-hoist examination.
Engine & transmission
Maintaining a 328GTS is relatively straightforward and not the cash-sapping exercise you may expect, assuming you've bought a sound car with documented history. The exception, according to Ferrari specialists is the major 40,000 kilometre service that includes replacement camshaft belts and can cost $6000. Replacing the clutch – which is likely to survive for 70,000 kilometres at best – will lighten your wallet by around $3000 including labour. Infrequent use allows a range of problems to manifest including leaks from the water pump seal and loss of air-conditioning refrigerant due to seal failure. The notchy gear-shift needs gentle use until the oil warms. If first and reverse are difficult to engage, look at the clutch. Diff failure is very rare and usually a symptom of owner abuse.
Suspension & brakes
Driving your Ferrari short distances and infrequently will cause as much harm to suspension components as thrashing it around a race-track every second Wednesday. Shock absorbers will lose their edge even when the car is sitting still although the more costly Bilstein units are reportedly less susceptible than the more common Koni. Brake wear isn't a particular problem but noisy rotors, an unyielding or 'soggy' pedal demand immediate attention. Replacements for kerb-damaged wheels are available.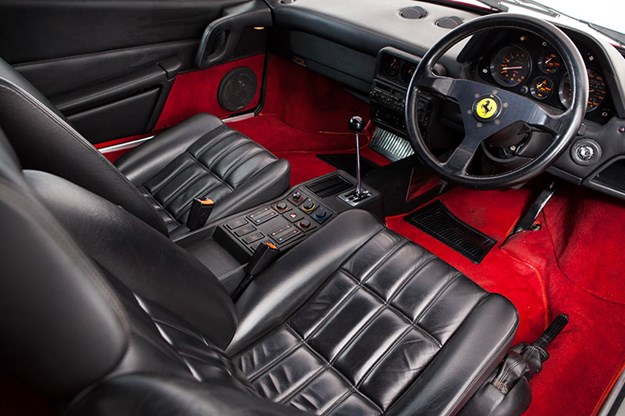 Interior & electrics
Noisy, slow, shuddering power windows, inefficient air-conditioning and door locks that don't aren't insurmountable problems but can be expensive to rectify and may indicate a car to avoid. Make sure as well that the concealed headlamps appear and retract within a couple of seconds. The leather plus plastic interior trim is of good quality and some components such as door handles are actually Fiat parts. A Ferrari with dash cracks from sun exposure and seriously crazed leather would need to be very keenly priced.
1975-1989 Ferrari 308/328 specs
NUMBER BUILT: 6068 (all 328GTS)
BODY: tubular steel chassis, steel and aluminium body, two-door coupe
ENGINE: 3185cc, all-alloy V8, quad camshafts with fuel injection
POWER & TORQUE:
198 kW @7000rpm,
302Nm @ 5500rpm
PERFORMANCE:
0-100km/h 6.2 seconds,
0-400m 14.0 seconds
TRANSMISSION: Five-speed manual
SUSPENSION: independent with upper & lower wishbones, coil springs, anti-roll bar (f) independent with upper &
lower wishbones, coil springs, anti-roll bar (r)
BRAKES: disc (f) disc (r), power assisted with ABS
TYRES: 205/55Z16 (f) 255/50Z16 (r)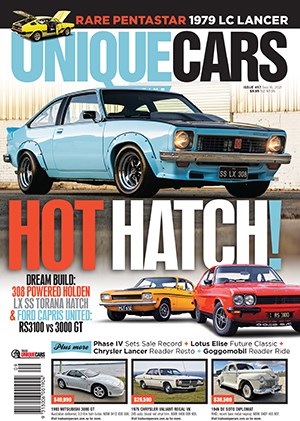 Subscribe to Unique Cars Magazine and save up to 42%
Australia's classic and muscle car bible. With stunning features, advice, market intelligence and hundreds of cars for sale.
Subscribe