1957-1974 VW Karmann-Ghia - Buyer's Guide
---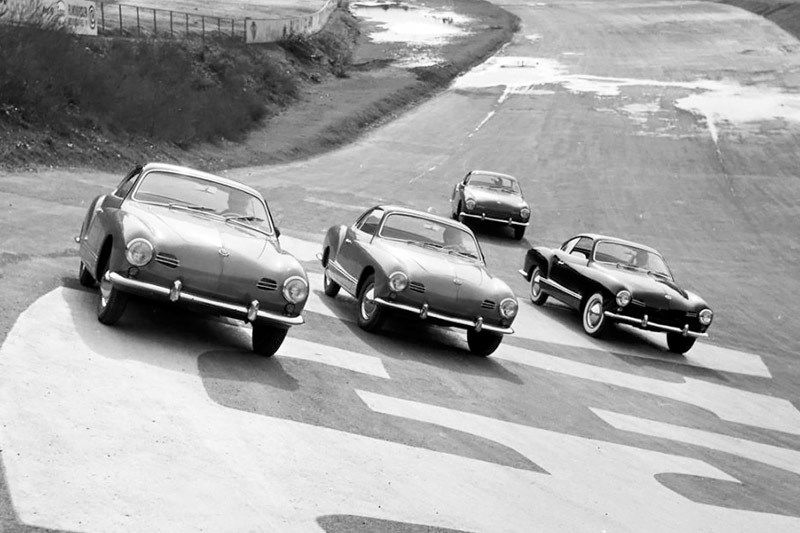 VW craved a bit of glamour for itself in the shape of the Karmann Ghia
1957-1974 VW Karman-Ghia
Having supplied components to Porsche and watched as their little Beetle-based coupes set records and won races, VW no doubt craved a bit of glamour for itself.
The shape of the Karmann-Ghia reportedly dates back to a rear-engined Ghia design from 1950 however the first documented cooperation between Karmann in Germany and the Italian styling house came in 1953.
Two years later at the Frankfurt Motor Show the completed car was revealed and VW distributors the world over (but especially in the USA) could not wait for cars to sell. Lower and sitting on a broader floor-pan the K-G coupe bore no visual resemblance to the Beetle which supplied everything beneath its eye-catching shape.
| Read next: 1960 Type 14 Karmann-Ghia coupe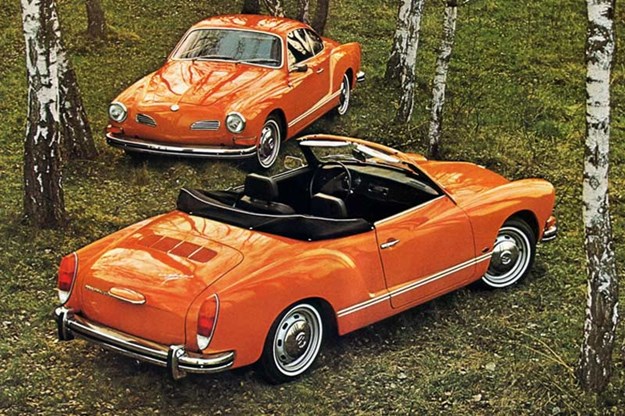 The same flat-four engine was buried beneath a hinged cover that looked just like a conventional boot (or trunk in US parlance). With a single carburettor and no attempt made to enhance output, engine power remained at 36hp.
Any performance advantage the low-slung Karmann-Ghia enjoyed was due to improved aerodynamics. However top speed still fell short of 125km/h and overtaking took a long and risky amount of time on the wrong side of the road.
In the USA where most were sold the Karmann-Ghia cost $1000 more than a $1400 Beetle and didn't offer a huge amount more than the basic VW product. The seats still featured austere metal frames however they were set lower and trimmed in two-tone vinyl. The dash in painted metal included a clock and the rudimentary heater added a demisting function. Later cars could be specified with an under-dash parcel shelf and carpet.
Australian sales of the Type 1 lasted only until 1964 when the Type 3 Karmann-Ghia 1500 was launched. In the USA, T1 cars remained very much the version of choice until 1974 when VW pulled the plug to concentrate its efforts on the new Scirocco.

Until imports began to arrive in quantity, Australia hadn't seen many Type 1 K-G convertibles. Not in the metal anyway, The one that readers might recall was featured in the opening credits of some `Get Smart' episodes and acquired after Chrysler dumped the Ford-powered Sunbeam Tiger, leaving Agent 86 without wheels. US cars built during the model's final four years had 1.6-litre engines and would reach 147km/h.
MARKET REVIEW
Karmann-Ghias sold here in the 1960s frequently came with two-tone paint and colour-schemes best described as 'drab'. Owners while undertaking restorations often attempt to brighten their vehicles with metallic repaints, ignoring the effect on authenticity and long-term value.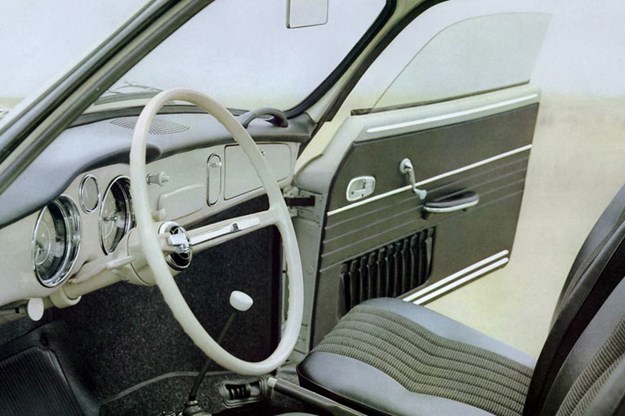 That said, K-G values have still climbed appreciably during the past five years and restored coupes will normally cost more than $30,000.
Cheap, restorable cars at one time were easy to find but finding a car to restore now will likely entail a trip to the USA.
Given their scarcity, it's easy to understand why local owners of soft-top Karmann-Ghias are reluctant to part with their cars and prices over $40,000 are common. Exceptional cars have sold in the USA for the equivalent of A$70,000 so anyone in the market for something spectacular could be facing significant outlay.
VALUE RANGE: VW Karmann Ghia
Fair: $12,000
Good: $27,000
Excellent: $40,000 (Type 1 Coupe)
(Note: concours cars will demand more)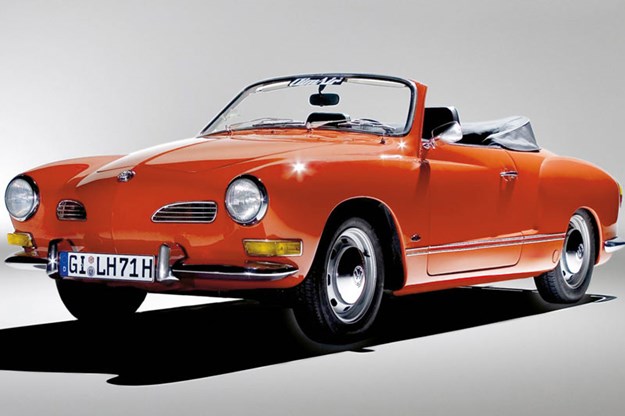 BUYER'S CHECKLIST
Body & chassis
Good-quality used body panels are difficult to locate in Australia, a little easier in the USA. However, sourcing bulky components from overseas also involves oppressive freight costs so spending more in the first place on a car that is rust and dent-free is advisable. Superficial rust is likely to occur in wheel arches, the boot-lid lip, window surrounds and door skins. More serioBUus and expensive to rectify are corroded floor pans, rust around the fuel tank, firewall and front chassis rails. Make sure there are no fuel leaks. Early bumpers in stainless steel cost close to $3000 per pair. Check that the engine cover releases and locks easily and isn't twisted.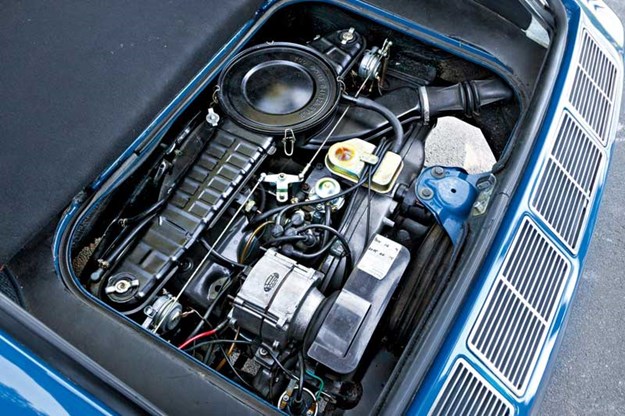 Engine & transmission
These are among the easiest engines in existence to maintain and rebuild. Oil leaks are common and easily cured since the engine can be removed in around an hour. Complete gasket sets cost $60. VW cylinder heads can suffer cracks or loose studs and any car that misfires or feels sluggish should be compression tested. New, uprated heads are available through VW specialists. Make sure the cooling fan shrouding is in place and secure and that the heater tap allows hot air into the cabin. Fuel system leaks have caused fires and should not be present in a well-kept car. The four-speed gearbox is robust (look how many competition cars use VW transaxles) and the shift will likely be notchy with second gear difficult to find sometimes. A shuddering clutch is easily rectified.
Suspension & brakes
Some Type 1 cars have been converted to disc front brakes, however the purists will insist on all drums. A soft pedal suggests hydraulic problems but wandering is more likely to be a loose or worn steering box. Creaking over bumps is probably caused by worn ball joints (replacement cost around $110 per pair). Front shock absorbers which are tired or incorrectly matched will cause excessive bounce. Correct tyre pressures are critical to both ride and handling and wider wheels with lower-profile tyres can make an amazing difference.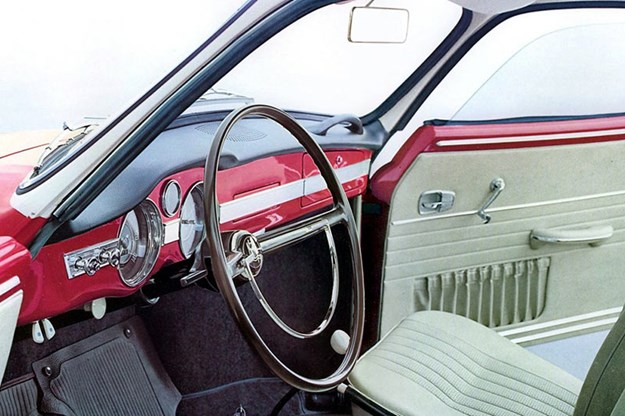 Interior & electrics
The quality of early VW trim was outstanding and finding replacement seat coverings in correct patterns can be a challenge. Ask other owners for referrals to local trimmers with experience in the brand or look overseas where correct-pattern replacement covers (front and rear) are advertised at $400-600 per set. Six-volt electrics need to be maintained by a specialist auto-electrician but 12 volt systems on later models are generally reliable. Complete dynamos for 6 volt cars cost more
than $500.
VW Karmann-Ghia specs
NUMBER BUILT: 445,000 (approx)
BODY: all-steel unitary construction two-door coupe and convertible
ENGINE: 1192cc or 1295 cc horizontally-opposed four-cylinder with overhead valves, single downdraft carburettor
POWER & TORQUE:
25kW @ 3600rpm,
82Nm @ 2000rpm (1.2-litre)
PERFORMANCE:
0-96km/h 27.8 seconds
0-400 metres 23.6 seconds
TRANSMISSION: four-speed manual
SUSPENSION: Front – independent with torsion bars, telescopic shock absorbers and anti-roll bar. Rear – independent with trailing arms & telescopic shock absorbers
BRAKES: drum (f) drum (r) unassisted
TYRES: 6.00x15 cross ply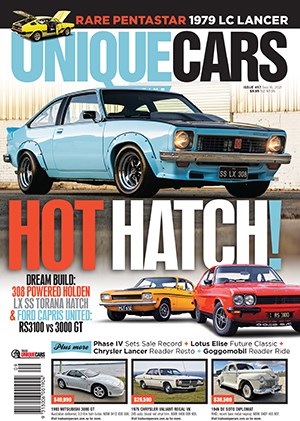 Subscribe to Unique Cars Magazine and save up to 42%
Australia's classic and muscle car bible. With stunning features, advice, market intelligence and hundreds of cars for sale.
Subscribe