Pontiac GTO 1966-67 - buyer & value guide
---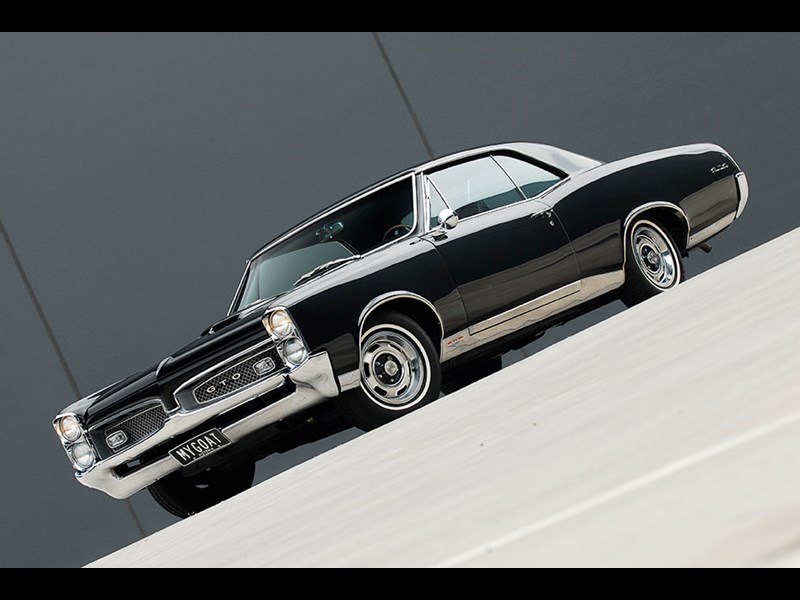 One of the greats - Pontiac GTO.

The car that started out as an orphan and became a legend.
The car that brought a new concept to the motoring world began life as a gimmick intended to breathe life into an unloved Pontiac model.
Pontiac's Tempest was mid-sized, sold predominantly with a six-cylinder engine and ignored by car market's growing number of younger buyers. Then, along came GM executive John De Lorean who in conjunction with ad-man Jim Wangers concocted a performance package that would market the Tempest in a way that spoke volumes to the booming  'youth' market.
Initially available as an option pack, the 'Tempest GTO' had by 1966 assumed an identity of its own, complete with a new shape, big-cat 'GTO Tiger' connotations to its advertising and some super-sharp pricing.
The new GTO sat on an identical wheelbase to the earlier cars but with a wider track and improved handling. Standard brakes were still all-drum and the base engine a 6.5-litre single-carb V8. 'Tri-Power' versions remained available until late 1966 and more than 18,000 cars with triple carburettor induction were sold.
For 1967 the '389' engine was dropped in favour of a 6.6-litre, 400 cubic inch V8 that would be fitted over ensuing years to literally millions of Pontiacs.
All GTO bodies had two doors and fixed-roof cars could be ordered as a Coupe with a centre pillar or without as a Hardtop. Most popular in 1966 were Hardtops with sales topping 73,000.
Stacked headlights seen by 1966 as high fashion across the US auto industry. Mounting the lights at either end of Pontiac's new split grille emphasised the width of its 1966 models and ensured that a new Pontiac wasn't going to be mistaken for anything else.
Wander down to the back of a '66 GTO and there you found a feature unique to this particular Pontiac. The rear panel was louvered like the bonnet on an E Type Jaguar and behind the louvers sat the tail-lamps and indicators. Clever or not, the slotted panel was replaced in 1967 by conventional lights.
Inside were bucket front seats, plastic veneer dash trim and sufficient brightwork to convince buyers that their 'affordable' performance car wasn't going to make them look like a cheapskate.
Australia saw plenty of GTOs delivered during the 1960s. Most were RHD converted and sold through Holden dealerships as new cars with local warranty. There were also the personal imports; a lot accompanying US Embassy staff or military personnel.
MARKET REVIEW
GTOs do appear hereand at quite reasonable prices. $55-70,000 buys a well-kept 389 or 400 automatic Hardtop but if you want a Tri-Power or Ram-Air car the place to head is the USA.
You might think with so many sold during two prolific years (almost 180,000 in total) that 1966-67 GTOs would be less expensive than other versions. Not so.  Despite plentiful supply, the US market, is asking $30,000 even for single-carb Hardtops in average condition. Those cars when landed in Australia and readied for road use won't leave much change from A$60,000.
If you want a model with the potential to make money, the GTO is probably an each-way bet. Unmolested Tri-Power cars or convertible with four-speed transmission do well and the money on offer for some has soared beyond A$100,000.
CHECKLISTS
BODY & CHASSIS
Millions of 'B Body' Pontiacs were made and anything needed to keep a rusty or damaged car on the road is available. That's the good news. Unpicking body seams, welding in rust repair panels then painting to at least factory standard can triple the cost of a cheap car. The cost of replacement chromed parts varies alarmingly and so does quality. Make sure someone knowledgeable checks the fit and finish before handing over any money. The same applies to convertible top material which will vary in quality. Club contacts can provide contacts for reliable suppliers.
ENGINE & TRANSMISSION
The V8s used in GTOs were built by the million. They are still easy to find and cheap to rebuild but the engine you really want to find under the 'hood' is the one that was there when the car was new. 'Matching number' cars will ultimately bring more money - lots more if the rest of the vehicle spec is rare - and rebuilding a trashed motor rather than going for a transplant is worthwhile. Everything internal is available including crankshafts, cylinder heads and pistons. If the car was built with Tri-Power carburettors and they have disappeared, correct replacements can be found but prices before anything is spent on refurbishing run upwards from US$1200. 
SUSPENSION & BRAKES
A basic 1960s design and parts still in production make rectifying Pontiacs with poor handling a pretty easy task. Most likely issues will be with sagging coils - look for front tyres half hidden by the wheel-arch - or a car that sags at one corner. The steering when compared with a modern car will feel awful even when everything is working perfectly. Fluid leaks, worn bushings that creak or play at the wheel rim mean expense in the offing. Drum brakes even when functioning correctly don't mix well with modern traffic and unless you're a real stickler for authenticity, a front disc conversion makes sense.
INTERIOR & ELECTRICS
Check that all of the dash switches make something happen and electrical components such as window lifts or seat adjusters still work. New window motors and frames are expensive. Virtually everything needed to refurbish the interior seems to be in production, with seat vinyl, door trims and carpets in original patterns available in kits at up to $3000. Be aware of freight costs when buying parts buying from overseas, even light items now cost lots to post.
VITAL STATS - PONTIAC GTO
NUMBER MADE: 96,496 (1966) 81,722 (1967)
BODY STYLES: steel integrated body/chassis two-door coupe & convertible
ENGINE: 6362cc or 6555cc V8 with overhead valves & single or triple downdraft carburettors
POWER & TORQUE: 268kW @ 5400rpm, 592Nm @ 3800rpm (6.6)
PERFORMANCE: 0-96km/h 6.8 seconds, 0-400 metres 15.3 seconds (6.6 auto)
TRANSMISSION: three or four-speed manual, two-speed automatic
SUSPENSION: Independent with coil springs, upper & lower control arms, telescopic shock absorbers and anti-roll bar (f) Live axle with coil springs and telescopic shock absorbers (r)
BRAKES: disc (opt) or drum (f) drum (r) power assisted
TYRES: F70x14 bias ply
VALUE RANGE - PONTIAC GTO
FAIR $35,000
GOOD $55,000
EXCELLENT $85,000
(Note: concours & special cars may demand more.)
Numbers from our 2017-18 Muscle Cars Value Guide.
Understanding our Muscle Car Value Guides
Muscle Car Value Guide home page
Sell your car for free right here
Unique Cars magazine Value Guides
Sell your car for free right here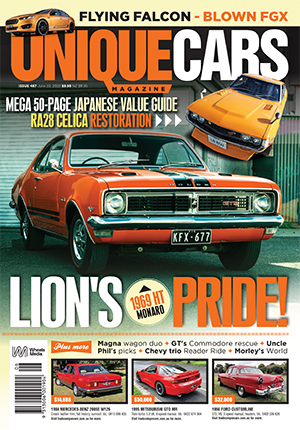 SUBSCRIBE TO UNIQUE CARS MAGAZINE
Get your monthly fix of news, reviews and stories on the greatest cars and minds in the automotive world.
Subscribe