1970-74 Plymouth Barracuda - Buyer's Guide
---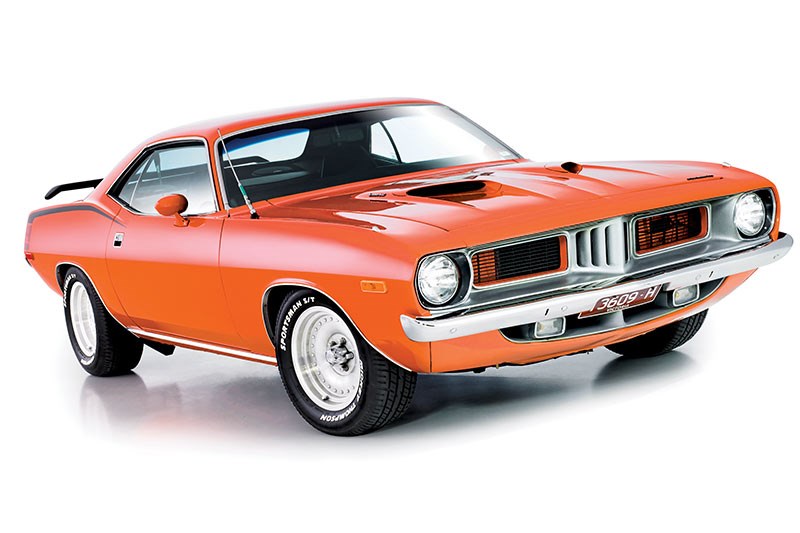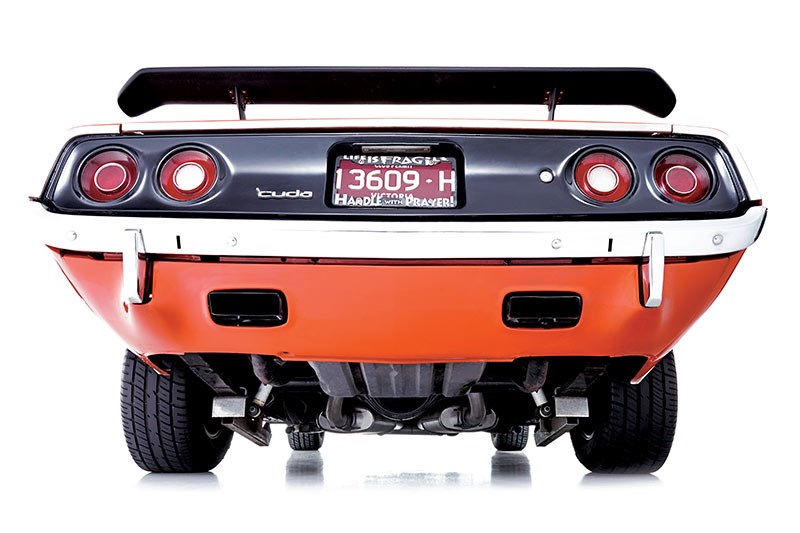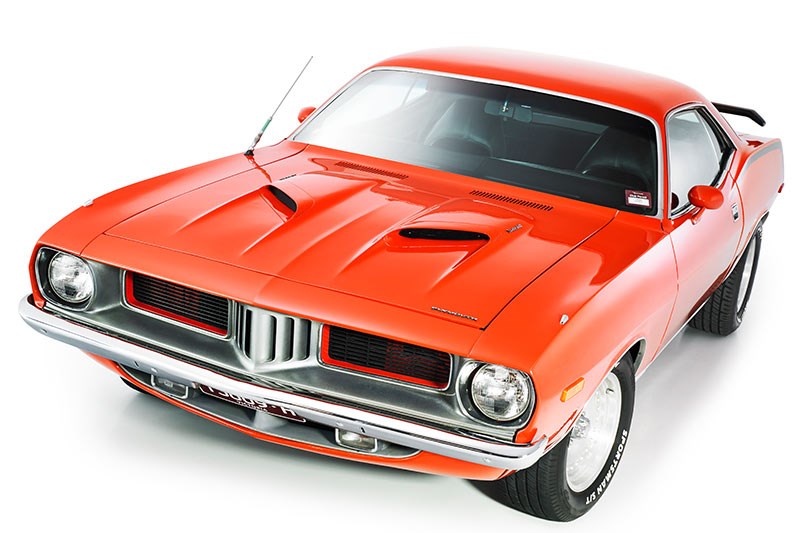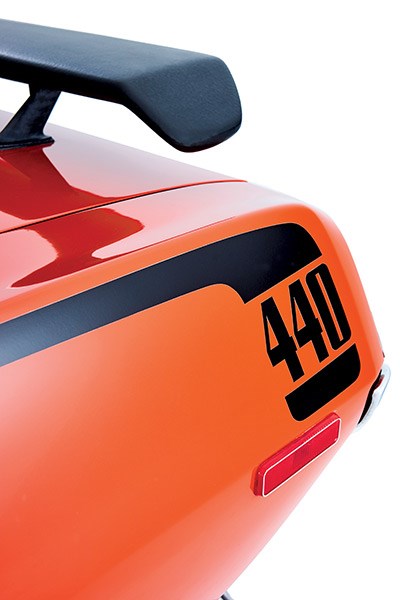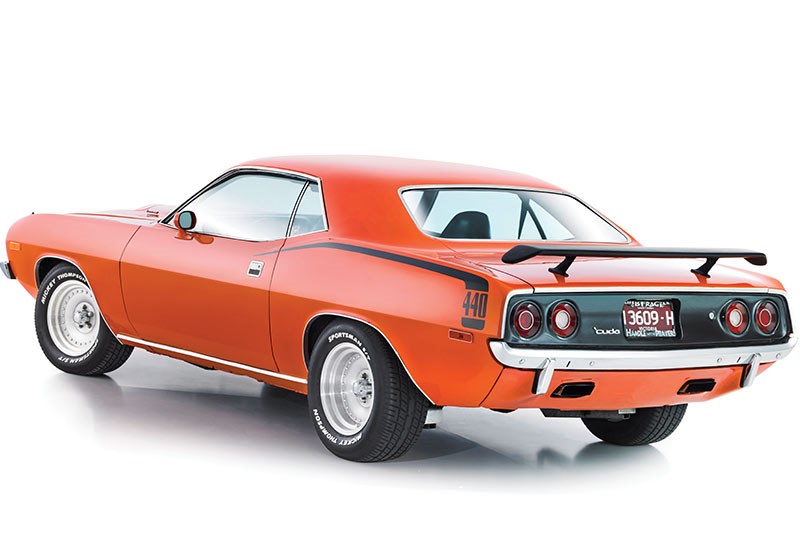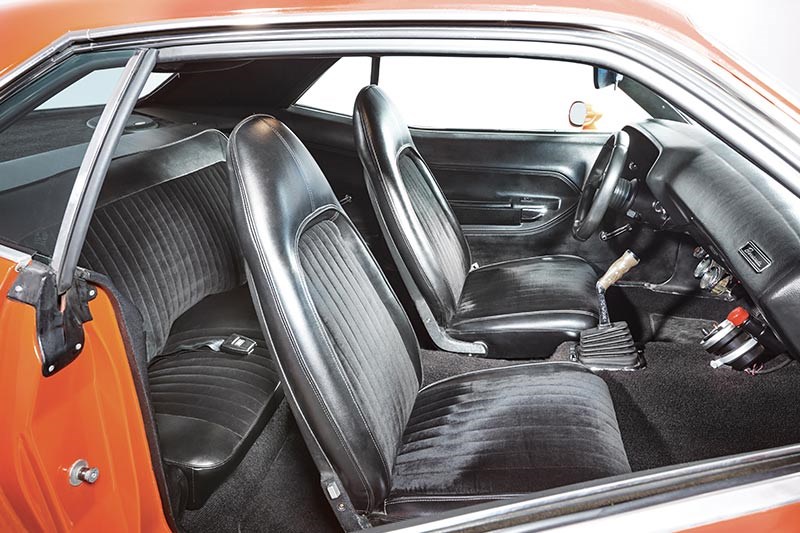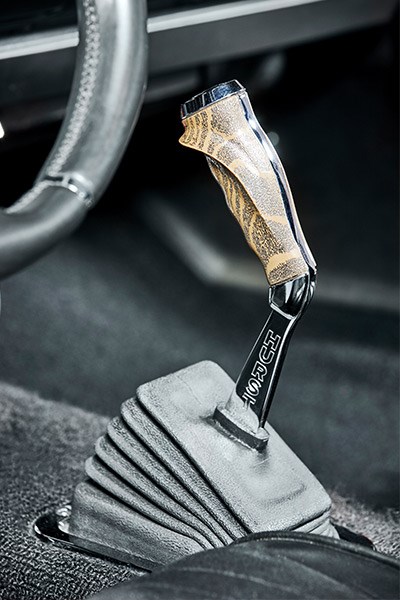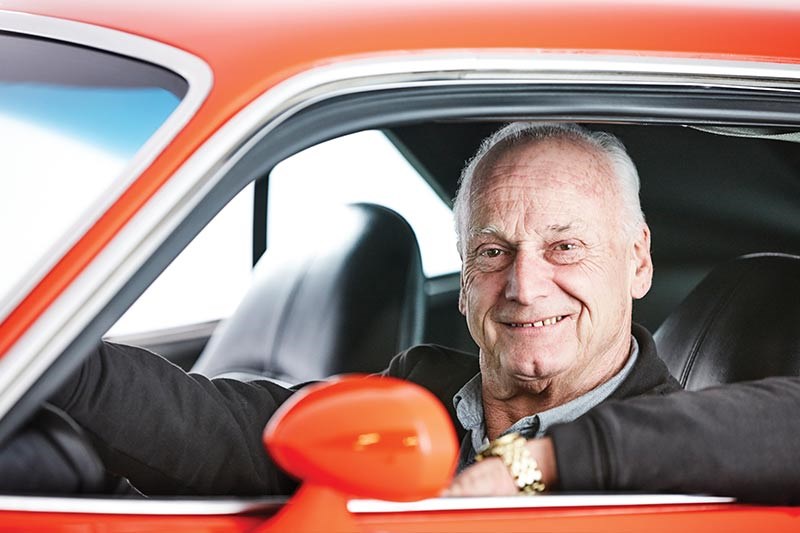 Big, bold and brash, but it doesn't have to cost a fortune. Meet a happy Cuda owner.
1970-74 Plymouth Barracuda
- See the Video of Neil's Barracuda here
Utterly mad. It's the only way you could describe the first impression as Neil's Plymouth 'Cuda rumbled in to our studio for the shoot. Aurally and visually loud, it assaults the senses and leaves you in abolutely no doubt about its role in life: to plaster a dirty great grin on the dial of the driver and annoy the hell out of the neighbors.
This car was built (1973) when the spark had just started to go out of the whole muscle pony car craze that was so popular in the sixties. Paul Zazarine, author of a very useful resource on Chrysler E-body cars, noted in his 1991 book that Chrysler brochures of the day started talking about 'well-balanced' rather than muscle cars.
Mopar, like its rivals, was starting to wind back investment in this area, though sales defied gravity for a while, with both the Barracuda and Challenger (from sister brand Dodge) managing to hang on for another year. However the writing was on the wall.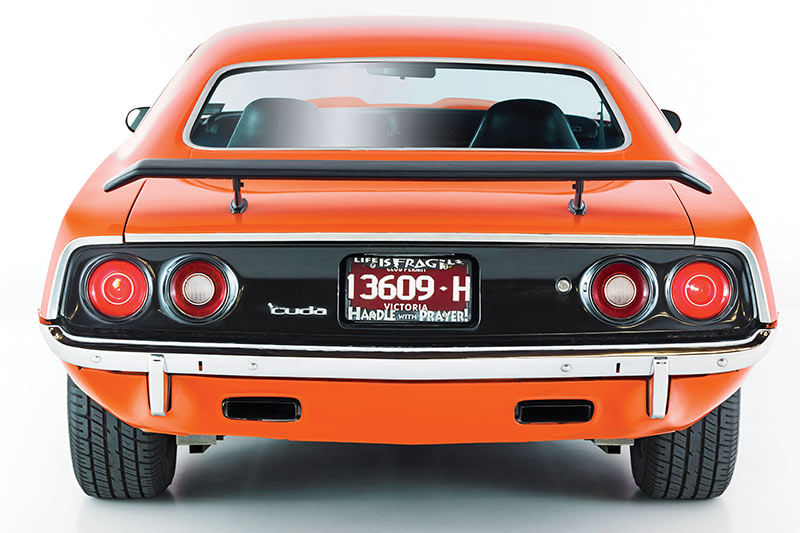 Nevertheless the Barracuda name had a fantastic run, starting in 1964 with a two-door coupe that, to local eyes, would look very much like a Valiant. Three generations were built, with this, the 1970-74 series, being the last.
As is often the case with American series, there was a baffling array of variants and models, which makes tracking the history and authenticity of any particular car a mind-bending exercise. Just for a start, there were three 'streams' of Barracuda in the seventies: the Barracuda, the Gran Coupe and the more performance-oriented 'Cuda. Just to confuse the issue, every 'Cuda carries both Barracuda and 'Cuda badges!
So, what you're looking at here is an upgraded 'Cuda, not exactly as it came out of the factory. Nevertheless, we're hardly complaining.
Owner Neil Deane, a long-time car tragic, takes up the story: "We (my wife and I) were wandering around Little Italy in San Diego, just on holiday, and walked past a place called Beverley Hills Motors. And when you looked in they had a glorious amount of restored hotrods, Corvettes, Mustangs you name it.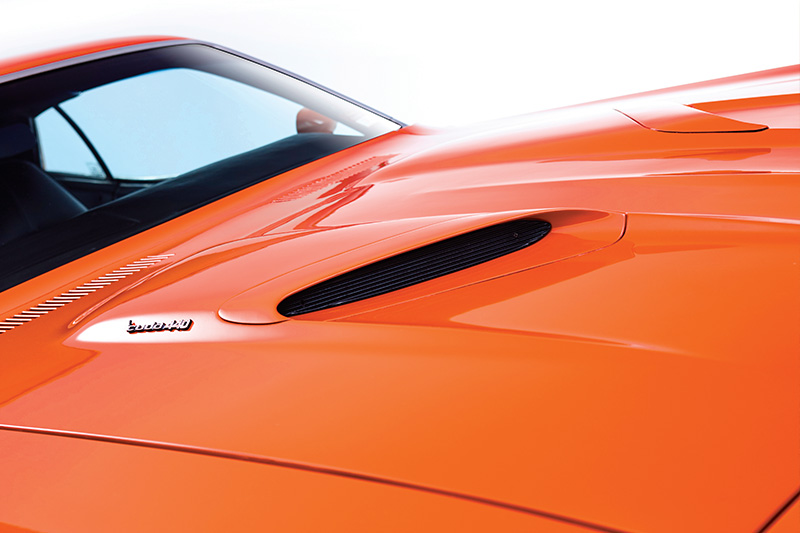 "We wandered around for half an hour and the man there said 'I've got a warehouse up the road'." So we went up and there were 100 cars there. I found the one I wanted but it was way too expensive.
"That's when my wife spoke up: 'This one – why don't you buy the orange one? It's really cool!'
"I had to look a her because I didn't know who she was! I said I'll be back in a minute. We struck a deal and sent it home."
"It's a 440 with some work. The car was originally a 340 automatic. The people that restored the car put the 440 and a manual gearbox in it and I'm liking the idea of having a left-hand-drive manual car in Australia.
"Everything had been done on the car – the underneath, brakes and so on – and it wasn't a bad job, it was well-presented. (Neil subsequently fitted a Hydroboost brake boosting system, which transformed the stopping department.)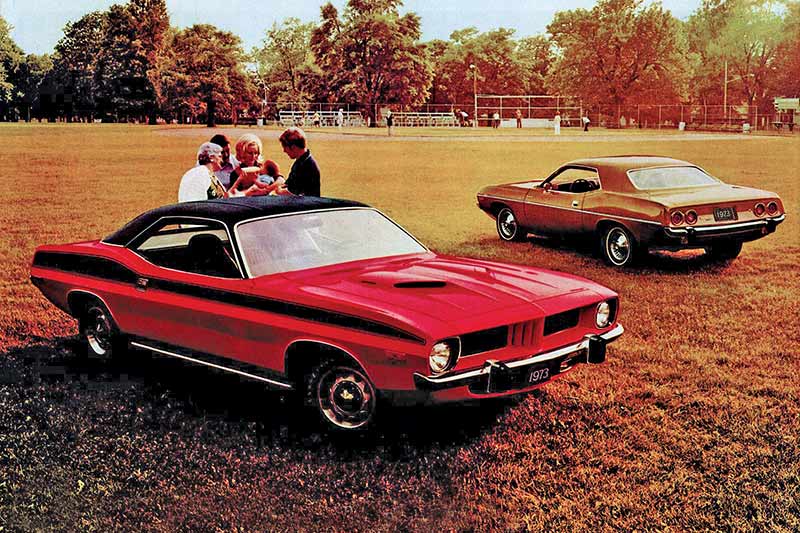 "It's a very harsh car, there's nothing pleasant about it at all – it rattles, it groans, but it steers and it stops and it goes quick. So there are things to like about it. I like the colour and I'm a bit of a petrolhead and I like a bit of power and it's got plenty.
"And there's not many of them. You go to a car show and there might be another one, if you're lucky. If you had a Mustang, you have several different colours. It's a rarity, I suppose."
Neil hits the proverbial nail on the head there. These are far from being the most sophisticated cars on the road, but that's the whole point. That there are so few over here makes them special.
Like all big American pony cars, they're mechanically robust and those mechanicals transfer across a lot of models, so getting replacement or upgrade parts is dead easy and susprisingly cheap. The biggest issue can be cosmetics, though the enduring popularity of these cars in the USA means supplies of at least replica gear is pretty good.
Really the big question if you're in the market is what are you paying for? Neil walked into his ownership with his eyes wide open, knowing full well he was buying an ugraded car rather than an original, on the basis he was also paying the right money. Fair enough – max bang for your buck.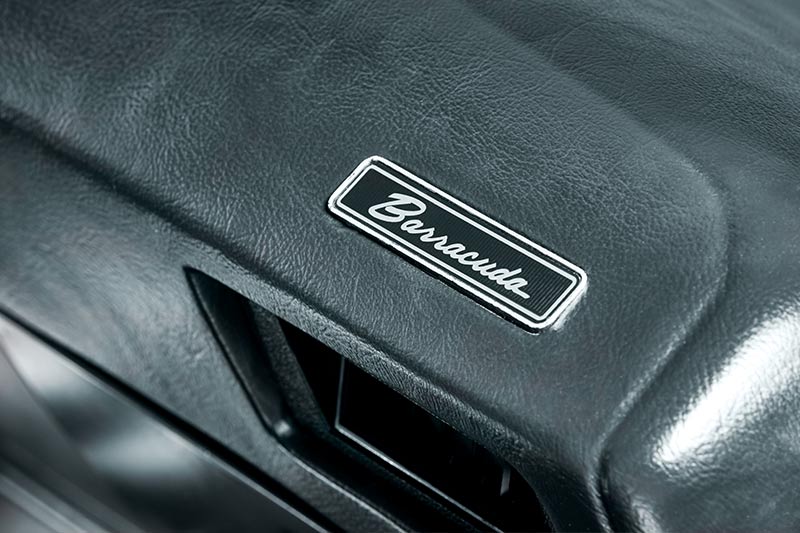 If you must have a high-end original, it's critical to do your homework first, as the right numbers, paperwork and history can mean the difference between an investment and tearing up money. One good place to start on the basics for Mopar is online at mmcdetroit.com/Buying_A_Car/
At the moment he reckons in reality it's probably worth somewhere in the low to mid-sixties, though he'd battle to replace it for that. Perhaps the biggest victory was he made sure he got a good car from day one, so he spends his time driving, rather than fixing it.
You can't help thinking that a lot of people will, over time, be emulating him, looking for an alternative to a Mustang, and seeing just how much value the alternatives can offer. See, Neil, you could be a trend-setter!
Value Guide
Plymouth Barracuda 383 auto coupe:
FAIR: $40,000
GOOD: $65,000
EXCELLENT: $95,000
Note: concours cars may demand more
'Cuda Market Guide
Coming five years late to the Pony Car party, the 'Cuda and companion Dodge Challenger brought an uncompromising design and the biggest, most powerful engines in their category. No surprise then that 'Cudas intended for the serious end of the performance market today generate astronomic money.
Big-engined 'clones' like our featured 'Cuda pop up every so often but factory correct 440 'Six Pack' and Hemi 'Cudas are very scarce in the Australian market and expensive even in the USA.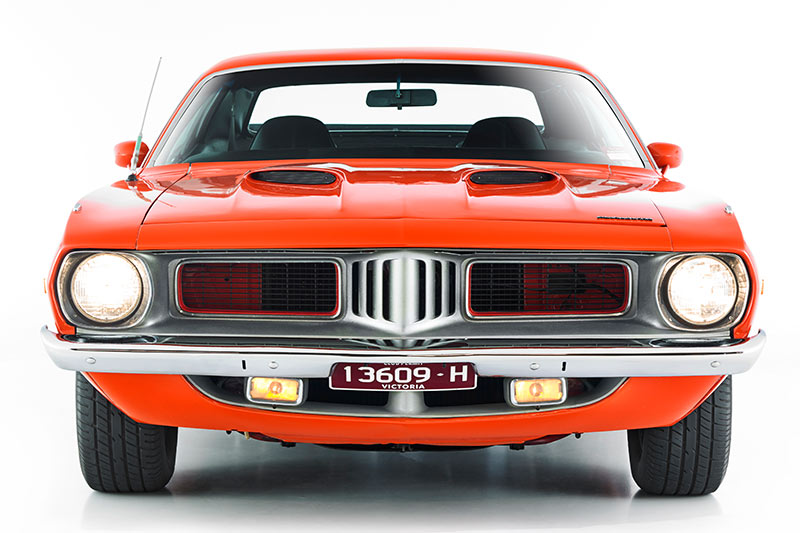 The 'Cudas found here will likely have big-block 383 or 440 cubic inch (6.3 or 7.2 litre) engines, however they aren't common. The US market offers greater choice and maybe a few bargains. To find, land and register a properly-restored 383 coupe here is going to cost $80-100,000 - double that if you want an ex-US 'Six-Pack' or race-kitted AAR 'Cuda.
'Cuda convertibles are scarce (635 built in 1970, just 374 in 1971) and generate serious money. 383-engined soft-tops in the US market can reach $160,000 but that's small change when set against the US$3.5 million paid recently for one of 13 Hemi 'Cuda convertibles built in 1971.
CUDA BUYER'S CHECKLIST
Body & Chassis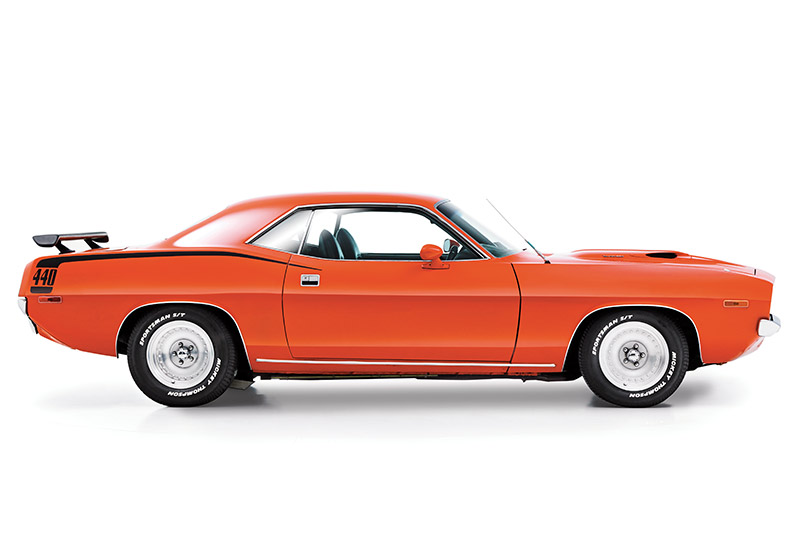 E Body Mopars were a compromised design intended to be powered by six-cylinder engines or a small V8. Certainly they weren't intended to deal with the weight or torque of a 7.2-litre lump up front. Build quality wasn't flash either and cars that have never been crashed or restored may still have shocking panel gap inconsistencies, poor quality welds and body rattles. A car that has had the 'rotisserie' restoration treatment will cost considerable money but should, in the long term, be more enjoyable to drive and cost less to maintain than one that hasn't been touched. Rust attacks sills, floors and the turret. Closely check windscreen apertures and rear pillars for bubbling plus the lower door skins and sills.
Engine & Transmission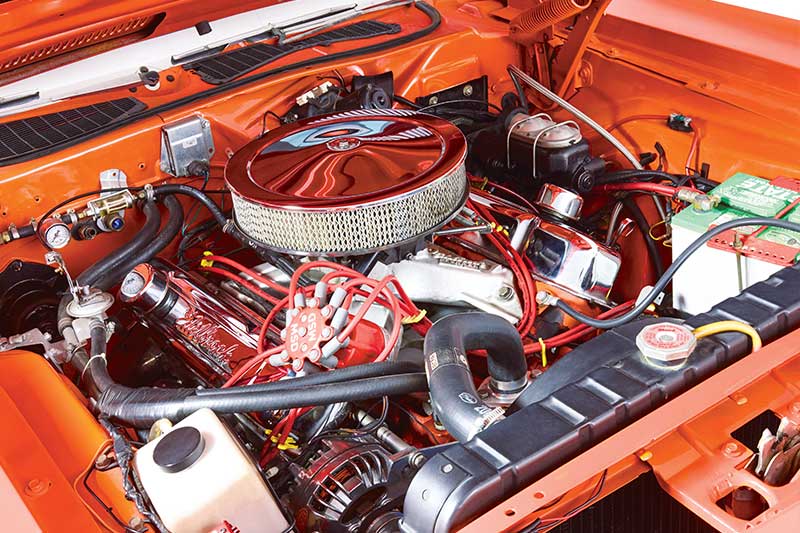 Basic cars will have a 383 big block, some including the exotic AAR a 5.5-litre '340' or a massive 7.2-litre 440. Overheating is the big enemy of these engines so check for 'milky' oil due to water contamination, stains around hose connections and the water pump. Revamping the cooling system, including a new radiator, should cost less than $1000. Replacements for the 'Six-Pack' carburettors, aluminium manifold and even the correct linkages are available but allow $3500 plus freight and fitting. Manual and automatic transmissions used in these cars have a great reputation for durability. Be wary if a manual baulks when shifted quickly or an auto shudders when downshifting.
Suspension & Brakes
Mopar vehicles were for many years characterised by their torsion bar front suspension. The system is light and simple but as the bars age they can delaminate and mountings rust. Creaks when u-turning or cracking noises from the front end on bumpy surfaces are danger signals. For owners who want a car that handles there are now complete replacement front ends available which eliminate the torsion bars. They do cost several thousand dollars but are said to improve ride and lateral loadings, improve ground clearance and reduce weight. Disc brakes are pretty much a must-have in big-block cars and conversion kits are available for those that still have their original front drums.
Interior & Electrical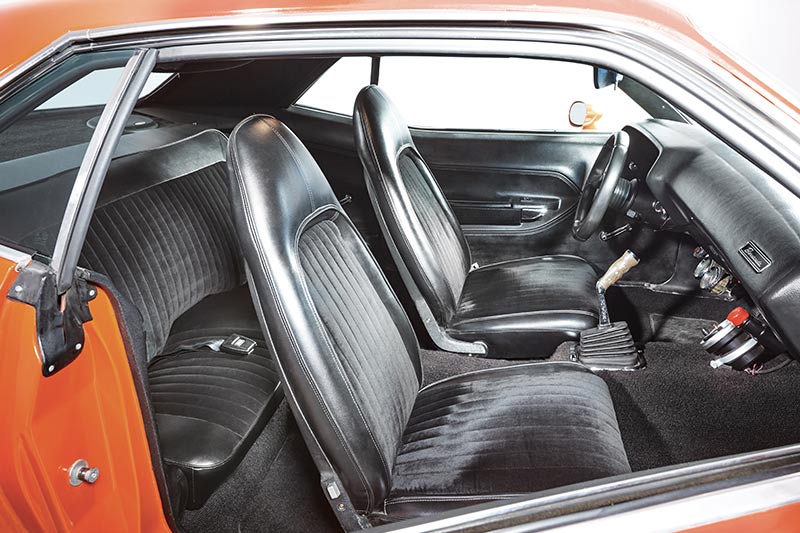 Even though your 'Cuda might currently cost $100K or more, the interior is anything but luxurious. Vinyl seats, some with 'brushed nylon' inserts, were pretty basic and quickly sagged under the weight of occupants. Replacement seat vinyl and foam padding are being remanufactured, however suppliers recommend engaging a professional trimmer to undertake the fitting. Peeling plasti-wood trim, cracked dash plastics, door trims and armrests are also now available however adding the cost of replacing just the dash and console with reproduction parts from one supplier totalled US$1700. Basic electrics are available and affordable.

SPECIFICATIONS
1970-1974 Plymouth Barracuda
NUMBER BUILT: 26,117 (1973)
BODY: integrated body/chassis two-door coupe & convertible
ENGINE: 5565, 6275, 6974 or 7206cc V8 with overhead valves, single or triple downdraft
carburettors
POWER & TORQUE: 279kW @ 4800rpm, 554Nm @ 3600rpm (440 4bbl)
PERFORMANCE: 0-96km/h: 5.9 seconds, 0-400 metres 14.4 seconds (440-6 4-speed)
TRANSMISSION: 3 or 4-speed manual, 3-speed automatic
SUSPENSION: Independent with torsion bars, control arms, wishbones, telescopic shock
absorbers & anti-roll bar (f); live axle with semi-elliptic springs & telescopic shock absorbers (r)
BRAKES: Drum or disc (f) drum (r) with power assistance
TYRES: F70-14 bias ply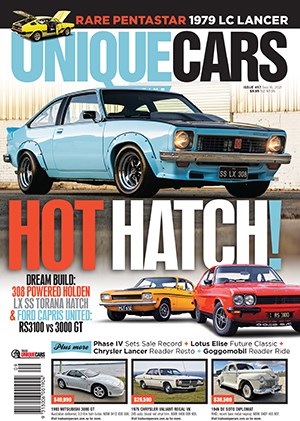 Subscribe to Unique Cars Magazine and save up to 42%
Australia's classic and muscle car bible. With stunning features, advice, market intelligence and hundreds of cars for sale.
Subscribe