Cadillac Eldorado 1967-78: Buyers' Guide
---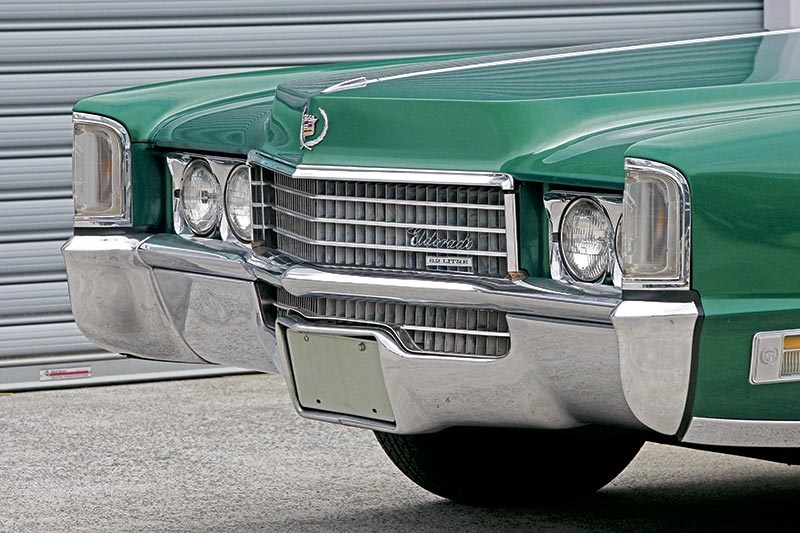 Cadillac Eldorado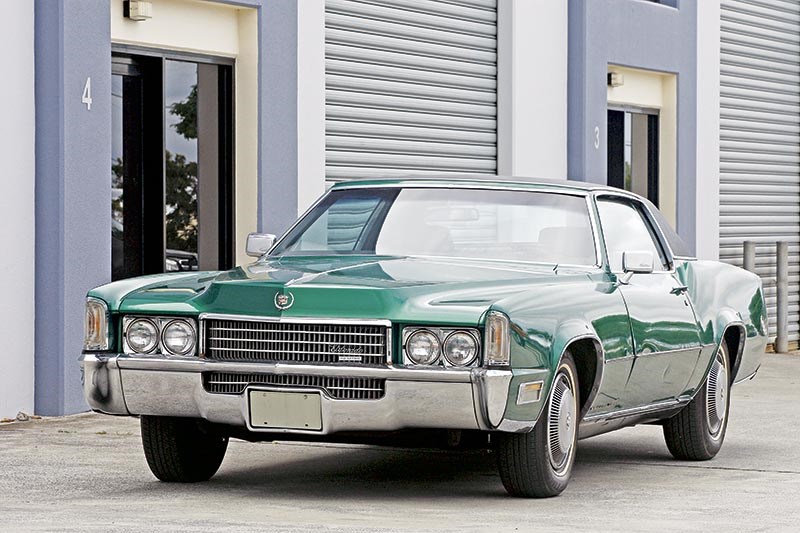 Cadillac Eldorado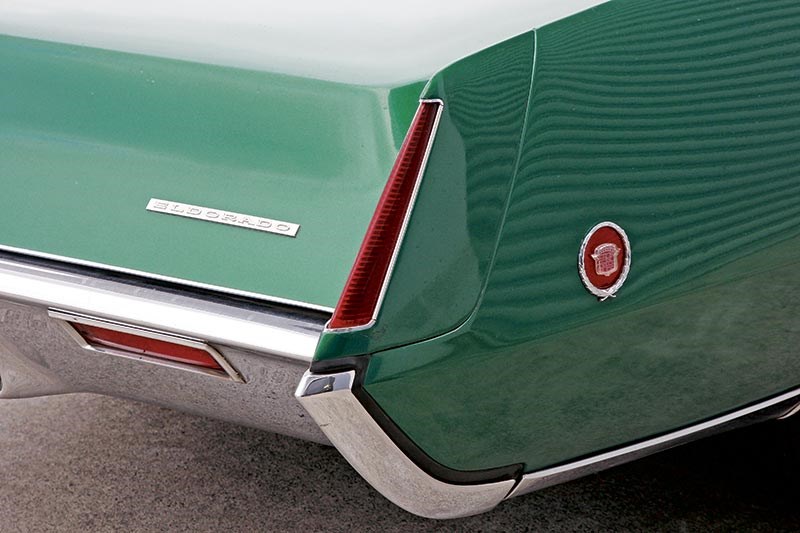 Cadillac Eldorado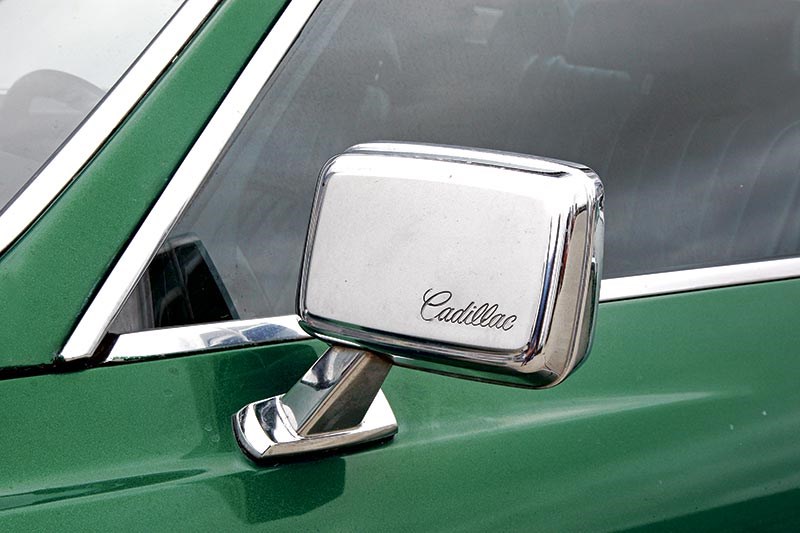 Cadillac Eldorado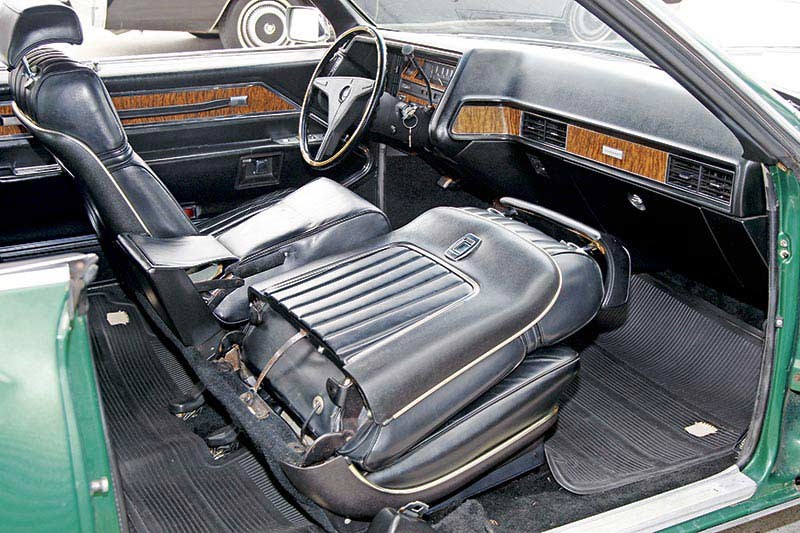 Cadillac Eldorado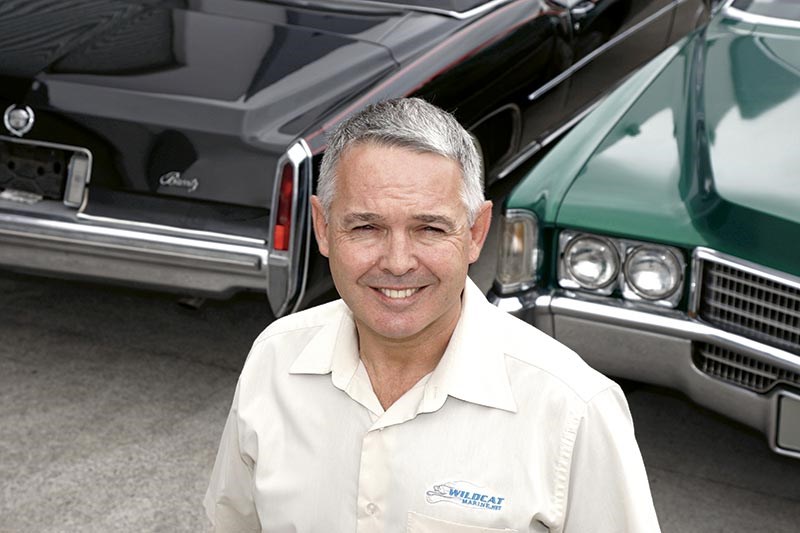 Guy Obren with his Cadillac Eldorado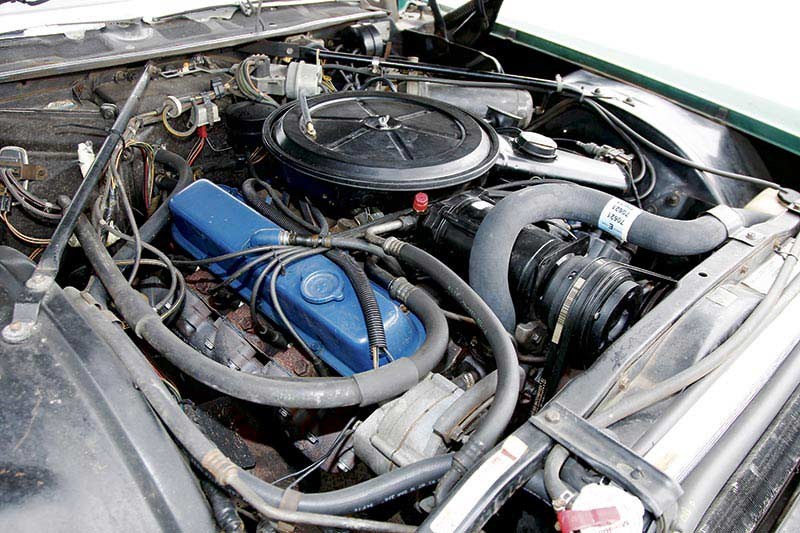 Cadillac Eldorado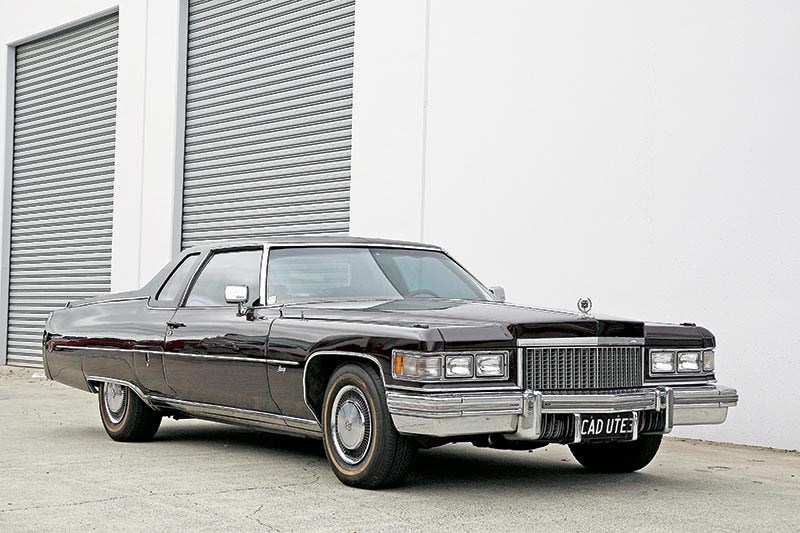 Cadillac Eldorado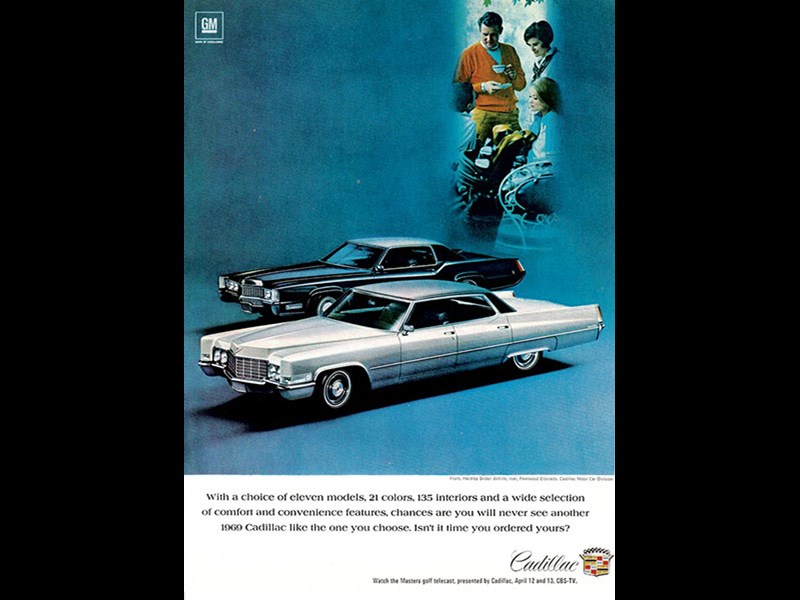 Cadillac Eldorado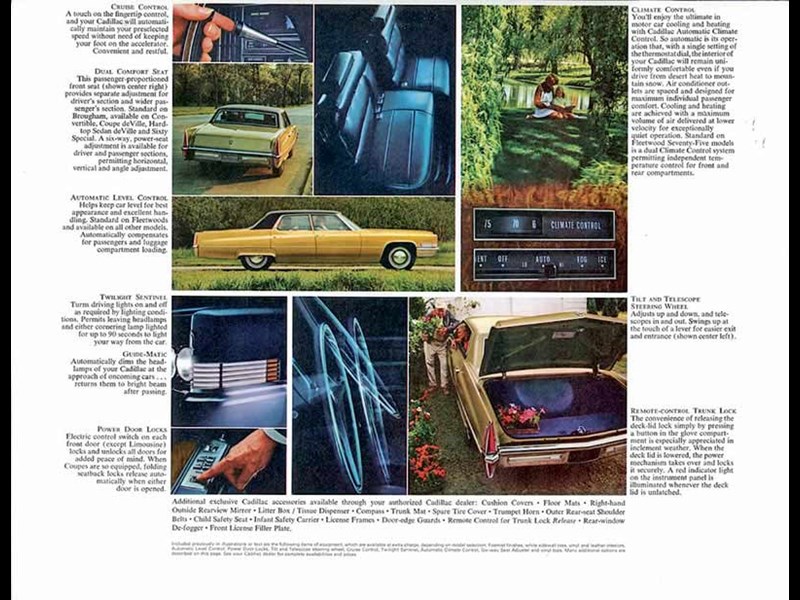 Cadillac Eldorado
All that glistens isn't necessarily gold but was Cadillac's front-wheel drive Eldorado worth its weight? Cliff Chambers explains
1967-78 Cadillac Eldorado
Whether you identify with Dean Martin (who had a custom-made Eldo station wagon), Elvis Presley (he shot his) or Boss Hogg from The Dukes of Hazzard, the front-wheel drive Cadillac Eldorado is a car that will get you noticed.
The sixth-generation Eldorado shape had been a twinkle in some product planner's eye since 1959 when a design exercise called the XP-727 surfaced.
Ever since 1958, when Ford's four-seat Thunderbird established the 'personal car' genre, every manufacturer worth its sales stats wanted some of the action. Cadillac's entrant was a long time in the making but very much worth the wait. Oldsmobile went first with its pioneering front-wheel drive Toronado, proving that the 'Unified Powerplant Package' which used chain drive to transmit immense power could work reliably.
Being a Cadillac, the Eldorado needed to use one of the company's own engines and the long-serving 429 cubic-inch (7.0-litre) V8 was adapted to sit alongside the three-speed Turbo-Hydramatic. The front suspension could have gone seriously radical and some people were amazed at the double-jointed drive-shafts while holding it all together were conventional torsion bars and wishbones.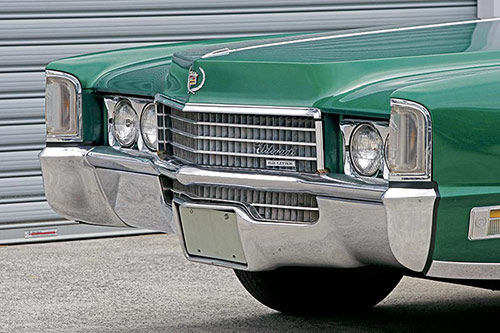 The smaller Camaro had some influence at the back, where a single leaf spring worked in conjunction with horizontal and vertically-acting shock absorbers. Leaves were replaced in 1971 when coil springing was adopted.
In Australia a tiny Mini Cooper S got disc front brakes as standard but the 2.2-tonne Cadillac got drums all round and front discs as a $105 option. At that price, upgraded brakes were a common option and by 1976 front and rear discs had become standard.
For 1968, Cadillac introduced a new engine and some minor upgrades but the real change came in 1970 when the 7.7-litre V8 was stroked to a sensational 500 cubic inches (8.2 litres). Claimed power was 272kW but that cascaded to an embarrassing 156kW when the effects of emission controls were felt and manufacturers forced to quote actual output not fanciful 'bench test' figures.
Legislation was, by 1971, heavily influencing American car design but the Eldorado kept its focus and market presence. In addition to the new suspension and passenger protection measures came styling cues that harked back to the Eldos of olden times. Even bigger news for those who needed to be noticed was the introduction of the first FWD Eldorado convertible.
With suggestions rife that legislators would soon ban the sale of open-topped cars, Cadillac made no secret of its plans to limit the life-span of the open-top Eldorado; even billing its 1976 model as the 'last American convertible.'
A restyle in 1975 sought to downplay the bulky appearance of previous models with a new grille and bumpers, altered rear coupe pillar and reshaped wheel arches. Coupes still weighed 2.3 tonnes and that presented a problem when the 8.2-litre motor was replaced by a less-powerful 7.0-litre. That said, official fuel consumption figures remained above 20L/100km.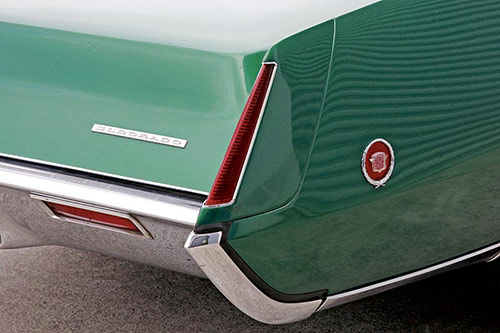 During the last year of 'full-sized' Eldorados the range comprised a basic Fleetwood coupe and two versions of the upspec Biarritz, but no convertibles.
Then one morning in late 1978, traditional Caddy buyers woke to discover their favourite battle cruiser had shed more than 500kg and shrunk to 'compact' proportions. No surprise then that so many of earlier cars have been preserved and have no problem attracting new owners.
ON THE ROAD
Looking across an expanse of gleaming leather or brushed nylon you realise just what a waste of space and resources these cars were. But for those who bought Eldorados as a statement of personal success, that was the whole point.
The dash in early cars is surprisingly plain and even the passenger space in Guy Obren's elaborate Biarritz featured here isn't garishly overdone. Everything you need is there though, and operated via a one-touch electric motor. Visibility isn't too bad but you need to be conscious of the width and massive overhangs when reversing.
At a pinch an Eldorado will accommodate six people. Due to the absence of a transmission tunnel and rear differential there is a decent amount of rear leg room and the front seat slides and tilts for fairly easy access.
Handling even on dry bitumen is pretty much non-existent and attempting on a wet road to maintain any kind of pace will give the impression that the steering wheel and front tyres have become disconnected.
Straight-line performance is restricted by weight and lack of traction. While early-1970s road test results show 8.2-litre coupes getting to the end of a 400 metre drag-strip in less than 17 seconds, that number blew out by three seconds once the emission-controlled 7.0-litre motor came on stream.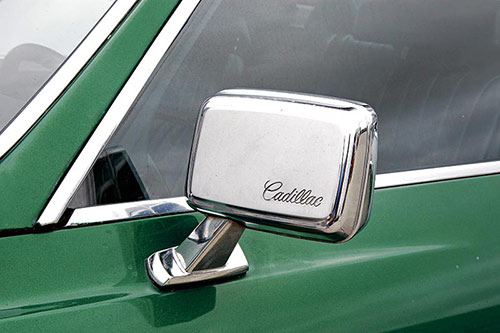 But again, Eldorados are built for wafting and that they do exceptionally well. If you choose a convertible, as recommended by the redoubtable J D 'Boss' Hogg, the wind will waft through (or around) your remaining hair and the experience should be pretty much serene and silent.
Quality construction and the indestructible strength of a Cadillac chassis topped by huge clumps of sound-deadening mute road noise and even the rumble of the era's biggest V8. Thumps and cracking noises coming from under the car on rough roads suggest structural deterioration.
Obren says that his current crop of cars and several other Eldorados he has owned have disc brakes and stop fairly well considering their bulk. Cars that wander around when asked to stop quickly may be telling you that their wheel cylinders have given up. They might also just be suffering nothing more than neglected tyre pressures.
BUYING
"Buy the best Eldorado you can afford and the rarest you can find," are sage words from Eldorado enthusiast and serial Cadillac collector Guy Obren.
By his own admission, Guy has owned some lovely cars, but also a few that in the cold light of sobriety he wished he had let someone else bid on.
"These are the kind of car that could be made different from the next one very easily so you can get them in quite scarce specification, " he said.
 
Pre-1971 coupes are generally the most expensive of the era's Eldorados, with high-quality cars climbing past $30,000. That can be matched or exceeded by a Biarritz or Bicentennial convertible but they need to be documented and in outstanding condition.
Hunting the local classifieds reveals a good selection of all but the very earliest cars. These are getting scarce even in the USA and would have cost a squillion to import new and have converted to right-hand drive.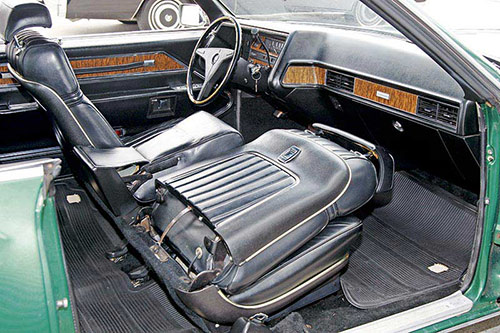 Law changes now permit any of these cars to be fully registered in any State or Territory without need for conversion. That immediately cut the cost of bringing in an Eldorado by close to $20,000 and helped buyers afford higher quality cars.
Local prices for cars that can, with work, continue to live useful lives start well below $10,000. For that money expect a 1970s coupe, probably LHD and needing somewhat more than a cosmetic pamper.
BUYER'S CHECKLIST
Body/Chassis
The first area to check when considering one of these massive cars is for chassis rust. Up on a hoist is the best way to hunt for damage and dodgy repairs but feeling up behind the sills can give you a fair idea. Window surrounds, especially the rear window, door bottoms, floors and the firewall, bonnet lip and wheel arches must be inspected for bubbling or excessive filler. Parts to repair convertible tops that leak, shudder or don't lock into place are available and inexpensive. Tops that shudder or don't move at all may have worn cables or bushes, seized motors or simply a dud relay. Make sure you see the roof in place to check the heated window isn't cracked.
Engine & Transmission
Cadillac engines are strong and immensely reliable. If there's smoke from the exhaust or breather it has probably been overheated. Providing the car is sound in other aspects, that's not a major disaster. If you find an Eldo that appears mechanically sound but lacking recent service history, budget to change all of the underbonnet hoses and belts and have the radiator cleaned – just to be safe. Reconditioning the transmission is an engine-out job, but rarely required unless there are major vibrations or the tranny takes an age to select gears. Post-1972 motors are compatible with low-lead fuel. Earlier ones prefer Premium or Ultra.

Suspension & Brakes
In here we need to consider the deficiencies of RHD conversions, many undertaken decades ago when engineering oversight wasn't all that stringent. Have a specialist look at any components that may have been cut, welded or repositioned. Sagging springs are simple to replace and new shock absorbers will do wonders for a harsh ride. Ensure that the brake fluid is fresh and none of the wheel cylinders are leaking.
Interior & Electrical
Cadillac changed its Eldorado interiors more often than most owners changed the oil and finding parts specific to certain models can be challenging. Reproduction door trims rarely match the quality of factory items so finding a car with all its vinyl in good condition is a bonus. Test everything electrical. Air conditioning, especially where ducting and other components have been re-sited during a RHD conversion, can be a nightmare to get right. Some apparent component failures can be due to failed relays and easily fixed. A quality, high-capacity battery is essential.

SPECIFICATIONS
Cadillac 1967-78

Number built: 1967-71 110,201, 1972-76 188,673 (all types) 1977-78 108,160 (all types)
Body: steel integrated body/chassis two-door coupe & convertible
Engine: 6966cc or 8194cc V8 with single downdraft carburettor
Power & torque: 175kW @ 3800rpm, 556Nm @ 2400rpm (8.2-litre)
Performance: 0-100km/h: 9.7 seconds, 0-400 metres 16.9 seconds (8.2 litre)
Transmission: 3-speed automatic
Suspension: Independent with torsion bars, wishbones, telescopic shock absorbers & anti-roll bar (f); live axle with single leaf or coil springs with shock absorbers & air-assist (r)
Brakes: drum or disc (f) drum or disc (r) with power assistance
Tyres: 9.00x15 cross-ply
Price range: $7000-35,000 (all models)
Contact: Cadillac Clubs in several States
www.cadillaclasalleclub.com.au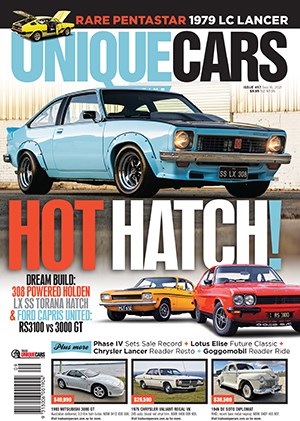 Subscribe to Unique Cars Magazine and save up to 42%
Australia's classic and muscle car bible. With stunning features, advice, market intelligence and hundreds of cars for sale.
Subscribe