1955-56 Chevrolet: Buyers guide
---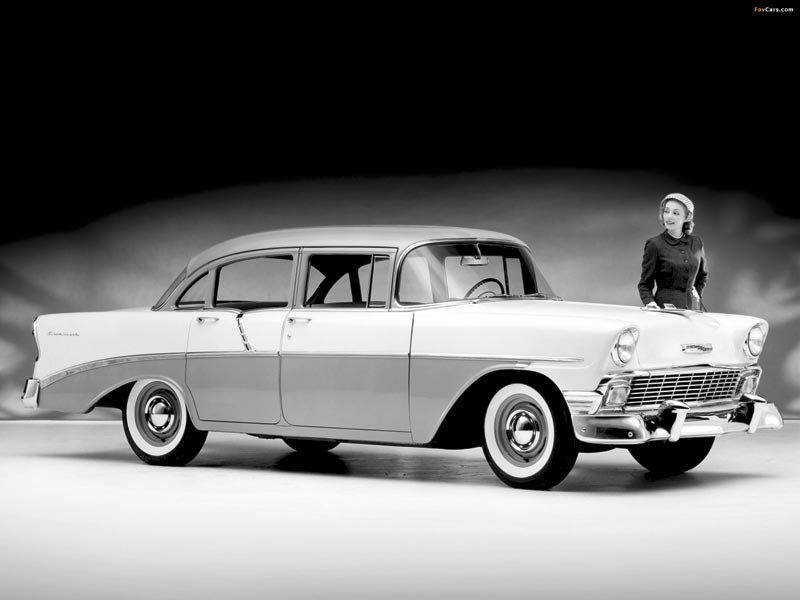 Buyers guide: 1955-56 Chevrolet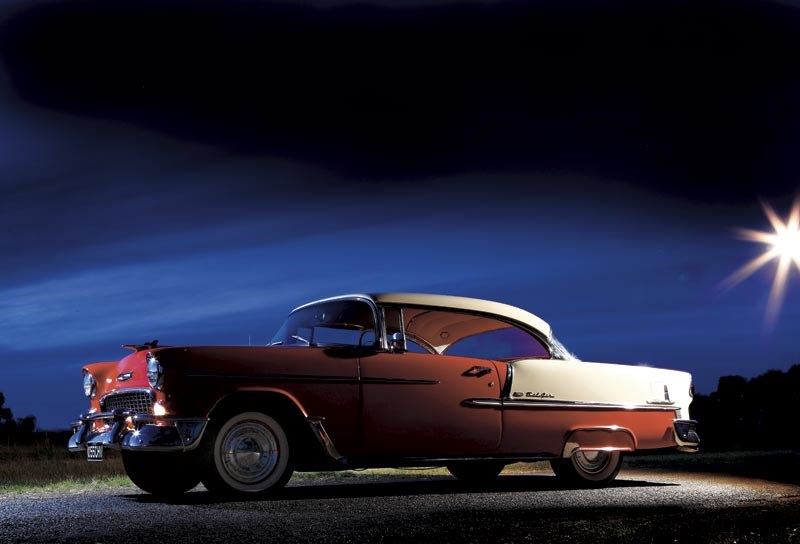 Buyers guide: 1955-56 Chevrolet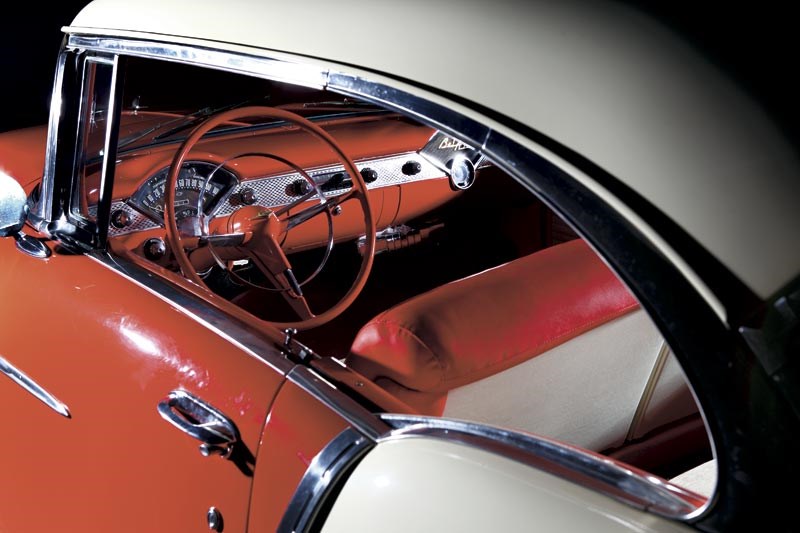 Buyers guide: 1955-56 Chevrolet

The baby boomer era re-invited the Chev, but it became so much more. A style icon was born...
1955-56 Chevrolet
WHAT IS IT?
When the man behind the microphone for Chevrolet's 1955 TV commercials rhetorically howled "What's New?", the response of "Everything!" wasn't far from the truth.
The car that dragged millions into Chevrolet showrooms ranks as the most important new design in the brand's history and remains a model that still excites car enthusiasts today.
The '55 was a car that jumped a generation in style and performance. Sitting on the same wheelbase as the '54, the new design was wider, lower and more fetching.
The six, with different power outputs for manual and automatic cars, remained but 1955 saw 45 per cent of Chevrolet buyers specify cars with the new V8 engine. During 1956, the V8 would claim 57 per cent of sales.
At 265ci (4.3 litres) the engine was slightly smaller than Ford's best-selling '272' but produced the same power. Significantly, there was a 'Power Pack' option that cheaply increased output from 121 to 135kW.
A basic, six-cylinder Chevrolet 150 was available for $1685, with the V8 engine adding $99. At the opposite end of the 17-model range, a Bel-Air convertible with the Power-Pack V8 and four-speed stick-shift still cost less than $2500.
Options were numerous and included power steering, air-conditioning for V8-powered cars, a power-operated convertible top and Continental kit that allowed the spare wheel to be mounted on the rear bumper.
Some critics were unhappy with the 1955 grille design – reportedly inspired by Ferrari – so the 1956 styling upgrade included a full-width air-intake with inset indicators and new tail-light housings. One rear light concealed the fuel filler and reshaped stainless mouldings permitted a more comprehensive set of two-tone paint designs. The wrap-around windscreen, which had generated more controversy than the grille, remained unchanged.
Mechanically, the 1956 got a more potent four-barrel 'Super Turbo-Fire' option that sent output above 150kW for the first time.
HOW'S IT DRIVE?
Among the more attractive aspects of the 1955-56 Chevrolet's design is adaptability. Fitting later small-block V8s is very popular, but there's ample space for a big-block.
The front-end happily accepts modern springs and other components and brakes can easily be upgraded. Modern alloys and tyres help avoid the vagueness and errant behaviour of the original rubber.
Power steering added $92 to US-market cars, and reduced wheel twirling but delivered even less feel and feedback on wet or icy surfaces.
Many cars available in the Australian market have been fitted with later-model engines, transmissions or both. Many now have three-speed automatics – GM's Turbo 400 transmission a popular choice – with three and four-speed manuals rare.
For a contemporary look at the 1955-model V8 we had to dig out a copy of long-defunct Cars magazine, which ran a 2000 kilometre test on a 210 sedan with the Powerglide transmission.
Top speed of the V8-powered 210 was 157km/h. with 0-60mph (0-97km/h) in a very rapid 12.3sec.
The vinyl seats trim was criticised in-period for an absence of grip or support; obliging drivers to cling desperately to the wheel during quick cornering. Even then, they were in danger of being dislodged by passengers who had nothing to grab and slid about "like a pea on a drum."
Most cars in our market already have seat belts and for the sake of comfort, let alone crash survival, any new arrivals need to have belts installed.
CHECKLIST
Rust attacks in a variety of areas: lower edges of front and rear guards, inner sills, firewall (inspect from under the dash), window surrounds, floors and rear spring attachment points.
Reproduction body panels and structural steel are available and even paying freight costs on large slabs of metal can be cheaper than paying rust removal costs. If considering a restored two-door look for poor door fit and hinge wear. Water gets into the cabin through perished windscreen and rear window rubbers. Check inside doors on Hardtops for rust and blocked drainage holes.

Any engine you're likely to find beneath the bonnet should be an extremely reliable device. Replacement blocks for early V8s are difficult to find but many have been fitted with later 327 or 350ci donks. Listen for bearing clunks when cold starting, check under the engine for leaks and the exhausts for smoke denoting ring or cylinder wall wear. Original differentials struggle with the torque of later engines and conversion to a Ford nine-inch centre makes sense. Automatic transmissions – the original two-speed or later three-speed – are reliable. `Three on the tree' transmissions suffer gear selection problems due to worn linkages.
The standard drum brakes aren't really up to the rigors of modern driving and cars with a front disc conversion are preferable for use. 1970s Holden discs or brakes from later Chevrolets are easily adapted. Rear leaf springs crack but new replacements are available. All-new rubber kits are cheap and transform tired handling and response. The steering comes with some degree of play but slop and 75-100mm of free-play means a reconditioned steering box and other parts are needed.
Aged wiring produces a range of problems, made worse by features that further stress old electrics (power windows, seat adjusters, power convertible tops). Fuel gauges are notoriously unreliable and can show one-quarter full when the tank is empty. Reproduction trim materials, handles, dash knobs, and gauges are available. Genuine radios can be obtained second-hand but aren't cheap.

SPECIFICATIONS
1955-56 Chevrolet
Body: 4-door sedan, wagon and hardtop; 2-door sedan, van, convertible, wagon and hardtop
Engines: 3851cc six-cylinder, OHV, 12v; 4343cc V8, OHV, 16v
Power: 121kW (V8)
Gearbox: 3-speed manual, 2-speed automatic
Suspension: independent with coil springs, telescopic shock absorbers and anti-roll bar (f); semi-elliptic springs with telescopic shock absorbers (r)
Brakes: drum/drum. Power assist optional
Price: $9500 - $95,000


*****
More reviews:
> Full buyer's guide: 1955-56 Chevrolet
> Classic metal: 1957 Chevrolet
 
Search used:
>> Search Chevrolet cars for sale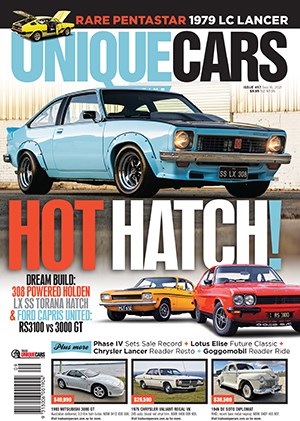 Subscribe to Unique Cars Magazine and save up to 42%
Australia's classic and muscle car bible. With stunning features, advice, market intelligence and hundreds of cars for sale.
Subscribe