1990-94 Subaru Liberty RS Turbo: Buyers guide
---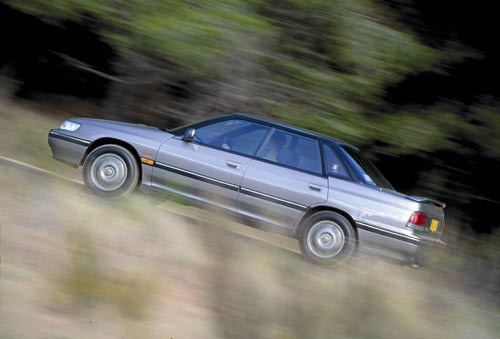 Buyer's guide: Subaru Liberty RS Turbo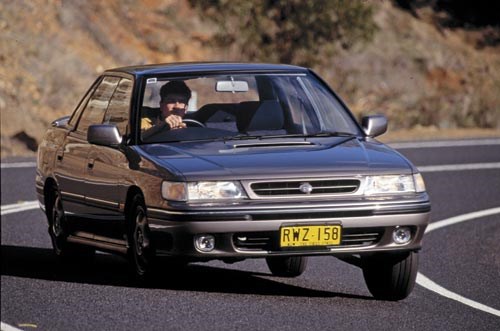 Buyer's guide: Subaru Liberty RS Turbo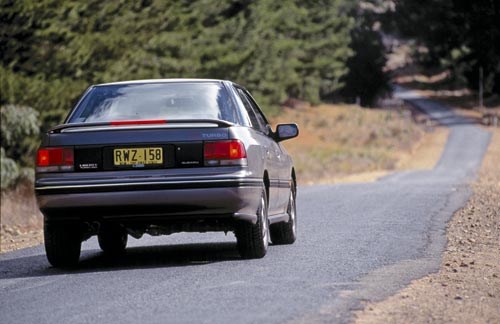 Buyer's guide: Subaru Liberty RS Turbo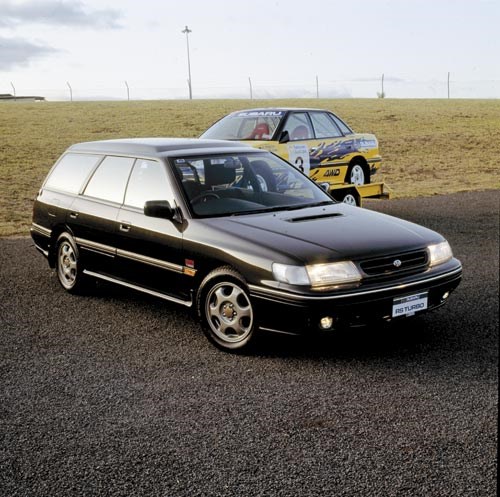 Buyer's guide: Subaru Liberty RS Turbo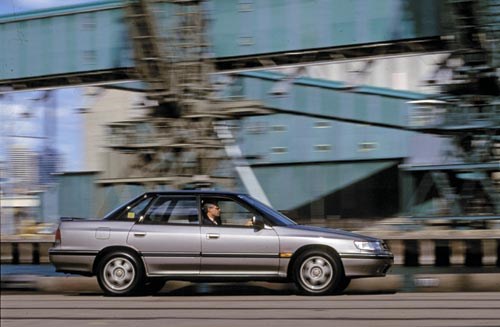 Buyer's guide: Subaru Liberty RS Turbo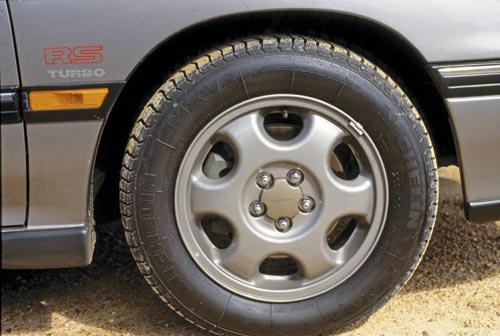 Buyer's guide: Subaru Liberty RS Turbo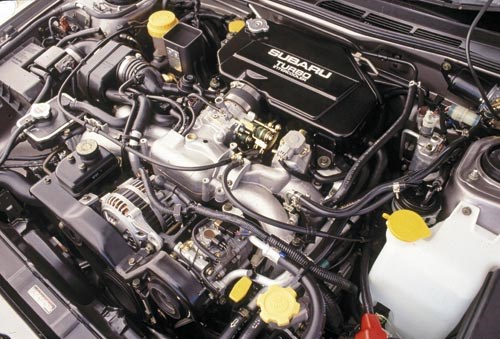 Buyer's guide: Subaru Liberty RS Turbo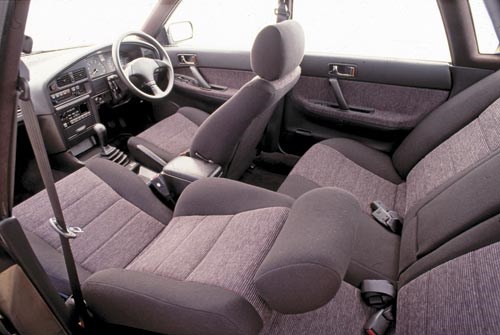 Buyer's guide: Subaru Liberty RS Turbo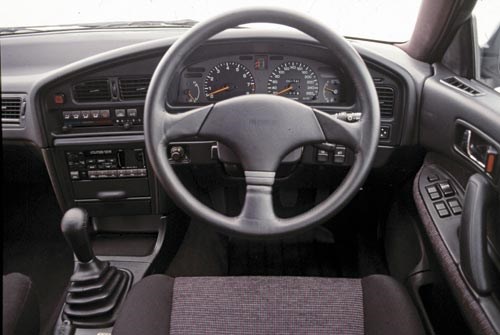 Buyer's guide: Subaru Liberty RS Turbo
1990-94 Subaru Liberty RS Turbo...
Subaru Liberty RS Turbo
The Legacy sedan (renamed Liberty for Australia) that arrived in 1989 took Subaru to places the brand had never before been. They included a lengthy listing in the FIA's book of international motor sporting records.
Via a project best described as a serious tempting of fate, in January, 1990, Subaru USA sent a trio of unreleased RS Turbos to a monster 'oval' in Arizona. There they could lap for hours on end at maximum speed and spent three weeks setting 15 new endurance and speed records, including the highest-ever average by a petrol-engined car; 223km/h for 100,000km.
One RS hit a hare at high speed but lost only nine minutes being repaired and mechanical durability was flawless. It gave Subaru the perfect platform from which to launch a car that would be very significant to the brand's global marketing strategy.
With such pace and pedigree in its background, the Liberty Turbo should have been a strong seller in a country like Australia. The fact that it wasn't can be attributed to a combination of high pricing and a recession that struck literally as Australian-complied cars were rolling off the Japanese production line.
Cars for sale to rally competitors began arriving in 1990, followed a year later by production versions. Late in 1992, Subaru added a rapid wagon to the RS range.
The 2.0-litre EJ20 engine was 10 per cent smaller than the basic Liberty unit and had its compression ratio reduced to accommodate a very mild 0.7 bar of turbo boost. Quad camshafts (two per bank), 16 valves and a redesigned exhaust helped the engine rev to 6500rpm and develop 147kW at 6000rpm. Tuners, including Subaru's own STi, easily extracted more than 200kW if that was required.
Locally-sold RS Turbos came with five-speed manual transmission. Overseas, Legacy-badged versions had a four-speed automatic option and some of these could still be floating around as private imports.
Like the basic Liberty, which was highly-regarded for equipment and finish, the RS came with electric windows and mirrors, a four speaker stereo and cruise control then added 15-inch alloy wheels, fog-lights and a boot spoiler. ABS brakes would become available as a $2000 option.
Despite the risk posed by all that mechanical complexity and a drivetrain being pushed pretty close to its limits, Subaru included the RS in its Three- Year/100,000km Warranty programme.
The wagon's load-area was generous yet it weighed only 15kg more than the 1355kg RS sedan. That was great for maintaining performance but perhaps not one of Subaru's brighter engineering moves; where the sedan was a delight on any surface and virtually rattle-free, the wagon displayed compromised rigidity.
Heading into 1993 the sedan cost $37,950 and the wagon's base price was $39,950, plus ABS if required. Subaru had a modest target of 20 cars per month and looking at the number that still appear in the used car classifieds they probably went pretty close to that.
By 1994, when the second-generation Liberty arrived, the WRX had been launched and the need for a performance version of the bigger car was less pressing. Turbo versions of the Legacy continued to sell overseas and in 2001 Subaru Australia introduced the 190kW Liberty B4.
ON THE ROAD
The first RS Turbo I drove was a stark white car, still wearing build sheets on the windows and a 'new car' smell. It was destined for rally duty and pushing the still-tight motor beyond 5000rpm was forbidden.
Even with constraints, the RS was a revelation and a rocket-ship. Every Subaru Australia exec and mechanic who took it for a blast through the semi-rural roads surrounding the company's Wetherill Park (NSW) base came back grinning.
Years earlier, Subaru joined the turbo club via the Leone-based RX sedan and unlamented Vortex. In the Liberty RS it had a larger and more luxurious product that produced 47 per cent more power than the older 1.8-litre cars.
The five-speed gearbox with viscouscoupling differentials eliminated transmission clunks and 'wind-up' in tight bitumen bends. There was still some understeer if you rushed into a corner with the throttle closed but settling it into a bend, perhaps with some left-foot braking, clicking the correct exit gear and getting on the juice half a second early would cheat the turbo lag and fling the car down the road.
Looking at the ridiculously tiny wheels and baggy 60-profile rubber I do wonder how we kept these things on the road while hustling them along at indecent speeds on bitumen or gravel – even ice.
The answer lay with exceptional chassis balance. Good handling had been a feature of all the AWD Liberty sedans but stiffer springs and bushes coupled to revised damper rates helped the Turbo grip harder and resist body roll. It is possible to fit wheels up to 18 inches in diameter without doing huge harm to the car's ride but very low-profile rubber will not work, especially on loose surfaces.
The original cars' brakes were a concern due to rapid fade when pressed and soggy pedal feel. What can be done – and it isn't expensive – is to follow former Editor Nathan Ponchard's advice and go for a rotor upgrade with matching calipers and quality brake pads.
Flogging an RS through undulating terrain or along a loose-surfaced rural road will demonstrate abilities to rival current-day all-wheel drives but it will have the 60-litre tank screaming for a refill after just 300km.
Used on straight, flat roads and with moderate throttle the RS is a good deal more frugal and should average 11-12.5L/100km.
The seats, when these cars were new, provided decent support and enough adjustment to make people of most shapes feel at home. Looking at cars recently for sale it was amazing how well the interiors – with their duo-tone seat cloth – have withstood time and use.
Performance doesn't mean you need to sacrifice practicality. The wagon has lots of space and excellent access through the big rear door. Under the floor on both versions is a full-sized spare wheel and a decent sized storage area to keep small valuables like cameras out of sight.
BUYING
Given that the vast majority of Australia's RS Turbos have been on the road for more than 20 years and they run a big risk of being crashed or otherwise abused, the quantity of decent cars that survive is remarkable.
While researching this article, several that were yet to reach 200,000km were found; most of them still looking good enough to slip back into a Subaru showroom and priced at $10-12,000. Wagons, which were sold here for only 18 months, are more difficult to find and really good ones are scarce.
The typical RS Turbo sedan will have travelled around 300,000km, still be on its original engine and sell for less than $6000. Budgeting a further $3000 to replace the motor with a later-model, used unit (for example, from the later Impreza WRX) is a sensible move.
Plenty of these cars have been modified but be wary of the potential transmission damage that can accompany a big power boost. Lowering them and seriously altering the tyres' aspect ratio can hurt ride quality and the cars' ability to cope with rougher roads. Upgrading the brakes, however, is an excellent idea.
Modification will bring you into conflict with any number of insurers who will want outrageous premiums, if they decide to insure the car at all. Although the RS has well and truly achieved 'classic' status, only specialist insurers will view it with anything but suspicion.

BUYER'S CHECKLIST
Body & Chassis
After 20 or more years' exposure, even well-protected Liberty bodies may be starting to rust, so look at window surrounds, the bonnet lip, doors and sills. Underbody damage is likely too so check below the front bumper and jacking points for crush damage. Liberty headlights weren't much good when new and tarnished reflectors make them dreadful, so be prepared to purchase some replacements. If your RS is a wagon, make sure the cargo door struts can support its weight. Listen for wind whistle that reveals the door seals are no longer doing their job.
Engine & Transmission
It would be unusual to find an RS that hasn't already undergone some mechanical freshening – even complete replacement of the engine and transmission with more recent components. Heat hurts anything in proximity to a turbocharger so cars with all the hard-to-reach hoses recently replaced are an attractive proposition. Smoke of any kind indicates engine work is needed; blue for
piston or bore wear, white denoting a failed turbo seal. Noisy valve lifters were endemic and hard to rectify. Taking oil changes all the way to Subaru's recommended 10,000 kilometres can accelerate camshaft wear, so service the RS every 5000km. The clutch is the transmission's weak link, so check for shudder and slip. Listen when coasting for rumbling from the rear differential.
Suspension & Brakes
From new the RS struggled to stop and the ravages of age will make stock-specification brakes feel even less assuring. Unless you are addicted to authenticity head to a performance brake place for some meatier rotors, uprated calipers and pads matched to your driving style. Bigger wheels might be needed. Suspension struts that creak and chatter over bumps need replacement. Steering in these should be razor-sharp and more than 15mm of free-play at the steering wheel means the rack and column joints need to be checked for leaks and component wear.
Interior & Electrics
The trim used in the RS was of excellent quality and well-kept cars should show minimal seat damage. The sunvisors can fall apart though and sun will crack unprotected dash-pads. Check carpets, especially in the back, for dampness and that the seats in a wagon lay flat when required. Repairing faulty air-con is costly and also check that the heater warms quickly. Avoid cars with the optional sunroof as it steals considerable headroom.
I OWNED ONE
Former Unique Cars editor, Nathan 'Ponch' Ponchard, is well known for his love of a well-worn VW Beetle but less so for ownership of another 'flat-four'.
"My RS was a 1991 sedan so one of the first batch imported. I got it in 1998 from former rally champion and Nissan racer George Fury," Ponch revealed.
"It had done only 69,000km with George and had been very well maintained. I had to wait until I turned 25 to afford the insurance but even then it was stolen and recovered twice in the space of two years."
Ponch cites the Liberty's combination of luxury and performance as its most appealing traits and he could find little wrong with the turbocharged Liberty's original design.
"It was woefully short on brakes, which was cured by upgraded rotors and pads and the convoluted intake tract was replaced by one from HKS that really changed the character of the car."
The RS was eventually handed on to Ponch's dad who sold it during 2005 and, in Nathan's view, far too cheaply. "He advertised it for $11,500 and was almost trampled in the rush. I wish I had it now."
SPECIFICATIONS
SUBARU RS TURBO (1990-94)
Number built: 824,612 (all first-generation Legacy/Liberty)
Body: All steel, integrated body/chassis four-door sedan and station wagon
Engine: 1998cc in-line four cylinder, DOHC, 16 v, turbocharged petrol
Power: 147kW @ 6000rpm
Torque: 260Nm @ 3600rpm
Performance: 0-100km/h – 6.9sec, 0-400 metres – 14.9sec*
Gearbox: 5-speed manual
Suspension: independent with struts, coil springs and anti-roll bar (f) independent with struts, coil springs and anti-roll bar (r)
Brakes: disc (f/r), some with ABS
Tyres: 205/60/R15 radial
Pricing: $2000-$14,500
Contact: Subaru Clubs in all States www.rslibertyclub.org
*sedan
*****
More reviews:
> Buyer's Guide: Subaru WRX (1994-98) review here
Search used:
>> Search Subaru cars for sale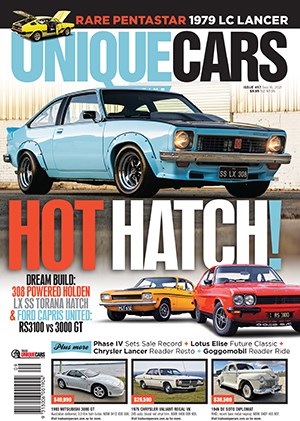 Subscribe to Unique Cars Magazine and save up to 42%
Australia's classic and muscle car bible. With stunning features, advice, market intelligence and hundreds of cars for sale.
Subscribe