BMW M5 (E34) 1988-95: Future classic
---
The E34 M5 - the first of its type to be sold new locally - ticks the boxes for collectability
1988 - 95 BMW E34 M5
At any given time there are likely to be no more than half a dozen BMW E34 M5s advertised for sale in Australia. Released in Europe in 1988, the M5 was launched here in July, 1990. At the time this spellbinding hotrod commanded $168,900 plus on-road costs, at a time when a reasonable house in Sydney's inner West was similarly priced (Mine was $140K).
et's run through the criteria for classic car collectability. One: lasting desirability. Two: rarity. Three: brand status. The E34 M5 – the first of its type to be sold new in this country – surely ticks all three, remembering that M is a more special brand than even BMW! It's hard to believe, then, that you can buy an excellent example for $20K.
The M5 seems to attract dedicated owners and many have been the subject of major restorations. Maintenance costs are a definite downside but if you buy a car with good history you might be pleasantly surprised. A quick online search discovered one example with over 500,000 kilometres on the odometer!
While it is quite easy to understand why HSV models of the early to mid-1990s are not highly prized, the M5's lack of high status is bewildering. Perhaps its time is almost right, as I read recently in an English classic car magazine that 25 years is the tipping point, as those old enough to have coveted a car when it was new reach the stage of life where they can afford it. The best Aussie illustration of this is the XY GT-HO Phase III.
Where HSVs of the 1990s were little more than mildly warmed-over Commodores with tasteless trim and garish badging, any BMW that has a second name beginning with the letter 'M' feels like its own car.
I tested an E34 M5 when it was new and it was easily the best thing I had ever driven. In the 1992 James Hardie 12-Hour, in which I raced a Citroën BX 16-Valve, I got lots of opportunities to watch the M5 of Neville Crichton/Alan Jones/Tony Longhurst go by. It may have lacked the pace of the turbo RX-7s – especially up the mountain – but its balance and reliability were brilliant. In the end, despite a fastest lap time much slower than the Mazdas', the M5 finished second, just three laps behind the first-placed RX-7 – without a turbo in sight.
The initial E34 M5 had 232kW and 360Nm from 3.5 litres when a VP Commodore mustered 127kW and 293Nm from its 3.8-litre V6. It was hard to get one's head around any peak power number starting with a '2'. Think of it as a race engine, with a zest for revs and a lovely hard mechanical note.
Europe received a 255kW, 3.8-litre update in 1991. It's believed one was delivered to Australia for BMW to evaluate. From 1994, a six-speed manual gearbox was also available.
Most Australian M5s seem to have been cherished, and if you can think of a better way to spend $20K, please let me know.

*****

More reviews:
> Buying tips: 1999-2003 BMW M5 review here
> Buyer's Guide: BMW E34 5-series review here

Search used: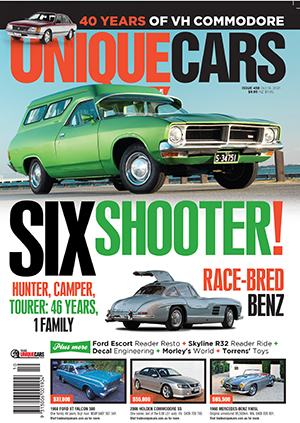 Subscribe to Unique Cars Magazine and save up to 42%
Australia's classic and muscle car bible. With stunning features, advice, market intelligence and hundreds of cars for sale.
Subscribe