Ford Falcon XR6: Budget classic
---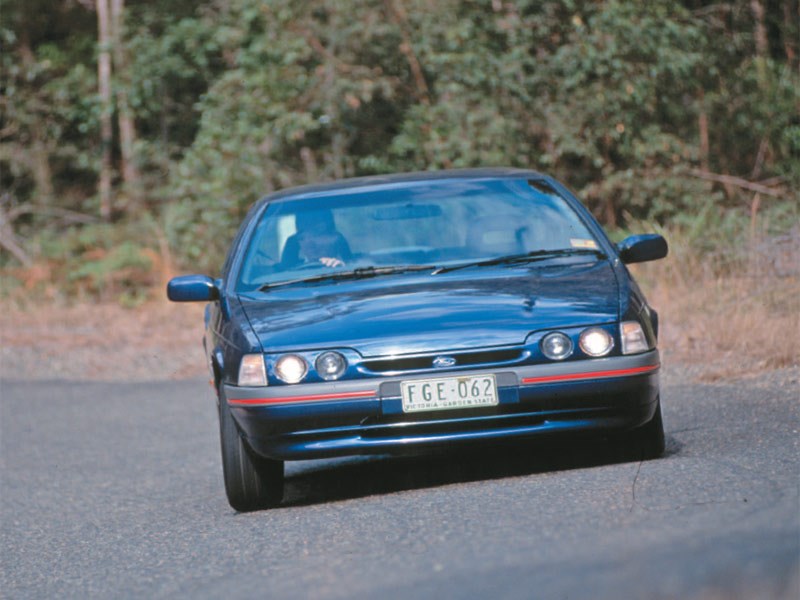 Ford Falcon XR6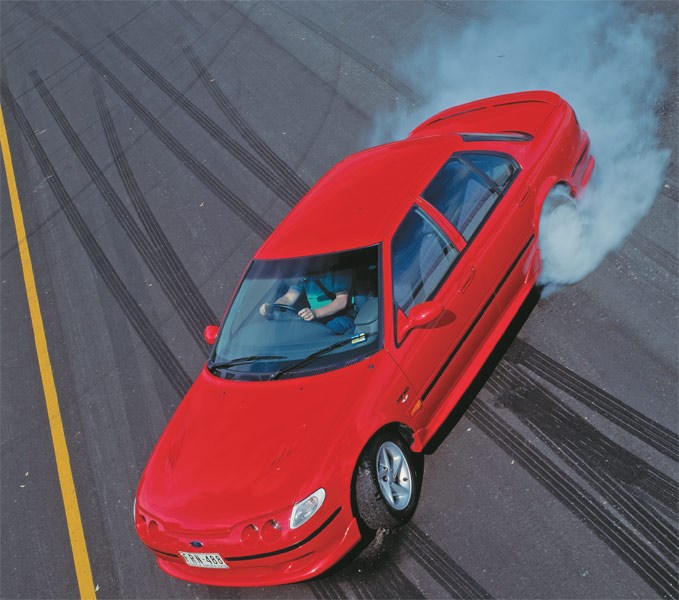 Ford Falcon XR6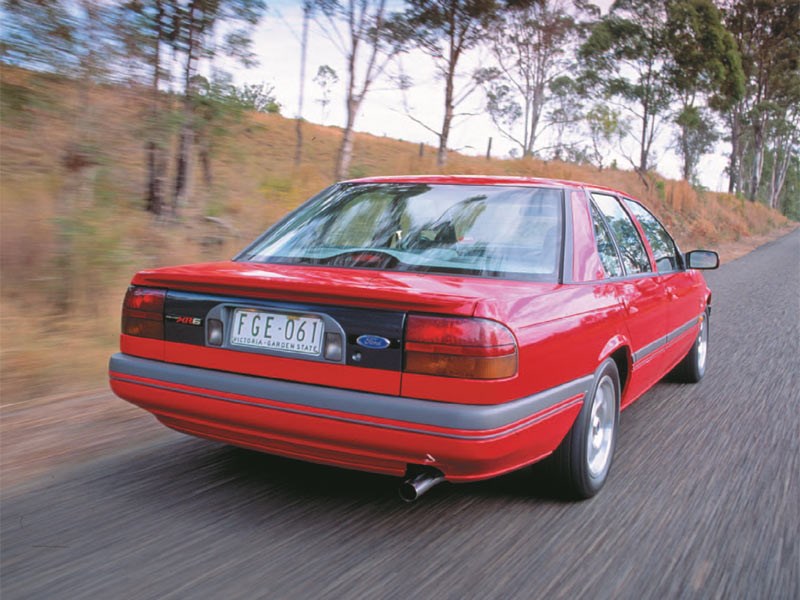 Ford Falcon XR6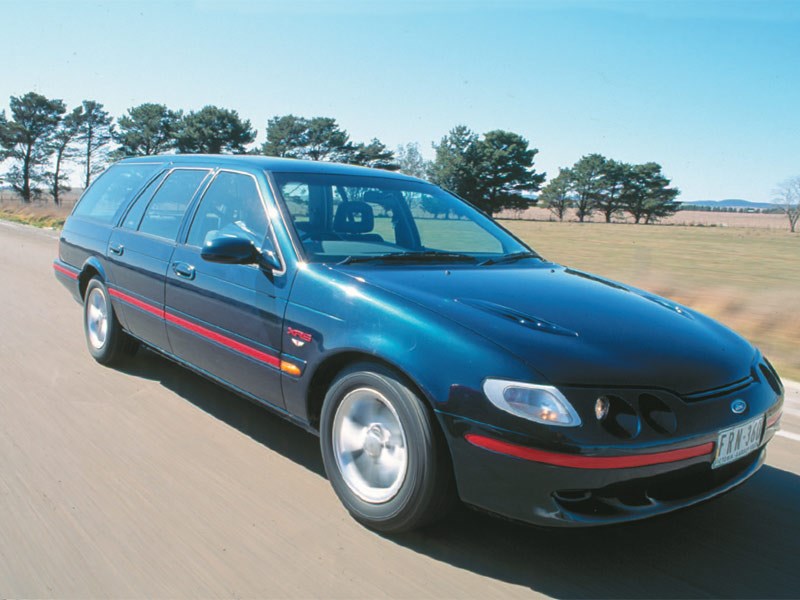 Ford Falcon XR6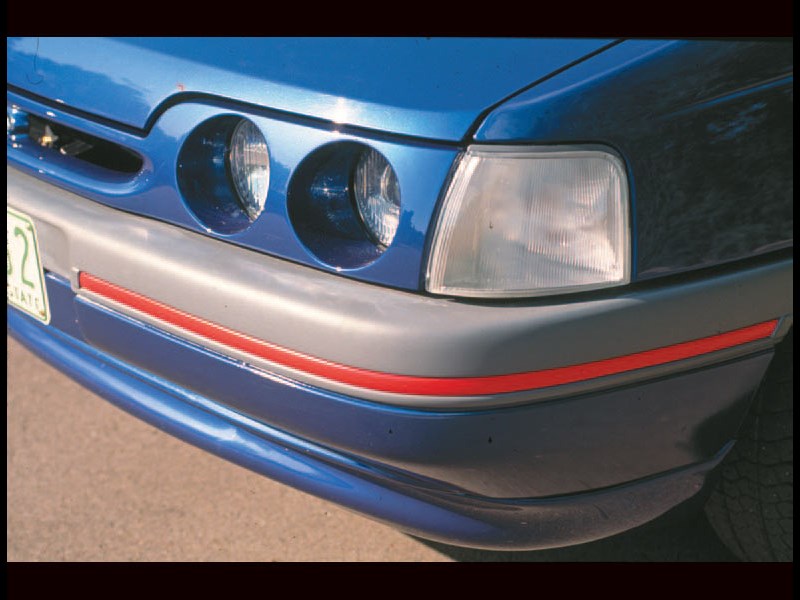 Ford Falcon XR6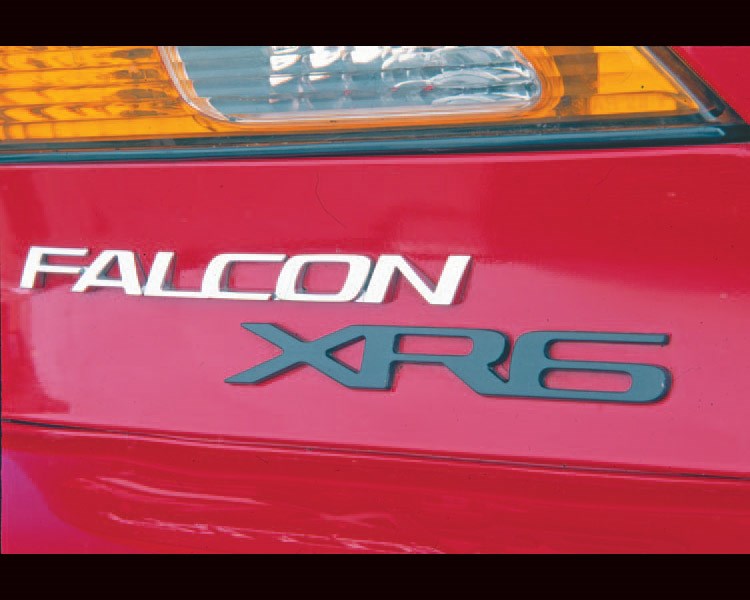 Ford Falcon XR6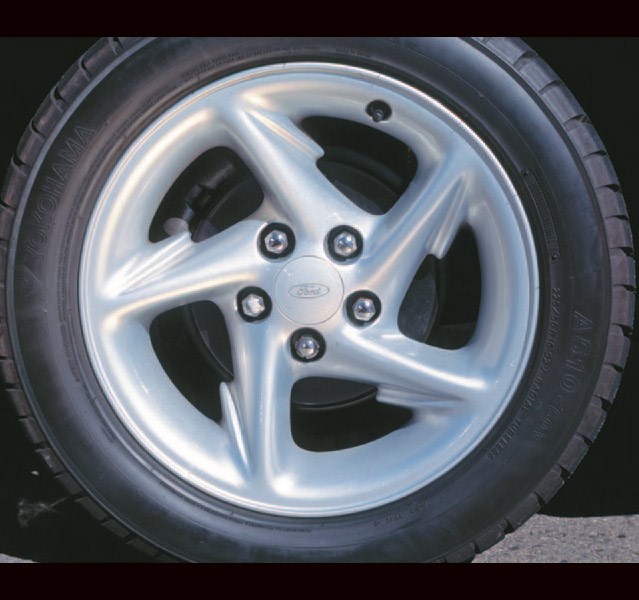 Ford Falcon XR6

Ford Falcon XR6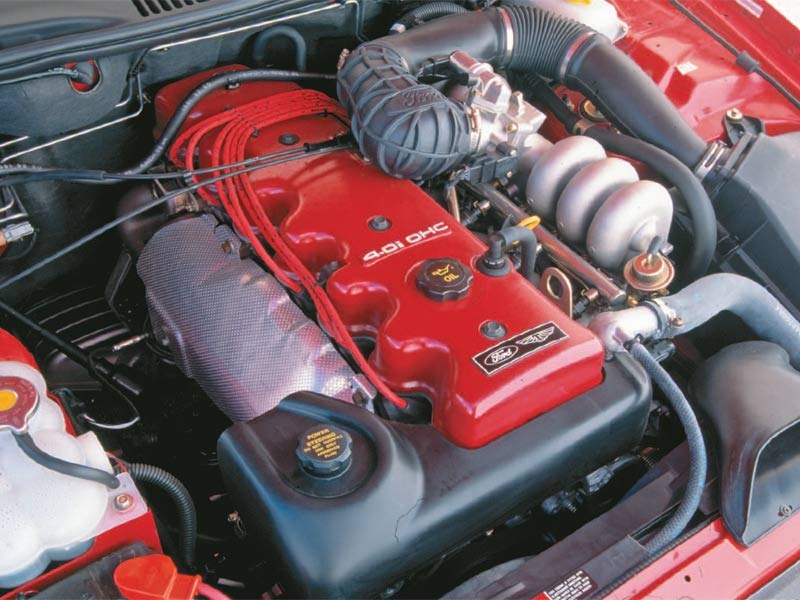 Ford Falcon XR6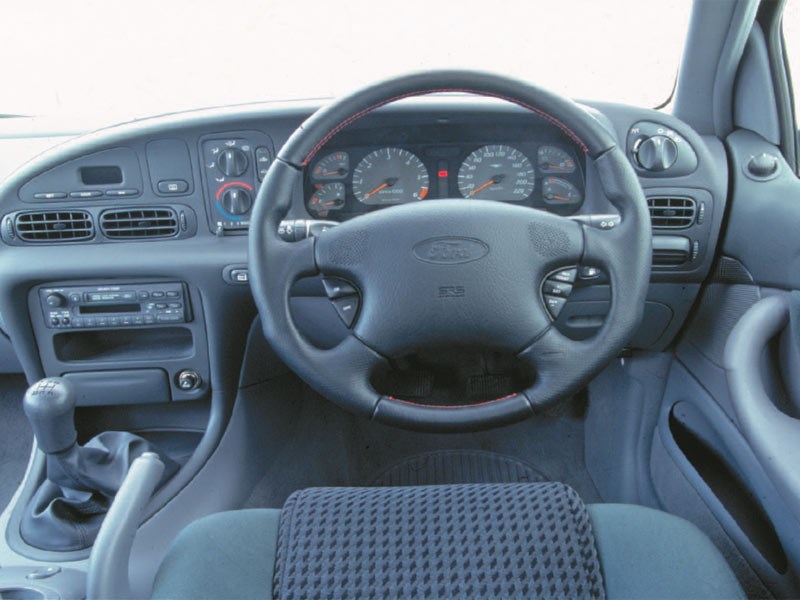 Ford Falcon XR6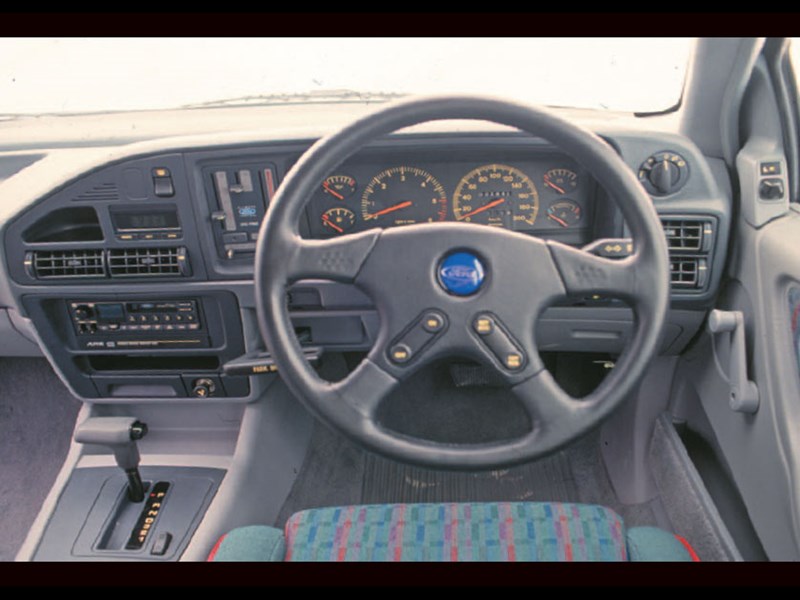 Ford Falcon XR6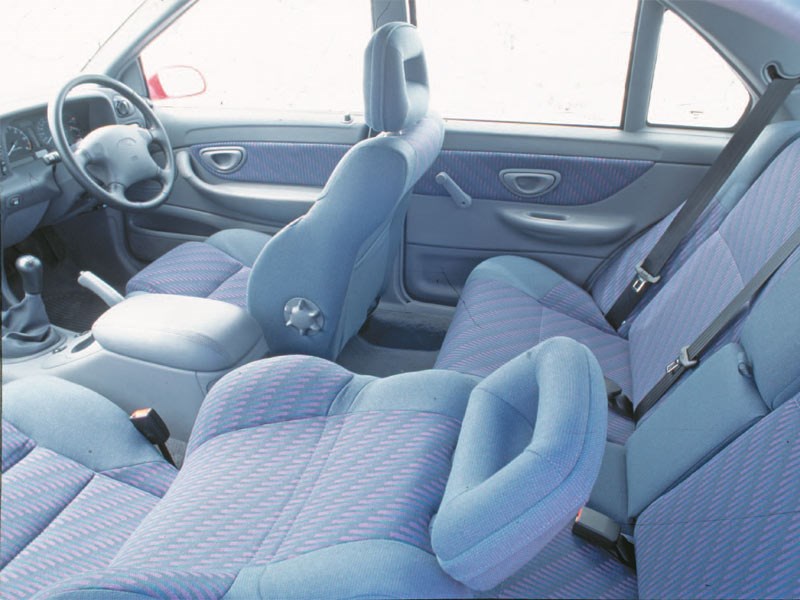 Ford Falcon XR6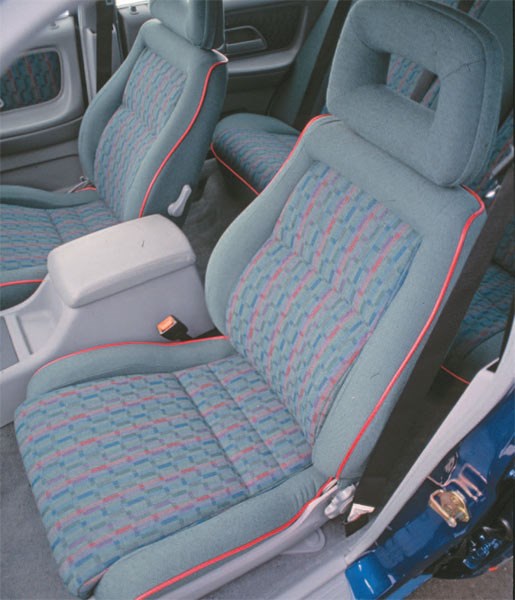 Ford Falcon XR6
Ford gave its family runabout serious - but subtle - sex appearl to embarrass its V8 sibling
Ford Falcon XR6
My first experience of a Falcon XR6 occurred in outback Queensland with a colleague who also tested cars for magazines, but was a bit of a loose cannon in the day. He'd acquired, for a few days, one of Ford's prototype XR6 hot-rods, before the car had gone into production and well before it hit showrooms. How he managed this, I know not, but we were living it large while we could.
It was a bit of a plain brown wrapper, this car, with no XR6 identification and only a set of alloys and lower ride height to tip the game. But it was F-A-S-T. That much was clear. This impression was backed up later in the day when my loose-cannon mate decided he'd do a bit of a drift around one of the town's (Cunnamulla, I think it was) intersections. Only trouble was, the corner of front-lawn he drifted across belonged to the residence of the local copper who came storming out, pulled us up and gave us a fearful bollocking in the main street.
"What is this thing, anyway?" he asked finally. We came clean with all the top-secret info and he let us go with a fairly explicit warning on what would happen to us if we didn't park the thing and walk for the rest of the day. Which brings us to the car itself.
The S-XR6 (as it was originally called) launched with the EB Series 2 Falcons in late-1992. But it took a while to catch on because nobody really knew what the concept represented. Besides, the mighty Ford V8 had finally been reintroduced with the EB, and that was what all the shouting was about, not some cobbled-up hot-six. Boy, how wrong we were.
Hindsight now demonstrates that the E-Series (EB, ED, EF and EL) XR6s are now some of the most complete full-size performance cars Ford has ever offered. And, believe it or not, it wasn't until the 185kW version of the 5.0-litre V8 arrived in 1997 that the XR8 could match the XR6 from standstill to 100km/h. This was down to a few things: early XR8s had just 165kW compared with the 161kW of the XR6. Also, the V8 weighed a bit more and had taller diff gears. So not only did the XR6 hustle harder, it raced around a track better, too.
The EB 2 gave way to the ED in mid-'93, and it was at this point that the XR6 finally received the visuals to differentiate it from the rest of the Falcon pack. Specifically, it scored the quad-headlight treatment that Ford had successfully used on its hot-rod RS cars in Europe for years. Okay, it's a bit hokey when you look at it today, but it established the theme. The 1994 EF was next with a much sleeker look, and the EL finally arrived in late-'96, copping 16-inch alloys and standard air-con a year after that.
Those early cars are arguably the real-deal, too, because for the AU version of the XR6, Ford cut a few corners, fitting the thing with the standard Falcon six rather than tweaking it with headers and a lower-restriction 'zorst.
Even in its earliest form, the XR6 made a decent fist of being a proper specialty product – not just a decal pack with a few paint-outs. The alloy wheels were standard fare from day one, and it sported a fairly subtle bodykit with spoilers at each end and side skirts (with the bumpers in body colour). Significantly, it also featured ABS, a limited-slip diff and a sportier steering wheel.
Throw in an audio upgrade and some spiffier trim for the cloth seats and you had yourself an XR6. And people loved it.
Much friendlier to insurance companies and company fleet-managers, the car really created a bit of a sensation of itself. Pretty soon, word got out and the number of XR6s going out dealership doors was giving total Falcon sales a real shot in the arm. Let's not forget that back in 1995, Ford managed to sell more than 80,000 Falcons for the 12 months of the calendar year.
And, dammit, an XR6 was good to drive, too. The engine was hardly what you'd call sophisticated, but it revved out pretty hard (to 5000rpm, anyway) and it could be made to sound tough, too, which a lot of owners did. Falcons of the last two decades have all steered pretty well and with its fatter tyres and slightly lower stance, the XR6 was even more entertaining. It worked as an auto, and it worked as a manual, too, if you could live with the driveline shunt (which most could).
Put simply, it was a bit of a blunt instrument, but a very effective one that would still pull a boat and five big bums up the freeway. Oh, and driven gently, it would beat 9.0L/100km, which meant it was a genuine 30-miles-to-the-gallon family car.
Buying one now involves looking for a good one, a job made more important the farther back you go in the model's history. The good news, though, is that so many were sold in every model that there are plenty of them out there to choose from. Again, sorting through them will be the key. Some have been heavily modified, some have been thrashed mercilessly and some have been to Mars and back, so choose carefully and be a bit suspicious of who has actually owned the thing before you.
Rust shouldn't be a problem unless the thing has been submerged launching a tinny, but paint quality until the late-'90s was not a Ford Oz strong suit. Darker, solid colours seem to be the worst for fading and going chalky, and silver can be a bitch to match after a bingle. But even when Ford started using two-pack at the factory, the clear-coat can start to break up and peel in some cases.
Interiors are pretty tough, but watch for discoloured roof linings and bank on the power windows packing it in ('cos they will). Watch for wet carpets that suggest the drain for the plenum has filled with crud.
The engine can develop a few oil leaks as it ages and there's an O-ring at the back of the water pump that fails, leading to a leak. Radiators have a definite shelf-life and make sure the central locking all works properly as a new body computer isn't cheap.
Beyond that, you need to watch out for the usual Falcon foibles like shuddering brakes (warped front rotors) and cars that have covered big distances and have loosened up a little as a result. But find a good, clean, relatively low-kay example and you're on a winner and a dead-set budget collectable.
OUTLAW EXPRESS
Remember the ill-fated Cannonball Run that was staged in the Northern Territory back in the early-'90s? I was there – driving a rented Falcon, covering the event for a magazine. I still count myself lucky that I'd gotten up early on Tuesday, May 24 and piled my gear and my snoozing photographer into the renter and headed for Uluru before the competitors had left the overnight stop.
The idea was that we'd get ahead of the pack and photograph the field as it came past us. Except it never did. In case you don't recall, just before 10am that day, the Ferrari F40 driven by a Japanese dentist and his navigator, speared off the road into a checkpoint at high speed, crashing into other cars and killing both men in the F40 and two officials who had been manning the check point.
For most of us, it was the spiritual end of the event, but even up to that point, it had appeared to me to be a pretty dopey concept.
On the other hand, I had spent a few days having some amazing machinery round up the wobbly old rent-a-crock I was driving. And one of the cars that was consistently impressing me was a fairly plain-looking EB Falcon. This one had alloy wheels and a small lip-spoiler on the bootlid, but it didn't look amazing in any other way. Seemed to go like hell, though.
I managed to catch a look at it with the bonnet up and discovered a big set of tuned-length headers lurking down there. It still could have been just a home-brewed hottie, but for one little badge on the back which read 'S-XR6'.
Yep, this was the grand-daddy of the car we now know and love as the Falcon XR6. Back then it was still being badged S-XR6, but the intent was clear.
SPECIFICATIONS
Ford EB-EL Falcon XR6
Years oF production: 1992-1998
Body: 4dr sedan, 5dr wagon ('93-95)
Engine: 3984cc 6cyl, OHC, 12v
Power: 164kW @ 5000rpm*
Torque: 366Nm @ 3000rpm*
Gearbox: 5-speed manual, 4-speed automatic
0-100km/h: 7.5sec (EF manual)
0-400m: 15.5sec (EF manual)
Suspension: double wishbones, coils, anti-roll bar (f); live axle, Watts link, coils, anti-roll bar
Brakes: discs (f/r)
Price new: $32,590-$39,550
Price now: $4000-$10,000
More reviews:
> Buyer's Guide: Falcon XR6 Turbo review here
> Buyer's Guide: Tickford XR8 review here
Search used:
>> Search for a used Ford here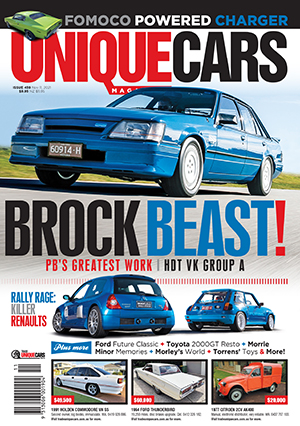 Subscribe to Unique Cars magazine for 12 months and save!
Australia's classic and muscle car bible. With stunning features, advice, market intelligence and hundreds of cars for sale.
Subscribe