Aston Martin DB4 convertible: Classic metal
---
A smart buy 30 years ago, and lots of hard work, has turned this car into a spectacular investment
Aston Martin DB4 convertible
Throughout its illustrious 90-year history, Aston Martin has built some very glamorous cars, but for many enthusiasts the DB4-6 models of the (then company owner) David Brown era are the epitome  of the marque.
I ponder the company's history as I sit in the only DB4 convertible in the country, suggested by many collectors as one of the prettiest Aston Martins produced and still a very striking model in its 50th year.
One of just 70 DB4 convertibles built, chassis DB4C/1056/R is fresh from winning the Aston Martin Owner's Club (NSW) 2011 Concours after an extensive six-year professional restoration.
This rare DB4 was delivered on 24 July, 1962, to the Hon. Max Aiken - First Baron Beaverbrook, MP and media baron, and owner of the Daily Express and London Evening Standard newspapers.
By the late-1960s it had been sent back to the factory to receive the late-DB4 Vantage/DB5 front with perspex headlight covers. At the same time it gained a set of Borrani wire wheels, power windows and a black-painted DB4 GT instrument binnacle.
Its arrival in Australia in the early-1980s was far less dignified, having been neglected in the UK for some years prior to its import by current owner, Les Johnson. As he says, "I paid £3500 for this car when they were not that sought-after, and when it arrived here, it was not a pretty sight with the engine and gearbox lying on the front seats." The price was £300 more than the Aston's original purchase price 20 years earlier.
Johnson took some years to get to the convertible's restoration, in the meantime rebuilding David Brown's personal (and rare) 1961 4.0-litre DB4 Coupe, DB4/815/R. This car has an illustrious history and was sold by Brown to Austin-Healey co-founder Donald Healey.
A life member of the Aston Martin Owner's Club of NSW, Johnson also has a replica of a DBR2 sports racer - based on a DB6 chassis - in his stable. However, given the surge in values of 'DB' Astons in recent years, the wait and hefty restoration expenditure on the DB4 convertible has been well worthwhile. This rare soft-top now valued at well over $1million!
The DB4 was the first Aston Martin to be built at the company's Newport Pagnell works in Buckinghamshire. First shown at the 1958 London Motor Show in coupe form, its Italian-inspired styling caused a sensation. The coupe body features Carrozzeria Touring's patented Superleggera construction of light alloy panels hung on a welded superstructure of small diameter steel tubes, which in turn is built on a stiff platform steel chassis.
Aston conceded at the time that this somewhat bulky system did not match the modern, pressed-steel monocoques of some of its competitors, but the specialist low-volume sports car builder was simply unable to justify the investment.
The convertible arrived in 1961, based on the Series 4 DB4, identified by a lower scoop on the bonnet and new seven vertical-bar grille.
Unlike the coupe, the convertible styling was undertaken in-house but still retains the Italian overtones. It keeps the same basic body structure but features a strengthened floorpan, a load-bearing hood well, and reinforced door sills.
Sitting behind the large 400mm wood-rimmed steering wheel with exposed rivets, the feeling is definitely 'Savile Row' - purveying a true sense of British elegance compared to the 'Armani' feel and sharper cut of its pedigree Italian competitors.
The aroma of superbly trimmed Connolly leather adds to the very British feel of a car that The Motor suggested was "a remarkable express carriage for those who can afford to travel first class".
The seats, while first appearing short in the squab, offer good support with excellent adjustment for length and backrest rake. Access to the rear bench is made easy by fold-forward front backrests but leg room is minimal.
The black dash is filled with an array of instruments and push-pull switches that resemble a period aircraft, with the predominantly Smiths gauges are offset by a solitary Lucas ammeter. And with a speedo calibrated to 160mph (257km/h), you know you're definitely behind the wheel of a grand tourer with long legs.
The Aston's double overhead-cam, straight-six powerplant - designed by former Austin engineer Tadek Marek - was Britain's first all-alloy production engine in 1956 and is considered one of their best.
Nicely shoe-horned into a tight engine bay, it is as impressive to look at as it is to listen to. With just 373 miles (596km) on the clock, this engine feels tight but emits a pleasing growl on start up.
As well as the visual body updates, the engine of chassis DB4C/1056/R is fitted with a twin-plug head, dual ignition and triple Weber carburettors, as featured on the higher-performance and rarer Vantage GT.
The 3.7-litre twin-cam six, with standard 8.0:1 compression and fed by twin SU carburettors, normally produces around 178kW. However, fitted with a Vantage GT head and larger valves, lightweight GT pistons and conrods, and a higher 9.0:1 compression, this car pushes out a far  more substantial 225kW.
The gearbox is David Brown's in-house four-speed unit, in this instance fitted with the optional Laycock de Normanville electric overdrive with a final-drive ratio of 3.77:1.
Workman-like in comparison to the engine (some even suggest agricultural), the gearbox can at times show a tendency to baulk on fast downshifts when cold. It improves when warmed up, however, helped by a superbly weighted twin-plate Borg and Beck clutch with great pedal feel.
Under acceleration this British Bulldog provides an inspiring feeling of power that quickly puts a smile on your face and firmly stamps it as a true Gran Turismo. This ultimate grand tourer is capable of eating up the miles at high speed over long distances.
Showing no hint of lumpiness, it just delivers the business with a steady flow of brute power all the way up the rev range, and it must have been a revelation compared to more 'bread and butter' cars of its era.
The inspiring growl from the twin exhausts with 'high-efficiency' silencers is the icing on the cake. At lower speeds in traffic, it is equally docile and quite tractable on a light throttle when required. Above all else, the Aston goes about its business at all speeds in a very smooth, refined manner.
A healthy kerb weight of 1353kg, a 10.35-metre turning circle and relatively slow rack-and-pinion steering perhaps underline the fact that this is a grand tourer and not a sports car. On twisty roads, the unassisted steering tends to load up with noticeable understeer, but on faster, more sweeping corners it feels far more balanced and manageable.
The fitment of quality Vredestein radial tyres on wider 16-inch Borrani wires - in lieu of the original fitment crossplies on 15-inch rims - goes a long way to helping stability and grip, especially given the car's live rear axle mounted on trailing links and located transversely by a Watts linkage.
This stunning Aston Martin convertible attracted enormous attention wherever I drove it - including a fair amount of interest from the law - much like actor Michael Caine, aka Charlie Croker, did in the classic 1969 film The Italian Job.
The small-time crook's Aston Martin DB4 convertible eventually gets flipped into a gorge by a front-end loader when the Mafia pounces on him and his associates at an Italian alpine pass.
Thankfully, the actual car destroyed for this sequence was a modified Fiat Spider convertible!
SPECIFICATIONS
1962 Aston Martin DB4
Engine: 3670cc 6cyl, DOHC, 12v,triple Weber carburettors
Power: 225kW @ 5000rpm
Torque: 325Nm @ 4200rpm
Weight: 1353kg
Gearbox: 4-speed manual
Brakes: discs (f/r)
0-97km/h: 9.0sec (claimed)
Top Speed: 225km/h(claimed)
Value: Au$1million-plus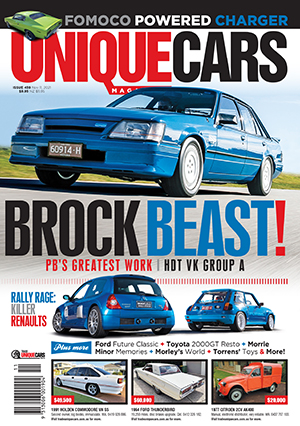 BLACK FRIDAY SALE ON NOW: Save 50% on a Unique Cars magazine subscription
Australia's classic and muscle car bible. With stunning features, advice, market intelligence and hundreds of cars for sale.
Subscribe