Ferrari 308GTS (1985-88) Buyers Guide
---
Ferrari 308GTS - what to look for in one of team red's finest
1985 - 1988 Ferrari 308GTS
WHAT IS IT?
The 328 is regarded as the last `classic' Ferrari V8. It dates back to 1975, when Pininfarina was drafted in after the disappointing Bertone-styled GT4 Dino - Ferrari's first mid-engined, V8 road car - and came up with the elegant fiberglass-bodied 308GT, which was replaced by a steel version in 1977, the fuel-injected 308GTSi four years later, and the 3.2-litre 328GTS in 1985.
The first 328s arrived here in 1986, priced around $140,000. Output from the quad-cam, fuel-injected V8 was 198kW at 7000rpm. A five-speed transmission was mandatory and Australian cars came with air-con standard, but we only got the GTS with its removable roof section, not the GTB coupe. A new grille, large cooling slots in the luggage compartment cover and new, five-spoke alloys distinguished the 328 from the earlier 308 versions.
HOW'S IT DRIVE?
A decent test drive is essential to confirm that you can live with the odd seat/steering wheel/pedal relationship, air-con that struggles to cool on extreme summer days, notchy gearchange 'gate' and cantankerous electrics. The unassisted steering is quite heavy but extremely communicative, roadholding immaculate and brakes magnificent. A discreet front spoiler reportedly delivers a noticeable improvement to high-speed stability.
Overseas testing confirms the 328 as among the most potent supercars of its era and engine capacity, with 0-100km/h coming up in 6.2 seconds, 0-160km/h in under 15 seconds and a top speed of 255km/h. Ferraris have a well-publicised appetite for clutch components but that can be due to launching with too many revs instead of using the engine's torque, then nailing the throttle. Normal clutch life is around 70,000km.
Premium unleaded is a requirement, with 98-octane recommended for `track days'. A well-maintained 328 is likely to return 15L/100km in open-road touring.
CHECKLIST
Avoid personal imports from countries with harsh climates due to their potential for rust - a pre-purchase inspection is essential. The low-set driving lights are very susceptible to stone damage and need close inspection and make sure the concealed headlamps open and retract within two seconds. The lift-out roof panel should fit securely with no wind whistle or signs of leaking. Rust is rarely a problem with locally-delivered cars but check the sills, inside wheelarch lips and window surrounds for bubbling.
Maintaining a 328 is relatively straightforward, but the 40,000km service that includes replacement camshaft belts can cost $4000. Replacing a clutch costs about $1800. Infrequent use creates problems like water-pump leaks and shocks that go 'off' even when the car is sitting still. Brake wear isn't a particular problem but noisy rotors, or a 'soggy' pedal, demand immediate attention.
Noisy, slow power windows, inefficient air-con and door locks that don't can be expensive to rectify and may indicate a car to avoid. The leather and plastic interior trim is good quality and components like door handles are actually Fiat parts. A car with dash cracks and crazed leather would need to be keenly priced.
SPECIFICATIONS
1985 - 88 Ferrari 308GTS
BODY: 2-door targa coupe
ENGINE: 3185cc V8, DOHC, 32v, electronic fuel injection
GEARBOX: 5-speed manual
SUSPENSION: Independent, double wishbones, coil springs, anti-roll bar (f); independent, double wishbones, coil springs, anti-roll bar (r)
PRICE: $40-$130,000
Unique Cars magazine Value Guides
Sell your car for free right here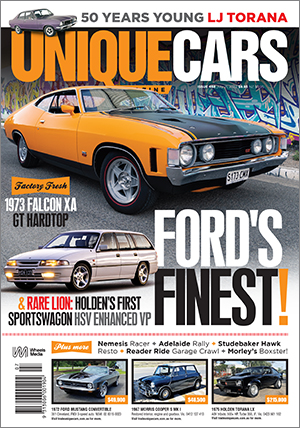 SUBSCRIBE TO UNIQUE CARS MAGAZINE
Get your monthly fix of news, reviews and stories on the greatest cars and minds in the automotive world.
Subscribe