Nissan GT-R R32 (1991-92): Buyers Guide
---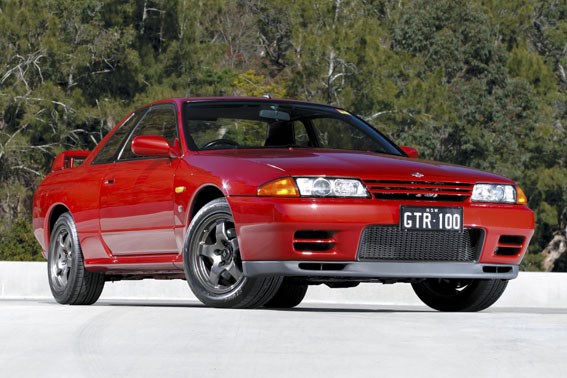 Nissan GT-R R32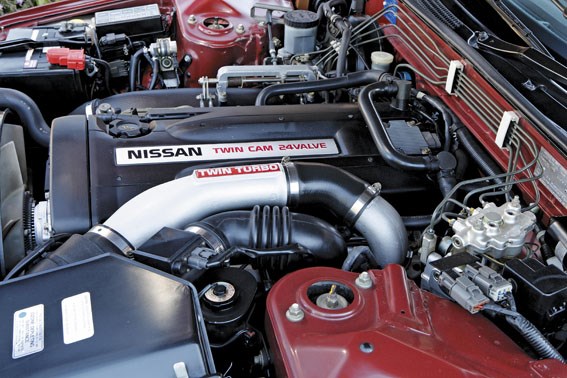 Nissan GT-R R32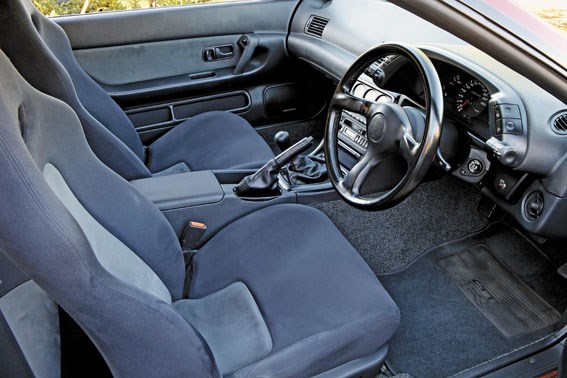 Nissan GT-R R32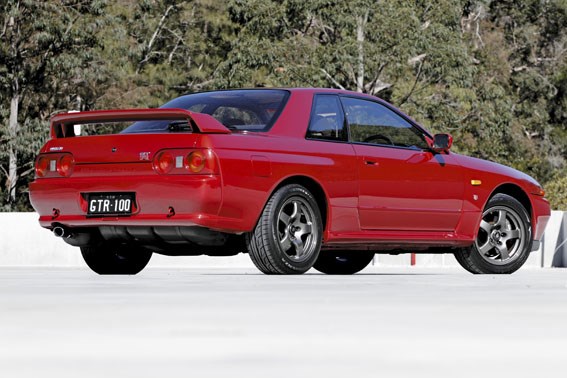 Nissan GT-R R32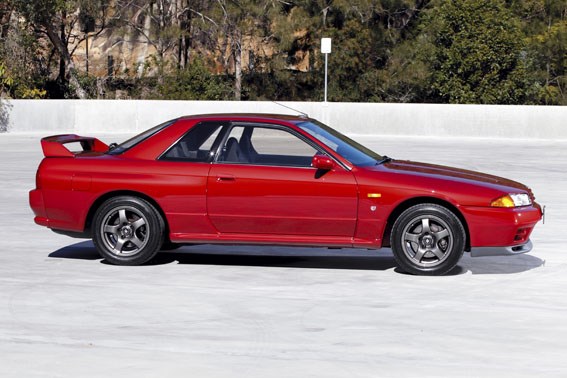 Nissan GT-R R32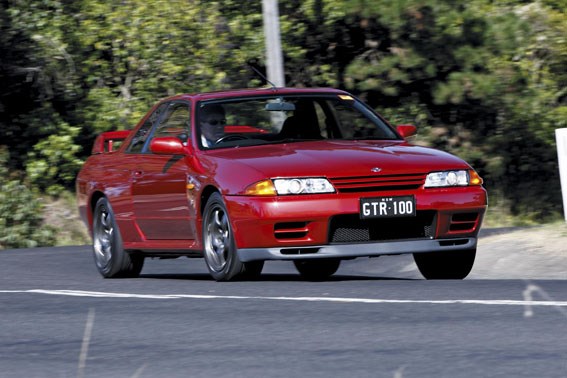 Nissan GT-R R32
Nissan GT-R R32. Is Godzilla a good buy?
Nissan GT-R R32
Very few cars have influenced the automotive world more significantly than the Nissan that came to be known as 'Godzilla'.
At the heart of the GT-R was Nissan's 2.6-litre straight-six engine with sequential turbochargers, an intercooler and variable torque-split transmission. Official engine output was a conservative 206kW but realistically it was in the 260-270kW range.
Nissan's decision to build a car to challenge Porsche in the world performance-car market had consequences that reverberated through global automotive design. It also prompted a 'dumbing down' of Australian motorsport.
Reaction following back-to-back Bathurst 1000 wins in 1991 and '92 convinced promoters that the motor racing public didn't want a high-tech, all-wheel drive car dominating the Touring Car category and banned them in favour of the rear-wheel drive V8 'taxis' we've been saddled with since. Sadly for Nissan Australia, the car buying public thought likewise.
Australian-complied GT-Rs arrived during 1991 with a price tag of $110,000. Times admittedly were financially daunting but with the cheapest Porsche 911 costing $55,000 more, the GT-R seemed assured of a major role in the high-performance coupe market.
Australia's first batch of R32 GT-Rs was built at Nissan's Murayama factory during May and June 1991. The second run of 50 cars came down the same production line in August. They were then shipped to Melbourne where 50 extra hours per car were allocated to fit local compliance items including child-seat restraints, a fuel filler restrictor and the high-mount stop-light.
Key visual identifiers of the local cars include a Nissan badge on the bonnet, 300ZX blinker repeaters ahead of the doors, the high-mount stop light and amber turn signal lenses. Local cars also had Blaupunkt sound systems with a boy-racerish roof-mount aerial and replacement speedometers that read to a barely-adequate 260km/h.
Of the 100 cars that arrived as 'official' imports, 26 were painted Black Pearl Metallic with 37 each in Jet Silver and Red Pearl Metallic. Kerry Packer bought three.
But more than a year later, in an article entitled 'Farewell To Godzilla' which marked the end of the GT-R's race career in Australia, Wheels magazine reported that just 63 of the available cars had found owners.
A decent proportion would initially have gone to proprietors and senior execs of Nissan dealerships who doubtless retired their 'top-shelf' 300ZXs in favour of Japan's most advanced and potent supercar. That left just a few dozen to decorate the garages of private buyers, but those buyers with their $110,000 bank cheques largely gave Nissan showrooms a very wide berth.
What happened to the unsold cars is subject to debate and the fact that they didn't rush off showroom floors leaves GT-R convert Bob Fulop bewildered.
"They were cheaper by far than the least expensive 911 Porsche you could buy at the time [and more than $80,000 under the comparable Carrera 4 - Ed.] but nobody at the time wanted to buy one," said a flummoxed Fulop. "Some people say the cars still sitting here a year after the GT-R release went to New Zealand and other stories have them being sent back to Japan but it's likely that they were allocated to dealers and sold as 'demonstrators' until they were all gone."
Certainly that is exactly what occurred with Fulop's own car which features on these pages. As the bill of sale that accompanied the car clearly shows, it was a Capitol Motors 'demo' and had racked up just 215 kilometres before being sold to a workshop owner in the Sydney suburb of Eastwood, who kept the car until it was acquired by Fulop in late-2010.
ON THE ROAD
The obvious appeal of a GT-R is exhilarating acceleration and grip levels that ensure every kilowatt is put to use and not wasted in tyre-wearing wheelspin. With the viscous clutch sending most of the engine's torque rearwards, the front wheels only become seriously involved with supplying grip when roads are wet and rear-wheel traction is marginal or during full-power standing starts.
A feature of the GT-R was Super HiCAS all-wheel steering, which turned the rear wheels in the opposite direction to the fronts at low speeds and in the same direction once the pace quickened. Picking your way through a crowded carpark is made simple by the excellent 10.6-metre turning circle.
With 2568cc and a decent 8.5:1 compression ratio, the Nissan six wasn't scarily sluggish in the manner of small-capacity turbo engines but planting your foot at low speed in a high gear certainly didn't stir much interest from under the bonnet.
Maximum boost arrived between 3000 and 4000rpm and exiting a bend without risk of the rear snapping sideways demanded anticipation and a sympathetic right foot.
Acceleration in any turbo car is dependent on ambient temperature at the test venue - cool air helps a turbo engine work more efficiently - and the driver's ability to launch at high engine revs without frying the clutch or breaking a driveshaft. Best of the locally-recorded figures seem to have been achieved by Wheels for its May 1991 issue with a stunning 5.3 seconds for 0-100km/h and 13.7 seconds over the standing 400 metres.
In-gear acceleration times showed just how sluggish a GT-R could be if the gear lever wasn't used to keep engine speeds in the preferred 3000rpm-and-over band. Wheels found that in fifth gear, its test car took 10.3 seconds for the 60-90km/h speed increment, but just 3.4 seconds in third gear.
Fuel consumption is also very driver dependent and local tests didn't bother too much about running economy evaluations. Expect better than 15.0L/100km for everyday driving but double that if the car is being fully exploited at a track day.
It might be a bit bland inside but the GT-R hits plenty of runs in the practicality stakes. The rear seat will accommodate two adults in reasonable comfort and the boot is huge for a car of this genre.
BUYING
"I liken the Australian GT-Rs to early HSV cars," Bob Fulop commented. "When the VL Walkinshaw and VN Group A were new, they were very difficult cars to sell and some new ones hung around for years. Now it's hard to find a Walkinshaw for less than the original price and VNs are doing the same thing."
Oz-delivered GT-Rs occasionally pop up in Unique Cars and also in the on-line motor markets. It's worth keeping an eye on the specialised auction houses too and even in the carparks at motoring events.
"Originality is important to the value of these cars," Bob emphasised. "They need to have the Nissan compliance plate and the various identifying changes that confirm that they aren't a private import. Then there is the compendium which was given to every GT-R buyer and will enhance value if it's still with the car and intact."
This item was a leather wallet containing the car's service book, lists of specially-appointed GT-R dealers and locations of service stations that sold 95-octane premium unleaded fuel, the press kit, brochure and three photographs, obligatory Nissan pen and a booklet by Jim Richards and Mark Skaife containing tips on how to drive the all-wheel drive supercar.
Under the bonnet, look for a Nissan Australia compliance plate and the Vehicle Code 40ZKBNR32RX on the build plate. Cars with personal import or other certifications will be worth significantly less.
In recent sales, outstanding cars have exceeded $40,000 and values are likely to move higher as collectors recognise their scarcity and the value offered by genuine Aussie-delivered Nissan GT-Rs.
BUYER'S CHECKLIST
Body & Chassis
Rust isn't a major issue with Australian-delivered GT-Rs but imports need to be carefully inspected underneath and in panel extremities. Crash damage is a more serious issue so look for kinks to the front chassis rails, partial repaints and mismatched front or rear lenses. The extra weight of that hefty rear wing can weaken bootlid supports and water can leak through mounting holes.
Engine & Transmission
There is a lot that can go wrong beneath a GT-R bonnet and the best way to avoid massive repair bills and unreliability is to find a car that has been serviced at least every 5000 kilometres. White exhaust smoke indicates oil being burned in the turbochargers. Check under-bonnet hoses and plastic components for perishing and heat damage, and around the cylinder head for oil leaks. The clutch is the most vulnerable of transmission components and will cost more than $1500 to replace. Listen for clunks from rear driveshafts or the differential, which suffer from driver abuse.
Suspension & Brakes
Check the HICAS four-wheel steering is working as the manufacturer intended and that now-aged ABS sensors are still operating. Standard shock absorbers can last less than 30,000 kilometres and suspension rubber bushes deteriorate due to age alone. When new, these cars sat high and level with plenty of free space between the wheelarches and tyres. A car that sits noticeably nose down may be suffering sagging suspension or have had its springs shortened. Either will affect ride quality and steering response. Brake rotors can warp due to excessive heat.
Interior & Electrics
With its pretty basic specification, there's not a lot in the GT-R interior or electrical system to go awry but a full check of every switch and gauge is recommended. The air-conditioning should activate with an audible click and send a strong stream of cold air through all the vents within 20 seconds. Interior plastics on Australian cars should be undamaged but the leather steering wheel could be starting to peel. Side bolsters on the seats of low-kilometre cars should not be showing serious wear, so be cautious if they are.
SPECIFICATIONS
Nissan R32 GT-R (1991-92)
Number built: 100 (Australian-delivered)
Body: all-steel, integrated body/chassis two-door coupe
Engine: 2568cc 6cyl, DOHC, 24v, fuel injection, twin turbochargers
Power: 206kW @ 6800rpm
Torque: 355Nm @ 4400rpm
Performance: 0-100km/h - 5.3sec, 0-400m - 13.7 sec*
Gearbox: 5-speed manual
Suspension: independent with struts and coil springs, lower control arms and anti-roll bar (f); independent with multi-links, coil springs, anti-roll bar (r)
Brakes: disc front/rear, power assisted with ABS
Tyres: 225/50R16
Price range: $20,000 - 50,000
*Wheels May 1991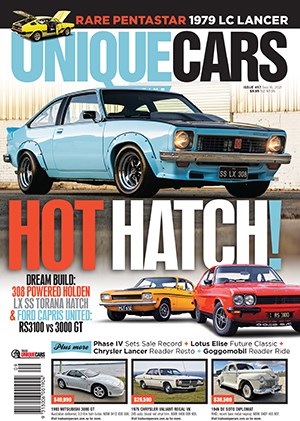 Subscribe to Unique Cars Magazine and save up to 42%
Australia's classic and muscle car bible. With stunning features, advice, market intelligence and hundreds of cars for sale.
Subscribe